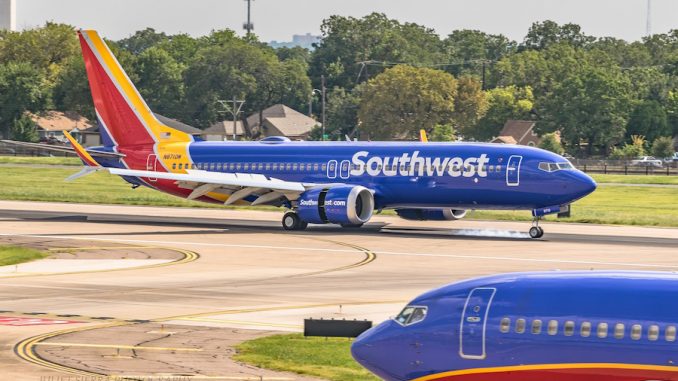 AW | 2018 04 27 17:44 | AIRLINES
Southwest Airlines solicita 40 aeronaves Boeing 737-8 MAX por un valor de U$S 4,68 mil millones
La aerolínea estadounidense Southwest Airlines ha ordenado al constructor estadounidense Boeing cuarenta Boeing 737-8 MAX por un valor de U$S 4,68 mil millones a precio de lista. Estas unidades se incorporarán para el reemplazo de la líneas 737 más antiguas ayudando a modernizar la flota homogénea de la aerolínea con sede en Dallas, Texas.
La aerolínea ha ordenado casi 300 Boeing MAX, el mayor pedido en conjunto de una aerolínea. Southwest Airlines se convierte así en el mayor cliente de los narrowbodies Boeing 737 MAX en el mundo. Es además, el operador de aviones 737 más grande del mundo, con más de 700 unidades en operación. La aerolínea low-cost convirtió las opciones que tenía sobre los MAX 8 en pedidos en firme, con entregas de diez unidades por año que se entregarán entre 2019-2022, dijo la aerolínea en un comunicado el jueves. La serie MAX es más eficiente en combustible que los modelos anteriores Next Generation, por lo que Southwest comenzará a desprogramar parte de la línea Boeing 737-700NG a medida que ingresan los nuevos MAX a la flota de Southwest Airlines.
«Esto es, ante todo, una extensión de nuestra estrategia de modernización de la flota. Tenemos un caso comercial muy sólido para reemplazar los aviones 737-700 más antiguos dada la economía operativa superior del MAX 8», dijo a los analistas el consejero delegado de Southwest, Gary Kelly, en una conferencia telefónica posterior a las ganancias, según una transcripción. El operador registró una ganancia del primer trimestre de U$S 438 millones, excluyendo artículos especiales, por encima de los U$S 372 millones del año anterior. 
Southwest entrusts 40 Boeing 737-8 MAX
Southwest Airlines requests 40 Boeing 737-8 MAX aircraft worth US $ 4.68 billion
The airline Southwest Airlines has ordered to the American constructor Boeing forty Boeing 737-8 MAX for a value of U$S 4.68 billion at list price. These units will be incorporated to replace the older 737 lines, helping to modernize the airline's homogeneous fleet based in Dallas, Texas.
The airline has ordered almost 300 Boeing MAX, the largest joint order from an airline. Southwest Airlines thus becomes the largest customer of the Boeing 737 MAX narrowbodies in the world. It is also the largest 737 aircraft operator in the world, with more than 700 units in operation. The low-cost airline converted the options it had over the MAX 8 into firm orders, with deliveries of ten units per year to be delivered between 2019-2022, the airline said in a statement on Thursday. The MAX series is more fuel efficient than previous Next Generation models, so Southwest will begin deprogramming part of the Boeing 737-700NG line as the new MAXs enter the Southwest Airlines fleet.
«This is, first of all, an extension of our fleet modernization strategy, we have a very strong commercial case to replace the older 737-700 aircraft given the superior operating economy of the MAX 8», the CEO told analysts of Southwest, Gary Kelly, in a post-earnings conference call, according to a transcript. The operator recorded a first quarter profit of U$S 438 million, excluding special items, above the U$S 372 million of the previous year. A\W
Ξ A I R G W A Y S Ξ
SOURCE:  Airgways.com
DBk: Boeing.com / Southwest.com / Airgways.com
AW-POST: 201804271744AR
A\W   A I R G W A Y S ®