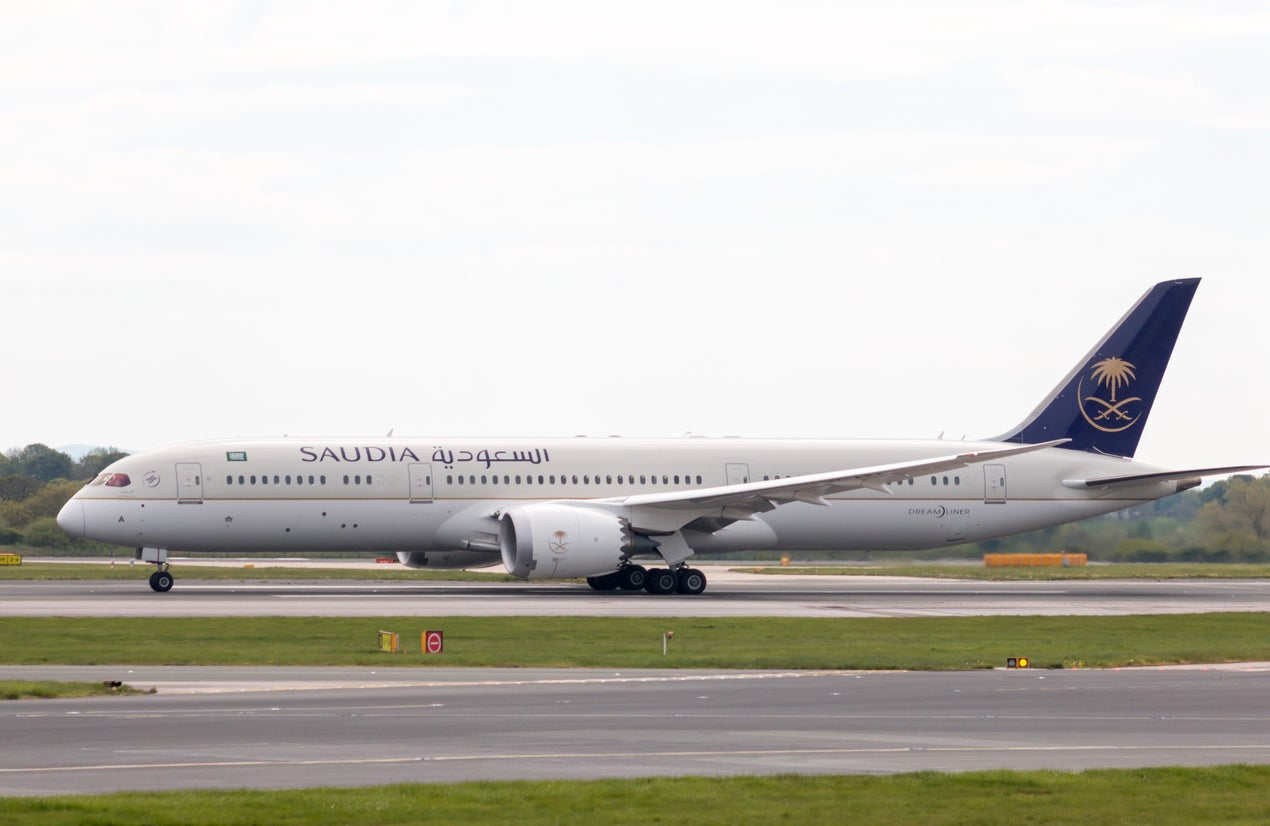 AW | 2019 02 20 11:05 | AIRLINES
Saudi Arabian Airlines transporta a 34 millones de pasajeros en 2018
Saudi Arabian Airlines, la aerolínea nacional del Reino de Arabia Saudita, ha logrado un nuevo récord de flujo ode transporte de 34 millones de pasajeros en 2018, un incremento del 11% con respecto al período 2017. Estos nuevos resultados corresponden a la incorporación denuevas rutas internacionales y al aumento de la capacidad en sus vuelos a destinos dede alta popularidad y demanda. La aerolínea saudita está inmersa en un plan estratégico hacia el 2020 para incrementar sus servicios que se vienen desarrollando en una evolución continua con un aumento de la tasa del crecimiento mundial del tráfico aéreo, que oscila entre el 5 y el 6%. En 2018, Saudia operó más de 214.000 vuelos nacionales e internacionales en sus modernos aviones, registrando cerca de 500.000 horas de vuelo.
El Director General de Saudi Arabian, Saleh bin Nasser Al-Jasser, ha expresado su orgullo por las cifras conseguidas, que reflejan el buen trabajo realizado dentro del programa de transformación, basado en los siguientes pilares principales: inversión en el equipo humano, modernización y desarrollo de la flota; desarrollo de nuevos servicios y productos; y mejora de la eficiencia operativa, entre otros.
Saudia continúa recibiendo buenas noticias, ya que recientemente ha sido galardonada con el premio a la mejor "Aerolínea de Entretenimiento y Conectividad a bordo", en los premios "Inflight Middle East", organizados en Dubái por HMG Aerospace. El jurado elogió a la compañía por ser la primera en las regiones de Europa, Oriente Medio, África y Asia en presentar un plan de mensajería en redes sociales gratuito en sus vuelos, permitiendo el acceso a iMessage, Facebook Messenger y WhatsApp. Saudia Airlines repite como ganador una vez más en estos premios, ya que el año pasado también fue reconocida por su servicio a bordo y por su innovación en las cabinas.
La compañía saudita opera una flota de 160 aviones hacia destinos de Oriente Medio, África, el subcontinente Indio, Lejano Oriente, Europa y Estados Unidos, con vuelos a más de 95 destinos, tanto domésticos como internacionales. En menos de tres años, la compañía ha incorporado más de 75 aviones completamente nuevos de los fabricantes más avanzados del mundo. Actualmente, su flota está formada por 160 aeronaves, número cuyo objetivo es aumentar a 200 a finales de 2020.
Saudia 34 million passengers in 2018
Saudi Arabian Airlines transports 34 million passengers in 2018
Saudi Arabian Airlines, the national airline of the Kingdom of Saudi Arabia, has achieved a new record of flow or transport of 34 million passengers in 2018, an increase of 11% over the period 2017. These new results correspond to the incorporation of new routes international flights and the increase of capacity in its flights to destinations of high popularity and demand. The Saudi airline is immersed in a strategic plan by 2020 to increase its services that are developing in a continuous evolution with an increase in the rate of global growth of air traffic, which ranges between 5 and 6%. In 2018, Saudia operated more than 214,000 domestic and international flights on its modern aircraft, recording nearly 500,000 flight hours.
The General Director of Saudi Arabian, Saleh bin Nasser Al-Jasser, has expressed his pride for the achieved figures, which reflect the good work done within the transformation program, based on the following main pillars: investment in the human team, modernization and development of the fleet; development of new services and products; and improvement of operational efficiency, among others.
Saudia continues to receive good news, as she has recently been awarded the prize for the best «Airline Entertainment and Connectivity on board», in the «Inflight Middle East» awards, organized in Dubai by HMG Aerospace. The jury praised the company for being the first in the regions of Europe, the Middle East, Africa and Asia to present a free messaging plan on social networks on their flights, allowing access to iMessage, Facebook Messenger and WhatsApp. Saudia Airlines repeats as winner once more in these awards, as last year was also recognized for its service on board and for its innovation in the cabins.
The Saudi company operates a fleet of 160 aircraft to destinations in the Middle East, Africa, the Indian subcontinent, the Far East, Europe and the United States, with flights to more than 95 destinations, both domestic and international. In less than three years, the company has incorporated more than 75 completely new aircraft from the most advanced manufacturers in the world. Currently, its fleet consists of 160 aircraft, a number whose goal is to increase to 200 by the end of 2020. A \ W
السعودية 34 مليون مسافر في عام 2018
الخطوط الجوية العربية السعودية تنقل 34 مليون مسافر في عام 2018
حققت الخطوط الجوية العربية السعودية ، شركة الطيران الوطنية في المملكة العربية السعودية ، رقما قياسيا جديدا في تدفق أو نقل 34
مليون مسافر في عام 2018 ، بزيادة قدرها 11 ٪ عن الفترة 2017. هذه النتائج الجديدة تتوافق مع دمج مسارات جديدة الرحلات الدولية وزيادة السعة في رحلاتها إلى وجهات ذات شعبية عالية والطلب. شركة الخطوط الجوية السعودية مغمورة في خطة استراتيجية بحلول عام 2020 لزيادة خدماتها التي تتطور في تطور مستمر مع زيادة في معدل النمو العالمي لحركة الطيران ، والتي تتراوح بين 5 و 6 ٪. في عام 2018 ، قامت السعودية بتشغيل أكثر من 214،000 رحلة داخلية ودولية على طائراتها الحديثة ، بتسجيل ما يقرب من 500،000 ساعة طيران.
أعرب المدير العام للمملكة العربية السعودية ، صالح بن ناصر الجاسر ، عن اعتزازه بالأرقام التي تم تحقيقها ، والتي تعكس العمل الجيد الذي تم إنجازه ضمن برنامج التحول ، على أساس الركائز الأساسية التالية: الاستثمار في الفريق البشري ، التحديث والتطوير من الاسطول تطوير خدمات ومنتجات جديدة وتحسين الكفاءة التشغيلية ، من بين أمور أخرى.
تواصل «السعودية» تلقي أخبار جيدة ، حيث حصلت مؤخراً على جائزة «أفضل شركة طيران وترفيه على متنها» ، في جوائز «إنفلايت الشرق الأوسط» التي تنظمها شركة «إتش إم جي أيروسبيس» في دبي. وقد أشادت هيئة التحكيم بالشركة لكونها الأولى في مناطق أوروبا والشرق الأوسط وأفريقيا وآسيا لتقديم خطة رسائل مجانية على الشبكات الاجتماعية على رحلاتها ، مما يتيح الوصول إلى iMessage و Facebook Messenger و WhatsApp. تتكرر الخطوط السعودية مرة أخرى في هذه الجوائز ، كما تم الاعتراف في العام الماضي بخدمتها على متن السفينة ولإبداعها في الكبائن.
تدير الشركة السعودية أسطولا من 160 طائرة إلى وجهات في الشرق الأوسط وأفريقيا وشبه القارة الهندية والشرق الأقصى وأوروبا والولايات المتحدة ، مع رحلات إلى أكثر من 95 وجهة ، على الصعيدين المحلي والدولي. في أقل من ثلاث سنوات ، قامت الشركة بتأسيس أكثر من 75 طائرة جديدة بالكامل من الشركات المصنعة الأكثر تقدمًا في العالم. حاليا ، يتكون أسطولها من 160 طائرة ، وهو رقم هدفه هو أن يرتفع إلى 200 بحلول نهاية عام 2020. A \ W
Ξ A I R G W A Y S Ξ
SOURCE: Airgways.com
DBk: Saudia.com / Independent.co.uk / Wikimedia.com
AW-POST: 201902201105AR
A\W   A I R G W A Y S ®