AW | 2019 04 02 14:31 | INDUSTRY
Airbus abre nuevas áreas de personalización de cabina para los programas A320 y A330
Airbus ha ampliado su centro de atención al cliente denominado Customer Service Center Definition of the Airspace (CDC) en su planta de Airbus en Hamburgo, Alemania para la personalización del programa de cabina, incluyendo los
Programas A320/A330 para complementar las áreas de personalización del Programa A350 XWB existentes. A partir de ahora los operadores de todos estos programas pueden experimentar el método bien establecido para una definición rápida, fácil y el estado técnico de cabina que Airbus ha estado ofreciendo a los clientes del A350 XWB ya que la CDC original, abrió por primera vez en 2014. Por otra parte, el CDC ahora adopta plenamente el "Airspace" de cabina, que fue lanzado por primera vez con el A330NEO, y establece nuevos estándares de confort de la cabina, el ambiente, el servicio y el diseño de las aerolíneas y sus pasajeros. En consecuencia, el CDC se renombró como Customer Service Center Definition of the Airspace.
EN EL CDC, LOS CLIENTES SIGUEN UN PROCESO DE DEFINICIÓN EXCLUSIVO A TRAVÉS DE UNA SERIE DE ZONAS MUY ESPECIALIZADAS, QUE SE HAN DISEÑADO ESPECÍFICAMENTE
Tras el lanzamiento de esta extensión en Abril 2017, se inició la construcción para ampliar las instalaciones existentes de la rediseñar el CDC y el equipamiento de un gran hangar adyacente y un ambiente de trabajo cooperativo. Recientemente finalizado, la nueva instalación se suma aproximadamente 4.500 m² de nueva superficie en dos plantas dedicadas a los clientes A320 y A330, y fomentará la realización de sus soluciones integradas de cabina. La extensión de los CDC cuenta con nuevas áreas maquetas específicos del cliente, así como la presentación altamente flexible y salas de conferencias en dos niveles con el ambiente de un loft industrial.
"Con la capacidad de la aeronave de la Familia A320 para servir rutas de largo alcance y la evolución A330NEO, las cabinas de estas familias de aviones se han vuelto más específica y están sujetas a la personalización intenso. Desde hoy cuatro de cada cinco A350 XWB clientes son al mismo tiempo los operadores de A320/A330 este paso es una situación ganar-ganar-ganar para todas las partes involucradas para fomentar y optimizar la definición de la cabina a través de su flota", dijo Sören Scholz, Airbus Vicepresidente Senior de cabina & Cargo Programa.
El diseño del Programa CDC es un proceso de definición único a través de una matriz diseñada altamente especializada. En línea con el historial de Airbus de innovación de cabina, la extensión trae varias nuevas tecnologías y servicios que ya están disponibles a través de los diferentes tipos de aeronaves. Una característica clave es un sistema de proyección baja inventado Airbus, que muestra el diseño de la cabina a gran escala en el suelo. En combinación con los elementos originales de la cabina, los clientes pueden realizar pruebas en vivo de diseños alternativos y escenarios. Además de esta innovación, algunos en configuración maqueta se han ampliado para incluir un área de carga para discutir soluciones para el uso del espacio en la cubierta inferior. Además de salas de reuniones son actualizados con las últimas tecnologías de realidad virtual.
La combinación de salas de juegos funcionales para pruebas de equipo de cabina, áreas de exposición para la estadificación de producto típico aérea, estudios de diseño para el material y las definiciones de luz del estado de ánimo, virtual y tecnología de realidad aumentada complementadas con áreas maqueta específicos del cliente, hacer que el espacio aéreo a los CDC una única y atractiva una ventanilla única para los clientes.


Airbus redesigns CDC Airspace A320/A330
Airbus opens new cabin personalization areas for the A320 and A330 programs
Airbus has expanded its customer service center called the Customer Service Center Definition of the Airspace (CDC) at its Airbus plant in Hamburg, Germany for the customization of the cabin program, including the A320/A330 programs to complement the personalization areas of the aircraft. Existing A350 XWB program. From now on operators of all these programs can experience the well-established method for a quick, easy definition and technical cockpit status that Airbus has been offering to customers of the A350 XWB since the original CDC, first opened in 2014. On the other hand, the CDC now fully adopts the cabin "Airspace", which was launched for the first time with the A330NEO, and establishes new standards of comfort for the cabin, the environment, the service and the design of the airlines and your passengers As a result, the CDC was renamed the Customer Service Center Definition of the Airspace.
After the launch of this extension in April 2017, construction began to expand existing facilities to redesign the CDC and the equipment of a large adjacent hangar and a cooperative work environment. Recently completed, the new facility adds approximately 4,500 m² of new surface in two floors dedicated to A320 and A330 customers, and will encourage the realization of its integrated cabin solutions. The extension of the CDC has new areas specific models of the client, as well as highly flexible presentation and conference rooms on two levels with the environment of an industrial loft.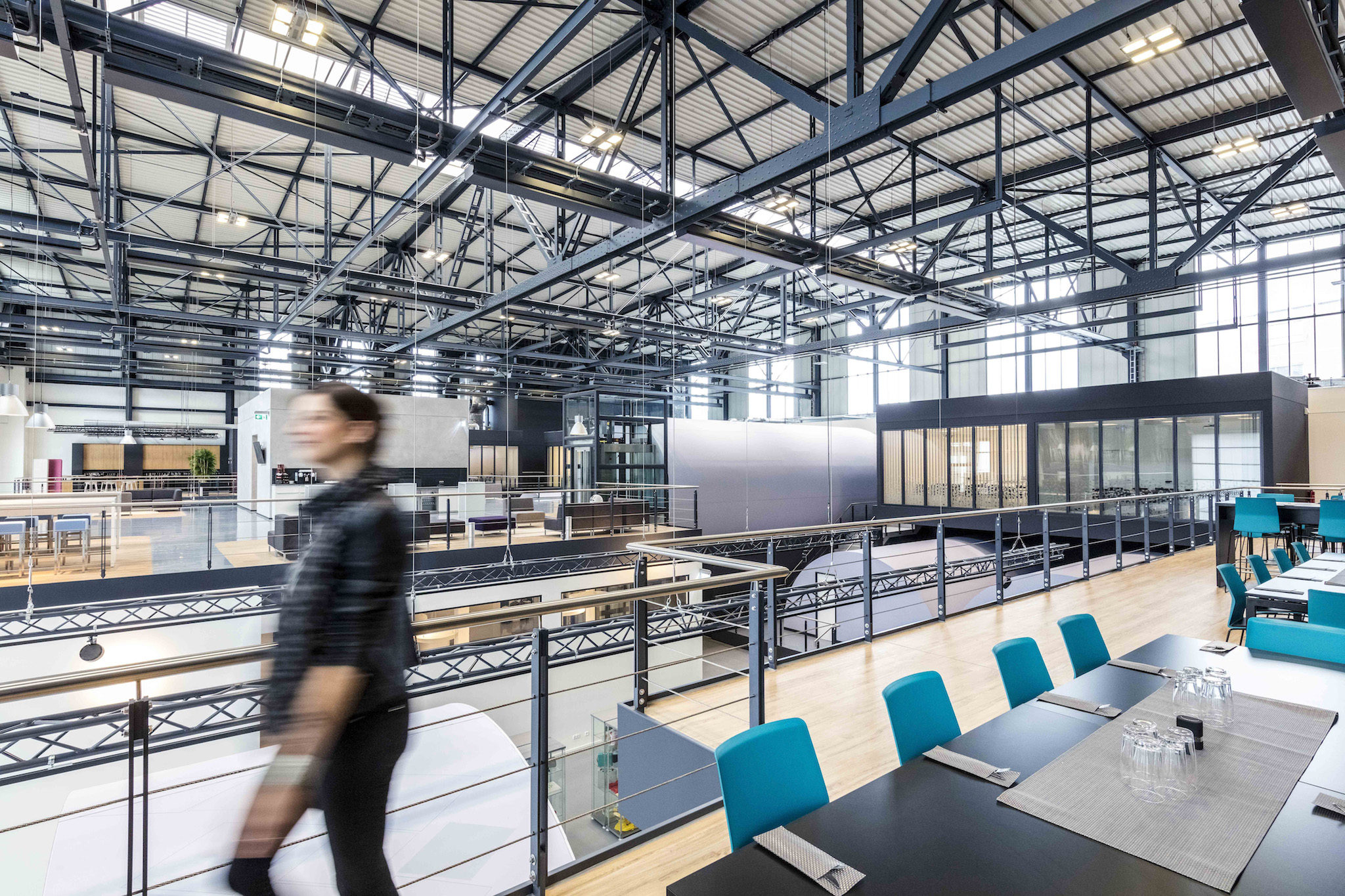 "With the capacity of the A320 Family aircraft to serve long-range routes and the A330NEO evolution, the cabins of these aircraft families have become more specific and are subject to intense personalization. From today four out of five A350 XWB customers are at the same time the A320 / A330 operators this step is a win-win-win situation for all parties involved to encourage and optimize the definition of the cabin through its fleet", said Sören Scholz, Airbus Senior Vice President of Cabin & Cargo Program.
The design of the CDC Program is a unique definition process through a highly specialized designed matrix. In line with Airbus' history of cabin innovation, the extension brings several new technologies and services that are already available through different types of aircraft. A key feature is a low-projection system invented by Airbus, which shows the design of the cabin on a large scale on the ground. In combination with the original elements of the cabin, customers can perform live tests of alternative designs and scenarios. In addition to this innovation, some in model layout have been expanded to include a loading area to discuss solutions for the use of the space in the lower deck. In addition to meeting rooms are updated with the latest virtual reality technologies.
The combination of functional playrooms for cabin equipment testing, exhibition areas for typical aerial product staging, design studies for material and mood light definitions, virtual and augmented reality technology complemented with areas Customer-specific mock-up, make the airspace to the CDC a unique and attractive one-stop shop for customers. A \ W
Ξ A I R G W A Y S Ξ
SOURCE: Airgways.com
DBk: Airbus.com / Actu-aero.fr / Airgways.com
AW-POST: 201904021431AR
A\W   A I R G W A Y S ®