AW | 2019 04 10 20:28 | AIRLINES
Las compañías aéreas brasileñas intensifican las reglas de embarque con maletas de mano
Las aerolíneas brasileñas comenzarán a aplicar con más rigor las reglas para que los pasajeros lleven maletas de mano en los aviones. La fiscalización más intensa, que será implementada por fases a partir de hoy 10 Abril hasta el 24 Abril 2019, fue anunciada por la Asociación Brasileña de las Empresas Aéreas (ABEAR). Según ABEAR, el pasajero que intente embarcar con un equipaje de mano mayor que el tamaño permitido necesitará despacharla, pagando por el servicio. "A partir de mayo, se necesitan las bolsas fuera de la norma que comprobar en los registros de entrada de las aerolíneas y están sujetos a cargos de acuerdo con el tipo de franquicia contratado para el viaje", dijo el comunicado.
La asociación afirma que la decisión pretende "agilizar el flujo de clientes en el envío, evitando retrasos y proporcionando una mayor comodidad para todos los pasajeros", ya que desde el comienzo de la recogida del equipaje facturado, muchos pasajeros comenzaron a tomar bolsos más grandes dentro de la aeronave. De acuerdo con las empresas, esa acción de los clientes acaba dejando las cabinas de los aviones sin espacio, causando problemas y retrasos dentro de los vuelos. En total, 15 aeropuertos estarán participar en la fase de ejecución de la medida, informar a los pasajeros las reglas para un equipaje que se clasifica como una mano.
El ABER también establece que la acción para comprobar el tamaño de las bolsas se hará antes de la radiografía, y se utilizará una caja con las medidas permitidas para verificar que las bolsas están dentro de la norma.
Las compañías aéreas van a impedir maletas de mano con un tamaño mayor que el estándar internacional. De acuerdo con las normas internacionales de la IATA (Asociación Internacional de Transporte Aéreo), el equipaje de mano puede tener 35 cm de ancho, 25 cm de profundidad y 55 cm de alto. Esta medida vale para todas las compañías aéreas. Si la maleta cubre dentro de la caja, el pasajero puede seguir y embarcar normalmente. En caso de que la maleta no entre, el cliente deberá despacharla en el área de check-in.
Rules for hand luggage in Brazil
Brazilian airlines intensify boarding rules with hand luggage
Brazilian airlines will begin to apply the rules more rigorously so that passengers carry suitcases on planes. The most intense inspection, which will be implemented in phases from today 10 April to 24 April 2019, was announced by the Brazilian Association of Air Companies (ABEAR). According to ABEAR, the passenger who tries to embark with a hand luggage larger than the allowed size will need to dispatch it, paying for the service. "Starting in May, we need out-of-standard bags to check the airline's entry records and are subject to charges according to the type of franchise contracted for the trip", the statement said.
The association states that the decision aims to "streamline the flow of customers in the shipment, avoiding delays and providing greater comfort for all passengers", since from the beginning of the collection of checked baggage, many passengers began to take larger bags inside the aircraft. According to the companies, this action of the clients ends up leaving the cabins of the planes without space, causing problems and delays inside the flights. In total, 15 airports will be participating in the implementation phase of the measure, informing passengers the rules for a baggage that is classified as a hand.
The ABER also states that the action to check the size of the bags will be done before the radiography, and a box with the permitted measures will be used to verify that the bags are within the norm.
Airlines will prevent hand luggage with a size larger than the international standard. According to the international standards of the IATA (International Air Transport Association), carry-on luggage can be 35 cm wide, 25 cm deep and 55 cm high. This measure is valid for all airlines. If the suitcase covers inside the box, the passenger can follow and board normally. In case the suitcase does not enter, the client must send it to the check-in area. A \ W
Regras para bagagem de mão no Brasil
Linhas aéreas brasileiras intensificam regras de embarque com bagagem de mão
As companhias aéreas brasileiras começarão a aplicar as regras com mais rigor para que os passageiros carreguem malas nos aviões. A inspeção mais intensa, que será implementada em fases, de hoje, 10 de abril a 24 de abril de 2019, foi anunciada pela Associação Brasileira de Empresas Aéreas (ABEAR). Segundo a ABEAR, o passageiro que tentar embarcar com uma bagagem de mão maior que o tamanho permitido precisará despachá-la, pagando pelo serviço. "A partir de maio, os sacos fora da norma para verificar os registos de entrada de companhias aéreas e estão sujeitos a encargos de acordo com o tipo de franquia contratados para a viagem são necessários", disse o comunicado.
A associação alega que a decisão visa "agilizar o fluxo de clientes no transporte, evitando atrasos e proporcionando maior conforto para todos os passageiros", já que desde o início da recolha de bagagem despachada, muitos passageiros começaram a tomar sacos maiores dentro da aeronave. Segundo as empresas, essa ação dos clientes acaba deixando as cabines dos aviões sem espaço, causando problemas e atrasos nos vôos. No total, 15 aeroportos estarão participando da fase de implementação da medida, informando aos passageiros as regras para uma bagagem classificada como uma mão.
Aber também afirma que a ação para verificar o tamanho dos sacos será feita antes radiografia e uma caixa será utilizado para medidas permitiram verificar que os sacos estão dentro da norma.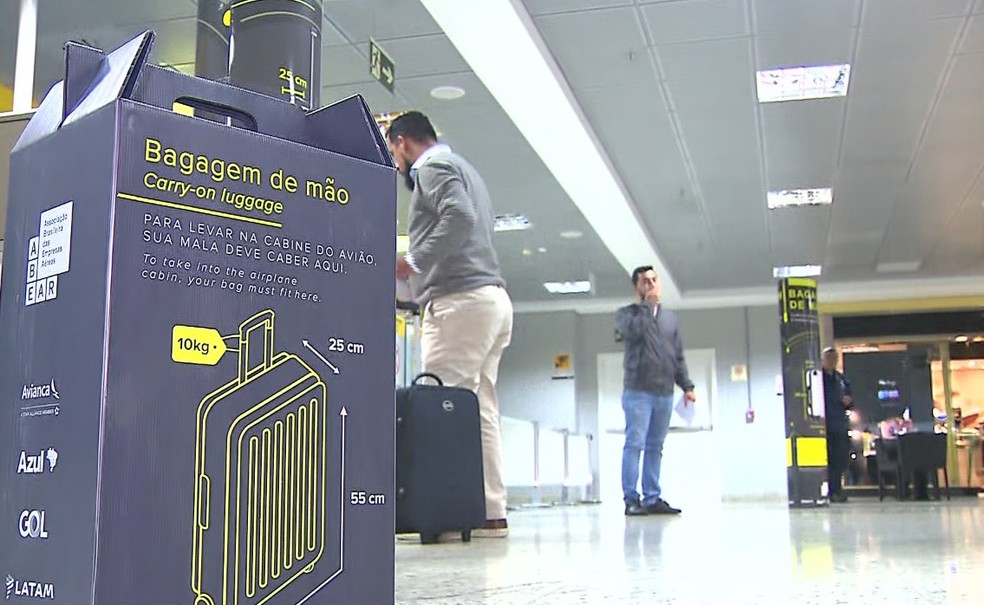 As companhias aéreas impedirão a bagagem de mão com um tamanho maior que o padrão internacional. De acordo com os padrões internacionais da IATA (Associação Internacional de Transporte Aéreo), a bagagem de mão pode ter 35 cm de largura, 25 cm de profundidade e 55 cm de altura. Esta medida é válida para todas as companhias aéreas. Se a mala for coberta dentro da caixa, o passageiro pode seguir e embarcar normalmente. Caso a mala não entre, o cliente deve enviá-la para a área de check-in. A \ W
Ξ A I R G W A Y S Ξ
SOURCE: Airgways.com
DBk: Agenciaabear.com.br / Exame.abril.com.br / Airgways.com / Travelandleisure.com
AW-POST: 201904102028AR
A\W   A I R G W A Y S ®