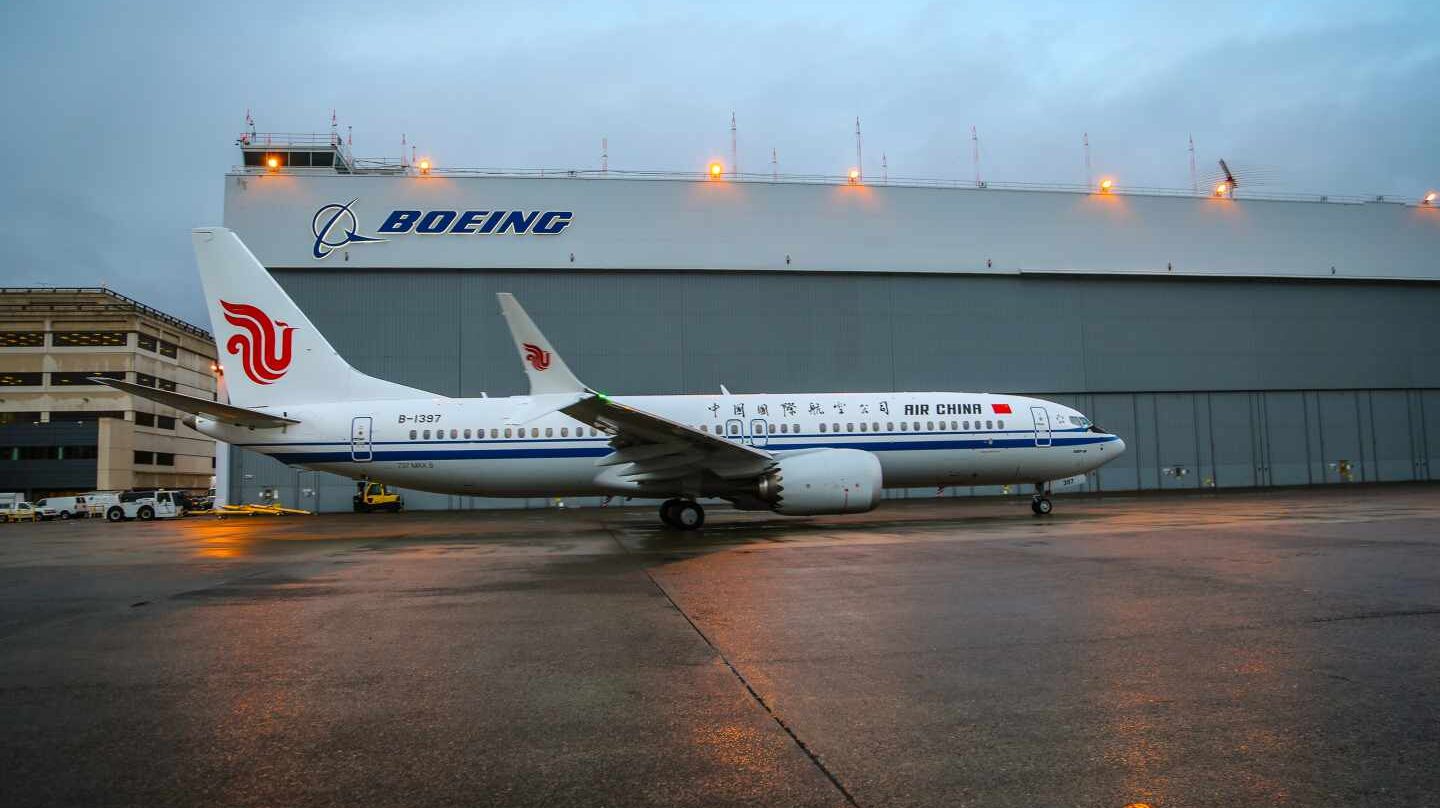 AW | 2019 06 12 12:47 | AVIATION SAFETY / GOVERNMENT
China puede usar a Boeing en su guerra comercial asimétrica
La guerra comercial entre los Estados Unidos y China se ha ampliado recientemente incluida la penalización de las empresas. Boeing no es la excepción a la exposición al riesgo de la política comercial entre China y los Estados Unidos.
La guerra comercial entre Estados Unidos y China ha dado un giro desagradable para incluir la lista negra de compañías con una exposición soberana significativa como es el caso de The Boeing Company que podría estar en la lista de empresas en el radar de China.
La investigación en curso del Boeing 737 MAX ha analizado los problemas de sus aeronaves y sus preocupaciones económicas globales. La exposición específica de China de la compañía es una preocupación adicional que se suma al riesgo a corto plazo empleando una política para no aprobar la recertificación de la última versión de la línea 737.
Guerra asimétrica
La guerra comercial asimétrica incluye la orientación de las empresas de Estados Unidos que ha condenado a Huawei Technologies, prohibiendo que las empresas estadounidenses compartan tecnologías con la compañía con sede en China. El argumento en contra de trabajar con Huawei es que es una amenaza de seguridad nacional para los Estados Unidos, pero los ejecutivos de la empresa creen que está siendo atacado debido a la guerra comercial entre los Estados Unidos y China.
China acaba de etiquetar a FedEx como un operador no confiable dentro de sus fronteras debido a entregas sospechosas redirigidas de ciertos paquetes. FedEx está bajo investigación, y creo que es simplemente parte de la escalada de la guerra comercial entre los dos países. El miércoles pasado, China multó a una empresa Ford con una pequeña suma por una infracción antimonopolio.
Exposición de Boeing
La exposición de Boeing a China está en varios frentes. Boeing tiene múltiples riesgos debido a sus importantes relaciones con China y el resto del mundo. Dentro del informe anual de Boeing para 2018 encontrará sus factores de riesgo, o los más previsibles. Entre los escollos, encontramos el importante riesgo comercial internacional de Boeing. El informe dice: "Obtenemos una parte significativa de nuestros ingresos de ventas fuera de los Estados Unidos y estamos sujetos a los riesgos de hacer negocios en otros países".
La exposición al riesgo total de Boeing en China es significativa. Sin embargo, la relación entre Boeing y China es mutuamente beneficiosa. Una cuarta parte de la línea de producción de Boeing se entrega a clientes chinos. Más del 50% de la flota china está compuesta por aviones Boeing. Boeing estima que China necesita US$ 1.2 billones de dólares en aviones nuevos en los próximos 20 años. China desempeña un papel de componente en todos los modelos actuales de aviones Boeing. Pero, China también tiene un fabricante de aviones en ciernes, Commercial Aircraft Corporation of China, Ltd. (COMAC), por lo que quizás sea razón suficiente para que el país comunista penalice oportunamente a Boeing de la guerra comercial.
El constructor americano habría recibido el mayor pedido de aeronaves en la historia de Boeing en China, pero este puede retrasarse debido a negociaciones comerciales tensas entre los Estados Unidos y China. Boeing está en negociaciones con aerolíneas chinas para el orden de unos 100 aviones grandes de cuerpo ancho, incluyendo el 787 Dreamliner de Boeing y su último avión, el 777-9. Sin embargo, la finalización del acuerdo aparentemente está a la espera de la aprobación del gobierno chino.
China pudiera estar preparando algún tipo de acción punitiva o restricción contra Boeing, probablemente no aprobaría una orden tan grande simultáneamente, o simplemente llamaría la atención de advertencia a los intereses comerciales de China dejar que se sepa que el fabricante estadounidense corre el riesgo de perder un importante pedido ante un competidor extranjero debido a la guerra comercial.
Boeing 737 MAX y China
Los reguladores de China podrían no aprobar la recertificación del Boeing 737 MAX para el vuelo cuando lo haga la Administración Federal de Aviación de los Estados Unidos (FAA). El razonamiento lógico puede ser simplemente penalizar a los Estados Unidos por los tratos comerciales agresivos. Boeing obtuvo el 56% de sus ingresos en 2018 de clientes no estadounidenses, por lo que las acciones de la compañía deberían tener en cuenta el riesgo en relación con el deterioro de las relaciones soberanas.
Si Boeing es seleccionado por China como un operador no confiable dentro de sus fronteras y penalizado de alguna manera significativa, lo cual es perfectamente posible considerando los eventos recientes, entonces las acciones podrían ver una caída abrupta.
Síndrome Trauma del 737 MAX
El Presidente Ejecutivo de Delta, Ed Bastian, dijo el Martes 11 Junio 2019 que la industria de las aerolíneas todavía está traumatizada por la controversia que rodea al avión Boeing 737 MAX luego de una serie de accidentes mortales.
Boeing ha estado bajo presión en los últimos meses, luego de dos accidentes fatales que involucraron al 737 MAX que mató a casi 350 personas. El avión ha estado conectado a tierra en todo el mundo desde Marzo 2019, y se ha relacionado un desastre con un sensor específico (MCAS) de los aviones 737 MAX a los desastres. El mes pasado, la compañía completó una actualización de software para la aeronave asaltada y se comprometió a que el 737 MAX fuera certificado nuevamente por la Administración Federal de Aviación. SpiceJet, uno de los mayores compradores del avión 737 MAX, dijo que Boeing aseguró que su avión golpeado por la crisis regresaría a los cielos en Julio 2019, pero Boeing o la FAA no han fijado una fecha límite oficial.
Delta Air Lines, la segunda aerolínea más grande de Estados Unidos se dirigió a la controversia de Boeing y dijo que había dejado una marca importante en la industria de la aviación en su conjunto. "Honestamente, es algo impensable lo que pasó. Creo que hemos estado traumatizados como una industria, aún teniendo en mente lo que sucedió", dijo el CEO Ed Bastian.
Delta Air Lines posee un historial de seguridad que su compañía continuaría priorizando sobre la innovación o el costo. "La seguridad no es algo contra lo que competimos. Realmente no puedo hablar mucho sobre el Boeing 737 MAX, no volamos el MAX. En mi opinión, esto fue realmente un hecho único. Ciertamente, habrá lecciones aprendidas y todavía no sabemos todos los hechos", dijo Bastian sobre la controversia que rodea al Boeing 737 MAX.
Pero varias aerolíneas, entre ellas American Airlines y United Airlines, se han lanzado recientemente a la defensa de Boeing y se han comprometido a volar los 737 MAX una vez que hayan vuelto a certificarse.
China-US asymmetric war
China can use Boeing in its asymmetric trade war
The trade war between the United States and China has recently expanded including the criminalization of companies. Boeing is not the exception to the risk exposure of the trade policy between China and the United States.
The trade war between the United States and China has taken an unpleasant turn to include the blacklist of companies with a significant sovereign exposure as is the case of The Boeing Company that could be on the list of companies on China's radar.
The ongoing investigation of the Boeing 737 MAX has analyzed the problems of its aircraft and its global economic concerns. China's specific exposure of the company is an additional concern that adds to the short-term risk by using a policy to not approve the recertification of the latest version of the 737 line.
Asymmetric war
The asymmetric trade war includes the orientation of companies. United States that has condemned a Huawei Technologies, forbidding companies to share technologies with the company based in China. The argument against working with Huawei is a threat to national security for the United States, but company executives are attacked because of the trade war between the United States and China.
China has just labeled a FedEx as an unreliable operator within its borders due to suspicious deliveries redirected from certain packages. FedEx is under investigation, and to think it's just part of the escalation of the trade war between the two countries. Last Wednesday, China fined a Ford company with a small sum for an antitrust offense.
Boeing exhibition
Boeing's exposure to China is on several fronts. Boeing has multiple risks due to its important relationships with China and the rest of the world. Within Boeing's annual report for 2018 to obtain information on risk factors, or more predictable. Among the pitfalls, we find the important international commercial risk of Boeing. The report says: "Obtaining a significant portion of our sales revenue outside the United States and we are subject to the risks of doing business in other countries".
The exposure to Boeing's total risk in China is significant. However, the relationship between Boeing and China is mutually beneficial. A quarter of the Boeing production line is delivered to Chinese customers. More than 50% of the Chinese fleet consists of Boeing aircraft. Boeing estimates that China needs US$ 1.2 trillion in new aircraft in the next 20 years. China plays a component role in all current models of Boeing aircraft. But, China also has a fledgling aircraft manufacturer, the Commercial Aircraft Corporation of China, Ltd. (COMAC), so perhaps that is enough reason for the communist country to timely punish a Boeing of the trade war.
The American builder had received the largest order of aircraft in the history of Boeing in China, but this may be delayed due to commercial tensions between the United States and China. Boeing is in negotiations with orders for about 100 large wide-body aircraft, including Boeing's 787 Dreamliner and its latest plane, the 777-9. However, the finalization of the agreement is apparently awaiting the approval of the Chinese government.
China could be preparing some kind of punitive action or restriction against Boeing, it probably would not approve such a large order, it would simply draw warning attention to China's commercial interests, leaving aside the United States manufacturer. Important for a foreign competitor due to the commercial war.
Boeing 737 MAX and China
China's regulators may not approve the recertification of the Boeing 737 MAX for the flight when it clicks on the Federal Aviation Administration of the United States (FAA). The logical reasoning may simply be to penalize the United States for aggressive commercial dealings. Boeing obtained 56% of its revenues in 2018 from non-US clients, the company's stock, the account, the risk in sovereign relationships.
If Boeing is selected by China as an operator it is not reliable within its borders and penalized in some significant way, which is perfectly possible.
Trauma syndrome of the 737 MAX
Delta Executive Chairman Ed Bastian said on Tuesday, June 11, 2019 that the communications industry is still traumatized by the controversy surrounding the Boeing 737 MAX aircraft of a series of fatal accidents.
Boeing has been under pressure in recent months, following two fatal crashes involving 737 MAX that killed nearly 350 people. The aircraft has been connected to the ground around the world since March 2019, and is related to a disaster with a specific sensor (MCAS) of the 737 MAX aircraft to disaster. Last month, the company completed a software update for the aircraft, assaulted and committed to the 737 MAX. SpiceJet, one of the biggest buyers of the 737 MAX plane, said Boeing said its plane was hit by the crisis would return to the skies in July, but Boeing or the FAA has not been an official deadline.
Delta Air Lines, the second largest airline in the United States, referred to the Boeing controversy and was said to have been an important brand in the aviation industry as a whole. "Honestly, it's unthinkable that it happened, I think we've been traumatized as an industry, even taking into account what happened", said CEO Ed Bastian.
Delta Air Lines has a safety record that your company continues to prioritize over innovation or cost. "Security is not something we compete against, I really can not talk much about the Boeing 737 MAX, we do not fly the MAX, in my opinion, this was really a unique fact, certainly there will be lessons learned and we still do not know all the facts", Bastian said about the controversy surrounding the Boeing 737 MAX.
But several airlines, including American Airlines and United Airlines, have recently been launched in the defense of Boeing and have committed to fly the 737 MAX once they have returned to certification. A \ W
Ξ A I R G W A Y S Ξ
SOURCE: Airgways.com
DBk: Boeing.com / Businessinsider.com / Seekingalpha.com / Delta.com / Airgways.com / Bigstock/aapsky
AW-POST: 201906121247AR
A\W   A I R G W A Y S ®