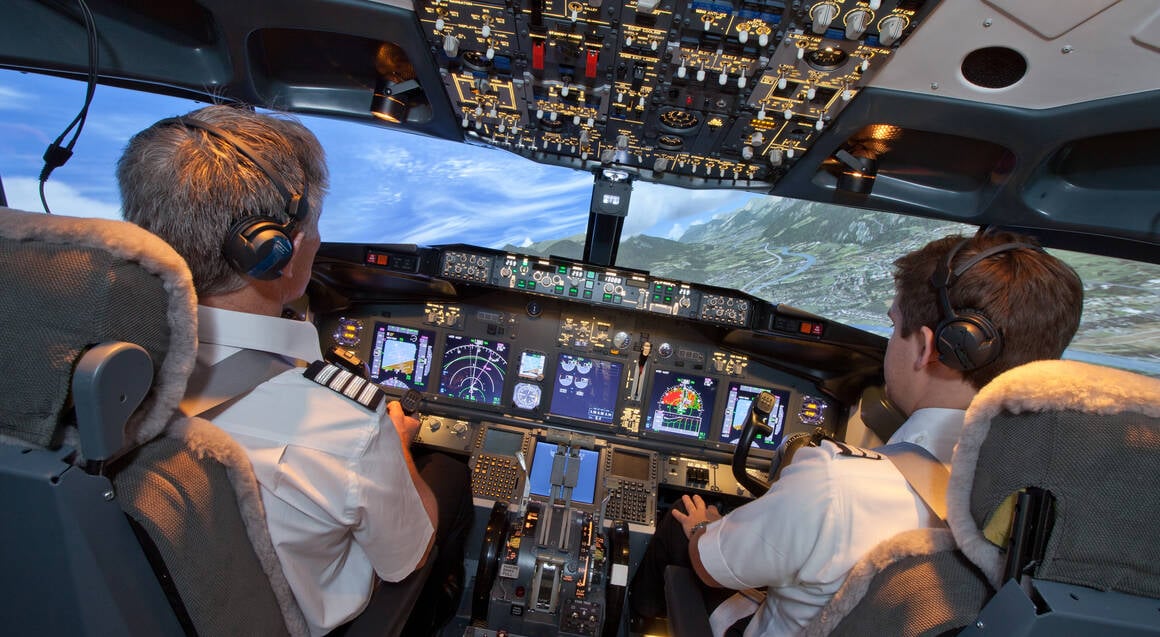 AW | 2019 06 16 05:33 | AIR INVESTIGATION / AVIATION SAFETY
Boeing está actualizando simuladores 737 más antiguos como consecuencia de los accidentes aéreos de la línea 737 MAX
Boeing ha ordenado una AD a las aerolíneas que vuelan la flota de Boeing 737 NG Next Generation para reemplazar una parte en las alas de los aviones, un movimiento que podría afectar a más de 100 aviones. Boeing dice que está trabajando con la Administración Federal de Aviación (FAA) y ha contactado a operadores de flota 737.
Boeing está actualizando los simuladores para los 737 NG después de que la investigación llevada a cabo en dos accidentes fatales de 737 MAX reveló que no replican con precisión la fuerza requerida durante un procedimiento crítico para los pilotos que respondieron a ambos accidentes.
La capacitación de los pilotos sobre cómo mover manualmente la nariz hacia arriba o hacia abajo en los Boeing 737 NG, los modelos que precedieron a la introducción del MAX, no habría sentido fuerzas precisas, dijo la compañía en un comunicado.
El procedimiento requiere que las tripulaciones de la cabina de mando giren dos ruedas en la cabina. La compañía anunció que también estaba arreglando sus simuladores en 737 MAX en Mayo 2019. Mover las llamadas ruedas de ajuste manual es una parte crítica del procedimiento de emergencia necesario para responder al mal funcionamiento que los pilotos en Indonesia y Etiopía enfrentaron antes de estrellarse. Se suponía que debían apagar un motor eléctrico y hacer ajustes con una manivela. "Estamos dando este paso como parte de nuestro esfuerzo en los últimos meses para volver a examinar y mejorar nuestra capacidad de simulador. Boeing está trabajando estrechamente con los fabricantes, operadores y reguladores del simulador para ayudar a garantizar que las necesidades de capacitación de los clientes se cumplan y se fortalezcan aún más en el futuro", dijo la compañía.
Los pilotos del 737 MAX de Ethiopian Airlines que se estrelló el 10 Marzo 2019 dijeron que el sistema manual "no funcionaba", según un informe preliminar que parafraseaba sus conversaciones capturadas en la grabadora de voz de la cabina. El informe no concluyó por qué ese fue el caso ni proporcionó detalles. Las altas fuerzas en la cola, mientras los pilotos luchaban por controlar el avión, habrían dificultado el giro de las ruedas de ajuste. De acuerdo a la investigación después de los choques, parecería más fácil poner las ruedas en los simuladores de lo que era cierto en un avión real en algunas circunstancias y más difícil en otras. Las diferencias entre el simulador y un avión real no deberían haber hecho una diferencia en el entrenamiento que recibieron los pilotos, dijo Boeing en su declaración.
La Administración Federal de Aviación dijo que está al tanto del trabajo de Boeing para actualizar los simuladores. "La FAA se asegurará de que todos los simuladores calificados por la FAA estén bien modelados y puedan reproducir fuerzas representativas en la rueda de ajuste durante todas las fases del vuelo", dijo la agencia en su comunicado.
Boeing updates simulators 737NG
Boeing is upgrading older 737 simulators as a result of air accidents on the 737 MAX line
Boeing has ordered an AD to the airlines that fly the Boeing 737 NG Next Generation fleet to replace a part in the wings of the aircraft, a move that could affect more than 100 aircraft. Boeing says it is working with the Federal Aviation Administration (FAA) and has contacted fleet operators 737.
Boeing is updating the simulators for the 737 NG  after the investigation into two fatal 737 MAX crashes revealed that they do not accurately replicate the force required during a critical procedure for the pilots who responded to both accidents.
The training of pilots on how to manually move the nose up or down on the Boeing 737 NG, the models that preceded the introduction of the MAX, would not have felt precise forces, the company said in a statement.
The procedure requires that the crews of the cockpit turn two wheels in the cabin. The company announced that it was also fixing its simulators at 737 MAX in May 2019. Moving the so-called manual adjustment wheels is a critical part of the emergency procedure necessary to respond to the malfunction that pilots in Indonesia and Ethiopia faced before crashing. They were supposed to turn off an electric motor and make adjustments with a crank. "We are taking this step as part of our effort over the past few months to re-examine and improve our simulator capability." Boeing is working closely with the manufacturers, operators and regulators of the simulator to help ensure that the training needs of customers. are fulfilled and strengthened even more in the future", the company said.
Pilots of the 737 MAX of Ethiopian Airlines that crashed on March 10, 2019 said that the manual system "did not work", according to a preliminary report that paraphrased their conversations captured on the cockpit voice recorder. The report did not conclude why that was the case or provide details. The high forces in the tail, while the pilots struggled to control the plane, would have made it difficult to turn the adjustment wheels. According to the investigation after the crashes, it would seem easier to put the wheels in the simulators than was true in a real plane in some circumstances and more difficult in others. The differences between the simulator and a real plane should not have made a difference in the training the pilots received, Boeing said in his statement.
The Federal Aviation Administration said it is aware of Boeing's work to update the simulators. "The FAA will ensure that all simulators qualified by the FAA are well modeled and can reproduce representative forces on the adjustment wheel during all phases of the flight", the agency said in its statement. A \ W
Ξ A I R G W A Y S Ξ
SOURCE: Airgways.com
DBk: Boeing.com / Faa.gov / Youtube.com
AW-POST: 201906160533AR
A\W   A I R G W A Y S ®