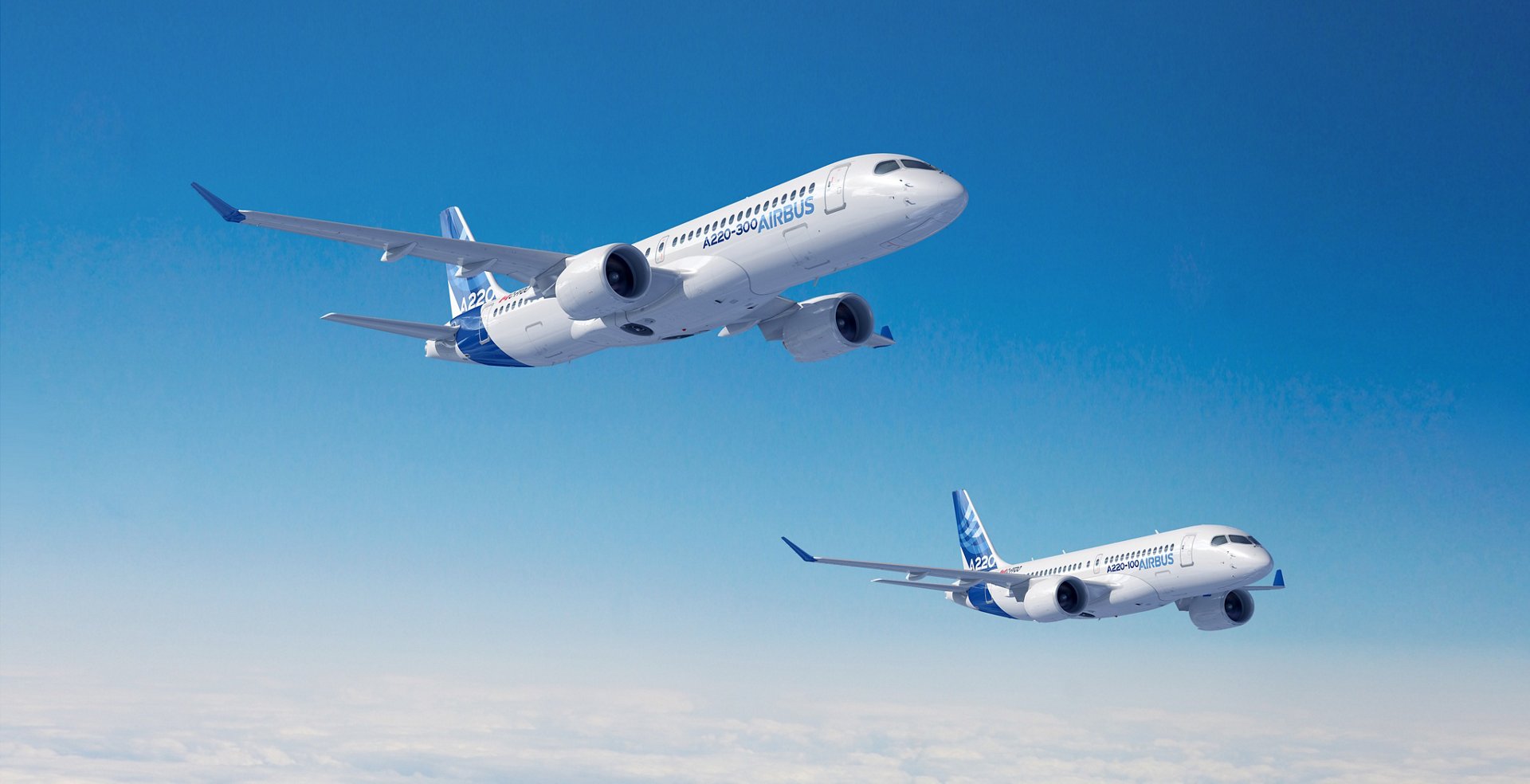 AW | 2019 06 22 20:07 | INDUSTRY
Primeros componentes para la línea de ensamblaje del avión regional Airbus A220 en Alabama, Estados Unidos
La planta de ensamblaje del Airbus A220 en Mobile, Estado de Alabama en Estados Unidos, obtiene sus primeros partes componentes. Las primeras partes de las secciones del Programa A220 de Airbus llegaron el Viernes 21 Junio 2019 a la línea de ensamblaje final del fabricante europeo. La llegada de Mobile de los componentes concuerda en la misma semana de la feria aeronáutica Paris Air Show 2019. El espectáculo vio a Airbus recibir órdenes y memorandos de entendimiento para casi 600 aviones, duplicando las promesas recibidas por el constructor americano Boeing.
Arribo componentes
En Airbus FAL Mobile en Alabama han llegado las primeras secciones de la cabina y el fuselaje trasero del A220-300. Es el primer lote de ensamblajes de componentes principales al FAL de Airbus-US. La línea de ensamblaje del A220 se encuentra en la misma instalación de Aeroplex en la que se ensambla la Familia A320. Airbus dijo que el primero de los MCA del A220 consiste en el fuselaje y la cabina de popa. Aunque la instalación para la línea del A220 en Mobile no se completará hasta 2020, el ensamblaje de la aeronave regional comenzará dentro de los próximos dos meses.
Órdenes del A220
Airbus ha comunicado que en todo el mundo el número total de pedidos para el A220 es superior a 500 unidades. Las aeronaves completadas se programan por primera vez para Delta Airlines entre fines de 2019 y mediados de 2020. La aerolínea estadounidense cuenta hoy con 95 aeronaves de los tipos A220-100 y A220-300. "Ese avión con nuestra marca Airbus, con nuestro apoyo, nuestra adquisición y nuestras ventas es un cambio de juego", Jeff Knittel, Jefe estadounidense de Airbus. El mayor pedido de A220 se recibió de Air Lease Corporation con unas 50 órdenes.
Metamorfosis del A220
La relación de De Havilland Canadá con The Boeing Company data de tiempo atrás, allá por los años 80's cuando la compañía estadounidense adquiere el Programa DHC Dash 8. Pero tiempo después la pone en venta a Bombardier Inc. El fabricante canadiense le había pedido previamente a Boeing que ayudara con la producción del Programa CSeries, pero Boeing rechazó un acuerdo debido a las preocupaciones que tenía sobre el exceso de producción y los retrasos. El fabricante estadounidense luego intentó presionar al gobierno de los Estados unidos para imponer aranceles a las importaciones de los aviones debido supuesto impacto de la línea CSeries en franca competencia con el modelo Boeing 737.
Un cambio de dirección estratégica de Bombardier ha realizado para poder introducir las ventas de sus aeronaves en el mercado estadounidense consiguiendo que el constructor europeo Airbus SE adquiriera una participación del 51% en el Programa CSeries en 2017, Airbus y así evitar los exorbitantes aranceles que debería pagar el ingreso de cada avión en Estados Unidos. El proceso de transformación y estandarización hizo que Airbus renombrara el avión regional a A220.
La reciente alianza Boeing-Embraer no representaría una amenaza para el consorcio Airbus, según expresa el CEO de Airbus, Tom Enders. A pesar de la viabilidad potencial de la nueva generación de aeronaves de Embraer con el Programa E2, confía en la flotabilidad de su empresa. El ensamblaje final de la A220 en los Estados Unidos, es un punto de venta vital para la mayoría de los clientes con sede en los Estados Unidos.
Assembly process A220 in the USA
First components for the Airbus A220 assembly line in Alabama
The assembly plant of the Airbus A220 in Mobile, State of Alabama in the United States, obtains its first component parts. The first parts of the Airbus A220 Program sections arrived on Friday 21 June 2019 at the final assembly line of the European manufacturer. The arrival of Mobile of the components agrees in the same week of the air show Paris Air Show 2019. The show saw Airbus receive orders and memoranda of understanding for almost 600 aircraft, duplicating the promises received by the American manufacturer Boeing.
Arrival components
At Airbus FAL Mobile in Alabama the first sections of the cockpit and the rear fuselage of the A220-300 have arrived. It is the first batch of major component assemblies to the Airbus-US FAL. The assembly line of the A220 is located in the same Aeroplex facility where the A320 Family is assembled. Airbus said the first of the A220's MCAs consists of the fuselage and the aft cabin. Although the installation for the A220 line in Mobile will not be completed until 2020, the assembly of the regional aircraft will begin within the next two months.
Orders of the A220
Airbus has reported that worldwide the total number of orders for the A220 is greater than 500 units. The completed aircraft are scheduled for the first time for Delta Airlines between the end of 2019 and the middle of 2020. The US airline currently has 95 aircraft of the types A220-100 and A220-300. "That airplane with our Airbus brand, with our support, our acquisition and our sales is a game changer", Jeff Knittel, Airbus US Chief. The largest order of A220 was received from Air Lease Corporation with about 50 orders.
Metamorphosis of the A220
De Havilland Canada's relationship with The Boeing Company dates back to the 1980s when the US company acquired the DHC Dash 8 Program. Later, it was put on sale to Bombardier Inc. The Canadian manufacturer had previously asked for it. Boeing will help with the production of the CSeries Program, but Boeing rejected an agreement due to concerns about overproduction and delays. The US automaker later tried to pressure the US government to impose tariffs on aircraft imports due to the alleged impact of the CSeries line in frank competition with the Boeing 737 model.
A change of address Bombardier has made to introduce the sales of their aircraft in the US market getting the European manufacturer Airbus SE acquired a 51% stake in the CSeries Program in 2017, Airbus and thus avoid the exorbitant tariffs that should pay the income of each plane in the United States. The process of transformation and standardization caused Airbus to redenominate the regional aircraft to A220.
The recent Boeing-Embraer alliance would not pose a threat to the Airbus consortium, according to Airbus CEO Tom Enders. Despite the potential viability of Embraer's new generation of aircraft with the E2 Program, it relies on the buoyancy of its company. The final assembly of the A220 in the United States is a vital point of sale for most customers based in the United States. A \ W
Ξ A I R G W A Y S Ξ
SOURCE: Airgways.com
DBk: Airbus.com / Airgways.com / News.delta.com
AW-POST: 201906222007AR
A\W   A I R G W A Y S ®