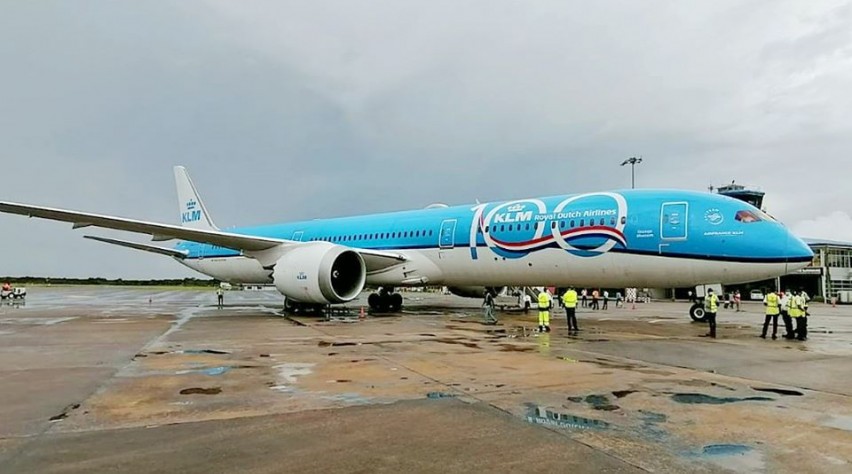 AW | 2020 06 13 18:55 | AIRLINES
KLM aterriza por primera vez Boeing 787-10 en Paramaribo
El primer vuelo de un Boeing 787-10 de la aerolínea KLM Royal Dutch Airlines ha aterrizado por primera vez en el Aeropuerto Johan Adolf Pengel en Paramaribo, Surinam. El vuelo de arribo de la nueva aeronave trajo suministros médicos a la República de Surinam. Los pasajeros también los acompañan en su camino de regreso al Aeropuerto Schiphol en los Países Bajos. El vuelo de ida, según el Diario Waterkant, incluyó 3.500 kits de prueba de reacción a virus. Surinam puede aprovecharlo ahora que el Coronavirus ha infectado nuevamente a las personas. Por esa razón, el país está nuevamente en estado de bloqueo y se ha pospuesto el reinicio del servicio de línea de Surinam Airways (SLM) hacia los Países Bajos.
KLM Airlines realiza vuelos sanitarios y de repatriación una vez más una semana con pasajeros de Paramaribo, para que las personas tengan la oportunidad de regresar a los Países Bajos. Un Boeing 777-200 fue desplegado la semana pasada. Los Boeing 747, que anteriormente sirvieron fielmente en la ruta transatlántica, fueron retirados del servicio de pasajeros por KLM.
KLM lands 1st flight Boeing 787-10 Paramaribo
KLM lands Boeing 787-10 for the first time in Paramaribo
The first flight of a Boeing 787-10 by KLM Royal Dutch Airlines has landed for the first time at Johan Adolf Pengel Airport in Paramaribo, Suriname. The arrival flight of the new aircraft brought medical supplies to the Republic of Suriname. Passengers also accompany them on their way back to Schiphol Airport in the Netherlands. The outbound flight, according to the Waterkant Journal, included 3,500 virus reaction test kits. Suriname can take advantage of it now that the Coronavirus has newly infected people. For that reason, the country is again in a state of blockade and the restart of Surinam Airways (SLM) line service to the Netherlands has been postponed.
KLM Airlines conducts health and repatriation flights once again for a week with passengers from Paramaribo, so that people have the opportunity to return to the Netherlands. A Boeing 777-200 was deployed last week. The Boeing 747s, which previously served faithfully on the transatlantic route, were removed from passenger service by KLM.
KLM landt 1e vlucht Boeing 787-10 Paramaribo
KLM landt voor het eerst Boeing 787-10 in Paramaribo
De eerste vlucht van een Boeing 787-10 door KLM Royal Dutch Airlines is voor het eerst geland op Johan Adolf Pengel Airport in Paramaribo, Suriname. De aankomstvlucht van het nieuwe vliegtuig bracht medische benodigdheden naar de Republiek Suriname. Passagiers begeleiden hen ook op hun weg terug naar Schiphol in Nederland. De uitgaande vlucht bevatte volgens het Waterkant Journal 3.500 testkits voor virusreacties. Suriname kan hiervan profiteren nu het Coronavirus nieuw geïnfecteerde mensen heeft. Om die reden verkeert het land opnieuw in een staat van blokkade en is de doorstart van de lijndienst Surinam Airways (SLM) naar Nederland uitgesteld.
KLM Airlines voert weer een week lang gezondheids en repatriëringsvluchten uit met passagiers uit Paramaribo, zodat mensen de mogelijkheid hebben om terug te keren naar Nederland. Vorige week werd een Boeing 777-200 ingezet. De Boeing 747's, die voorheen trouw dienst deden op de transatlantische route, werden door KLM uit de passagiersdienst gehaald.
Ξ A I R G W A Y S Ξ
PUBLISHER: Airgways.com
DBk: Klm-com / Luchtvaartnieuws.nl / Waterkant.net / Airgways.com
AW-POST: 202006131855AR
A\W A I R G W A Y S ®