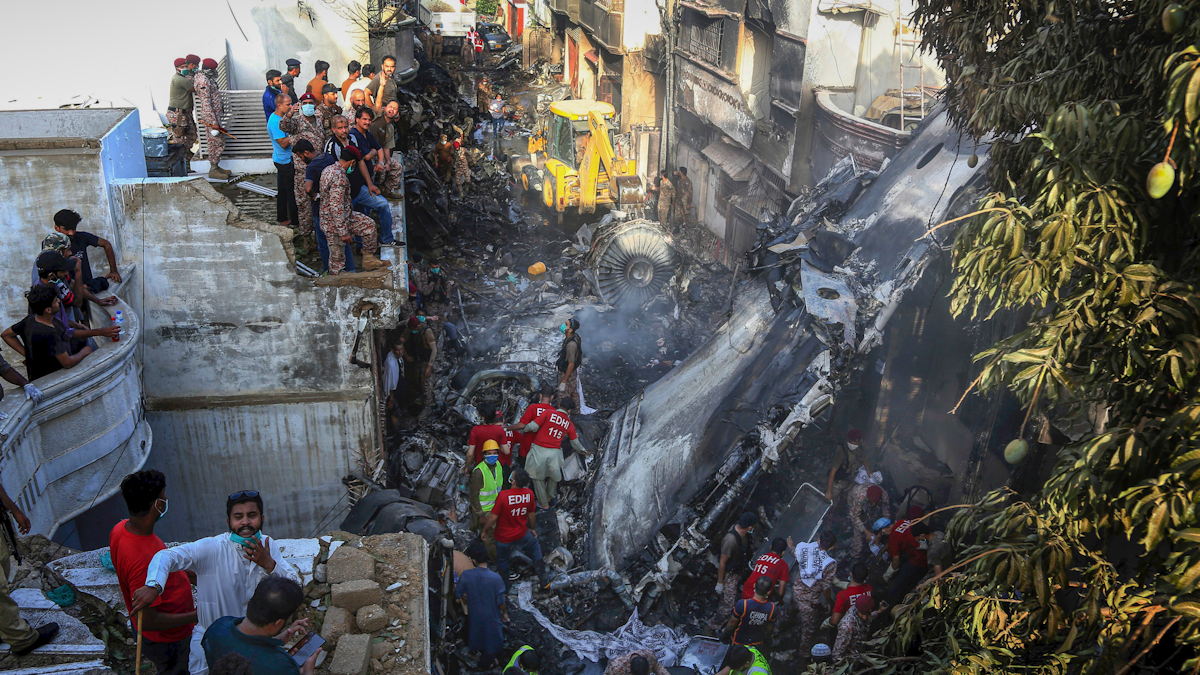 AW | 2020 07 02 16:18 | AVIATION SAFETY
Suspensión del espacio aéreo europeo a Pakistán Airlines
Pakistan International Airlines fue suspendida como resultado de las deficiencias de seguridad tras el accidente aéreo el 22 Mayo 2020 que dejó 97 muertos, con una investigación en curso sobre las credenciales de 150 pilotos. El anuncio de la Unión Europea sobre Pakistan International Airlines no podrá volar a Europa durante al menos seis meses es el último golpe para la aerolínea de bandera nacional del país, que se ha visto envuelta en problemas financieros y administrativos y ha sido objeto de escrutinio después del accidente aéreo del vuelo PK-8303.
La decisión establecida el Martes 30/06 de la Agencia de Seguridad Aérea de la Unión Europea (EASA) de prohibir temporalmente a Pakistan International Airlines siguió a las revelaciones del mes pasado del Ministro de Aviación pakistaní, Ghulam Sarwar Khan, de que una gran cantidad de pilotos allí y en otras aerolíneas tenían credenciales dudosas. Pakistan International Airlines ha puesto en tierra a 150 de sus pilotos y se está realizando una investigación para revisar sus licencias y otra documentación.
Los informes de las credenciales cuestionables han puesto a los pilotos pakistaníes bajo el escrutinio internacional. A principios de esta semana, Vietnam castigó a 27 pilotos pakistaníes que vuelan para aerolíneas vietnamitas. Los Emiratos Árabes Unidos también han solicitado la verificación de las credenciales de los empleados de las aerolíneas pakistaníes. La agencia europea EASA de seguridad aérea dijo que la aerolínea "actualmente no es capaz de certificar y supervisar a sus operadores y aeronaves de acuerdo con las normas internacionales aplicables".
El accidente del 22 Mayo 2020 de un Airbus A320-200 que transportaba a familias que se reunieron después de dos meses de encierro para pasar las vacaciones de Eid al-Fitr juntos fue el último de una serie de desastres aéreos para la aerolínea. Los pilotos habían ignorado varias advertencias de que estaban volando demasiado bajo en la aproximación al Aeropuerto de Karachi, según la investigación sobre el accidente. La aerolínea ha sido criticada por su exceso de personal, tiene una reputación de control de calidad laxo y muchos nombramientos se ven como resultado de la presión política o el nepotismo. Los repetidos esfuerzos de los sucesivos gobiernos para hacerlo financieramente viable han fracasado, y se encuentra con una pérdida de alrededor de US$ 36 millones mensuales, dicen los funcionarios. Los funcionarios pakistaníes han descrito su situación financiera como un pozo sin fondo.
La crisis en Pakistan International Airlines ha llevado a los trabajadores sindicales a sus altos ejecutivos, quienes han sido despedidos regularmente por cargos de corrupción o la falta de propiedad de sus nombramientos. En 2018, la Corte Suprema de Pakistán retiró a Musharraf Rasool como Director Ejecutivo porque no cumplía con los criterios para el trabajo y carecía de experiencia en aviación; su reemplazo, Bernd Hildenbrand, un ciudadano alemán, también fue expulsado por acusaciones similares y acusaciones de corrupción. El actual Director Ejecutivo, Arshad Malik, se desempeña como mariscal en la Fuerza Aérea de Pakistán. Fue traído con grandes esperanzas en 2018 para revivir y renovar la aerolínea nacional, pero este año se vio envuelto en una nube cuando la Corte Suprema planteó preguntas sobre la legalidad de su nombramiento. Se le permitió continuar trabajando. Los críticos de la aerolínea dicen que los pilotos se han sindicalizado y se resisten a los esfuerzos por revisar las reglas de trabajo.
El Ministerio de Aviación ha informado al Parlamento el mes pasado que de unos 860 pilotos que trabajan para las compañías aéreas pakistaníes, 260 tenían licencias fraudulentas. El sistema de examen para las licencias de piloto fue cambiado en 2012 por la Autoridad de Aviación Civil de Pakistan, que fue acusada de no cumplir con los estándares regulatorios. El nuevo proceso implica tomar varias pruebas teóricas y, según los informes, muchos pilotos han intentado evitarlo haciendo trampa o pagando a otros para que realicen las pruebas en su lugar.
El capitán Chaudhry Salman, Jefe de la Asociación de Pilotos de Aerolíneas de Pakistán, cuestionó las afirmaciones del Sr. Ghulam Sarwar Khan en una conferencia de prensa en Karachi la semana pasada. "No hay verdad en estas acusaciones", dijo Salman.
Los pilotos tienen su propio conjunto de quejas y quejas. El año pasado, representantes de los pilotos internacionales de Pakistán acusaron a la aerolínea de violar las reglas de seguridad y poner en riesgo a los pilotos. Dijeron que los pilotos estaban sobrecargados de trabajo, no dormían lo suficiente y sufrían de fatiga, y dijeron que la aerolínea estaba programando vuelos de una manera que ponía en riesgo la seguridad de los aviones y los pasajeros.
Hamood Alam, un ex funcionario que ahora trabaja con otra aerolínea en el Medio Oriente, dijo en una entrevista que nunca había sentido tanta vergüenza, humillación e ira. El Sr. Alam dijo que era de conocimiento común que muchos pilotos no estaban siguiendo los procedimientos y normas de operación estándar en Pakistan International Airlines y otras aerolíneas nacionales. "Incluso los pilotos más calificados no siguen los SOP. Pero el público en general se enteró de esto porque lamentablemente terminó en un accidente. Es un milagro que no tengamos más accidentes", sostuvo Hamood Alam. Ha responsabilizado a un problema social profundamente arraigado, donde las élites y los poderosos tienen plena convicción de que pueden salirse con la suya y de que todas estas reglas son para que alguien más las cumpla. Como ejemplo, el Sr. Alam citó la regla de que cuando una aeronave desciende por debajo de los 10.000 pies, se requiere una "cubierta de vuelo estéril", lo que significa que no debe haber ningún intercambio de información o discusión entre los miembros de la tripulación y con los controladores que no sean los relacionados con el perfil de aterrizaje. La investigación encontró que los pilotos en el accidente del 22 Mayo 2020 estaban discutiendo el Coronavirus durante el acercamiento.
Los políticos de oposición y los críticos del Primer Ministro, Imran Khan, dijeron que el Gobierno manejó la situación posterior al choque de una manera sin tacto que ha avergonzado a Pakistán. "El Gobierno se ha hundido en nuevas profundidades para quitar la culpa de su propia incompetencia. Están explotando una tragedia, culpando a las víctimas, y su total incompetencia ha resultado en restricciones para las aerolíneas y pasajeros paquistaníes. Los pilotos paquistaníes, al igual que otros pilotos de todo el mundo, requieren renovaciones de licencia regulares cada seis meses, lo que incluye simulaciones de vuelo y otras pruebas. Las afirmaciones del gobierno son probablemente falsas, lo que el ministro de aviación nunca debería haber dicho públicamente. Su declaración ha causado una vergüenza internacional y ha puesto en riesgo cientos de carreras", dijo Bilawal Bhutto Zardari, Presidente del Partido Popular de Pakistán.
EASA suspends Pakistan Airlines flights
Suspension of European airspace to Pakistan Airlines
Pakistan International Airlines was suspended as a result of safety deficiencies following the plane crash on May 22, 2020 that left 97 dead, with an ongoing investigation into the credentials of 150 pilots. The European Union's announcement about Pakistan International Airlines will not be able to fly to Europe for at least six months is the latest blow to the country's national flag carrier, which has been embroiled in financial and administrative problems and has come under scrutiny afterwards. of the plane crash of flight PK-8303.
The decision established on Tuesday 30/06 by the European Union Aviation Safety Agency (EASA) to temporarily ban Pakistan International Airlines followed last month's revelations by Pakistani Minister of Aviation, Ghulam Sarwar Khan, that a large number of pilots there and on other airlines had dubious credentials. Pakistan International Airlines has grounded 150 of its pilots and an investigation is underway to review their licenses and other documentation.
Reports of questionable credentials have put Pakistani pilots under international scrutiny. Earlier this week, Vietnam punished 27 Pakistani pilots who fly for Vietnamese airlines. The United Arab Emirates has also requested verification of credentials of employees of Pakistani airlines. The European aviation safety agency EASA said the airline "is currently not able to certify and supervise its operators and aircraft in accordance with applicable international standards".
The May 22, 2020 crash of an Airbus A320-200 carrying families who reunited after two months of confinement to spend the Eid al-Fitr vacation together was the latest in a series of airline disasters for the airline. The pilots had ignored several warnings that they were flying too low on the approach to Karachi Airport, according to the investigation into the accident. The airline has been criticized for being over-staffed, has a reputation for lax quality control, and many appointments are seen as a result of political pressure or nepotism. Repeated efforts by successive governments to make it financially viable have failed, and he encounters a loss of about US$ 36 million a month, officials say. Pakistani officials have described her financial situation as a bottomless pit.
The crisis at Pakistan International Airlines has led union workers to their top executives, who have been regularly fired on corruption charges or lack of ownership of their appointments. In 2018, the Supreme Court of Pakistan removed Musharraf Rasool as Executive Director because he did not meet the criteria for the job and lacked aviation experience; his replacement, Bernd Hildenbrand, a German citizen, was also expelled on similar charges and corruption charges. The current Executive Director, Arshad Malik, serves as a marshal in the Pakistan Air Force. He was brought with high hopes in 2018 to revive and renew the national airline, but this year he was caught in a cloud when the Supreme Court raised questions about the legality of his appointment. He was allowed to continue working. Critics of the airline say the pilots have unionized and resist efforts to revise the work rules.
The Aviation Ministry reported to Parliament last month that of some 860 pilots working for Pakistani airlines, 260 had fraudulent licenses. The examination system for pilot licenses was changed in 2012 by the Pakistan Civil Aviation Authority (CAA), which was accused of failing to meet regulatory standards. The new process involves taking various theoretical tests, and many pilots have reportedly tried to avoid it by cheating or paying others to do the tests instead.
Captain Chaudhry Salman, Chief of the Pakistan Airline Pilots Association, questioned Mr. Ghulam Sarwar Khan's claims at a press conference in Karachi last week. "There is no truth to these allegations", said Salman.
Pilots have their own set of complaints and grievances. Last year, representatives of Pakistan's international pilots accused the airline of violating safety rules and putting pilots at risk. They said the pilots were overworked, not getting enough sleep and suffering from fatigue, and said the airline was scheduling flights in a way that jeopardized the safety of planes and passengers.
Hamood Alam, a former official who now works with another airline in the Middle East, said in an interview that he has never felt so much shame, humiliation and anger. Mr. Alam said it was common knowledge that many pilots were not following the standard operating procedures and rules at Pakistan International Airlines and other national airlines. "Even the most skilled pilots do not follow the SOPs. But the general public found out about this because unfortunately it ended in an accident. It is a miracle that we have no more accidents", said Hamood Alam. He has blamed a deep-seated social problem, where the elites and the powerful have full conviction that they can get away with it and that all of these rules are for someone else to abide by. As an example, Mr. Alam cited the rule that when an aircraft drops below 10,000 feet, a "sterile flight deck" is required, meaning that there should be no exchange of information or discussion between members of the crew and controllers other than those related to the landing profile. The investigation found that pilots in the May 22, 2020 crash were discussing the Coronavirus during the approach.
Opposition politicians and critics of Prime Minister Imran Khan said the government handled the post-crash situation in a tactless manner that has embarrassed Pakistan. "The government has plunged into new depths to remove the blame for its own incompetence. A tragedy is exploding, blaming the victims, and their utter incompetence has resulted in restrictions for Pakistani airlines and passengers. Pakistani pilots, like Other pilots around the world require regular license renewals every six months, including flight simulations and other tests. The government's claims are likely false, which the aviation minister should never have said publicly. His statement has caused an international shame and has put hundreds of races at risk", said Bilawal Bhutto Zardari, President of the Pakistan People's Party.
Ξ A I R G W A Y S Ξ
PUBLISHER: Airgways.com
DBk: Airgways.com / Nytimes.com / Easa.europa.eu / Caapakistan.com.pk
AW-POST: 202007021618AR
A\W A I R G W A Y S ®