AW | 2020 07 07 11:53 | AIRLINES / GOVERNMENT
Alitalia introduce reestructuración nombre/gestión
La compañía aérea Alitalia ha relanzado oficialmente a finales de Junio 2020 con un nuevo nombre, una nueva administración estatal y modificaciones a su flota. La República de Italia ha establecido un proceso de cambios en la aerolínea bajo la órbita del Gobierno introduciendos cambios significativos como el renombramiento como Alitalia TAI (Trasporto Aéreo Italiano) y nueva gestiónadministrativa.
Alitalia TAI tendrá un presupuesto de € 3.000 millones de Euros y una flota de 100 aeronaves. La transformación en una empresa estatal se produce después de tres años de una administración especial y sigue el decreto que determinó la nacionalización de la empresa, con la adquisición del 100% de las acciones por parte del Ministerio de Economía y Finanzas de Italia.
Nueva gestión, plan
La nueva administración designada la semana pasada ha terminado con la administración judicial en el proceso de la empresa. Fabio Lazzerini, ex Director de Alitalia, es el nuevo CEO, mientras que Francesco Caio, un ejecutivo con experiencia en el sector de telecomunicaciones y bancaria, como así del servicio postal de Poste Italiane, fue nombrado presidente de la renacida compañía italiana. "El nuevo consejo designado podrá comenzar a trabajar ahora, junto con asesores del Ministerio de Finanzas, en el nuevo plan industrial, que se enviará a la Comisión Europea", dijo el primer ministro italiano Giuseppe Conte en un comunicado.
La Ministra de Transporte italiana, Paola De Micheli, declaró que "está comenzando una nueva era. La nueva Alitalia tendrá un plan que rastrea la discontinuidad completa con modelos anteriores, lo que permitirá a Italia disponer de una compañía aérea que pueda contribuir a la recuperación económica del país, y sobre todo a competir en el mercado internacional del transporte aéreo".
El nuevo plan de negocios de la compañía aún no se ha publicado, pero la expectativa del Gobierno es que la compañía pueda obtener ganancias a partir de 2023. Alitalia TAI se centrará en un plan industrial, que debe presentarse a la Comisión Europea (CE).
A diferencia de otras aerolíneas europeas, la compañía ya estaba en crisis antes de la pandemia de Covid-19 y bajo una administración judicial extraordinaria. Por lo tanto, la intervención estatal solo sería permitida por la Comisión Europea si la nueva compañía no es una extensión de la anterior.
Sindicatos & CE
Los sindicatos aeronáuticos siguen siendo escépticos sobre el riesgo de recortes en la fuerza laboral. La predicción es que se perderán entre 4.000 y 5.000 empleos.
La Comisaria europea de Competencia, Margrethe Vestager, dijo el 2 Julio 2020 que la recién nacionalizada Alitalia debe romper con su pasado para calificar para el apoyo estatal. "La discontinuidad económica debe ser real, solo después de esto evaluaremos si realmente es un negocio nuevo".
Reactivación servicios
Además de las rutas antiguas, se han agregado algunas nuevas a la red de newco, incluidas varias desde Roma Fiumicino, hasta Brindisi, Reggio di Calabria y las islas de Lampedusa y Pantelleria. Alitalia también reanudó a Milán Malpensa a Brindisi, así como de Milán y Roma a Bari.
Alitalia TAI, a partir del 10 Julio 2020 inicia nueva red de servicios al sur de Italia con más vuelos a Sicilia y Puglia. La conexión entre Milán y Bari, restaurada a principios de 06/2020, incrementará las frecuencias de 2 a 4 vuelos diarios.
Alitalia TAI aumentará las frecuencias en las conexiones de Roma a Catania y Palermo, y de Milán a los dos aeropuertos sicilianos y a Bari. En las rutas Roma-Catania y Roma-Palermo, los servicios de Alitalia irán de 10 a 12 por día (entre viajes y retornos), mientras que en Milán-Catania y Milán-Palermo los vuelos aumentarán de 6 a 8 por día. La conexión entre Milán y Bari, restaurada a principios de Junio 2020, aumentando de dos a cuatro frecuencias diarias (4Frq/D).
En las rutas entre Roma y Sicilia, Alitalia agregará a los vuelos que ya operan desde el Aeropuerto Roma/Fiumicino un vuelo a Palermo que partirá a las 11:00 hs. y uno a Catania programado a las 15:10 hs. Los servicios adicionales para Roma despegarán de Palermo a la 13:00 hs. y de Catania a las 17:15 hs. Los vuelos adicionales de Milán a Sicilia partirán a las 11:25 hs. para Catania y 18:00 hs. Palermo; mientras que las frecuencias adicionales en dirección a Milán despegarán a las 14:00 hs. desde Catania y a las 19:55 hs. desde Palermo.
En la ruta entre Milán y Bari, los vuelos adicionales saldrán de la capital lombarda a las 18:15 hs. y de la ciudad de Apulia a las 20:30 hs. Con estos aumentos adicionales en las frecuencias, Alitalia ofrecerá ambos vuelos a Catania y Palermo 12 vuelos diarios (entre ida y vuelta) con Roma y 8 Frq/D con Milán, a lo que se suman los servicios de temporada en Lampedusa y Pantelleria. En Puglia, la compañía logra ofrecer 6 frecuancias diarias a Bari y Brindisi que incluyen 4 vuelos con Milán y 2 con Roma/Fiumicino.
Los vuelos a las principales ciudades europeas también se reanudarán en Julio 2020, por ejemplo a Amsterdam/Schiphol y Paris/Charles de Gaulle, tanto desde Roma como a Milán, así como a una ruta desde Roma a Boston.
Mumbai-Roma/Roma-New York
El primer vuelo carguero de Alitalia TAI elevó 45 toneladas de carga que volaron desde Mumbai con destino a Roma y luego a Nueva York el 21 Junio 2020. El transportista operará un vuelo semanal todos los domingos en la ruta Mumbai -Roma-Nueva York. Esta ruta será servida por aviones de pasajeros Boeing 777-200 reconfigurado a carguero.
Alitalia ha operado con éxito un servicio diario de pasajeros entre Roma y Nueva Delhi con aviones A330 desde 2018 hasta la suspensión de los servicios aéreos internacionales debido a la pandemia de Cronavirus. Alitalia tiene una amplia red que ofrece conectividad a Europa, Estados Unidos, América del Sur, África, Asia Pacífico y Oriente Medio, además de los destinos domésticos italianos.
Alitalia actualmente opera algunos vuelos programados a algunos destinos intercontinentales y de corto y mediano alcance, tanto nacionales como internacionales. Esto incluye vuelos limitados a Buenos Aires, Nueva York y Boston además de Mumbai (India). Las soluciones de flete de carga también están disponibles, utilizando la capacidad de bodega de los aviones de pasajeros, y se organizan vuelos especiales sobre una base puntual. Air Logistics Group ha estado representando a Alitalia en India como su GSSA de carga desde 2018. Con una red integral de 88 oficinas en 48 países en seis continentes, Air Logistics Group ofrece soluciones de carga a medida en todo el mundo.
New Alitalia is born
Alitalia introduces name/management changes
The airline Alitalia has officially relaunched in late June 2020 with a new name, a new state administration and modifications to its fleet. The Republic of Italy has established a process of changes in the airline under the orbit of the Government, introducing significant changes such as the renaming as Alitalia TAI (Italian Air Transport) and new administrative management.
Alitalia TAI will have a budget of € 3,000 million Euros and a fleet of 100 aircraft. The transformation into a state company occurs after three years of special administration and follows the decree that determined the nationalization of the company, with the acquisition of 100% of the shares by the Italian Ministry of Economy and Finance.
New management, plan
The new administration appointed last week has ended judicial administration in the business process. Fabio Lazzerini, former Director of Alitalia, is the new CEO, while Francesco Caio, an executive with experience in the telecommunications and banking sector, as well as the Poste Italiane postal service, was appointed president of the reborn Italian company. "The newly appointed council will now be able to start working, together with advisers from the Ministry of Finance, on the new industrial plan, which will be sent to the European Commission", Italian Prime Minister Giuseppe Conte said in a statement.
Italian Transport Minister Paola De Micheli stated that "a new era is beginning. The new Alitalia will have a plan that tracks the complete discontinuity with previous models, which will allow Italy to have an airline that can contribute to the recovery the country's economy, and above all to compete in the international air transport market".
The company's new business plan has yet to be released, but the government's expectation is that the company can make a profit from 2023. Alitalia TAI will focus on an industrial plan, which must be submitted to the European Commission (EC).
Unlike other European airlines, the company was already in crisis before the Covid-19 pandemic and under extraordinary judicial administration. Therefore, state intervention would only be allowed by the European Commission if the new company is not an extension of the previous one.
Unions & CE
Aviation unions remain skeptical about the risk of cutbacks in the workforce. The prediction is that between 4,000 and 5,000 jobs will be lost.
European Competition Commissioner Margrethe Vestager said on July 2, 2020 that the newly nationalized Alitalia must break with her past to qualify for state support. "The economic discontinuity must be real, only after this we will assess if it really is a new business".
Services reactivation
In addition to the old routes, some new ones have been added to the newco network, including several from Rome Fiumicino, to Brindisi, Reggio di Calabria, and the islands of Lampedusa and Pantelleria. Alitalia also resumed Milan Malpensa to Brindisi, as well as Milan and Rome to Bari.
Alitalia TAI, starting July 10, 2020, starts a new service network in southern Italy with more flights to Sicily and Puglia. The connection between Milan and Bari, restored at the beginning of 06/2020, will increase frequencies from 2 to 4 daily flights.
Alitalia TAI will increase the frequencies on the connections from Rome to Catania and Palermo, and from Milan to the two Sicilian airports and to Bari. On the Rome-Catania and Rome-Palermo routes, Alitalia services will run from 10 to 12 per day (between trips and returns), while in Milan-Catania and Milan-Palermo flights will increase from 6 to 8 per day. The connection between Milan and Bari, restored in early June 2020, increasing from two to four daily frequencies (4Frq/D).
On the routes between Rome and Sicily, Alitalia will add to the flights that already operate from the Rome/Fiumicino Airport a flight to Palermo that will depart at 11:00 a.m. and one to Catania scheduled at 3:10 p.m. Additional services for Rome will take off from Palermo at 1:00 p.m. and from Catania at 5:15 p.m. Additional flights from Milan to Sicily will depart at 11:25 a.m. for Catania and 6:00 p.m. Palermo; while the additional frequencies in the direction of Milan will take off at 2:00 p.m. from Catania and at 7:55 p.m. from Palermo.
On the route between Milan and Bari, additional flights will depart from the Lombard capital at 18:15. and from the city of Apulia at 8:30 p.m. With these additional increases in frequencies, Alitalia will offer both flights to Catania and Palermo 12 daily flights (round trip) with Rome and 8 Frq/D with Milan, in addition to seasonal services in Lampedusa and Pantelleria. In Puglia, the company manages to offer 6 frequencies a day to Bari and Brindisi including 4 flights with Milan and 2 with Rome/Fiumicino.
Flights to major European cities will also resume in July 2020, for example to Amsterdam/Schiphol and Paris/Charles de Gaulle, from both Rome and Milan, as well as a route from Rome to Boston.
Mumbai-Rome/Rome-New York
Alitalia TAI's first cargo flight lifted 45 tons of cargo that flew from Mumbai bound for Rome and then to New York on June 21, 2020. The carrier will operate a weekly flight every Sunday on the Mumbai-Rome-New York route. This route will be served by Boeing 777-200 passenger aircraft reconfigured to a freighter.
Alitalia has successfully operated a daily passenger service between Rome and New Delhi with A330 aircraft from 2018 until the suspension of international air services due to the Cronavirus pandemic. Alitalia has an extensive network that offers connectivity to Europe, the United States, South America, Africa, Asia Pacific and the Middle East, in addition to Italian domestic destinations.
Alitalia currently operates some scheduled flights to some intercontinental and short and medium range destinations, both national and international. This includes limited flights to Buenos Aires, New York and Boston in addition to Mumbai (India). Cargo freight solutions are also available, utilizing the hold capacity of passenger aircraft, and special flights are arranged on a one-off basis. Air Logistics Group has been representing Alitalia in India as its cargo GSSA since 2018. With a comprehensive network of 88 offices in 48 countries on six continents, Air Logistics Group offers tailor-made cargo solutions worldwide.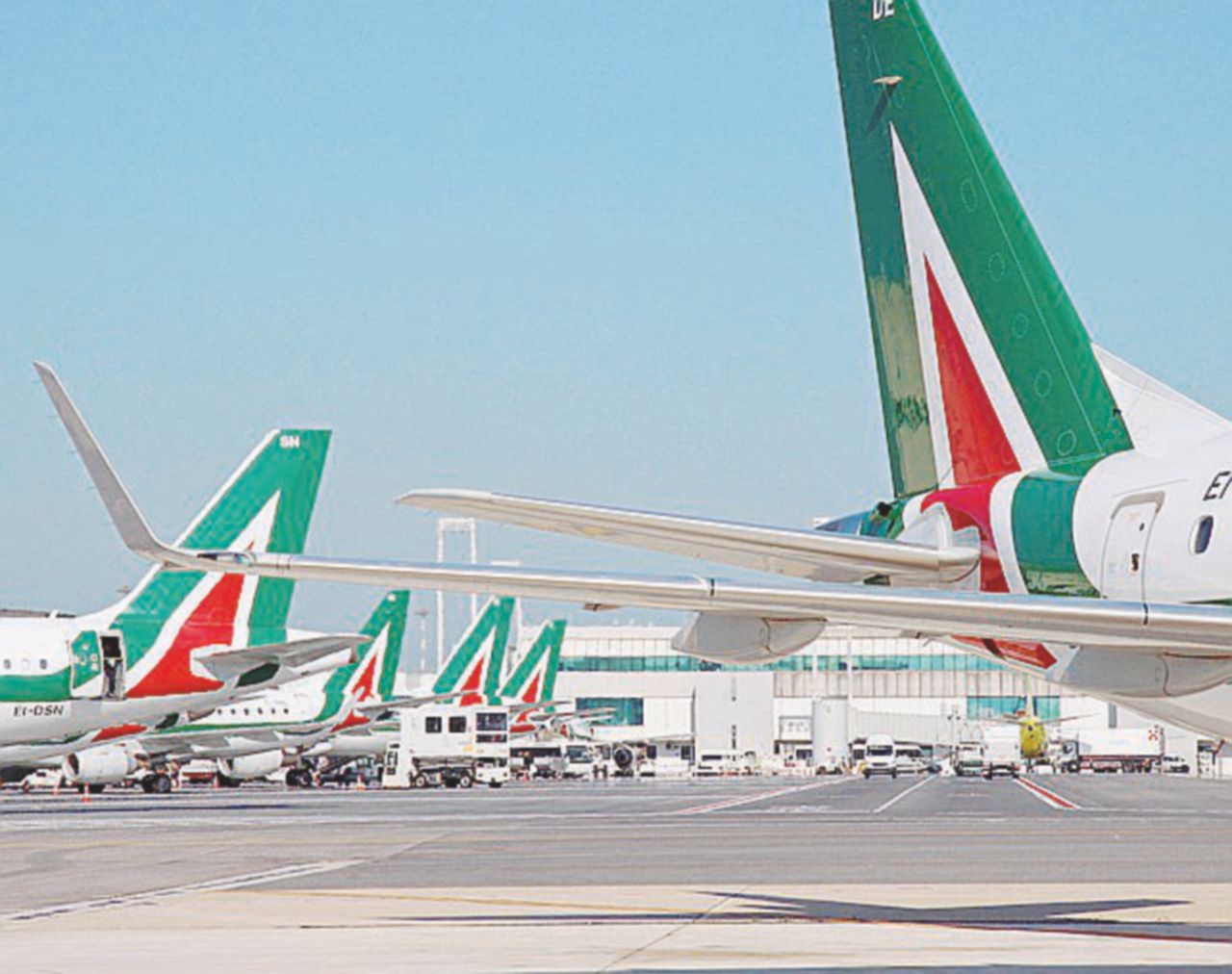 Nasce la nuova Alitalia
Alitalia introduce cambiamenti di nome/gestione nel processo ristrutturazione
La compagnia aerea Alitalia ha rilanciato ufficialmente alla fine di giugno 2020 con un nuovo nome, una nuova amministrazione statale e modifiche alla sua flotta. La Repubblica italiana ha avviato un processo di modifica della compagnia aerea sotto l'orbita del governo, introducendo cambiamenti significativi come la ridenominazione in Alitalia TAI (trasporto aereo italiano) e la nuova gestione amministrativa.
Il TAI Alitalia avrà un budget di € 3.000 milioni di euro e una flotta di 100 aeromobili. La trasformazione in società statale avviene dopo tre anni di amministrazione straordinaria e segue il decreto che determinava la nazionalizzazione della società, con l'acquisizione del 100% delle azioni da parte del Ministero dell'Economia e delle Finanze.
Nuova gestione, piano
La nuova amministrazione nominata la scorsa settimana ha posto fine all'amministrazione giudiziaria nel processo aziendale. Fabio Lazzerini, ex direttore di Alitalia, è il nuovo CEO, mentre Francesco Caio, dirigente con esperienza nel settore delle telecomunicazioni e bancario, nonché del servizio postale Poste Italiane, è stato nominato presidente della rinata società italiana. "Il nuovo consiglio sarà ora in grado di iniziare a lavorare, insieme ai consulenti del Ministero delle finanze, sul nuovo piano industriale, che sarà inviato alla Commissione europea", ha dichiarato il Primo Ministro italiano Giuseppe Conte in una nota.
Il ministro dei trasporti italiano Paola De Micheli ha dichiarato che "sta iniziando una nuova era. La nuova Alitalia avrà un piano che traccia la discontinuità completa con i modelli precedenti, che consentirà all'Italia di avere una compagnia aerea che può contribuire al recupero l'economia del paese, e soprattutto di competere nel mercato internazionale del trasporto aereo".
Il nuovo piano aziendale della società deve ancora essere pubblicato, ma l'aspettativa del governo è che la società possa realizzare un profitto dal 2023. Alitalia TAI si concentrerà su un piano industriale, che deve essere presentato alla Commissione europea (CE).
A differenza di altre compagnie aeree europee, la compagnia era già in crisi prima della pandemia di Covid-19 e sotto straordinaria amministrazione giudiziaria. Pertanto, l'intervento statale sarebbe consentito dalla Commissione europea solo se la nuova società non fosse un'estensione della precedente.
Sindacati e CE
I sindacati aeronautici rimangono scettici sul rischio di tagli alla forza lavoro. La previsione è che tra 4.000 e 5.000 posti di lavoro andranno persi.
La commissaria europea alla Concorrenza Margrethe Vestager ha dichiarato il 2 luglio 2020 che la nuova nazionalizzazione Alitalia deve rompere con il suo passato per qualificarsi per il sostegno statale. "La discontinuità economica deve essere reale, solo dopo questo valuteremo se si tratta davvero di una nuova attività".
Riattivazione dei servizi
Oltre alle vecchie rotte, alcune nuove sono state aggiunte alla rete newco, tra cui diverse da Roma Fiumicino, a Brindisi, Reggio di Calabria e le isole di Lampedusa e Pantelleria. Alitalia riprese anche Milano Malpensa a Brindisi, così come Milano e Roma a Bari.
Alitalia TAI, a partire dal 10 luglio 2020, avvia una nuova rete di servizi nel sud Italia con più voli per la Sicilia e la Puglia. Il collegamento tra Milano e Bari, ripristinato all'inizio del 06/2020, aumenterà le frequenze da 2 a 4 voli giornalieri.
Alitalia TAI aumenterà le frequenze sui collegamenti da Roma a Catania e Palermo e da Milano ai due aeroporti siciliani e Bari. Sulle rotte Roma-Catania e Roma-Palermo, i servizi Alitalia passeranno da 10 a 12 al giorno (tra viaggi e ritorno), mentre a Milano-Catania e Milano-Palermo i voli aumenteranno da 6 a 8 al giorno. Il collegamento tra Milano e Bari, ripristinato all'inizio di giugno 2020, passando da due a quattro frequenze giornaliere (4Frq/D).
Sulle rotte tra Roma e la Sicilia, Alitalia aggiungerà ai voli che già operano dall'aeroporto di Roma/Fiumicino un volo per Palermo che partirà alle 11:00. e uno a Catania in programma alle 15:10 I servizi aggiuntivi per Roma decolleranno da Palermo alle 13:00. e da Catania alle 17:15 Ulteriori voli da Milano per la Sicilia partiranno alle 11:25. per Catania e le 18:00 Palermo; mentre le frequenze aggiuntive in direzione di Milano decolleranno alle 14:00. da Catania e alle 19:55 da Palermo.
Sulla rotta tra Milano e Bari, ulteriori voli partiranno dalla capitale lombarda alle 18:15. e dalla città di Puglia alle 20:30 Con questi ulteriori aumenti di frequenza, Alitalia offrirà sia voli per Catania che Palermo 12 voli giornalieri (andata e ritorno) con Roma e 8 Frq/D con Milano, oltre ai servizi stagionali a Lampedusa e Pantelleria. In Puglia, la compagnia riesce a offrire 6 frequenze al giorno a Bari e Brindisi, tra cui 4 voli con Milano e 2 con Roma/Fiumicino.
I voli per le principali città europee riprenderanno anche a luglio 2020, ad esempio per Amsterdam/Schiphol e Parigi/Charles de Gaulle, sia da Roma che da Milano, nonché una rotta da Roma a Boston.
Mumbai-Roma / Roma-New York
Il primo volo cargo della TAI di Alitalia ha sollevato 45 tonnellate di merci che hanno volato da Mumbai diretto a Roma e poi a New York il 21 giugno 2020. Il vettore effettuerà un volo settimanale ogni domenica sulla rotta Mumbai-Roma-New York. Questa rotta sarà servita da aeromobili Boeing 777-200 riconfigurati in un mercantile.
Alitalia ha gestito con successo un servizio passeggeri giornaliero tra Roma e Nuova Delhi con aeromobili A330 dal 2018 fino alla sospensione dei servizi aerei internazionali a causa della pandemia di Cronavirus. Alitalia ha una vasta rete che offre connettività a Europa, Stati Uniti, Sud America, Africa, Asia Pacifico e Medio Oriente, oltre alle destinazioni nazionali italiane.
Alitalia opera attualmente alcuni voli di linea verso alcune destinazioni intercontinentali e di corto e medio raggio, sia nazionali che internazionali. Ciò include voli limitati per Buenos Aires, New York e Boston oltre a Mumbai (India). Sono inoltre disponibili soluzioni di trasporto merci che utilizzano la capacità di stiva dell'aeromobile passeggeri e voli speciali sono organizzati su base una tantum. Air Logistics Group rappresenta Alitalia in India come GSSA cargo dal 2018. Con una rete completa di 88 uffici in 48 paesi in sei continenti, Air Logistics Group offre soluzioni di trasporto su misura in tutto il mondo.
Ξ A I R G W A Y S Ξ
PUBLISHER: Airgways.com
DBk: Airgways.com / Alitalia.com / Lagazzettadelmezzogiorno.it / Stattimes.com / Azfleet.info
AW-POST: 202007071153AR
A\W A I R G W A Y S ®