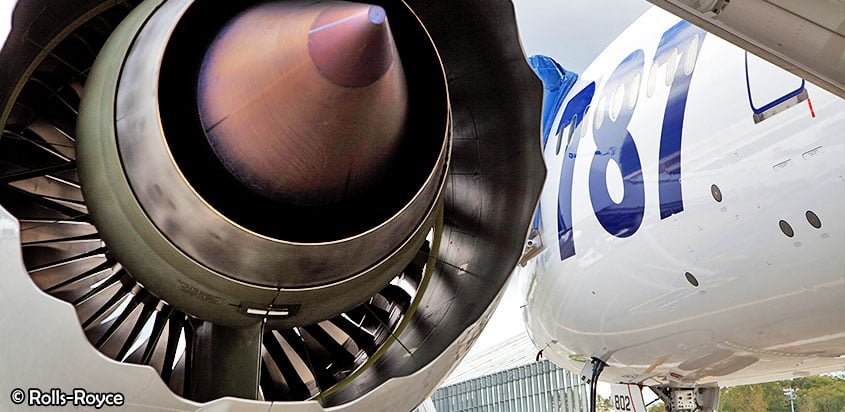 AW | 2020 07 08 16:23 | AIR INVESTIGATION / AVIATION SAFETY
Nueva investigación seguridad por grietas en motores Rolls-Royce
Las compañías que operan aviones Boeing 787, así como otros aviones propulsados ​​por Rolls-Royce Trent 1000, deben verificar el motor por un posible riesgo de agrietamiento, dijo la Agencia de Seguridad Aérea de la Unión Europea (EASA). Se ha descubierto una nueva posible condición insegura en los discos de turbina de baja presión del motor, que anteriormente causó múltiples puestas a tierra del Boeing 787. La EASA dijo que el roce entre los discos y los sellos estáticos entre etapas podría provocar grietas en las aletas del sello delantero.
Esto eventualmente podría resultar en una falla en el disco de la turbina, desechos de alta energía y un control reducido de la aeronave, dijo la agencia, y agregó que planea emitir una Directiva de Aeronavegabilidad (AD) sobre el asunto. La acción está bajo consulta hasta el 3 Agosto 2020. Para abordar el problema, el regulador de seguridad de la aviación aconsejó realizar una "inspección penetrante fluorescente de sensibilidad ultra alta de las aletas del sello". Si se encuentra algún daño, las partes afectadas deben ser reemplazadas.
Sin embargo, el gigante aeroespacial británico no espera que la inspección cause muchos problemas a sus clientes. "Las inspecciones de las aletas de sellado de disco se incorporarán al régimen de mantenimiento existente en el taller y no anticipamos que causará una carga significativa de mantenimiento del motor del operador. Estamos desarrollando una solución de diseño que eliminará la necesidad de inspeccionar estas piezas", dijo Rolls-Royce.
Si bien el nuevo problema de seguridad no está relacionado con problemas anteriores con el motor, como resultado, decenas de aeronaves quedaron en tierra. El costo de abordar los problemas de durabilidad en los motores Trent 1000 eclipsó las entregas de motores récord el año pasado, cuando Rolls-Royce informó una pérdida operativa de US$ 1.11 mil millones.
Boeing 787 faces new investigations
Boeing 787 new investigation security for cracks in Rolls-Royce engines
Companies operating Boeing 787 aircraft, as well as other aircraft powered by Rolls-Royce Trent 1000, must verify the engine for a possible risk of cracking, the European Union Aviation Safety Agency (EASA) said. A possible new unsafe condition has been discovered in the engine's low-pressure turbine discs, which previously caused multiple groundings of the Boeing 787. EASA said that rubbing between the discs and static seals between stages could cause cracks in the front seal fins.
This could eventually result in failure of the turbine disk, high-energy debris and reduced control of the aircraft, the agency said, adding that it plans to issue an Airworthiness Directive (AD) on the matter. Action is under consultation until Aug. 3, 2020. To address the issue, the aviation safety regulator has advised an "ultra-high sensitivity fluorescent penetrating inspection of the seal fins". If any damage is found, the affected parts should be replaced.
However, the British aerospace giant does not expect the inspection to cause many problems for its customers. "Inspections of the disc sealing fins will be incorporated into the existing maintenance regime in the shop and we do not anticipate that it will cause a significant maintenance burden on the operator's engine. We are developing a design solution that will eliminate the need to inspect these parts", Rolls-Royce said.
While the new safety issue is unrelated to previous engine problems, as a result, dozens of aircraft were grounded. The cost of addressing durability issues on Trent 1000 engines overshadowed record engine deliveries last year, when Rolls-Royce reported an operating loss of $ 1.11 billion.
Ξ A I R G W A Y S Ξ
PUBLISHER: Airgways.com
DBk: Easa.europa.eu / Boeing.com / Rolls-royce.com / Airgways.com
AW-POST: 202007081623AR
A\W A I R G W A Y S ®