AW | 2020 07 08 15:07 | AIRPORTS / GOVERNMENT
Conflicto Plan inversión Aeropuerto Elliniko y animales residentes
El Gobierno de la República de Grecia ha dado luz verde en Junio 2020 para la demolición de cinco estructuras en el antiguo Aeropuerto Elliniko, una inversión que reconstruiría el área en un complejo de residencias de lujo, hoteles y casinos, ofreciendo muchas oportunidades de trabajo, pero estiman también una destrucción ecológica. El Primer Ministro griego Kyriakos Mitsotakis ha expresado la semana pasada en el primer día de trabajo en el aeropuerto de Elliniko: "Hoy es un día muy importante, un día simbólico".
Nuevos "habitantes"
El antiguo Aeropuerto Elliniko ha sido abandonado desde 2001 cuando se construyó un nuevo aeropuerto más grande en Spata. Desde entonces, cientos de animales han encontrado refugio dentro de las instalaciones de los viejos edificios. Hay aproximadamente más de 40 gatos y gatitos, así como una cantidad significativa de animales salvajes, incluidas tortugas, zorros, erizos y nidos de pájaros.
La Anadolu Maria Ganoti, Directora de la Asociación para la Protección y Rehabilitación de la Vida Silvestre ANIMA: "Logramos recolectar una pequeña cantidad de tortugas, erizos de los viejos locales. Dado que las instalaciones del antiguo aeropuerto fueron selladas con una cerca, enviamos una solicitud a Elliniko SA, una de las empresas participantes en este proyecto de inversión, la semana pasada y estamos esperando su autorización para ir a recoger el resto de los animales". Se están realizando esfuerzos para trasladar los animales salvajes dentro de las instalaciones para transferirlos a su hábitat natural.
De acuerdo con la Ley Griega Nº 4039/2012, el Municipio es responsable de la esterilización, la recolección y el bienestar de los animales callejeros y domésticos, algo que la mayoría de los municipios en Grecia han estado ignorando durante años. "La ley establece que el municipio es responsable de estas acciones", dijo Achilleas Kourepis, Vicealcalde del suburbio ateniense del norte de Kifisia, quien también es responsable del bienestar animal.
A pesar de estas solicitudes, el municipio de Argiroupoli-Elliniko ha estado ignorando estas solicitudes de grupos de defensa de los animales. Recientemente, el 10 Junio 2020, hubo una reunión entre la Presidenta de la Federación Panhelénica de Bienestar Animal y Medio Ambiente, Natassa Bobolaki, la Vicealcaldesa de la Municipalidad de Elliniko Argiroupoli Irene Stellaki, el Gerente General de Elliniko SA Vaggelis Perperas, y el Presidente del equipo panhelénico Martha Poultidou contra el maltrato animal. Un comunicado de prensa publicado en la cuenta de redes sociales de la municipalidad de Ellinko-Argiroupoli dijo que los animales, más específicamente los gatos, en las instalaciones del antiguo aeropuerto serían transportados a un veterinario, examinados, castrados, recibirían un libro de salud, serían picados, y finalmente registrado en la base de datos de la municipalidad como lo establece la ley. Desde entonces, no se ha hecho mucho, y según los voluntarios, la compañía responsable de la estructura Elliniko SA colocó una cerca de alambre en todo el aeropuerto haciendo imposible el proceso de recolección y alimentación de los animales. La empresa no ha aceptado una solicitud de Adespotologio para ayudar con la recolección de los animales. Vivi Katifori, Presidenta de Adespotologio, ha expresado que el municipio rechazó su oferta y no les permitió participar en las reuniones celebradas para resolver el problema y que el asunto no era de interés para ninguna de las partes.
Finalmente, el problema tuvo mucha publicidad, en parte gracias a los esfuerzos de la Federación Panhelénica de Bienestar Animal y Medio Ambiente. Pero aún así, el municipio se negó a asumir la responsabilidad.
El Municipio dice que los gatos han sido recolectados y que el número de animales es mucho menor que lo que dicen los voluntarios, a pesar de que han estado yendo allí durante años.
En su discurso inaugural el Viernes 03/07, Mitsotakis dijo que Elliniko será "un proyecto moderno y respetuoso con el medio ambiente que simbolizará la 'nueva Grecia' y que, según él, todos lo imaginan. Sin embargo, ¿será un proyecto ecológico si estos animales mueren durante la demolición de los edificios antiguos? Hoy, Adespotologio emitió un comunicado de prensa diciendo que el grupo de bienestar animal presentó una solicitud al Fiscal Jefe de la Corte de Atenas, solicitando las acciones de la Oficina del Fiscal para permitir la entrada a los voluntarios de manera suave y segura, para ayudarlos a continuar coleccionar animales. "En caso de que haya indiferencia por parte de los cuerpos involucrados o se evite el rescate de los animales, solicitamos que se inicien todos los procedimientos previstos por la ley", señaló el comunicado de prensa.
Elliniko Airport investment plan
Elliniko Airport investment plan conflict and resident animals
The Government of the Republic of Greece has given the green light in June 2020 for the demolition of five structures at the old Elliniko Airport, an investment that would rebuild the area into a complex of luxury residences, hotels and casinos, offering many job opportunities, but they also estimate ecological destruction. Greek Prime Minister Kyriakos Mitsotakis said last week on the first day of work at Elliniko airport: "Today is a very important day, a symbolic day".
New "inhabitants"
The old Elliniko Airport has been abandoned since 2001 when a new, larger airport was built in Spata. Since then, hundreds of animals have found refuge within the facilities of the old buildings. There are approximately more than 40 cats and kittens, as well as a significant number of wild animals, including turtles, foxes, hedgehogs, and bird nests.
Anadolu Maria Ganoti, Director of the Association for the Protection and Rehabilitation of Wildlife ANIMA: "We managed to collect a small number of turtles, urchins from the old premises. Since the facilities of the old airport were sealed with a fence, we sent a request to Elliniko SA, one of the companies participating in this investment project, last week and we are waiting for your authorization to go and collect the rest of the animals", Efforts are underway to move wild animals within the facility to transfer them to their natural habitat.
According to Greek Law No. 4039/2012, the Municipality is responsible for the sterilization, collection and welfare of stray and domestic animals, something that most municipalities in Greece have been ignoring for years. "The law establishes that the municipality is responsible for these actions", said Achilleas Kourepis, vice mayor of the Athenian suburb of northern Kifisia, who is also responsible for animal welfare.
Despite these requests, the municipality of Argiroupoli-Elliniko has been ignoring these requests from animal defense groups. Recently, on June 10, 2020, there was a meeting between the President of the Panhellenic Federation of Animal Welfare and the Environment, Natassa Bobolaki, the Deputy Mayor of the Municipality of Elliniko Argiroupoli Irene Stellaki, the General Manager of Elliniko SA Vaggelis Perperas, and the President of the Panhellenic team Martha Poultidou against animal abuse. A press release published on the social media account of the municipality of Ellinko-Argiroupoli said that the animals, more specifically cats, in the facilities of the old airport would be transported to a veterinarian, examined, castrated, they would receive a health book, they would be chopped, and finally registered in the municipal database as established by law. Since then, not much has been done, and according to the volunteers, the company responsible for the structure Elliniko SA placed a wire fence throughout the airport making the process of collecting and feeding the animals impossible. The company has not accepted a request from Adespotologio to help with the collection of the animals. Vivi Katifori, President of Adespotologio, has expressed that the municipality rejected his offer and did not allow them to participate in the meetings held to resolve the problem and that the matter was not of interest to either party.
Finally, the problem was widely publicized, in part thanks to the efforts of the Panhellenic Federation for Animal Welfare and the Environment. But still, the municipality refused to take responsibility.
The Municipality says that the cats have been collected and that the number of animals is much less than what the volunteers say, despite the fact that they have been going there for years.
In his inaugural address on Friday 03/07, Mitsotakis said that Elliniko will be "a modern and environmentally friendly project that will symbolize the 'new Greece' and that, according to him, everyone imagines. However, will it be an ecological project If these animals die during the demolition of the old buildings? Today, Adespotologio issued a press release saying that the animal welfare group submitted a request to the Chief Prosecutor of the Court of Athens, requesting the actions of the Prosecutor's Office to allow the entrance to volunteers in a smooth and safe way, to help them continue collecting animals. "In case there is indifference on the part of the bodies involved or the rescue of the animals is avoided, we request that all the procedures provided by law be initiated", the press release said.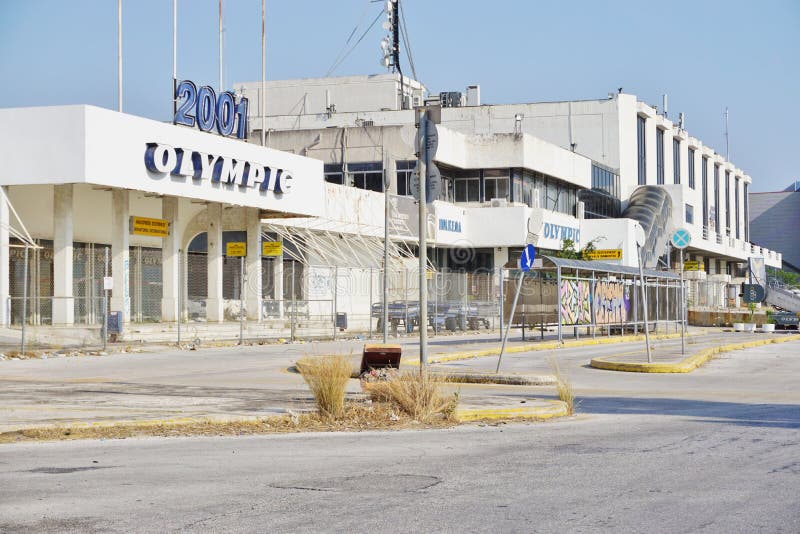 Επενδυτικό πρόγραμμα Ελληνικού Αεροδρομίου
Το συγκρότημα επενδυτικών σχεδίων του Ελληνικού Αεροδρομίου συγκρούεται και κατοικίδια ζώα
Η κυβέρνηση της Ελληνικής Δημοκρατίας έδωσε το πράσινο φως τον Ιούνιο του 2020 για την κατεδάφιση πέντε κατασκευών στο παλιό Aεροδρόμιο Ελληνικού, μια επένδυση που θα μπορούσε να ξαναχτίσει την περιοχή σε ένα συγκρότημα πολυτελών κατοικιών, ξενοδοχείων και καζίνο, προσφέροντας πολλές ευκαιρίες εργασίας, αλλά εκτιμούν επίσης την οικολογική καταστροφή. Ο Πρωθυπουργός της Ελλάδας Κυριάκος Μητσοτάκης είπε την περασμένη εβδομάδα την πρώτη ημέρα εργασίας στο αεροδρόμιο Ελληνικό: "Η σημερινή είναι μια πολύ σημαντική ημέρα, μια συμβολική ημέρα".
Νέοι "κάτοικοι"
Το παλιό αεροδρόμιο Ελληνικού εγκαταλείφθηκε από το 2001 όταν χτίστηκε ένα νέο, μεγαλύτερο αεροδρόμιο στα Σπάτα. Από τότε, εκατοντάδες ζώα έχουν βρει καταφύγιο στις εγκαταστάσεις των παλαιών κτιρίων. Υπάρχουν περίπου περισσότερες από 40 γάτες και γατάκια, καθώς και ένας σημαντικός αριθμός άγριων ζώων, όπως χελώνες, αλεπούδες, σκαντζόχοιροι και φωλιές πουλιών.
Anadolu Maria Ganoti, Διευθύντρια του Συλλόγου Προστασίας και Αποκατάστασης Άγριας Ζωής ANIMA: "Καταφέραμε να συλλέξουμε έναν μικρό αριθμό χελωνών, σκαντζόχοιρων από τις παλιές εγκαταστάσεις. Δεδομένου ότι οι εγκαταστάσεις του παλιού αεροδρομίου ήταν σφραγισμένες με φράχτη, στείλαμε ένα να ζητήσετε από την Ελληνική Α.Ε., μία από τις εταιρείες που συμμετέχουν σε αυτό το επενδυτικό πρόγραμμα, την περασμένη εβδομάδα και περιμένουμε την έγκρισή σας να πάει και να παραλάβει τα υπόλοιπα ζώα". Καταβάλλονται προσπάθειες για τη μεταφορά άγριων ζώων εντός της εγκατάστασης για τη μεταφορά τους στο φυσικό τους περιβάλλον.
Σύμφωνα με τον ελληνικό νόμο 4039/2012, ο Δήμος είναι υπεύθυνος για την αποστείρωση, τη συλλογή και την καλή διαβίωση αδέσποτων και κατοικίδιων ζώων, κάτι που οι περισσότεροι δήμοι στην Ελλάδα αγνοούν εδώ και χρόνια. "Ο νόμος ορίζει ότι ο δήμος είναι υπεύθυνος για αυτές τις ενέργειες", δήλωσε ο Αχιλλέας Κουρέπης, αντιδήμαρχος του αθηναϊκού προαστίου της βόρειας Κηφισιάς, ο οποίος είναι επίσης υπεύθυνος για την καλή μεταχείριση των ζώων.
Παρά τα αιτήματα αυτά, ο δήμος Αργυρούπολης-Ελληνικού αγνοεί αυτά τα αιτήματα από ομάδες άμυνας ζώων. Πρόσφατα, στις 10 Ιουνίου 2020, πραγματοποιήθηκε συνάντηση μεταξύ του Προέδρου της Πανελλήνιας Ομοσπονδίας Ζωής και Περιβάλλοντος, Νατάσα Μπομπολάκη, Αντιδήμαρχου Δήμου Ελληνικού Αργυρούπολης Ειρήνης Στελάκη, Γενικού Διευθυντή της Ελληνικής Α.Ε. Βαγγέλης Πεπέρας, και του Προέδρου της Πανελλήνιας ομάδας Μάρθα Πουλτίδου κατά της κακοποίησης ζώων. Ένα δελτίο τύπου που δημοσιεύθηκε στον λογαριασμό των κοινωνικών μέσων μαζικής ενημέρωσης του δήμου Ellinko-Argiroupoli είπε ότι τα ζώα, ειδικότερα οι γάτες, στις εγκαταστάσεις του παλιού αεροδρομίου θα μεταφερθούν σε κτηνίατρο, θα εξεταστούν, θα ευνουχιστούν, θα λάβουν ένα βιβλίο υγείας, θα τεμαχιστούν και τελικά θα καταχωριστούν στη δημοτική βάση δεδομένων όπως ορίζεται από το νόμο. Έκτοτε, δεν έχουν γίνει πολλά, και σύμφωνα με τους εθελοντές, η εταιρεία που είναι υπεύθυνη για τη δομή Η Ελληνική Α.Ε. τοποθέτησε ένα συρματόπλεγμα σε όλο το αεροδρόμιο καθιστώντας αδύνατη τη διαδικασία συλλογής και σίτισης των ζώων. Η εταιρεία δεν έχει αποδεχτεί αίτημα από το Adespotologio για βοήθεια στη συλλογή των ζώων. Η Βιβή Κατηφόρι, Πρόεδρος του Adespotologio, έχει εκφράσει ότι ο δήμος απέρριψε την προσφορά της και δεν τους επέτρεψε να συμμετάσχουν στις συναντήσεις που πραγματοποιήθηκαν για την επίλυση του προβλήματος και ότι το ζήτημα δεν είχε ενδιαφέρον για κανένα από τα δύο μέρη.
Τέλος, το πρόβλημα δημοσιοποιήθηκε ευρέως, εν μέρει χάρη στις προσπάθειες της Πανελλήνιας Ομοσπονδίας για την καλή μεταχείριση των ζώων και το περιβάλλον. Ωστόσο, ο δήμος αρνήθηκε να αναλάβει την ευθύνη.
Ο Δήμος λέει ότι οι γάτες έχουν συλλεχθεί και ότι ο αριθμός των ζώων είναι πολύ μικρότερος από ό, τι λένε οι εθελοντές, παρά το γεγονός ότι πηγαίνουν εκεί εδώ και χρόνια.
Στην εναρκτήρια ομιλία του την Παρασκευή 03/07, ο Μητσοτάκης είπε ότι το Ελληνικό θα είναι ένα σύγχρονο και φιλικό προς το περιβάλλον έργο που θα συμβολίζει τη νέα Ελλάδα και ότι, σύμφωνα με τον ίδιο, όλοι φαντάζονται. Ωστόσο, θα είναι οικολογικό έργο Εάν αυτά τα ζώα πεθάνουν κατά την κατεδάφιση των παλαιών κτιρίων; Σήμερα, το Adespotologio εξέδωσε δελτίο τύπου λέγοντας ότι η ομάδα καλής μεταχείρισης των ζώων υπέβαλε αίτημα στον Αρχηγό Εισαγγελέα του Δικαστηρίου Αθηνών, ζητώντας τις ενέργειες της Εισαγγελίας να επιτρέψουν την είσοδος σε εθελοντές με ομαλό και ασφαλή τρόπο, για να τους βοηθήσουν να συνεχίσουν να συλλέγουν ζώα. "Σε περίπτωση αδιαφορίας εκ μέρους των εμπλεκομένων φορέων ή αποφεύγεται η διάσωση των ζώων, ζητάμε την έναρξη όλων των διαδικασιών που προβλέπονται από το νόμο", είπε το δελτίο τύπου.
Ξ A I R G W A Y S Ξ
PUBLISHER: Airgways.com
DBk: Aa.com.tr / Airgways.com / Telegraph.co.uk
AW-POST: 202007081507AR
A\W A I R G W A Y S ®