AW | 2020 07 11 21:27 | AVIATION SAFETY / INDUSTRY
Pilotos revisan último borrador de entrenamiento para 737 MAX
El Boeing 737 MAX está siendo preparado para un retorno a los cielos del mundo. La semana pasada, Boeing completó vuelos de prueba de su modelo 737 de cuarta generación para demostrar que puede volar de manera segura con el nuevo software de Control de Vuelo MCAS. Cuando la compañía comenzó a probar los aviones para la recertificación, el informe de un inspector general federal dijo que Boeing había guardado información de los reguladores federales sobre el sistema informático defectuoso que derribó los dos aviones durante el proceso de aprobación inicial del avión.
El Boeing 737 MAX es el modelo más reciente de la larga y afamada saga del 737, un tipo de avión con muchas variantes a lo largo de las décadas. Las unidades construidas superan ampliamente las 10.000 aeronaves a través de todos los tiempos. La variante de cuarta generación MAX se lanzó oficialmente en 2017 con cuatro modelos para acomodar entre 130 a 230 asientos. El 737 MAX tiene motores más grandes y más eficientes en combustible que los modelos más antiguos.
FAA
Si la Administración Federal de Aviación (FAA) está convencida de que Boeing ha corregido los problemas que provocaron los accidentes, los aviones volverán a estar en servicio, pero no se ha anunciado un cronograma. La agencia dijo en un comunicado que "levantará el orden de puesta a tierra solo después de que estemos satisfechos de que el avión cumple con los estándares de certificación". El Presidente Ejecutivo de The Boeing Company, David Calhoun, voló en el avión en Febrero 2020. El Jefe de la FAA y piloto de Delta desde hace mucho tiempo, Stephen M. Dickson, le dijo al Comité del Senado que volaría el 737 MAX él mismo y debe estar satisfecho de que subiría a su familia a bordo antes de levantar la orden de puesta a tierra.
Los expertos de la industria dijeron que aún podrían pasar varios meses antes de que la FAA y las agencias EASA (Europa), Transport Canada (Canadá) y otros organismos de seguridad a la navegación aérea internacionales puedan fiscalizar las nuevas modificaciones implementadas al modelo 737 MAX. Muchas modificaciones no escenciales en los aviones de cuarta generación continuarán aplicándose durante este 2020 y 2021.
Operadores 737 MAX
Actualmente, Boeing ha entregado 370 aviones Boeing 737 Max a 47 clientes en todo el mundo. Southwest Airlines es el mayor operador estadounidense del 737 MAX, con 34 unidades en su flota, American Airlines posee 24 y United Airlines con 14 aeronaves. Delta Air Lines es la única gran aerolínea en Estados Unidos que no ha ordenado el avión hasta la fecha. En Norteamérica, Air Canada, WestJet y Aeroméxico vuelan el avión y tienen pedidos para más. En Sudamérica, Aerolíneas Argentinas y GOL Linhas Aéreas poseen la unidad más avanzada del 737. A través del mundo las aerolíneas de Asia, África y Europa poseen modestas unidades listas para reiniciar operaciones.
Ryanair, la aerolínea europea de bajo costo, todavía no ha recibido ningún Boeing 737 MAX. La compañía de presupuesto líder de Europa volará el Boeing 737-8 MAX versión 200, una variante del MAX 8 para acomodar doscientos pasajeros. La línea aérea ha solicitado una orden para 100 Boeing 737 MAX.
Sequía de órdenes/Cancelaciones
Mientras que el Boeing 737 MAX representa un pequeño porcentaje de las flotas de estos transportistas mundiales, cientos más estaban en orden antes de los accidentes. Posteriormente a la puesta en tierra por más de un año, el 737 MAX ha sufrido la pérdida de pedidos, donde las compañía han cancelado muchas importantes órdenes.
Perspectivas Boeing 737 MAX
Cuando la FAA recertifique el modelo, las aerolíneas necesitarán preparar los aviones y sus pilotos, y la FAA necesita aprobar un nuevo régimen de entrenamiento para la tripulación. Boeing ha recomendado a la FAA que los pilotos reciban entrenamiento en simuladores de vuelo combinados con entrenamiento por computadora "antes de devolver el MAX de manera segura al servicio". Esta capacitación podría ser similar a las intensas comprobaciones anuales que cada piloto de una aerolínea se somete, independientemente de qué avión vuelen. Podría tomar varios días por piloto en una tableta, junto con la simulación del nuevo sistema de control de vuelo en un simulador de vuelo de movimiento completo. Los detalles de la capacitación no han sido anunciados. Muchos pilotos que vuelan el 737 MAX se han entrenado en simuladores de vuelo cada tres meses desde que el avión estuvo en tierra para mantener su conocimiento de cómo vuela.
Los aldededor de 400 aviones aterrizados en todo el mundo se someterán a mantenimiento periódico incluso mientras están conectados a tierra. Cuando la FAA otorgue su aprobación, los equipos de mantenimiento y los pilotos de una aerolínea volarán el avión sin pasajeros a bordo (ferry) a las instalaciones de mantenimiento de la aerolínea de aquellas aeronaves que no se encuentren en sus respectivas bases, sometiéndose a extensas evaluaciones y mantenimiento de sistemas, incluidos sistemas hidráulicos y de aviónica, plano alar y tren de aterrizaje. Después de chequear estos ítems, dos semanas aproximadamente, las líneas aéreas pasarían a la última fase de programación de vuelos del Boeing 737 MAX.
Trainings for Boeing 737 MAX
US pilots review latest training draft for 737 MAX
The Boeing 737 MAX is being prepared for a return to the skies of the world. Last week, Boeing completed test flights of its fourth-generation 737 model to demonstrate that it can fly safely with new MCAS Flight Control software. When the company began testing the planes for recertification, a federal inspector general's report said Boeing had kept information from federal regulators about the faulty computer system that downed the two planes during the plane's initial approval process.
The Boeing 737 MAX is the latest model in the long and famous 737 saga, a type of aircraft with many variants over the decades. Units built far exceed 10,000 aircraft through all time. The fourth-generation MAX variant was officially launched in 2017 with four models to accommodate between 130 to 230 seats. The 737 MAX has larger and more fuel efficient engines than older models.
FAA
If the Federal Aviation Administration (FAA) is convinced that Boeing has corrected the problems that caused the accidents, the planes will return to service, but a schedule has not been announced. The agency said in a statement that "it will lift the grounding order only after we are satisfied that the plane meets the certification standards". The Boeing Company Chief Executive David Calhoun flew the plane in February 2020. The FAA Chief and longtime Delta pilot Stephen M. Dickson told the Senate Committee that he would fly the 737 MAX he You must be satisfied that you would bring your family on board before the grounding order is lifted.
Industry experts said it could still be several months before the FAA and EASA agencies (Europe), Transport Canada (Canada) and other international air navigation security agencies can inspect the new modifications implemented to the 737 MAX model. Many non-essential modifications to the fourth generation aircraft will continue to be applied during this 2020 and 2021.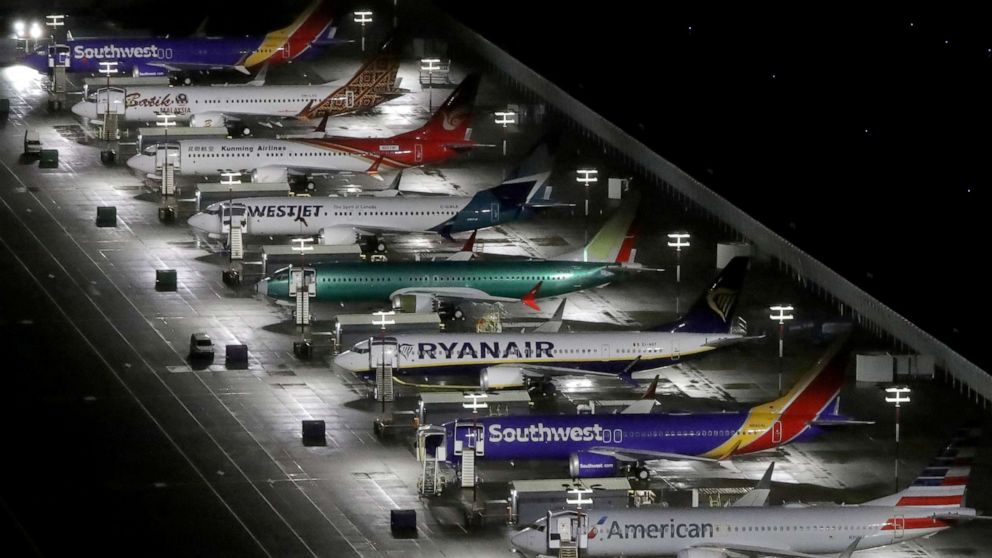 737 MAX operators
Boeing has currently delivered 370 Boeing 737 Max aircraft to 47 customers worldwide. Southwest Airlines is the largest US operator of the 737 MAX, with 34 units in its fleet, American Airlines owns 24, and United Airlines with 14 aircraft. Delta Air Lines is the only major airline in the United States that has not ordered the plane to date. In North America, Air Canada, WestJet and Aeroméxico fly the plane and have orders for more. In South America, Aerolíneas Argentinas and GOL Linhas Aéreas have the most advanced unit of the 737. Throughout the world, airlines from Asia, Africa and Europe have modest units ready to restart operations.
Ryanair, the European low-cost airline, has yet to receive a Boeing 737 MAX. Europe's leading budget company will fly the Boeing 737-8 MAX version 200, a variant of the MAX 8 to accommodate two hundred passengers. The airline has requested an order for 100 Boeing 737 MAX.
Order Drought/Cancellations
While the Boeing 737 MAX represents a small percentage of these global carriers' fleets, hundreds more were in order before the accidents. Subsequent to grounding for more than a year, the 737 MAX has suffered loss of orders, where the company has canceled many major orders.
Boeing 737 MAX perspective
When the FAA recertifies the model, airlines will need to prepare the planes and their pilots, and the FAA needs to approve a new crew training regimen. Boeing has recommended to the FAA that pilots undergo flight simulator training combined with computer training "before safely returning MAX to service". This training could be similar to the intense annual checks that every airline pilot undergoes, regardless of which plane they fly. It could take several days per pilot on a tablet, along with simulating the new flight control system in a full-motion flight simulator. The details of the training have not been announced. Many pilots who fly the 737 MAX have been trained in flight simulators every three months since the plane was grounded to maintain their knowledge of how it flies.
Around 400 planes landed worldwide will undergo periodic maintenance even while grounded. When the FAA gives its approval, an airline's maintenance crews and pilots will fly the aircraft without passengers on board (ferry) to the airline's maintenance facilities for those aircraft that are not on their respective bases, undergoing extensive systems assessments and maintenance, including avionics and hydraulic systems, wing planes and landing gear. After checking these items, approximately two weeks, the airlines would move to the last phase of Boeing 737 MAX flight scheduling.
Ξ A I R G W A Y S Ξ
PUBLISHER: Airgways.com
DBk: Faa.gov / Boeing.com / Businessinsider.com / Airgways.com
AW-POST: 202007112127AR
A\W A I R G W A Y S ®