AW | 2020 07 17 09:03 | AIRLINES / GOVERNMENT
Senado brasileño aprueba medidas para reembolso de boletos aéreos
El Senado de Brasil ha aprobado este Miércoles 15 Julio 2020 la Medida Provisional (MP) 925/2020 que establece un plazo de 12 meses para el reembolso de boletos aéreos, crea reglas para reprogramar boletos aéreos cancelados durante la pandemia y trata con ayuda a los sectores aeronáutico y aeroportuario durante la crisis sanitaria. La agenda había sido aprobada por la Cámara de Diputados la semana anterior.
La Medida Provisional todavía regula el pago de tarifas y elimina el recargo de embarque internacional. Aprobado en la forma del Proyecto de Ley de Conversión (PLV) 23/2020, tal medida se dirige a la sanción de la Presidencia de la República. El Senador Eduardo Gomes ha expresado que el MP tiene el objetivo de promover un alivio inmediato en el flujo de caja de las compañías en el sector de las aerolíneas. Enfatizó que, con la crisis generada por el coronavirus, la demanda de vuelos domésticos ha disminuido un 93% y los vuelos internacionales con una caída del 98%. "El artículo es extremadamente urgente y tiene como objetivo transmitir medidas de emergencia para mitigar los efectos de la crisis resultante de la pandemia del covid-19 en la aviación civil brasileña", argumentó el Senador. El MP avanza en puntos importantes y urgentes en el sector de las líneas aéreas. Presentó solo una enmienda editorial para aclarar una referencia legal.
Brazil approves MP for air refunds
Brazilian Senate approves measures for reimbursement of air tickets
The Brazilian Senate has approved this Provisional Measure (MP) 925/2020 this Wednesday, July 15, 2020, which establishes a 12-month term for the reimbursement of air tickets, creates rules to reschedule air tickets canceled during the pandemic, and deals with assistance to aeronautical and airport sectors during the health crisis. The agenda had been approved by the Chamber of Deputies the previous week.
The Provisional Measure still regulates the payment of fees and eliminates the international shipping surcharge. Approved in the form of the Conversion Bill (PLV) 23/2020, such measure is aimed at the sanction of the Presidency of the Republic. Senator Eduardo Gomes has expressed that the MP has the objective of promoting an immediate relief in the cash flow of companies in the airline sector. He emphasized that, with the crisis caused by the coronavirus, the demand for domestic flights has decreased by 93% and international flights with a drop of 98%. "The article is extremely urgent and aims to transmit emergency measures to mitigate the effects of the crisis resulting from the covid-19 pandemic in Brazilian civil aviation", argued the Senator. The MP is making progress on important and urgent points in the airline sector. He filed only one editorial amendment to clarify a legal reference.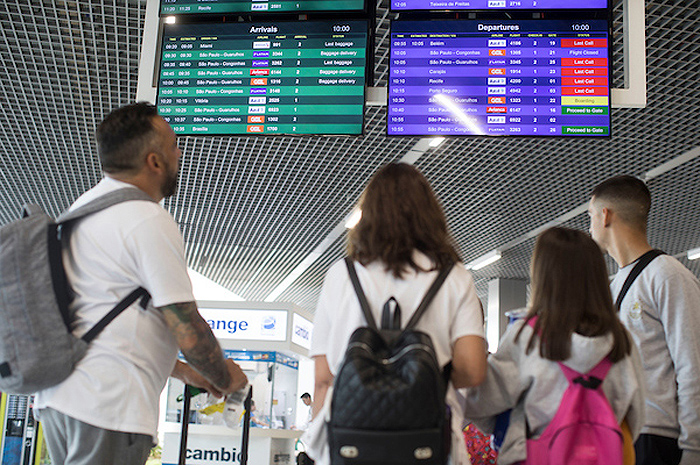 Brasil aprova MP para restituições aéreas
Senado brasileiro aprova medidas para reembolso de passagens aéreas
O Senado brasileiro aprovou esta Medida Provisória (MP) 925/2020 nesta quarta-feira, 15 Julho 2020, que estabelece um prazo de 12 meses para o reembolso de passagens aéreas, cria regras para reagendar passagens aéreas canceladas durante a pandemia e lida com assistência para aeronáuticos e aeroportuários durante a crise da saúde. A agenda havia sido aprovada pela Câmara dos Deputados na semana anterior.
A Medida Provisória ainda regula o pagamento de taxas e elimina a sobretaxa de remessa internacional. Aprovada na forma do PLV 23/2020, essa medida visa a sanção da Presidência da República. O senador Eduardo Gomes expressou que o MP tem o objetivo de promover um alívio imediato no fluxo de caixa das empresas do setor aéreo. Ele enfatizou que, com a crise causada pelo coronavírus, a demanda por vôos domésticos diminuiu 93% e os vôos internacionais, com uma queda de 98%. "O artigo é extremamente urgente e tem como objetivo transmitir medidas emergenciais para mitigar os efeitos da crise resultante da pandemia da covid-19 na aviação civil brasileira", argumentou o senador. O MP está avançando em pontos importantes e urgentes no setor aéreo. Ele apresentou apenas uma emenda editorial para esclarecer uma referência legal.
Ξ A I R G W A Y S Ξ
PUBLISHER: Airgways.com
DBk: Senado.leg.br / Mercaadoeeventos.com.br / Airgways.com
AW-POST: 202007170903AR
A\W A I R G W A Y S ®