AW | 2020 08 12 11:13 | AIRLINES
Azul Conecta volará objetivo de 200 destinos
Azul Linhas Aéreas ha lanzado oficialmente Azul Conecta el 11 Agosto 2020 en el Aeropuerto Jundaí, Estado de São Paulo. Bajo el nuevo nombre para el Taxi Aéreo TwoFlex, adquirido por la empresa en Enero 2020, la nueva subsidiaria será el brazo de aviación subregional de tercer nivel de la compañía Azul, ampliando la cantidad de destinos a los que sirve. Según la empresa, el objetivo es llegar a conectar 200 ciudades. TwoFlex sirve a 36 destinos en el país y cuenta con una flota de 17 aviones Cesna Gran Caravan, un turbohélice regional monomotor con una capacidad para nueve pasajeros.
El lanzamiento de la empresa tuvo lugar el Martes 12/08 por la mañana en el Aeropuerto de Jundiaí. Durante el evento, la aeronave recibió la nueva pintura de la marca Azul Conecta. Estuvieron presentes John Rodgerson, Presidente de Azul, Flávio Costa, Vicepresidente de Técnico Operativo, y Ronei Glanzmann, Secretario Nacional de Aviación Civil. "Con estos aviones, transformaremos Brasil una vez más. Llegaremos a 200 destinos. Tenemos que mirar hacia el futuro y ver cómo vamos a ayudar a Brasil a crecer nuevamente. Lo que vamos a hacer en los próximos diez años es mucho más de lo que ya hemos hecho", dijo John Rodgerson. El CEO de Azul también ha destacado la versatilidad de la flota de la compañía, que permitirá llegar a más destinos de manera eficiente. "Esta es la fortaleza de Azul. Contamos con aeronaves pequeñas, medianas, grandes y muy grandes. Pequeñas para ciudades pequeñas, medianas para ciudades medianas y grandes para ciudades grandes. Vamos a llevar gente a cualquier parte del mundo", avizoró John Rodgerson. El Secretario Nacional de Aviación Civil, Ronei Glanzmann, reforzó este objetivo de ampliar el número de ciudades atendidas. "El punto principal de nuestra agenda es la aviación regional. Brasil tiene más de 5.000 municipios y tenemos un desafío logístico. Llegar con este tipo de equipos es fundamental. Como dijo John, para ciudades más pequeñas, aviones más eficientes. Doscientas ciudades es el mínimo que podemos dar en términos de políticas públicas. Ahora un pasajero puede salir de una ciudad pequeña hacia Miami con un solo boleto".
Azul Conecta ahora servirá a 152 municipios. Entre las regiones que ve con más oportunidades se encuentran el norte y el medio oeste. Estas son regiones con muy poca oferta. Pero también hay oportunidades en ciudades pequeñas del sureste y sur.
La estrategia de Azul es fortalecer cada vez más la capilaridad de los hubs regionales y estatales, con vuelos a ciudades del interior de Brasil y pequeñas comunidades. Azul Conecta permitirá a Azul utilizar aviones más pequeños en rutas menos rentables para los modelos ATR 42/72 o E195, que hoy operan la mayoría de las rutas regionales.
La mayor ramificación de estos hubs más pequeños permitirá a la compañía abastecer aún más a sus tres hubs principales, en Viracopos/Campinas, Confins/Belo Horizonte y Recife, además de aeropuertos estratégicos, como Congonhas/Sao Paulo. La nueva empresa también podría fortalecer conexiones en estados como Mato Grosso, Pará y Amazonas, donde TwoFlex ya tenía rutas desde las capitales, Cuiabá, Belém y Manaus, a ciudades más pequeñas.
Con Azul Conecta, Azul Linhas Aéreas también hereda 14 slots en el Aeropuerto Congonhas que pertenecían a TwoFlex. Sin embargo, la legislación de la Agencia Nacional de Aviación Civil (ANAC) prohíbe solo la operación de aviones a reacción en la pista auxiliar, lo que no restringe el uso de ATR. Así, además de las operaciones en la pista principal con los Embraer 195 E2 y A320NEO, Azul puede alternar operaciones en la pista auxiliar entre ATR 72 y Cessna Gran Caravan, según la ruta y el destino.
Fuerte competitividad
El avance de Gol Linhas Aéreas en la aviación regional en 2019 hizo que Azul se manifestara el año pasado, señalando que el movimiento era antinatural. Además de anunciar la operación de algunos destinos, la compañía Gol Linhas Aéreas también reforzó los acuerdos de código compartido con Map Linhas Aéreas y VoePass (anteriormente Passaredo) y TwoFlex. Además de la rentabilidad, evitando ingresar a rutas que no garantizarían la ocupación necesaria, las alianzas surgieron con el objetivo de atender a los aeropuertos que no tienen capacidad para recibir vuelos de Gol operados por Boeing 737.
Con la compra de TwoFlex por parte de Azul y el lanzamiento de Azul Conecta, la empresa imposibilitó la operación de algunos destinos, entre ellos los de Rio Grande do Sul, Amazonas y Pará, anunciados en 2019 por Gol, en sociedad con TwoFlex. La transacción también genera dudas sobre el futuro de las rutas regionales de Ceará, anunciadas en Diciembre 2019, que conectarían con el hub de Fortaleza.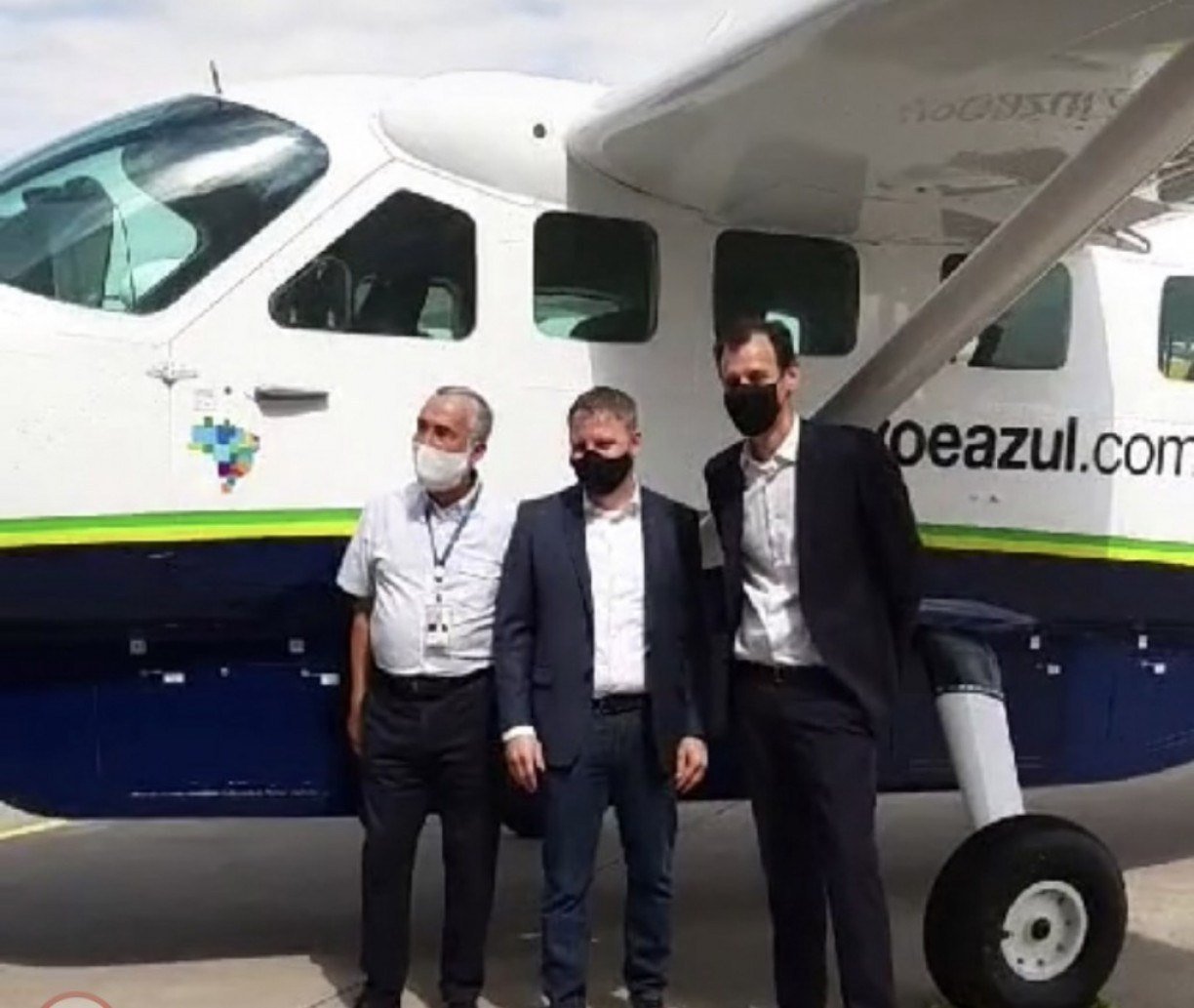 Official launch of Azul Conecta
Azul Conecta will fly target of 200 destinations
Azul Linhas Aéreas has officially launched Azul Conecta on August 11, 2020 at Jundaí Airport, São Paulo State. Under the new name for the TwoFlex Air Taxi, acquired by the company in January 2020, the new subsidiary will be the sub-regional third-tier aviation arm of the Azul company, expanding the number of destinations it serves. According to the company, the goal is to connect 200 cities. TwoFlex serves 36 destinations in the country and has a fleet of 17 Cesna Gran Caravan aircraft, a single-engine regional turboprop with a capacity for nine passengers.
The launch of the company took place on Tuesday 12/08 in the morning at the Jundiaí Airport. During the event, the aircraft received the new paint from the Azul Conecta brand. Present were John Rodgerson, President of Azul, Flávio Costa, Vice President of Operational Technician, and Ronei Glanzmann, National Secretary of Civil Aviation. "With these planes, we will transform Brazil once again. We will reach 200 destinations. We have to look to the future and see how we are going to help Brazil grow again. What we are going to do in the next ten years is much more than what we have already done", said John Rodgerson. The CEO of Azul also highlighted the versatility of the company's fleet, which will allow it to reach more destinations efficiently. "This is Azul's fortress. We have small, medium, large and very large aircraft. Small for small cities, medium for medium and large cities for large cities. We are going to take people to any part of the world", warned John Rodgerson. The National Secretary of Civil Aviation, Ronei Glanzmann, reinforced this objective of expanding the number of cities served. "The main item on our agenda is regional aviation. Brazil has more than 5,000 municipalities and we have a logistical challenge. Arriving with this type of equipment is essential. As John said, for smaller cities, more efficient planes. Two hundred cities is the minimum we can give in terms of public policies. Now a passenger can leave a small city for Miami with a single ticket".
Azul Conecta will now serve 152 municipalities. Among the regions it sees with the most opportunities are the North and the Midwest. These are regions with very little supply. But there are also opportunities in small towns in the southeast and south.
Azul's strategy is to increasingly strengthen the capillarity of regional and state hubs, with flights to cities in the interior of Brazil and small communities. Azul Conecta will allow Azul to use smaller aircraft on less profitable routes for the ATR 42/72 or E195 models, which today operate most regional routes.
The greater branching of these smaller hubs will allow the company to further supply its three main hubs, in Viracopos/Campinas, Confins/Belo Horizonte and Recife, as well as strategic airports, such as Congonhas/Sao Paulo. The new company could also strengthen connections in states such as Mato Grosso, Pará and Amazonas, where TwoFlex already had routes from the capitals Cuiabá, Belém and Manaus to smaller cities.
With Azul Conecta, Azul Linhas Aéreas also inherits 14 slots at Congonhas Airport that belonged to TwoFlex. However, the legislation of the National Civil Aviation Agency (ANAC) prohibits only the operation of jet aircraft on the auxiliary runway, which does not restrict the use of ATR. Thus, in addition to operations on the main runway with the Embraer 195 E2 and A320NEO, Azul can alternate operations on the auxiliary runway between ATR 72 and Cessna Gran Caravan, depending on the route and destination.
Strong competitiveness
Gol Linhas Aéreas' breakthrough in regional aviation in 2019 caused Azul to demonstrate last year, signaling that the move was unnatural. In addition to announcing the operation of some destinations, the company Gol Linhas Aéreas also reinforced the codeshare agreements with Map Linhas Aéreas and VoePass (formerly Passaredo) and TwoFlex. In addition to profitability, avoiding entering routes that would not guarantee the necessary occupancy, the alliances emerged with the objective of serving airports that do not have the capacity to receive Gol flights operated by Boeing 737s.
With the purchase of TwoFlex by Azul and the launch of Azul Conecta, the company made it impossible to operate some destinations, including those of Rio Grande do Sul, Amazonas and Pará, announced in 2019 by Gol, in partnership with TwoFlex. The transaction also raises doubts about the future of the Ceará regional routes, announced in December 2019, which would connect with the Fortaleza hub.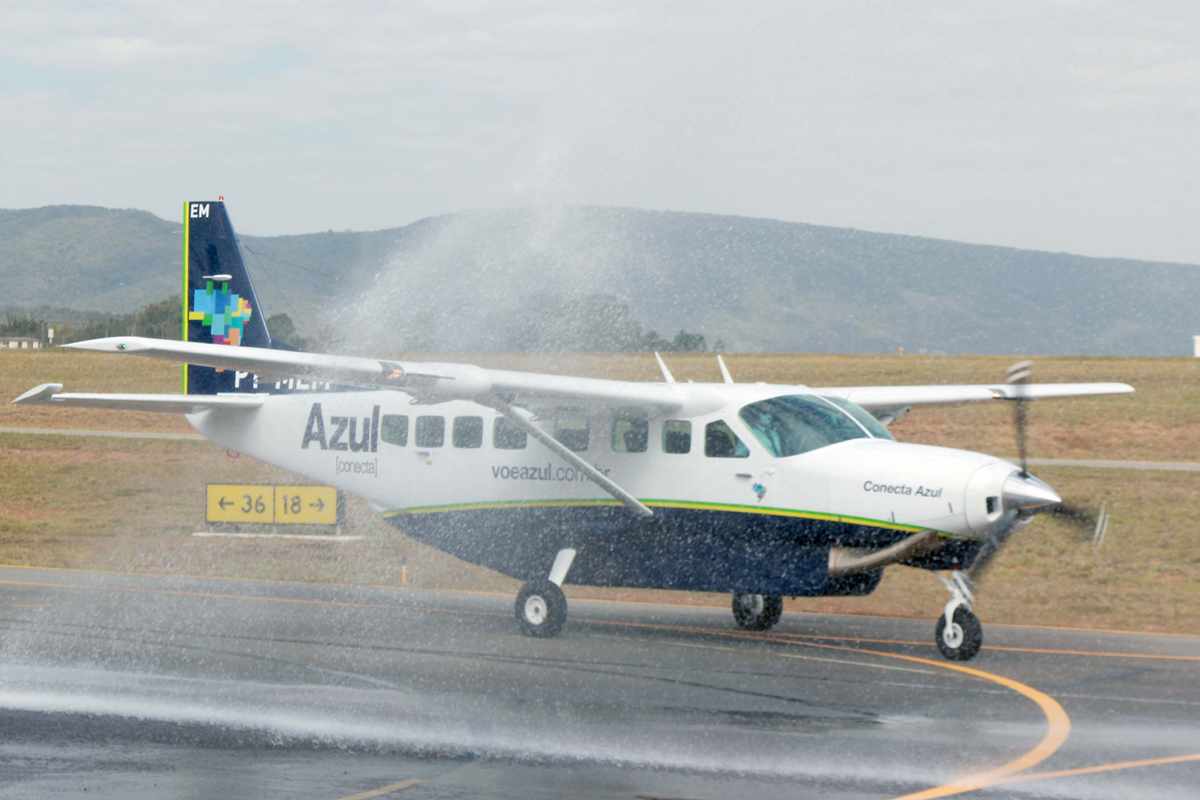 Lançamento oficial do Azul Conecta
Azul Conecta voará alvo de 200 destinos
A Azul Linhas Aéreas lançou oficialmente o Azul Conecta em 11 de agosto de 2020 no Aeroporto de Jundaí, Estado de São Paulo. Com o novo nome de TwoFlex Air Taxi, adquirido pela empresa em janeiro de 2020, a nova subsidiária será o braço de aviação sub-regional de terceiro nível da empresa Azul, ampliando o número de destinos que atende. De acordo com a empresa, a meta é conectar 200 cidades. A TwoFlex atende 36 destinos no país e possui uma frota de 17 aeronaves Cesna Gran Caravan, um turboélice regional monomotor com capacidade para nove passageiros.
O lançamento da empresa aconteceu nesta terça-feira, 12/08, pela manhã, no Aeroporto de Jundiaí. Durante o evento, a aeronave recebeu a nova pintura da marca Azul Conecta. Estiveram presentes John Rodgerson, Presidente da Azul, Flávio Costa, Vice-Presidente Técnico Operacional, e Ronei Glanzmann, Secretário Nacional de Aviação Civil. "Com esses aviões, vamos transformar o Brasil mais uma vez. Chegaremos a 200 destinos. Precisamos olhar para o futuro e ver como vamos ajudar o Brasil a crescer novamente. O que vamos fazer nos próximos dez anos é muito mais do que já fizemos", disse John Rodgerson. O CEO da Azul destacou ainda a versatilidade da frota da empresa, o que permitirá chegar com mais eficiência aos destinos. "Esta é a fortaleza da Azul. Temos aeronaves de pequeno, médio, grande e muito grande porte. Pequeno para cidades pequenas, médio para cidades médias e grandes para grandes cidades. Vamos levar pessoas para qualquer parte do mundo", avisou John Rodgerson. O Secretário Nacional de Aviação Civil, Ronei Glanzmann, reforçou esse objetivo de ampliar o número de municípios atendidos. "O principal item da nossa agenda é a aviação regional. O Brasil tem mais de 5.000 municípios e temos um desafio logístico. Chegar com esse tipo de equipamento é fundamental. Como disse John, para cidades menores, aviões mais eficientes. Duzentas cidades é o mínimo que podemos dar em termos de políticas públicas. Agora, um passageiro pode deixar uma pequena cidade para Miami com uma única passagem".
O Azul Conecta agora atenderá 152 municípios. Entre as regiões que vê com mais oportunidades estão Norte e Centro-Oeste. São regiões com muito pouca oferta. Mas também há oportunidades em pequenas cidades do sudeste e do sul.
A estratégia da Azul é fortalecer cada vez mais a capilaridade dos hubs regionais e estaduais, com voos para cidades do interior e pequenas comunidades. O Azul Conecta permitirá que a Azul use aeronaves menores em rotas menos lucrativas para os modelos ATR 42/72 ou E195, que hoje operam a maioria das rotas regionais.
A maior ramificação desses polos menores permitirá à empresa abastecer ainda mais seus três principais polos, em Viracopos/Campinas, Confins/Belo Horizonte e Recife, além de aeroportos estratégicos, como Congonhas/São Paulo. A nova empresa também poderá fortalecer conexões em estados como Mato Grosso, Pará e Amazonas, onde a TwoFlex já tinha rotas das capitais Cuiabá, Belém e Manaus para cidades menores.
Com o Azul Conecta, a Azul Linhas Aéreas também herda 14 slots no Aeroporto de Congonhas que pertenciam à TwoFlex. No entanto, a legislação da Agência Nacional de Aviação Civil (ANAC) proíbe apenas a operação de aeronaves a jato na pista auxiliar, o que não restringe o uso de ATR. Assim, além de operar na pista principal com os Embraer 195 E2 e A320NEO, a Azul pode alternar as operações na pista auxiliar entre o ATR 72 e o Cessna Gran Caravan, dependendo da rota e do destino.
Forte competitividade
O avanço da Gol Linhas Aéreas na aviação regional em 2019 levou a Azul a se manifestar no ano passado, sinalizando que a mudança não era natural. Além de anunciar a operação de alguns destinos, a Gol Linhas Aéreas também reforçou os acordos de codeshare com a Map Linhas Aéreas e VoePass (antiga Passaredo) e TwoFlex. Além da lucratividade, evitando entrar em rotas que não garantissem a ocupação necessária, as alianças surgiram com o objetivo de atender aeroportos que não têm capacidade para receber voos da Gol operados por Boeing 737.
Com a compra da TwoFlex pela Azul e o lançamento do Azul Conecta, a empresa impossibilitou a operação de alguns destinos, entre eles Rio Grande do Sul, Amazonas e Pará, anunciados em 2019 pela Gol, em parceria com a TwoFlex. A transação também levanta dúvidas sobre o futuro das rotas regionais do Ceará, anunciadas em dezembro de 2019, que se conectariam ao hub de Fortaleza.
Ξ A I R G W A Y S Ξ
PUBLISHER: Airgways.com
DBk: Voeazul.com.br / Jornale.com.br / Panrotas.com.br / Airgways.com
AW-POST: 202008121113AR
A\W A I R G W A Y S ®