AW | 2020 09 08 09:55 | TOURISM / GOVERNMENT
Ministro anuncia Plan Nacional de Reanudación Turística
El Ministro de Turismo, Marcelo Álvaro Antônio, anunció el Plan Nacional de Reanudación del Turismo, este Jueves 3 Septiembre 2020, en el Museo de la Inconfidência, en Ouro Preto (MG). La iniciativa es parte de las diversas acciones tomadas por MTur para reducir los impactos de la pandemia de Coronavirus (Covid-19). El ministro Marcelo Álvaro Antônio destacó la relevancia del retorno responsable de las actividades del sector, especialmente para todos aquellos que desde hace meses padecen la parálisis del turismo y la cultura. "Venimos de un año exitoso para el turismo. El 2019 estuvo marcado por récords y logros históricos, pero desafortunadamente, nos sorprendió una pandemia sin precedentes. Por eso esta noche es tan importante: este es el hito de la reanudación del turismo en nuestro país", declaró el ministro.
Álvaro Antônio también destacó la importancia que el Turismo y la Cultura tienen en la recuperación económica de Brasil. "Nuestro trabajo no se detiene ahí y pronto tendremos más novedades para compartir. Siempre enfocados en asegurar la recuperación económica y la inclusión social de los millones de brasileños afectados por esta situación. Como siempre dice el presidente Bolsonaro: ¡Ningún brasileño se quedará atrás!", concluyó.
Como parte de los anuncios previstos, el Ministerio de Turismo también garantizó la transferencia de R$ 3 millones Reales al Programa Minas por Minas con el fin de dar a conocer los destinos locales e impulsar el turismo regional.
Brazil activates Tourist Plan
Minister announces National Plan for Tourist Resumption
The Minister of Tourism, Marcelo Álvaro Antônio, announced the National Plan for the Resumption of Tourism, this Thursday, September 3, 2020, at the Museum of Inconfidência, in Ouro Preto (MG). The initiative is part of the various actions taken by MTur to reduce the impacts of the Coronavirus (Covid-19) pandemic. Minister Marcelo Álvaro Antônio highlighted the relevance of the responsible return of the activities of the sector, especially for all those who for months have suffered from the paralysis of tourism and culture. "We come from a successful year for tourism. 2019 was marked by historical records and achievements, but unfortunately, we were surprised by an unprecedented pandemic. That is why tonight is so important: this is the milestone of the resumption of tourism in our country", declared the minister.
Álvaro Antônio also highlighted the importance that Tourism and Culture have in Brazil's economic recovery. "Our work doesn't stop there and we will have more news to share soon. Always focused on ensuring economic recovery and social inclusion for the millions of Brazilians affected by this situation. As President Bolsonaro always says: No Brazilian will be left behind!", he concluded.
As part of the planned announcements, the Ministry of Tourism also guaranteed the transfer of R$ 3 million to the Mines by Mines Program in order to publicize local destinations and promote regional tourism.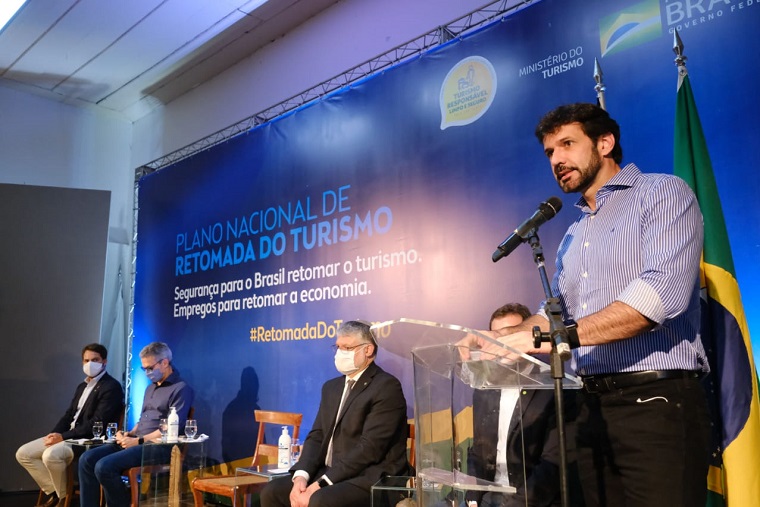 Brasil ativa Plano Turístico
Ministro anuncia Plano Nacional de Retomada do Turismo
O Ministro do Turismo, Marcelo Álvaro Antônio, anunciou o Plano Nacional de Retomada do Turismo, nesta quinta-feira, 3 de setembro de 2020, no Museu da Inconfidência, em Ouro Preto (MG). A iniciativa faz parte das diversas ações do MTur para reduzir os impactos da pandemia do Coronavírus (Covid-19). O ministro Marcelo Álvaro Antônio destacou a importância do retorno responsável das atividades do setor, principalmente para todos aqueles que há meses sofrem com a paralisia do turismo e da cultura. "Viemos de um ano de muito sucesso para o turismo. 2019 foi marcado por recordes e conquistas históricas, mas, infelizmente, fomos surpreendidos por uma pandemia sem precedentes. Por isso esta noite é tão importante: este é o marco da retomada do turismo em nosso país", declarou o ministro.
Álvaro Antônio também destacou a importância que o Turismo e a Cultura têm na recuperação econômica do Brasil. "Nosso trabalho não pára por aí e teremos mais novidades para compartilhar em breve. Sempre focado em garantir a recuperação econômica e a inclusão social dos milhões de brasileiros afetados por essa situação. Como sempre diz o presidente Bolsonaro: nenhum brasileiro vai ficar para trás!", Concluiu.
Como parte dos editais previstos, o Ministério do Turismo também garantiu o repasse de R$ 3 milhões de reais ao Programa Minas de Minas para divulgar os destinos locais e promover o turismo regional.

PUBLISHER: Airgways.com
DBk: Turismo.gov.br / Mercadoeeventos.com.br
AW-POST: 202009080955AR
A\W A I R G W A Y S ®