AW | 2020 09 10 14:58 | AIRLINES / AIRPORTS / GOVERNMENT
Aéreas low cost manifestaron en reclamo continuidad El Palomar
Trabajadores de las aerolíneas low cost volvieron a manifestarse este Jueves 10/09 por el retorno de las operaciones de cabotaje y la continuidad de la terminal aérea del Aeropuerto Internacional El Palomar, ante el cambio de discurso del Ministerio de Transporte. La convocatoria representada por los empleados y los gremios aeronáuticos de la Asociación Trabajadores Aviadores de Flybondi (ATAF) y la Asociación Sindical Trabajadores de JetSmart (ASTJ) acompañados por un sector de la política en favor de los intereses de conservar la unidad aérea en la localidad de El Palomar, Municipio de Morón, Provincia de Buenos Aires. Es la ex-base de la I Brigada Aérea.
El reclamo en este 10S tuvo lugar en la puerta de acceso del Aeropuerto Internacional El Palomar a favor de la continuidad operativa de la aeroestación como así también de las fuentes laborales en juego, más de 10 mil puestos de trabajo directos e indirectos, que esperan volver a la actividad.
«Hay una intención de querer favorecer al operador estatal. Se va Latam y deja lugares en Aeroparque, que nos podrían dar, y hasta eso está en duda. Quieren que Aeroparque lo use monopólicamente Aerolíneas Argentinas, y a nosotros mandarnos a una terminal más cara y lejana», sostuvo ayer el CEO de Jetsmart, Gonzalo Pérez Corral.
Una causa en la Justicia Federal de San Martín continúa tramitada por daño al medio ambiente y al propio concesionario: «AA2000 tiene muchos aeropuertos deficitarios y el único que pidió cerrar es éste, que es muy barato y que ha tenido una baja inversión en relación a los pasajeros», explicó el CEO de JetSmart a la editorial Un Medio de Morón.
A Aerolíneas Argentinas la subenciona el Estado y está en una etapa de ajuste. Es probable que el Ministerio de Transporte entregue al aeropuerto low cost como moneda de cambio. Por ahora, los trabajadores se mostraron muy preocupados y angustiados por la situación. "No hay ningún cambio, se ha empeorado la situación", dijo Florencia Busso, empleada de Flybondi.
«La contagiosidad en vuelo es bajísima y debería reponerse cuanto antes. Hay mucha gente que necesita viajar. Hasta ahora no hay nada cierto», expresó el CEO de Jetsmart Argentina.
Turismo presente
Desde el sector del turismo se encuentran muy enojados porque desde Nación jamás bajaron un protocolo de trabajo y anuncian que habrá temporada. La fecha estimada es el 1 Octubre 2020, pero no hay nada oficial. Por lo pronto, depende del aval de Salud.
Claim 10S in favor of El Palomar
Low cost airline employees protested El Palomar continuity
Workers of the low cost airlines demonstrated again this Thursday 09/10 for the return of cabotage operations and the continuity of the air terminal of the El Palomar International Airport, before the change of discourse of the Ministry of Transport. The call represented by the employees and aeronautical unions of the Flybondi Aviation Workers Association (ATAF) and the JetSmart Workers Union Association (ASTJ) accompanied by a sector of politics in favor of the interests of conserving the air unit in the locality from El Palomar, Municipality of Morón, Province of Buenos Aires. It is the former base of the 1st Air Brigade.
The claim in this 10S took place at the access door of the El Palomar International Airport in favor of the operational continuity of the air station as well as the job sources at stake, more than 10 thousand direct and indirect jobs, which expect to return to the activity.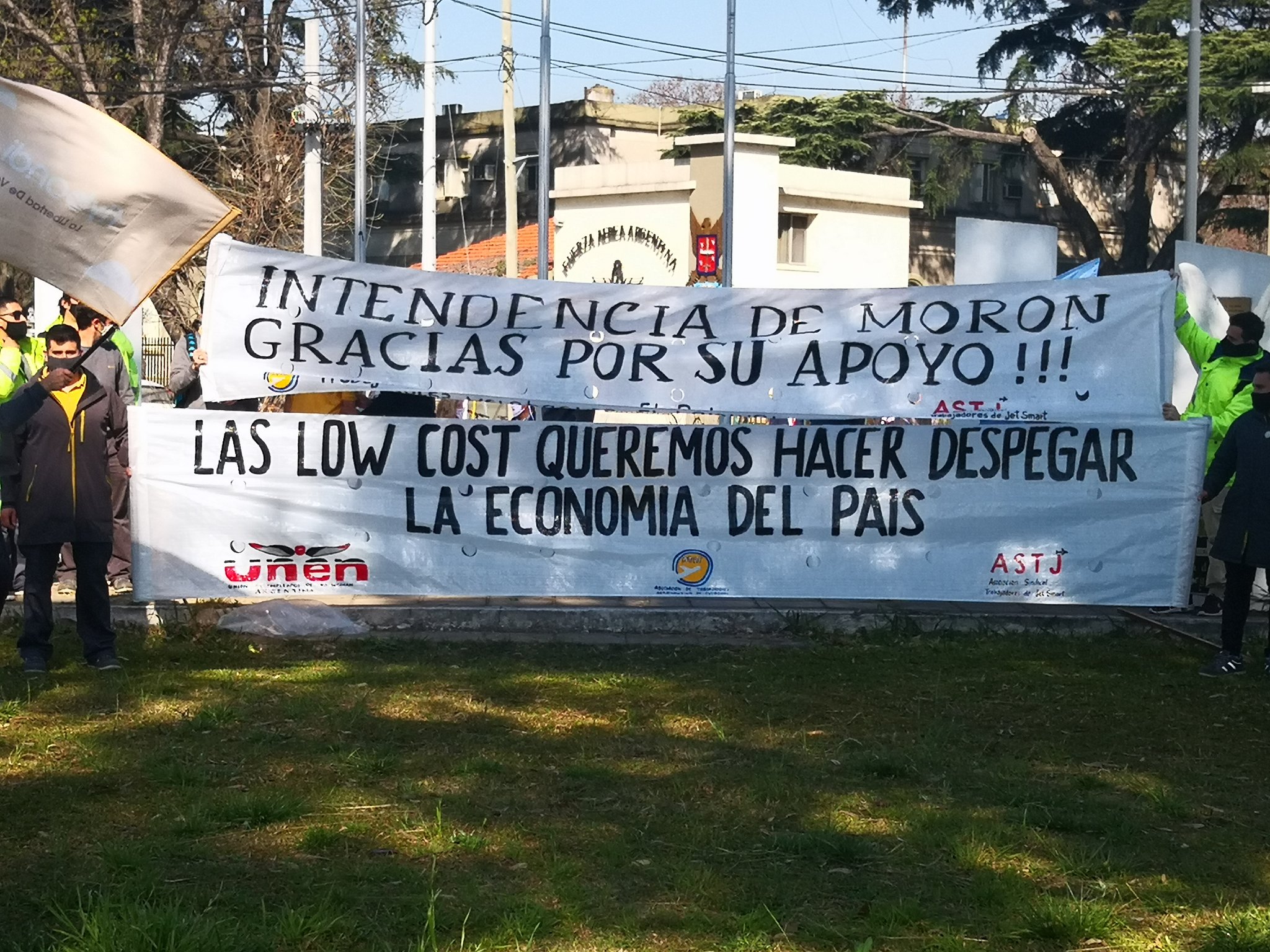 «There is an intention of wanting to favor the state operator. Latam is leaving and leaving places in Aeroparque, which they could give us, and even that is in doubt. They want Aeroparque to use it monopolistically Aerolíneas Argentinas, and to send us to a more expensive terminal and far away», Jetsmart CEO Gonzalo Pérez Corral said yesterday.
A case in the Federal Justice of San Martín continues to be processed for damage to the environment and to the concessionaire itself: «AA2000 has many deficit airports and the only one that asked to close is this one, which is very cheap and has had a low investment in relation to the passengers», explained the CEO of JetSmart to the publishing house Un Medio de Morón.
Aerolineas Argentinas is subsidized by the State and is in an adjustment stage. It is likely that the Ministry of Transport will give the airport low cost as a bargaining chip. For now, the workers have been very concerned and distressed by the situation. «There is no change, the situation has worsened», said Florence Busso, an employee of Flybondi.
«In-flight contagion is very low and should be restored as soon as possible. There are many people who need to travel. So far there is nothing certain», said the CEO of Jetsmart Argentina.
Tourism present
From the tourism sector they are very angry because from the Nation they never lowered a work protocol and announced that there will be a season. The estimated date is October 1, 2020, but there is nothing official. For now, it depends on the guarantee of Health.

PUBLISHER: Airgways.com
DBk: Unmedioenmoron.com.ar / Twitter.com/hashtag/AeropuertoElPalomar / Airgways.com / Twitter.com/@TFlybondi
AW-POST: 2020091011458AR
A\W A I R G W A Y S ®