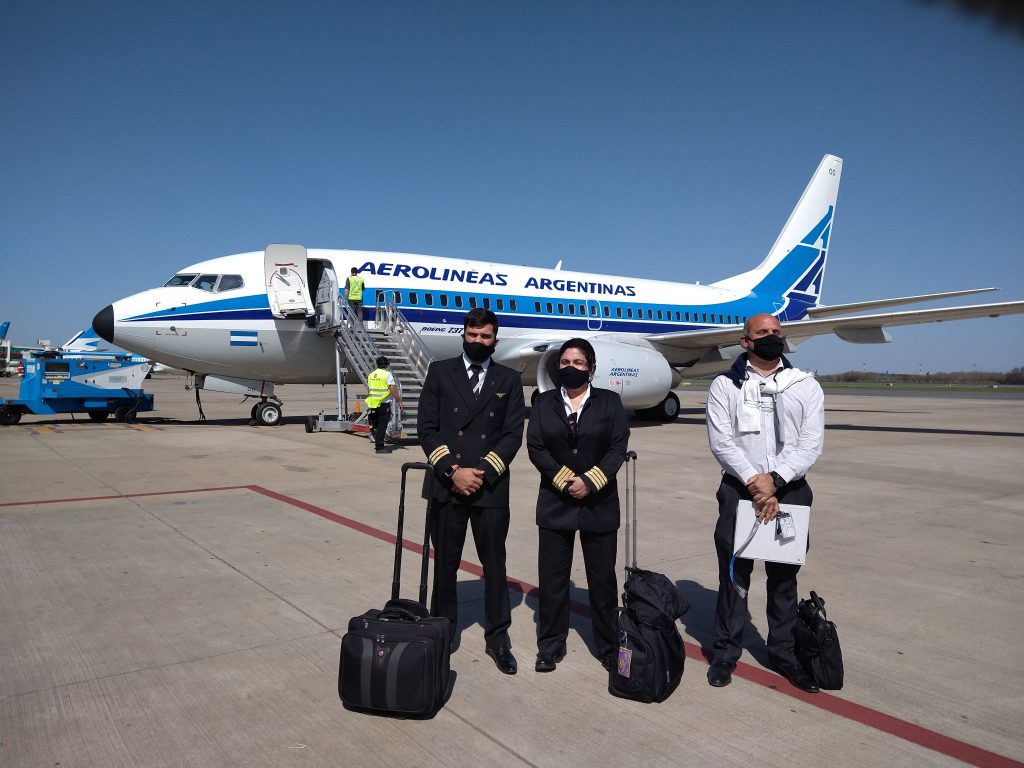 AW | 2020 09 19 13:22 | AIRLINES HISTORY
Arriba a Aeropuerto Ezeiza aeronave retro de Aerolíneas Argentinas
Aerolíneas Argentinas ha presentado oficialmente este Viernes 18/09 la aeronave Boeing 737-700 con diseño retro, como parte de los festejos del 70º aniversarios de la compañía introduciendo sus operaciones aerocomerciales.
La aeronave, un Boeing 737-700 Next Generation, matrícula LV-GOO, ha arribado en la tarde del 18/09 al Aeropuerto Internacional de Ezeiza, procedente de Córdoba, donde fue pintado con la nueva librea retro de los años 90 en los talleres de la Fábrica Argentina de Aviones (Fadea).
70º Aniversarios
Aerolíneas Argentinas ha incorporado una imagen retro de los años 90 en una aeronave Boeing 737-700 con la librea original de la doble AA en la deriva de las aeronaves y dos bandas celeste y azul que recorren todo el fuselaje junto al estilo de letra estilizada empleada para el nombre de la aerolínea. El retorno a los años 1990 arriban para festejar los 70 años de operaciones de la compañía celebrados el 14 Mayo 2019 con la creación de la compañía, como así también para el 7 Diciembre 2020 con el inicio de las operaciones aéreas.
A principios de año, Aerolíneas Argentinas lanzó un logo conmemorativo por su cumpleaños número 70 y además está llevando adelante una campaña en redes sociales de la que participan el actor Leonardo Sbaraglia y el músico Gustavo Santaolalla y que incluye textos del escritor Eduardo Galeano.
Pablo Tegli a cargo de la coordinación de Pablo Tegli técnico de Aerolíneas que tuvo a su cargo la coordinación del trabajo de pintura ha expresado el beneplácito del trabajo realizado en los Talleres de FAdeA: «La pintura del Boeing demandó 20 días netos de trabajo, aunque en la práctica fueron varios más por diferentes circunstancias. La tarea desempeñada por FAdeA fue excepcional y la verdad, es muy importante que se haya podido establecer una relación de este tipo con otra empresa del Estado, porque será de gran utilidad para el futuro de la compañía».
El vuelo en ferry del Boeing 737-700 retro estuvo a cargo de la comandante Carla Guttner y del copiloto Oscar Szumejko, quienes trajeron la aeronave al Aeropuerto Ezeiza.
La iniciativa de decorar aeronaves es una tradición en la industria aérea para celebrar acontecimientos, aniversarios, publicidad, eventos, entre muchos otros. En Argentina es poco utilizado y frecuente el empleo de imágenes en los fuselajes. En Brasil las libreas especiales han producido una buena atracción con empleo de diferentes imágenes en sus fuselajes.
El costo de los trabajos realizado en la librea decorativa en el Boeing 737-700 no ha representado gasto para la compañía, ya que se utilizó un crédito de US$ 200 mil Dólares a su favor que Aerolíneas Argentinas posee con la Fábrica FAdeA, que además continúa realizando modificaciones de cambio de imagen corporativa en seis aviones Embraer E190-100AR pertenecientes a Austral Líneas Aéreas, que pasarán a tener los colores de Aerolíneas como parte de la anunciada fusión entre ambas compañías.
Aerolíneas presents 737 retro
Up to Ezeiza Airport retro aircraft of Aerolíneas Argentinas
Aerolineas Argentinas has officially presented this Friday 09/18 the Boeing 737-700 aircraft with a retro design, as part of the celebrations for the company's 70th anniversary by introducing its commercial air operations.
The aircraft, a Boeing 737-700 Next Generation, registration LV-GOO, arrived on the afternoon of 09/18 at the Ezeiza International Airport, from Córdoba, where it was painted with the new retro livery from the 90s in the workshops of the Argentine Aircraft Factory (Fadea).
70th Anniversaries
Aerolíneas Argentinas has incorporated a retro image from the 90s in a Boeing 737-700 aircraft with the original livery of the double AA in the drift of the aircraft and two light blue and blue bands that run throughout the fuselage together with the style of stylized letter used. for the name of the airline. The return to the 1990s arrives to celebrate the 70 years of operations of the company celebrated on May 14, 2019 with the creation of the company, as well as for December 7, 2020 with the start of air operations.
At the beginning of the year, Aerolineas Argentinas launched a commemorative logo for its 70th birthday and is also carrying out a campaign on social networks in which the actor Leonardo Sbaraglia and the musician Gustavo Santaolalla participate and which includes texts by the writer Eduardo Galeano.
Pablo Tegli in charge of coordinating the Aerolíneas technician Pablo Tegli, who was in charge of coordinating the painting work, has expressed his approval of the work carried out in the FAdeA Workshops: «The painting of the Boeing required 20 net days of work, although in practice there were several more due to different circumstances. FAdeA's task was exceptional and the truth is, it is very important that a relationship of this type has been established with another state company, because it will be of great use for the future of company».
The Boeing 737-700 retro ferry flight was led by Commander Carla Guttner and co-pilot Oscar Szumejko, who brought the aircraft to Ezeiza Airport.
The initiative to decorate aircraft is a tradition in the airline industry to celebrate events, anniversaries, advertising, events, among many others. In Argentina the use of images in the fuselages is little used and frequent. In Brazil the special liveries have produced a good attraction with the use of different images on their fuselages.
The cost of the work carried out on the decorative livery on the Boeing 737-700 has not represented an expense for the company, since a credit of US$ 200 thousand dollars was used in its favor that Aerolineas Argentinas has with the FAdeA Factory, which also It continues to make changes to change the corporate image of six Embraer E190-100AR aircraft belonging to Austral Líneas Aéreas, which will have Aerolineas colors as part of the announced merger between the two companies.
AEROLÍNEAS 737 RETRO

PUBLISHER: Airgways.com
DBk: Aerolíneas.com / Airgways.com
AW-POST: 202009191322AR
A\W A I R G W A Y S ®