AW | 2020 09 19 02:00 | AIRLINES ROUTES
Surinam Airways estrena Boeing 777 ruta Paramaribo-Amsterdam
El Boeing 777-200ER de Surinam Airways (SLM) ha realizado por primera vez un vuelo transatlántico en la ruta Paramaribo-Amsterdam/Schiphol el Sábado 5 Septiembre 2020 por la mañana. La compañía SLM ha efectuado un vuelo de demostración, que se realizó desde Paramaribo, capital de la República de Surinam. La aeronave no ha realizado una ruta directa por falta de certificación ETOPS. En lugar de volar en línea recta a los Países Bajos, se tomó un rumbo al este del Caribe y la costa de América del Norte. Por tanto, la duración del vuelo es aproximadamente una hora y media más larga de lo normal.
Debido a la falta de certificación ETOPS, el avión bimotor Boeing 777-200ER no puede volar sobre tramos del Océano Atlántico donde no hay un aeropuerto alternativo cercano. Sin una certificación en la mano, la aeronave no puede alejarse más de 60 minutos de un aeropuerto de desvío. Como se muestra en el mapa de arriba, un vuelo de Surinam a Amsterdam que cumpla con esa regla agregaría más de 50% de kilometraje al viaje. La mayoría de las rutas directas requerirían ETOPS 180, permiso para volar hasta 180 minutos desde el aeropuerto de desvío más cercano. Un tiempo de desvío de 120 minutos requeriría un pequeño desvío, aproximadamente un 10% más que el viaje base. Los costos podrían aumentar significativamente para la aerolínea si sigue esta ruta.
La norma Extended Range Two-Engine Operating Performance Standards (ETOPS) son condiciones oprativas especiales para operaciones de aeroneves con dos motores. Con el Airbus A340 de cuatro motores que Surinam Airways voló hasta principios de 2020, y el Boeing 747-300, complían ampliamente los requisitos operativos para volar de forma directa.
El Boeing 777 aterrizó en Schiphol el 05/09 por la mañana a las 08:52 a.m. Aún no se sabe cuándo el SLM utilizará el dispositivo en el servicio para vuelos regulares en la ruta Paramaribo-Amsterdam, pero podría programarse hacia finales de mes. Hasta entonces, la aerolínea contratará capacidad en otros lugares, como Air Belgium.
Boeing 777 librea especial
Por cierto, Surinam Airways le ha dado un nombre a la nueva incorporación. 'Bird of the Green Paradise' fue elegido entre más de un centenar de nombres presentados. Ese nombre se relaciona con el tema de la selva tropical de la librea con la que está equipado el Boeing 777. La aeronave de Surinam Airways perteneció anteriormente a Singapore Airlines desde Noviembre de 2002 como primer operador. Después de volar con Air New Zealand por un corto tiempo, la aeronave llegó al aeropuerto de Paramaribo en Diciembre de 2019.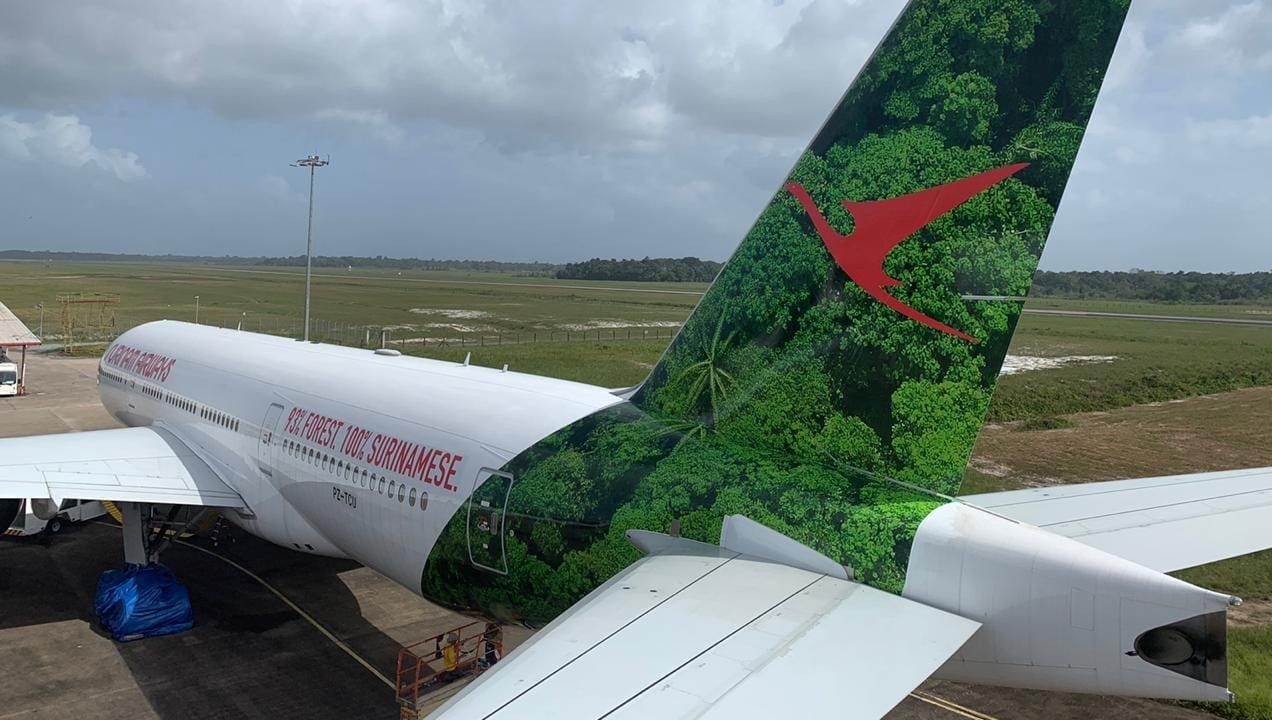 Suriname debuts B777 at Schiphol
Surinam Airways launches Boeing 777 route Paramaribo-Amsterdam
The Boeing 777-200ER of Surinam Airways (SLM) has made a transatlantic flight for the first time on the Paramaribo-Amsterdam/Schiphol route on Saturday, September 5, 2020 in the morning. The SLM company has carried out a demonstration flight, which was carried out from Paramaribo, capital of the Republic of Suriname. The aircraft has not made a direct route due to lack of ETOPS certification. Instead of flying straight to the Netherlands, she took a course to the eastern Caribbean and the coast of North America. Therefore, the duration of the flight is about an hour and a half longer than normal.
Due to the lack of ETOPS certification, the twin-engine Boeing 777-200ER aircraft cannot fly over stretches of the Atlantic Ocean where there is no alternative airport nearby. Without a certification in hand, the aircraft cannot travel more than 60 minutes from a diversion airport. As shown in the map above, a flight from Suriname to Amsterdam that complies with that rule would add more than 50% mileage to the trip. Most direct routes would require ETOPS 180, permission to fly up to 180 minutes from the nearest diversion airport. A detour time of 120 minutes would require a small detour, approximately 10% longer than the base trip. Costs could increase significantly for the airline if it goes this route.
The Extended Range Two-Engine Operating Performance Standards (ETOPS) are special optional conditions for twin-engine aircraft operations. With the four-engine Airbus A340 that Surinam Airways flew until early 2020, and the Boeing 747-300, they largely met the operational requirements to fly direct.
The Boeing 777 touched down at Schiphol on the morning of 09/05 at 08:52 a.m. It is not yet known when the SLM will use the device in service for scheduled flights on the Paramaribo-Amsterdam route, but it could be scheduled towards the end of the month. Until then, the airline will contract capacity elsewhere, such as Air Belgium.
Boeing 777 special livery
By the way, Surinam Airways has given the new addition a name. 'Bird of the Green Paradise' was chosen from more than a hundred names submitted. That name is related to the rainforest theme of the livery that the Boeing 777 is equipped with. The Surinam Airways aircraft previously belonged to Singapore Airlines since November 2002 as the first operator. After flying with Air New Zealand for a short time, the aircraft arrived at Paramaribo airport in December 2019.
Suriname debuteert B777 op Schiphol
Surinam Airways lanceert Boeing 777 route Paramaribo-Amsterdam
De Boeing 777-200ER van Surinam Airways (SLM) heeft op zaterdag 5 september 2020 in de ochtend voor het eerst een transatlantische vlucht gemaakt op de route Paramaribo-Amsterdam/Schiphol. Het bedrijf SLM heeft een demonstratievlucht uitgevoerd, die werd uitgevoerd vanuit Paramaribo, de hoofdstad van de Republiek Suriname. Het vliegtuig heeft geen directe route gemaakt vanwege het ontbreken van ETOPS-certificering. In plaats van rechtstreeks naar Nederland te vliegen, ging hij op koers naar de oostelijke Caraïben en de kust van Noord-Amerika. Daarom is de duur van de vlucht ongeveer anderhalf uur langer dan normaal.
Vanwege het ontbreken van ETOPS-certificering kunnen de tweemotorige Boeing 777-200ER-vliegtuigen niet over delen van de Atlantische Oceaan vliegen waar geen alternatieve luchthaven in de buurt is. Zonder een certificaat in de hand kan het vliegtuig niet meer dan 60 minuten reizen vanaf een omleidingsluchthaven. Zoals te zien is op de kaart hierboven, zou een vlucht van Suriname naar Amsterdam die aan die regel voldoet, meer dan 50% kilometers aan de reis toevoegen. Voor de meeste directe routes is ETOPS 180 vereist, toestemming om tot 180 minuten vanaf de dichtstbijzijnde omleidingsluchthaven te vliegen. Een omwegtijd van 120 minuten zou een kleine omweg vereisen, ongeveer 10% langer dan de basisreis. Als de luchtvaartmaatschappij deze route volgt, kunnen de kosten aanzienlijk stijgen.
De Extended Range Two-Engine Operating Performance Standards (ETOPS) zijn speciale optionele voorwaarden voor vluchten met tweemotorige vliegtuigen. Met de viermotorige Airbus A340 waar Surinam Airways tot begin 2020 mee vloog, en de Boeing 747-300 voldeden ze grotendeels aan de operationele eisen om direct te vliegen.
De Boeing 777 is in de ochtend van 09/05 om 08.52 uur op Schiphol geland. Het is nog niet bekend wanneer de SLM het toestel in dienst zal nemen voor lijnvluchten op de route Paramaribo-Amsterdam, maar het zou tegen het einde van de maand kunnen worden gepland. Tot die tijd contracteert de luchtvaartmaatschappij capaciteit elders, zoals Air Belgium.
Speciale kleurstelling van de Boeing 777
Overigens heeft Surinam Airways de nieuwe toevoeging een naam gegeven. 'Bird of the Green Paradise' werd gekozen uit meer dan honderd ingezonden namen. Die naam heeft te maken met het regenwoudthema van de livrei waarmee de Boeing 777 is uitgerust. Het vliegtuig van Surinam Airways behoorde voorheen sinds november 2002 als eerste operator toe aan Singapore Airlines. Na korte tijd met Air New Zealand te hebben gevlogen, arriveerde het vliegtuig in december 2019 op de luchthaven van Paramaribo.

PUBLISHER: Airgways.com
DBk: Flyslm.com / Airgways.com / Luchtvaartnieuws.nl / Waterkant.net
AW-POST: 202009190200AR
A\W A I R G W A Y S ®