AW | 2020 09 21 09:27 | AIRLINES ROUTES
Caribbean Airlines lanza nuevo destino Isla Dominica
Caribbean Airlines, la compañía aérea de Trinidad y Tobago ha iniciado oficialmente su ruta más nueva con el lanzamiento de nuevos vuelos entre Barbados y Dominica. Los vuelos operarán dos veces por semana los Sábados y Domingos, aumentando a cuatro veces por semana la frecuencia hacia mediados de Octubre 2020, según el comunicado de la aerolínea.
Para el 28 de Octubre 2020, los vuelos operarán los Domingos, Miércoles, Jueves y Sábados. "Nuestro crecimiento en el Caribe Oriental continúa con el inicio del servicio entre Barbados y Dominica. Caribbean Airlines está cumpliendo con nuestro mandato de hacer que los viajes regionales sean más fáciles y convenientes y esta expansión de la red está trabajando en paralelo con nuestros acuerdos estratégicos entre líneas para facilitar conexiones fluidas desde destinos internacionales a través de Barbados a Santa Lucía, St Vincent Antigua, Kingston y ahora Dominica", dijo Garvin Medera, Director Ejecutivo de Caribbean Airlines.
Dominica es conocida como la isla natural del Caribe y su paisaje cuenta con todo, desde cascadas hasta estanques de barro, así como una gran variedad de fauna exótica. El país atrae a cientos de miles de visitantes anualmente. Dominica tiene una población de más de 71,000, con 20,000 personas que habitan Roseau, la capital, y Portsmouth, la segunda ciudad más importante. Una isla inclusiva con una rica composición cultural, Dominica ofrece una vibrante mezcla de influencias europeas y africanas.
Es un impulso para Dominica, que tiene uno de los sectores hoteleros de lujo en crecimiento de la región, liderado por el primer resort Kempinski en el Caribe. La Isla de Dominica ha reabierto al turismo en Agosto 2020, proyectando la reactivación del sector del ocio que representa la actividad más importante del Caribe.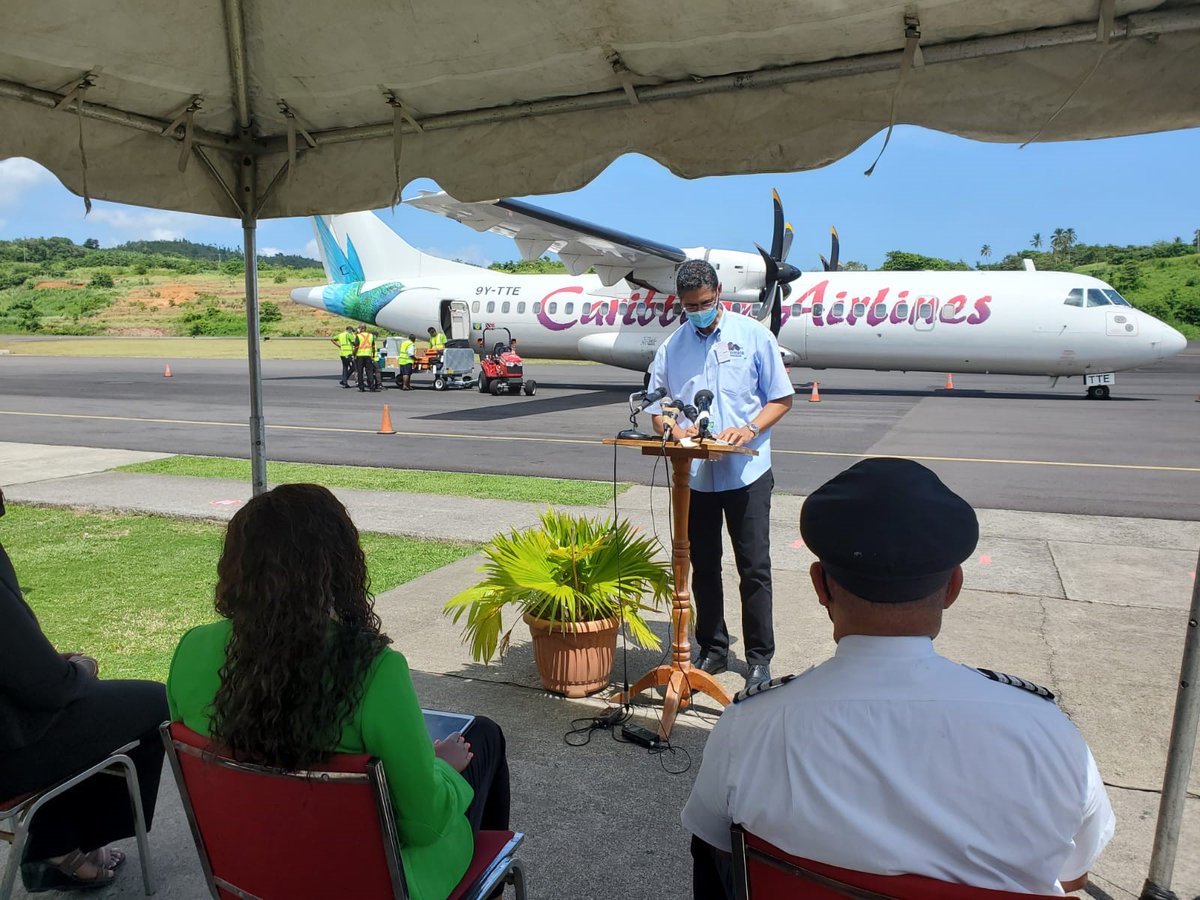 Caribbean launches destination Dominica
Caribbean Airlines launches new destination Dominica Island
Caribbean Airlines, the Trinidad and Tobago airline, has officially started its newest route with the launch of new flights between Barbados and Dominica. The flights will operate twice a week on Saturdays and Sundays, increasing the frequency to four times a week by mid-October 2020, according to the airline's statement.
For October 28, 2020, the flights will operate on Sundays, Wednesdays, Thursdays and Saturdays. "Our growth in the Eastern Caribbean continues with the start of service between Barbados and Dominica. Caribbean Airlines is fulfilling our mandate to make regional travel easier and more convenient and this network expansion is working in parallel with our strategic interline agreements to facilitate seamless connections from international destinations through Barbados to Saint Lucia, St. Vincent Antigua, Kingston and now Dominica", said Garvin Medera, Executive Director of Caribbean Airlines.
Dominica is known as the natural island of the Caribbean and its landscape features everything from waterfalls to mud ponds, as well as a wide variety of exotic fauna. The country attracts hundreds of thousands of visitors annually. Dominica has a population of over 71,000, with 20,000 people inhabiting Roseau, the capital, and Portsmouth, the second largest city. An inclusive island with a rich cultural makeup, Dominica offers a vibrant mix of European and African influences.
It's a boost for Dominica, which has one of the region's growing luxury hotel sectors, led by the first Kempinski resort in the Caribbean. The Island of Dominica has reopened to tourism in August 2020, projecting the reactivation of the leisure sector, which represents the most important activity in the Caribbean.

PUBLISHER: Airgways.com
DBk: Caribbean-airlines.com / Caribjournal.com / Barbadostoday.bb / Wikitravel.org
AW-POST: 202009210927AR
A\W A I R G W A Y S ®