AW | 2017 04 21 05:38 | SAFETY / SECURITY
Agencia científica de Australia está 'más confiada' en conocer la ubicación del accidente MH370




El modelo del CSIRO reafirma la conclusión de la Australian Transport Safety Bureau de que el naufragio está probablemente al norte del área de búsqueda.
La principal agencia científica de Australia dice que está más confiado que nunca de que conoce la ubicación del desaparecido MH370, ya que las autoridades encargadas de la búsqueda están acusadas de retener información.
La búsqueda de la Oficina Australiana de Seguridad en el Transporte (MH370) fue suspendida indefinidamente en enero después de que una exploración de sonar de profundidad en el Océano Índico meridional no pudiera encontrar ningún rastro del avión que desapareció en 2014.
Nuevos hallazgos ahora parecen reafirmar la conclusión de la ATSB de que probablemente el avión se estrelló al norte del área que pasó más de dos años y medio buscando.
El viernes, el CSIRO, la principal agencia científica de Australia, publicó un informe que había preparado para la ATSB, modelando la deriva de un genuino Boeing 777 flaperon en el océano – pruebas anteriores habían utilizado réplicas inexactas.
Para este análisis, los científicos modificaron un genuino flaperón para reflejar el daño que había ocurrido al de MH370 cuando fue encontrado lavado en la Isla de la Reunión en julio de 2015.
David Griffin, quien dirigió el equipo de investigación de CSIRO, dijo que probar un flaperón casi idéntico «agregó un nivel adicional de seguridad a los resultados de nuestro trabajo anterior de modelado de deriva».
«Indica que la ubicación más probable de MH370 se encuentra en el nuevo área de búsqueda».
«No podemos estar absolutamente seguros, pero ahí es donde todas las pruebas que tenemos nos señalan, y este nuevo trabajo nos deja más seguros en nuestras conclusiones».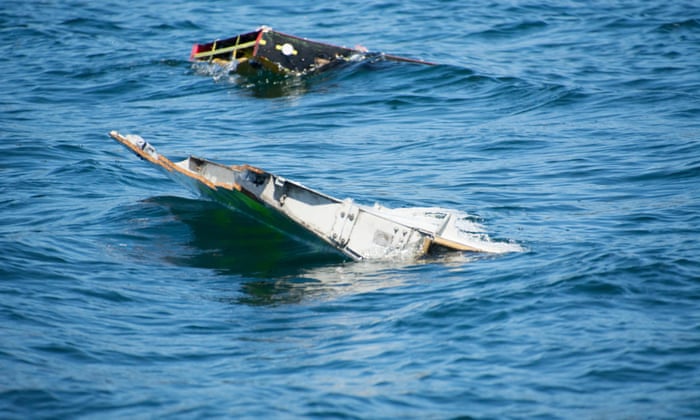 Flaperon used for drift modelling in the search for MH370. Photograph: Supplied by CSIRO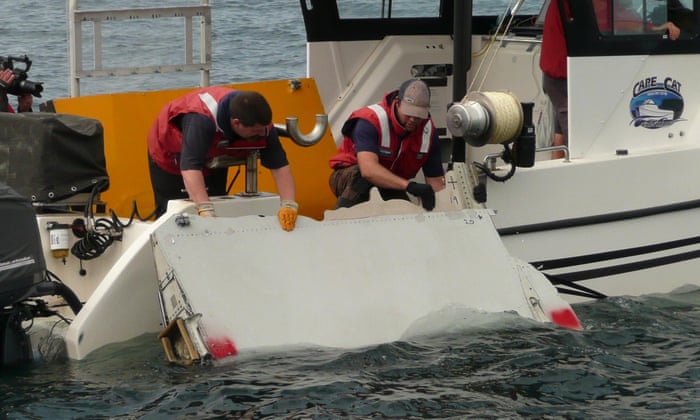 CSIRO engineer Rob Gregor and oceanographer Emlyn Jones deploy the cut-down flaperon used for drift modelling in the search for MH370. Photograph: Supplied by CSIRO

Los hallazgos colocan el lugar del accidente entre las latitudes 40 ° S y 30.5 ° S, reafirmando la conclusión de la ATSB en diciembre de que el accidente del avión sería probablemente en un área de 25.000 kilómetros cuadrados al norte del área de búsqueda.
Sin embargo, los ministros de transporte de Malasia, China y Australia decidieron suspender la búsqueda de MH370 hasta que se encontró «nueva evidencia creíble» que indicara su ubicación exacta.
En una declaración el viernes, el ministro australiano de Transporte, Darren Chester, dijo que acogió con beneplácito el informe del CSIRO.
«Pero es importante señalar que no proporciona nuevas pruebas que lleven a una ubicación específica de MH370».
«Este cuerpo de trabajo de modelado de deriva, junto con la revisión de las imágenes de satélite, forma parte de las actividades en curso que está llevando a cabo la ATSB en la búsqueda de MH370».
El informe de CSIRO se había proporcionado a las autoridades malasias, que, Chester, reiteró, tenía la responsabilidad general de la investigación de la desaparición de MH370.
El lunes, el australiano informó que la ATSB se había negado a publicar material sobre su búsqueda de MH370 en respuesta a una solicitud de libertad de información, alegando que hacerlo podría «causar daño a las relaciones internacionales de la Commonwealth».
El comisionado jefe de la ATSB, Greg Hood, revisó y confirmó la decisión inicial de rechazar la solicitud en febrero, afirmando que su investigación se realizó bajo la Ley de Investigación de Seguridad en el Transporte.
Advirtió que los empleados o consultores de la ATSB o antiguos empleados se arriesgarían a dos años de prisión por revelar información restringida.
A principios de esta semana, Malaysia Airlines anunció que se convertiría en la primera aerolínea del mundo en monitorear todos sus aviones con satélites espaciales, proporcionando «minuto a minuto, 100% de datos globales de seguimiento de vuelos».
Daniel Baker, director ejecutivo y fundador de FlightAware, una de las tres empresas que se asocian para prestar el servicio a la aerolínea, describió la tecnología como «la mayor mejora en el seguimiento de vuelos desde radar» en un video promocional en septiembre.
«No importa si están sobrevolando el océano, si está sobre el desierto, si está sobre el Polo Norte: sabremos dónde está el avión».
MH370 closer know location
Australia's science agency 'more confident' it knows MH370 crash location
Modelling by the CSIRO reaffirms the Australian Transport Safety Bureau's conclusion that the wreck is probably north of the search area
Australia's chief science agency says it is more confident than ever that it knows the location of the missing flight MH370, as authorities in charge of the search are accused of withholding information.
The Australian Transport Safety Bureau's search for MH370 was suspended indefinitely in January after a deep-sea sonar scan in the southern Indian Ocean failed to find any trace of the plane that vanished in 2014.
New findings now appear to reaffirm the ATSB's conclusion that the plane most likely crashed north of the area it spent more than two and a half years searching.
On Friday the CSIRO, Australia's chief science agency, released a report it had prepared for the ATSB, modelling the drift of a genuine Boeing 777 flaperon in the ocean – previous testing had used inexact replicas.
For this analysis, scientists modified a genuine flaperon to mirror the damage that had occurred to the one from MH370 when it was found washed up on Réunion Island in July 2015.
David Griffin, who led the CSIRO research team, said testing an almost identical flaperon "added an extra level of assurance to the findings from our earlier drift modelling work".
"It indicates that the most likely location of MH370 is in the new search area».
"We cannot be absolutely certain, but that is where all the evidence we have points us, and this new work leaves us more confident in our findings."
The findings puts the crash site between latitudes 40°S and 30.5°S, reaffirming the ATSB's conclusion in December that the airliner's wreck was likely to be in a 25,000 sq km area north of the search area.
However, the transport ministers of Malaysia, China and Australia decided to suspend the search for MH370 until "credible new evidence" pointing to its precise location was found.
In a statement on Friday, Australia's transport minister, Darren Chester, said he welcomed the CSIRO report.
"But it is important to note that it does not provide new evidence leading to a specific location of MH370″.
"This body of 'drift modelling' work, along with review of satellite imagery, forms part of the ongoing activities being undertaken by the ATSB in the search for MH370."
The CSIRO report had been provided to Malaysian authorities, which, Chester reiterated, held overall responsibility for the investigation of MH370's disappearance.
On Monday the Australian reported that the ATSB had refused to release material about its search for MH370 in response to a freedom of information request, claiming that to do so could "cause damage to the international relations of the commonwealth".
The ATSB's chief commissioner, Greg Hood, reviewed and upheld the initial decision to refuse the request in February, stating that its investigation came under the Transport Safety Investigation Act.
He warned that serving or former ATSB employees or consultants risked two years' imprisonment for disclosing restricted information.
Earlier this week Malaysia Airlines announced that it would become the first airline in the world to monitor all its aircraft with space-based satellites, delivering "minute-by-minute, 100% global, flight-tracking data".
Daniel Baker, the chief executive and founder of FlightAware, one of the three companies partnering to provide the service to the carrier, described the technology as "the biggest improvement in flight tracking since radar" in a promotional video in September.
"It doesn't matter if they're flying over the ocean, if it's over the desert, if it's over the North Pole: we'll know where the plane is." A\W
Ξ A I R G W A Y S Ξ
SOURCE: Theguardian.com
DBk: Theguardian.com / SCIRO / Ytimg.com
AW-POST: 201704210538AR
A \ W   A I R G W A Y S ®