AW | 2018 02 02 12:51 | INDUSTRY
El Estado de Washington obtendría la aprobación para la construcción del nuevo Boeing 797
Las palabras positivas del nuevo presidente ejecutivo de Boeing son alentadoras para la compañía para construir su próximo comercial Boeing 797 en Puget Sound, Estado de Washington.
El Director Ejecutivo de Boeing, Dennis Muilenburg, ha comunicado que el Estado de Washington busca obtener la producción del próximo avión de la compañía. "Puget Sound es parte de Boeing para el futuro de una manera muy fuerte", dijo Dennis Muilenburg. La región y el estado deben continuar trabajando duro para convencer a la compañía de que su ciudad natal sigue siendo el mejor lugar del mundo para fabricar su próximo avión comercial Boeing 797.
Buscando un lugar
Un grupo de trabajo convocado está progresando y preparándose para presentar la solicitud formal de la iniciativa. Los grupos regionales en áreas como el Condado de Snohomish y Spokane también están presentando su caso. Este es un esfuerzo crítico para retener y hacer crecer una industria que es una piedra angular de la economía del estado. Si bien Muilenburg no se inclinó sobre el 797, que Boeing aún no se ha comprometido a construir, dejó caer pistas sobre dónde Washington puede mejorar su competitividad.
Como ciudad global y hogar de empresas líderes, es poco probable que Seattle vuelva a ser un lugar económico para vivir y trabajar. Al mismo tiempo, la región continúa ofreciendo una alta calidad de vida a un rango de precios. Es poco probable que Boeing reciba otro enorme paquete de incentivos fiscales, y hasta el momento no ha indicado que sea necesario, según el secretario de Comercio estatal, Brian Bonlender.
El crecimiento es un desafío, pero también es un testimonio de la capacidad de la región para seguir atrayendo a los mejores talentos. También atestigua el enorme valor de la región como lugar para construir productos y servicios de la próxima generación. El Programa 797 se beneficiaría del paquete de incentivos impositivos de Boeing que el estado autorizó en 2013, inicialmente valuado en $ 8.700 millones. Eso amplió las exenciones de impuestos hasta 2040 y aseguró el desarrollo del 777X, incluido un centro de producción de ala compuesta en Everett que probablemente se utilizará para el 797.
El equipo de trabajo
Muilenburg también dijo que el estado debería enfatizar el entrenamiento de la fuerza de trabajo para tener "talentos listos para el empleo". Esta es otra área donde el equipo de trabajo tiene buenas pruebas para presentar. La Legislatura aumentó los fondos para educación de $ 13.4 mil millones en el bienio 2011-2013 a $ 26.6 mil millones en el bienio 2019-2021. Esa inversión sustancial beneficiará a la fuerza de trabajo de Washington y su atractivo como un lugar para construir carreras y familias.  Las inversiones recientes en educación incluyen un nuevo énfasis en el aprendizaje y los programas de educación profesional.
Empresarios y líderes gubernamentales, incluidos Inslee y el presidente de Microsoft, Brad Smith, están actualizando los programas de preparación profesional del estado, inspirados en parte por programas de aprendizaje suizos que combinan capacitación presencial con pasantías en compañías como GE Aviation. Esto recibió un impulso en diciembre cuando Inslee otorgó $ 6.4 millones para crear 29,000 oportunidades de "aprendizaje conectado de carrera", que incluyen programas de ciencia, tecnología, ingeniería y matemática, planificación de carrera y nuevas pasantías y pasantías.
La compañía Boeing decidirá dónde construir su próximo avión a medida que su gente y sus instalaciones en la región de Puget Sound alcancen hitos extraordinarios, incluida la finalización de la primera aeronave 777X voladora en Everett y la producción 737 en Renton, que aumentará a 52 aviones por mes.
El rendimiento pasado es un excelente indicador del éxito futuro, y Washington está haciendo inversiones inteligentes para garantizar que sus trabajadores, Boeing y otras compañías lo hagan aún mejor en el futuro.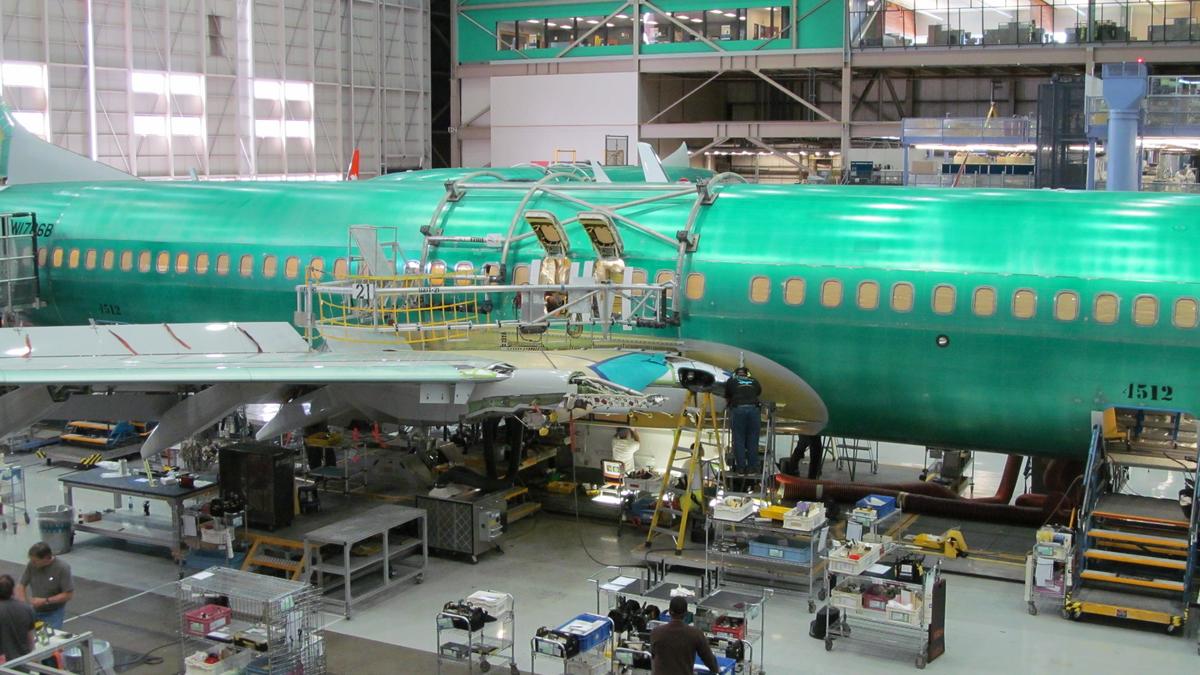 Boeing offers tracks to build the Boeing 797
The State of Washington would obtain the approval for the construction of the new Boeing 797
The positive words of the new CEO of Boeing are encouraging for the company to build its next Boeing 797 commercial in Puget Sound, Washington State.
Boeing Executive Director, Dennis Muilenburg, has announced that the State of Washington is looking to obtain production of the company's next aircraft. "Puget Sound is part of Boeing for the future in a very strong way," said Dennis Muilenburg. The region and the state must continue to work hard to convince the company that their hometown is still the best place in the world to build their next Boeing 797 commercial aircraft.
Looking for a place
A working group convened is making progress and preparing to present the formal request for the initiative. Regional groups in areas such as Snohomish County and Spokane are also presenting their case. This is a critical effort to retain and grow an industry that is a cornerstone of the state's economy. While Muilenburg did not bow to the 797, which Boeing has yet to commit to build, he dropped clues about where Washington can improve its competitiveness.
As a global city and home to leading companies, it is unlikely that Seattle will once again be an affordable place to live and work. At the same time, the region continues to offer a high quality of life at a price range. Boeing is unlikely to receive another huge package of tax incentives, and so far has not indicated that it is necessary, according to state Commerce Secretary Brian Bonlender.
Growth is a challenge, but it is also a testament to the region's ability to continue attracting the best talent. It also attests to the enormous value of the region as a place to build products and services of the next generation. Program 797 would benefit from the Boeing tax incentive package that the state authorized in 2013, initially valued at $ 8.7 billion. That extended the tax exemptions until 2040 and ensured the development of the 777X, including a composite wing production center in Everett that will likely be used for the 797.
The work team
Muilenburg also said that the state should emphasize workforce training to have "talents ready for employment." This is another area where the work team has good tests to present. The Legislature increased funding for education from $ 13.4 billion in the 2011-2013 biennium to $ 26.6 billion in the 2019-2021 biennium. That substantial investment will benefit Washington's workforce and its appeal as a place to build careers and families.
Recent investments in education include a new emphasis on learning and professional education programs.
Business leaders and government leaders, including Inslee and Microsoft President Brad Smith, are updating the state's career planning programs, inspired in part by Swiss learning programs that combine face-to-face training with internships at companies such as GE Aviation. This received a boost in December when Inslee awarded $ 6.4 million to create 29,000 "career connected learning" opportunities, including science, technology, engineering and math programs, career planning and new internships and internships.
The Boeing company will decide where to build its next aircraft as its people and facilities in the Puget Sound region reach extraordinary milestones, including the completion of the first 777X flying aircraft in Everett and the 737 production in Renton, which will increase to 52 aircraft per month.
Past performance is an excellent indicator of future success, and Washington is making smart investments to ensure that its workers, Boeing and other companies do even better in the future. A \ W
Ξ A I R G W A Y S Ξ
SOURCE:  Airgways.com
DBk: Seattletimes.com / Boeing.com / Netdna-ssl.com / Bizj.us / Airgways.com
AW-POST: 201802021251AR
A\W   A I R G W A Y S ®