AW | 2018 02 05 17:37 | INDUSTRY
El primer Boeing 737-7 MAX ha efectuado su roll-out en Renton, Washington
The Boeing Company marcó otro hito en el desarrollo de aviones hoy mientras miles de empleados celebraban el debut del primer Boeing 737-7 MAX en la fábrica de Renton, Washington.
El primer Boeing 737-7 MAX debutó hoy en la fábrica de Renton, Washington. El MAX 7 es el tercer y más nuevo miembro de la familia 737 MAX de Boeing en bajar la línea de montaje. El jet está diseñado para hasta 172 pasajeros y un alcance máximo de 3.850 millas náuticas, que es el rango más largo de la familia de aviones MAX.
Las mejoras tecnológicas permiten que el MAX 7 vuele 1,000 millas náuticas más lejos y transporte más pasajeros que su predecesor, el 737-700, mientras que tiene un 18 por ciento menos de costos de combustible por asiento.
El MAX 7 también es superior a la competencia, con 12 pasajeros más a 400 millas náuticas más lejos que el A319NEO, con un 7 por ciento menos de costos operativos por asiento.
"Para nuestros clientes de aerolíneas que prestan servicios en aeropuertos a gran altitud o en ubicaciones remotas, el MAX 7 es el complemento ideal para su flota. Esperamos demostrar la increíble flexibilidad y alcance de este avión", dijo Keith Leverkuhn, vicepresidente y gerente general de el programa 737 MAX, Boeing Commercial Airplanes. "Este es el tercer miembro de la familia 737 MAX que nuestro equipo ha presentado con éxito en solo tres años. Es un logro fenomenal y un testimonio de la dedicación de todo el equipo 737".
EL BOEING 737-7 MAX ES EL MÁS PEQUEÑO DE LA FAMILIA "MAX"
El primer MAX 7 ahora se someterá a revisiones del sistema, carga de combustible y carreras de motor en la línea de vuelo en Renton . El avión, el primero de los dos aviones de prueba de vuelo MAX 7, comenzará su programa de prueba de vuelo en las próximas semanas. El Boeing 737-7 MAX está programado para entrar en servicio en 2019, luego de la entrega al cliente de lanzamiento Southwest Airlines.
Toda la familia 737 MAX está diseñada para ofrecer a los clientes un rendimiento excepcional, con menores costos por asiento y un rango extendido que abrirá nuevos destinos en el mercado de pasillo único. El año pasado, MAX 8 entró en servicio con clientes en todo el mundo, y MAX 9 comenzará las entregas en los próximos meses. El MAX 10 fue lanzado en el Salón Aeronáutico de París del año pasado y está programado para entrar en servicio en el período 2020.
El 737 MAX es el avión de más rápido venta en la historia de Boeing, acumulando más de 4,300 pedidos de 92 clientes en todo el mundo. Para obtener más información y contenido de funciones, visite www.boeing.com/commercial/737max.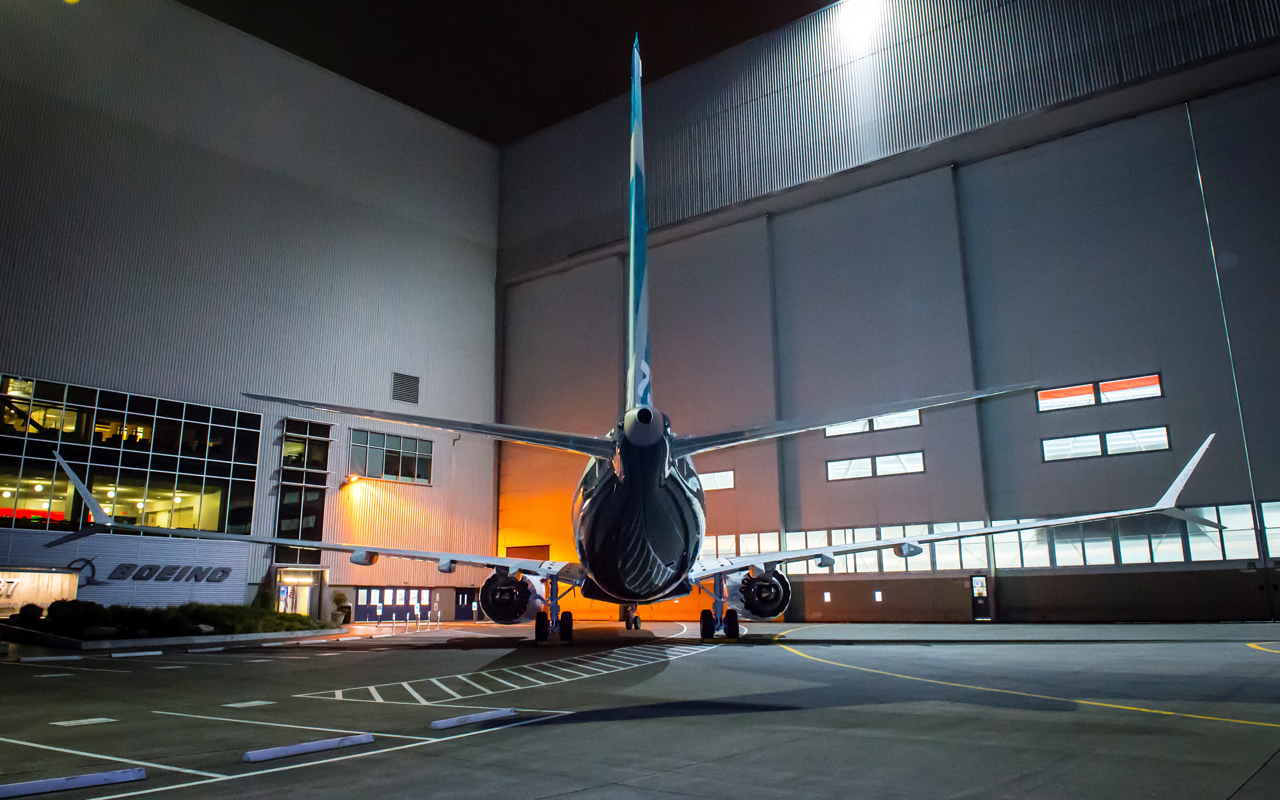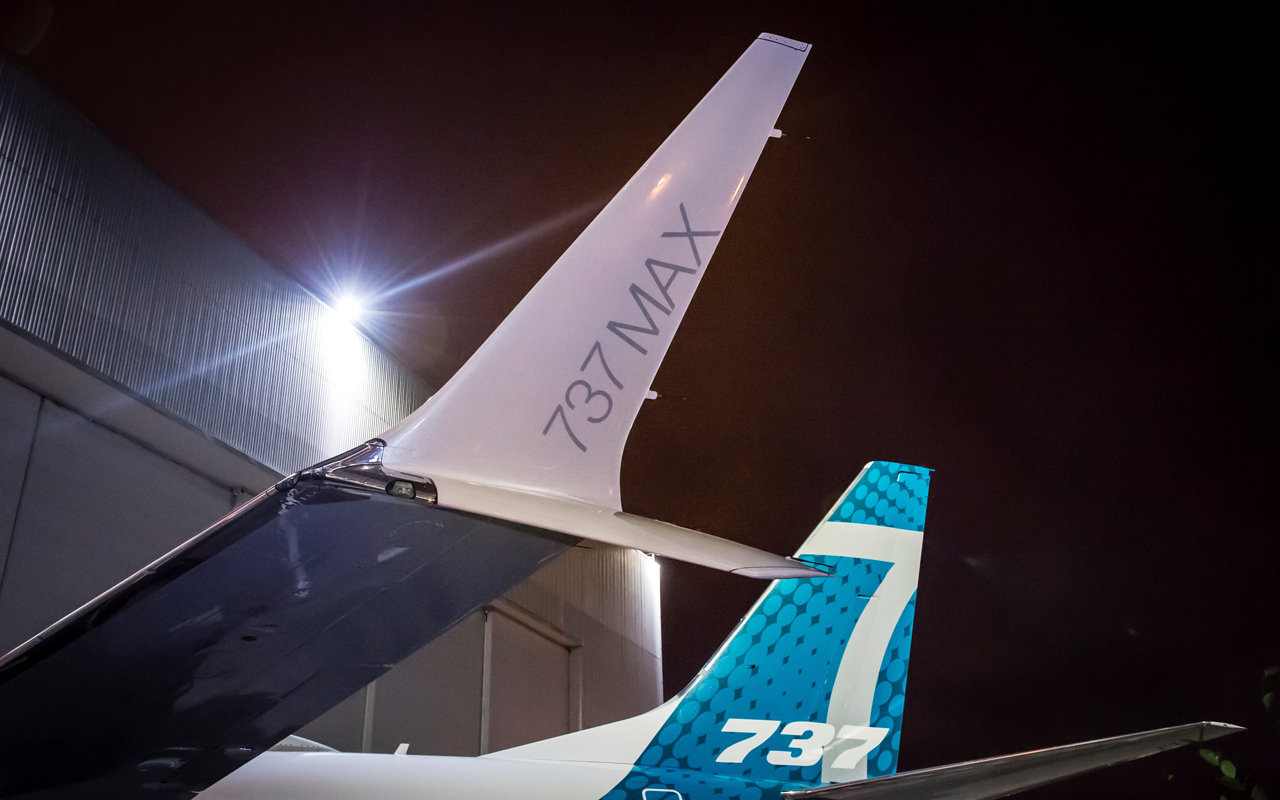 Boeing presents the Boeing 737-7 MAX
The first Boeing 737-7 MAX has made its roll-out in Renton, Washington
The Boeing Company marked another milestone in aircraft development today as thousands of employees celebrated the debut of the first Boeing 737-7 MAX at the Renton, Washington factory.
The first Boeing 737-7 MAX debuted today at the Renton, Washington factory. The MAX 7 is the third and newest member of the Boeing 737 MAX family to lower the assembly line. The jet is designed for up to 172 passengers and a maximum range of 3,850 nautical miles, which is the longest range of the MAX aircraft family.
The technological improvements allow the MAX 7 to fly 1,000 nautical miles farther and transport more passengers than its predecessor, the 737-700, while it has 18 percent less fuel costs per seat.
The MAX 7 is also superior to the competition, with 12 more passengers at 400 nautical miles farther than the A319NEO, with 7 percent less operating costs per seat.
"For our airline customers serving high-altitude airports or remote locations, the MAX 7 is the ideal complement to their fleet, and we look forward to demonstrating the incredible flexibility and range of this aircraft", said Keith Leverkuhn, vice president and general manager. of the 737 MAX program, Boeing Commercial Airplanes. "This is the third member of the 737 MAX family that our team has successfully presented in just three years, a phenomenal achievement and a testament to the dedication of the entire 737 team".
The first MAX 7 will now undergo system checks, fuel loading and motor racing on the flight line at Renton. The plane, the first of the two MAX 7 flight test aircraft, will begin its flight test program in the coming weeks. The Boeing 737-7 MAX  is scheduled to go into service in 2019, after delivery to the Southwest Airlines launch customer.
The entire 737 MAX family is designed to offer customers exceptional performance, with lower seat costs and an extended range that will open new destinations in the single aisle market. Last year, MAX 8 entered service with customers around the world, and MAX 9 will begin deliveries in the coming months. The MAX 10 was launched at the Paris Air Show last year and is scheduled to enter service in the 2020 period.
The 737 MAX is the fastest-selling aircraft in the history of Boeing, accumulating more than 4,300 orders from 92 customers around the world. For more information and feature content, visit www.boeing.com/commercial/737max. A \ W
Ξ A I R G W A Y S Ξ
SOURCE:  Airgways.com
DBk: Boeing.com / Airgways.com
AW-POST: 201802051737AR
A\W   A I R G W A Y S ®