AW | 2018 02 18 07:55 | AVIATION SAFETY
Un ATR 72-212A de la compañía Aseman Airlines sufre accidente aéreo cerca de Semirom, Irán
Un Avions de Transport Regional ATR-72-212, registro EP-ATS de Aseman Airlines que realiza el vuelo EP-3704 de Teherán Mehrabad a Yasuj (Irán) con 60 pasajeros y 6 tripulantes, desapareció del radar cerca de las montañas Zagroz a eso de las 08:45 hs. (05: 15Z). Los restos fueron encontrados más tarde cerca de la aldea de
Semirom (Irán) en la montaña Dena a una altura entre 12.500 y 13.500 pies. No se encontraron sobrevivientes.
La aerolínea confirmó que el avión que inicialmente reportó el registro ATR-72-212A EP-ATX construido en el año 2000, identificando posteriormente el registro ATR-72-212 EP-ATS construido en 1993, se estrelló en el sur de Irán debido a condiciones atmosféricas mientras estaba en ruta a Yasuj. Después de que el avión desapareció, se despacharon helicópteros y avistó el avión en un terreno accesible solo por helicópteros. Las fuerzas de rescate se están enviando en el sitio. La aerolínea informó posteriormente que no se encontraron sobrevivientes en el sitio del accidente.
El capitán involucrado en el vuelo del accidente ha afirmado que en otra ocasión había experimentado el fallo del motor N° 2 en este avión y que había podido aterrizar con seguridad el ATR 72-212A en Yasuj en 2014.
El ATR 72-212A, registro EP-ATS volaba a 160 nm al norte de Semirom a las 05:15 ZZ. La montaña Dena cuenta con más de 40 picos por encima de 4000 metros, el pico más alto se eleva a 4409 metros (14,460 pies).
Aseman Airlines es una compañía aérea semiprivada con sede en Teherán que se especializa en vuelos a aeródromos remotos en todo el país y también vuela internacionalmente. El ATR-72, un turbohélice bimotor, se utiliza para vuelos regionales de corta distancia. Las autoridades dijeron que estarían investigando el accidente.
David Learmount, especialista en seguridad aérea y ex piloto, dijo: "El clima en las montañas donde el avión se estrelló fue bastante malo. Parece que, cuando el avión estaba realizando su descenso inicial hacia su destino, estaba en la posición incorrecta y golpeó las montañas. Básicamente, es una falla de navegación. Un avión golpeando las montañas en las nubes es como un barco golpeando rocas".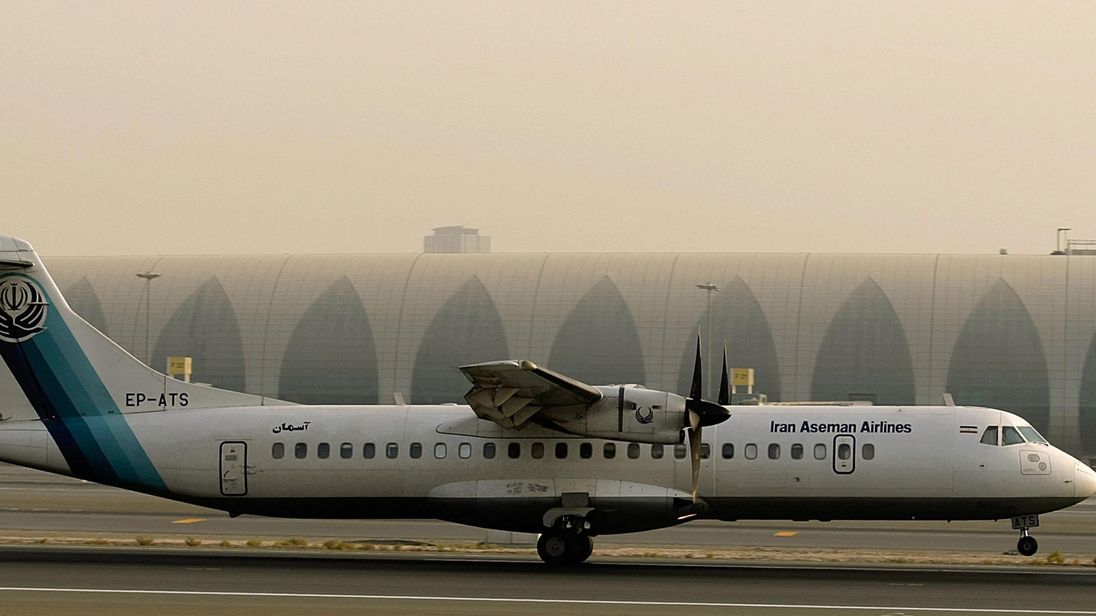 Air crash ATR 72-212 of Aseman Airlines
An ATR 72-212A of the company Aseman Airlines suffers plane crash near Semirom, Iran
An Avions of Regional Transport ATR-72-212, registration EP-ATS of Aseman Airlines that makes the flight EP-3704 from Tehran Mehrabad to Yasuj (Iran) with 60 passengers and 6 crew, disappeared from the radar near the Zagroz mountains to that from 08:45 hs. (05: 15Z). The remains were later

found near the village of Semirom (Iran) on Dena Mountain at a height between 12,500 and 13,500 feet. No survivors were found.
The airline confirmed that the aircraft that initially reported the ATR-72-212A EP-ATX registry built in the year 2000, subsequently identifying the ATR-72-212 EP-ATS registry built in 1993, crashed in southern Iran due to atmospheric conditions while I was en route to Yasuj. After the plane disappeared, helicopters were dispatched and the plane sighted on land accessible only by helicopters. The rescue forces are being sent to the site. The airline later reported that no survivors were found at the accident site.
The captain involved in the accident flight has stated that on another occasion he had experienced the failure of the No. 2 engine on this plane and that he had been able to safely land the ATR 72-212A at Yasuj in 2014.
The ATR 72-212A, EP-ATS record was flying 160 nm north of Semirom at 05:15 ZZ. The Dena mountain has more than 40 peaks above 4000 meters, the highest peak rises to 4409 meters (14.460 feet).
Aseman Airlines is a semi-private airline based in Tehran that specializes in flights to remote aerodromes throughout the country and also flies internationally. The ATR-72, a twin-engine turboprop, is used for short-haul regional flights. The authorities said they would be investigating the accident.
David Learmount, an air safety specialist and former pilot, said: "The weather in the mountains where the plane crashed was quite bad." It seems that, when the plane was making its initial descent to its destination, it was in the wrong position and hit the mountains, basically, it's a navigational fault, a plane hitting the mountains in the clouds is like a ship hitting rocks".  A \ W
Ξ A I R G W A Y S Ξ
SOURCE:  Airgways.com
DBk: Avherald.net / Iaa.ir / News.sky.com
AW-POST: 201802180755AR
A\W   A I R G W A Y S ®