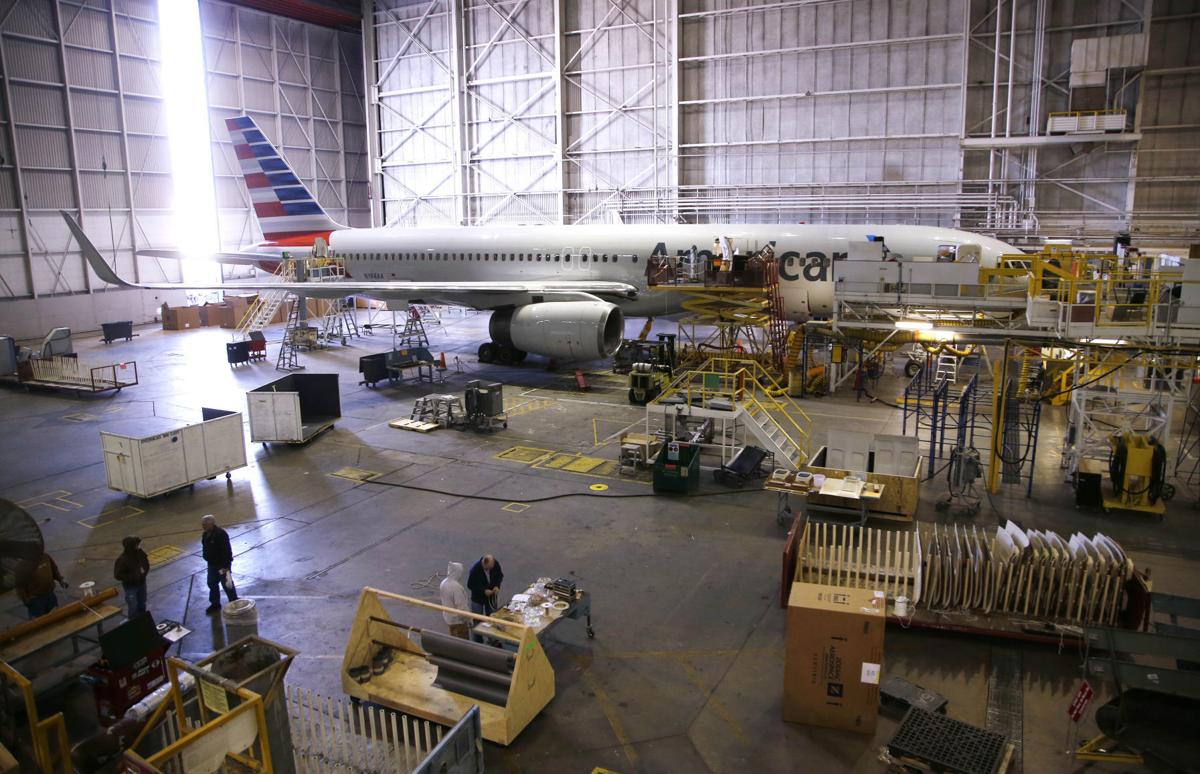 AW | 2018 02 21 12:57 | MRO / AIRLINES
American desea reacondicionar la Base de Mantenimiento de Tulsa, EEUU
La Base de Mantenimiento de Tulsa, también conocida como Tech Ops-Tulsa, emplea a 5.200 personas y se encarga de la reparación de los aviones y la reparación de componentes y aviónica. Fue establecido en 1946.
Bill Cade, Vicepresidente de Mantenimiento de la Base Tulsa, informó que se reunieron para discutir sobre temas como la aptitud fiscal de la empresa, las actualizaciones de base y el orgullo de la mano de obra multigeneracional que existe en Tulsa. También impulsaron los motivos locales para el optimismo local, el principal de los cuales es el trabajo adicional del motor que se anunció el año pasado.
American Airlines planea llevar a cabo internamente el mantenimiento de su motor CFM56-5B a partir de Octubre 2018. La tienda de Tulsa ya realiza revisiones CFM56-7B. Entre los -5B y -7B, American Airlines tiene aproximadamente 950 de esos motores en ala o disponibles como repuestos. "Vienen tiempos de cambio de clase mundial", dijo David Seymour sobre la gente de Tech-Ops.
Hacer negocios en Tulsa
Existen planes en marcha para convertir un par de hangares en un Centro de Excelencia 737 para aumentar la eficiencia. El Centro de Excelencia está evaluando cómo va a invertir en la Base de Mantenimiento de Tulsa, pues las herramientas deberán acondicionarlas para poder efectuar inversiones que estén a la altura de los talleres aeronáuticos. Aunque muchas aerolíneas están en deuda con esta materia, para American es tiempo de invertir en Tulsa.
Desde la fusión de American Airlines con US·Airways se han gastado U$S 147 millones de dólares en mejoras de capital en Tulsa, una cifra que se acercará a $ 190 millones este año, dijo la portavoz de la compañía Linda Brock. Una prioridad es abordar la infraestructura obsoleta de la base.  
American Maintenance in Tulsa
American wants to overhaul the Tulsa Maintenance Base, USA
The Tulsa Maintenance Base, also known as Tech Ops-Tulsa, employs 5,200 people and is responsible for repairing aircraft and repairing components and avionics. It was established in 1946.
Bill Cade, Vice President of Maintenance at Tulsa Base, reported that they met to discuss issues such as the company's fiscal aptitude, grassroots upgrades and the pride of multi-generational workforce that exists in Tulsa. They also boosted local motives for local optimism, the main one of which is the additional engine work that was announced last year.
American Airlines plans to carry out internal maintenance of its CFM56-5B engine as of October 2018. The Tulsa store already performs CFM56-7B reviews. Between -5B and -7B, American Airlines has approximately 950 of those wing engines or available as spare parts. "World class change times are coming", David Seymour said of the Tech-Ops people.
Doing business in Tulsa
There are plans under way to convert a pair of hangars into a Center of Excellence 737 to increase efficiency. The Center of Excellence is evaluating how it is going to invest in the Tulsa Maintenance Base, since the tools must prepare them to be able to make investments that are up to the aeronautical workshops. Although many airlines are in debt to this matter, for American it is time to invest in Tulsa.
Since the merger of American Airlines with US · Airways, $ 147 million has been spent on capital improvements in Tulsa, a figure that will approach $ 190 million this year, company spokeswoman Linda Brock said. A priority is to address the obsolete infrastructure of the base. A \ W
Ξ A I R G W A Y S Ξ
SOURCE:  Airgways.com
DBk: Mro-network.com / Tulsaworld.com
AW-POST: 201802211257AR
A\W   A I R G W A Y S ®