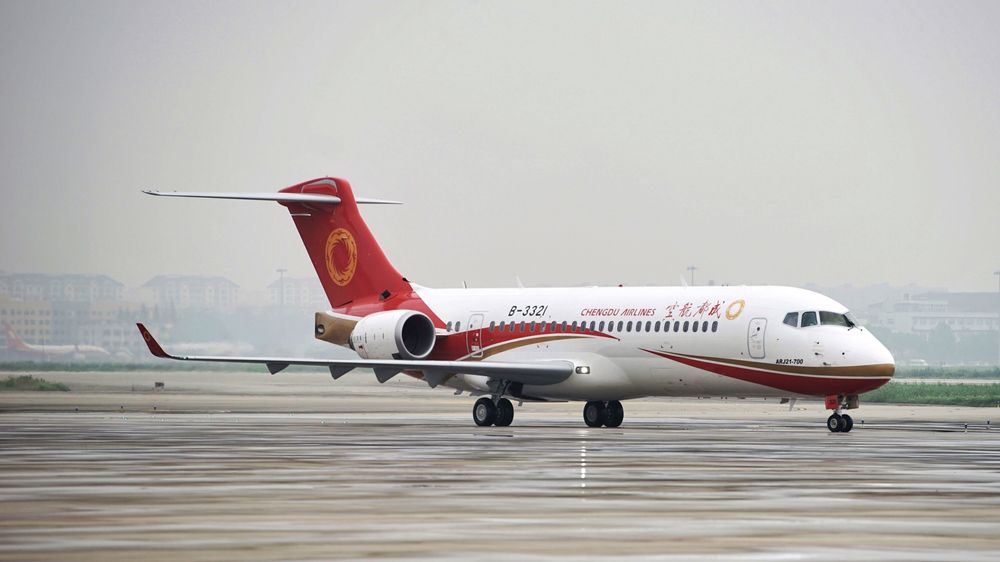 AW | 2018 03 07 21:55 | INDUSTRY
El ARJ 21-700 efectuó pruebas en el Aeropuerto de Bergen
Un COMAC ARJ 21-700 realizó prueba de invierno en Noruega volando a través del espacio aéreo nórdico y pasó un par de días en Flesland.
El Aeropuerto de Bergen que el avión ARJ-21 vino de Helsinki el viernes y estaba estacionado en Flesland hasta el domingo cuando voló a Islandia. En Flesland, el avión fue atendido por GA Partner.
El ARJ-21 voló por primera vez hace casi diez años. Aunque el proyecto está muy retrasado, solo se entregaron cuatro ARJ-21 al cliente de lanzamiento Chengdu Airlines, y cuatro aviones de pruebas de COMAC.
ARJ21 estaba probando en el exterior por primera vez hace cuatro años, cuando una de las máquinas voló a los Estados Unidos para probar el rendimiento de los helados. Los primeros dos aviones fueron entregados hace poco más de dos años. Recientemente, se han llevado a cabo varios vuelos de líneas aéreas regulares en el noreste de China, con base en el Aeropuerto de Harbin Taiping, para completar las operaciones de invierno con el tipo de avión.
Chengdu Airlines planea colocar ARJ21-700 en rutas regionales en la provincia de Heilongjiang más adelante este año. La compañía ya tiene 27 aviones en la familia Airbus A320.
El ARJ 21
El Advance Regional Jet, modelo básico ARJ 21-700 puede acomodar hasta 90 pasajeros y un alcance de 1.200 millas náuticas. El peso máximo de despegue es de 40 toneladas. También funciona con una versión de ARJ 21-700ER que puede volar 2.000 millas náuticas, y otra versión extendida, ARJ 21-900 que se encuentra en fase de diseño.
El casco del ARJ21 me recuerda el diseño del McDonnell Douglas DC-9. Esto es obviamente algo importante en la agenda de COMAC ya que la primera frase en la descripción de ARJ-21 en sus propios sitios web es que se trata de un avión que está desarrollado y fabricado en China en base a sus propios derechos de propiedad intelectual. El ala de ARJ-21, que, al contrario que el MD-80/90, tiene aletas aladas, el ucraniano Antonov ha contribuido al diseño. COMAC afirma que tienen pedidos de 453 vuelos de 21 clientes, la mayoría de ellos son chinos.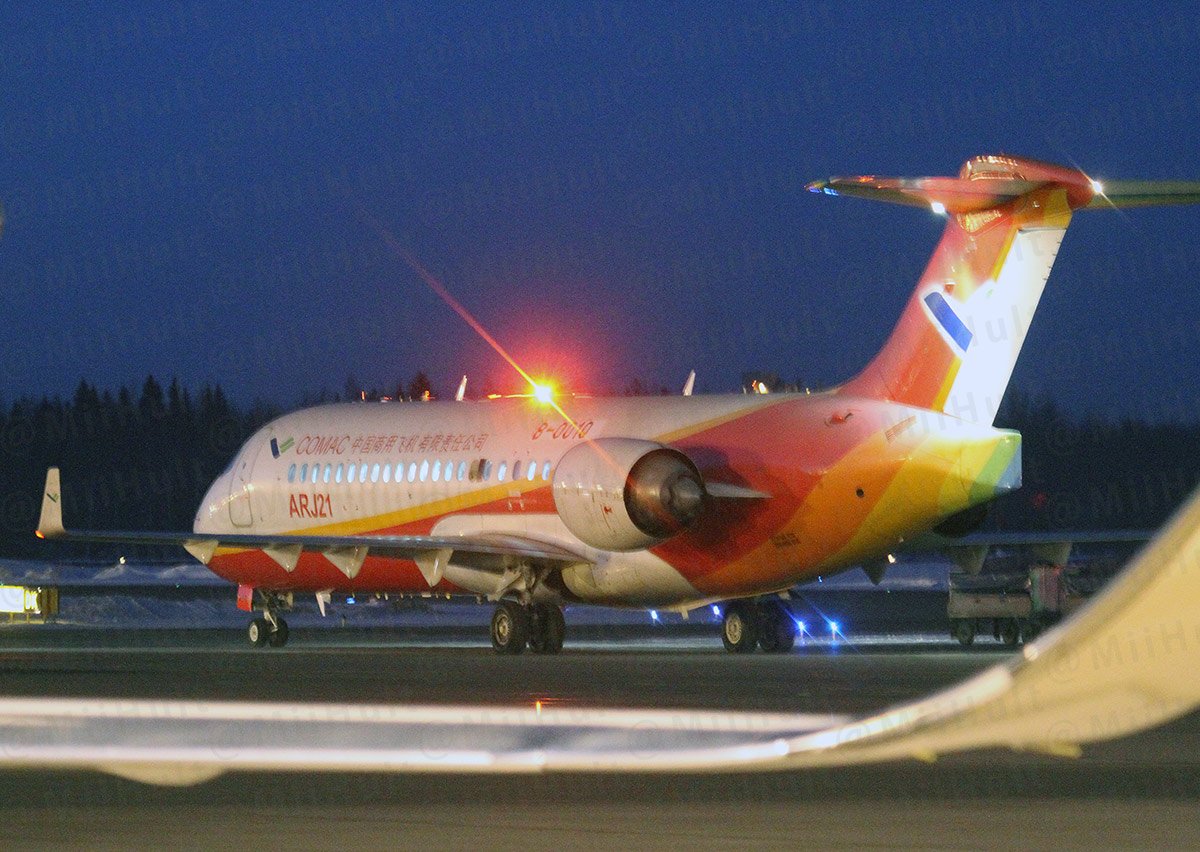 The ARJ 21-700 carried out tests at the Bergen Airport
An ARJ-21 conducted a winter test in Norway flying through Nordic airspace and spent a couple of days in Flesland.
The Bergen Airport that the COMAC ARJ 21 plane came from Helsinki on Friday and was stationed in Flesland until Sunday when it flew to Iceland. In Flesland, the aircraft was serviced by GA Partner.
The ARJ-21 flew for the first time almost ten years ago. Although the project is very late, only four ARJ-21s were delivered to the launch customer, Chengdu Airlines, and four COMAC test aircraft.
ARJ21 was testing abroad for the first time four years ago, when one of the machines flew to the United States to test the performance of ice cream. The first two aircraft were delivered just over two years ago. Recently, several regular airline flights have been carried out in northeastern China, based at Harbin Taiping Airport, to complete winter operations with the type of aircraft.
Chengdu Airlines plans to place ARJ21-700 on regional routes in Heilongjiang province later this year. The company already has 27 aircraft in the Airbus A320 family.
The ARJ 21
The Advance Regional Jet, basic model ARJ 21-700 can accommodate up to 90 passengers and a range of 1,200 nautical miles. The maximum take-off weight is 40 tons. It also works with a version of ARJ 21-700ER that can fly 2,000 nautical miles, and another extended version, ARJ-21-900 that is in the design phase.
The helmet of the ARJ21 reminds me of the design of the McDonnell Douglas DC-9. This is obviously something important in the COMAC agenda since the first sentence in the description of ARJ-21 on its own websites is that it is an aircraft that is developed and manufactured in China based on its own intellectual property rights. . The wing of ARJ-21, which, unlike the MD-80/90, has winged fins, the Ukrainian Antonov has contributed to the design. COMAC states that they have orders for 453 flights from 21 customers, most of them are Chinese. A \ W
Ξ A I R G W A Y S Ξ
SOURCE:  Airgways.com
DBk: Comac.cn / Airgways.com
AW-POST: 201803072155AR
A\W   A I R G W A Y S ®