AW | 2018 03 20 21:16 | AIRLINES
La aerolínea de bajo costo SkyUp Airlines ha ordenado aeronaves Boeing 737 MAX
La startup ucraniana LCC SkyUp Airlines ha firmado un pedido en firme de cinco aviones Boeing MAX, que incluyen tres 737-10 MAX y dos 737-8 MAX, convirtiéndose en la primera aerolínea de Europa del Este en pedir un MAX 10. El valor total de la orden es de U$S 624 millones en la lista precios.
El Director General de SkyUp, Yevhen Khainatsky, la aerolínea con sede en Kiev espera recibir su certificado de operador aéreo del servicio de aviación estatal de Ucrania este mes. SkyUp fue fundada por Yuri y Tetyana Alba, propietarias de Join UP!, una importante compañía de paquetes turísticos de Kiev.
SkyUp Airlines comenzar las operaciones charter en Abril 2018 desde varias ciudades de Ucrania a 16 destinos de ocio internacionales, incluido Egipto, España, Turquía y Dubai.
SKYUP AIRLINES INICIARÁ OPERACIONES CON BOEING 737-800
La aerolínea iniciará sus operaciones con aeronaves Boeing 737-800 bajo arrendamiento, construidos en 2001, 2002 y 2011, según un comunicado emitido por la aerolínea en su anuncio de lanzamiento en Diciembre 2017. La aerolínea iniciará servicio internacional que comenzará más adelante en el año, con servicio de Kiev a Barcelona, ​​Dubai y Larnaca, Chipre. La aerolínea busca alcanzar un total de 12 aviones 737 NG o 737 MAX para 2022.
Los funcionarios de Ucrania están buscando la entrada de LCC para generar más de 800,000 nuevos empleos en el país para el año 2030, dijo en febrero el ministro de infraestructura de Ucrania, Volodymyr Omelyan. Omelyan predice que los pasajeros aumentarán a 71 millones en 2030, lo que generará UAH65 mil millones ($ 2,4 mil millones de dólares) en ingresos anuales.
El Ministerio de Transporte de Ucrania citó una encuesta reciente que indica que el 12.8% de los ucranianos dijeron que no han usado el transporte aéreo, pero planean usarlo si los nuevos LCC aparecen en el mercado ucraniano.
Kiev International Airlines es la aerolínea más grande del país, con una flota de 41 aviones de largo y medio alcance Boeing y Embraer que prestan servicio a más de 50 destinos internacionales.  
SkyUp Airlines orders 5 Boeing 737 MAX
Low-cost airline SkyUp Airlines has ordered Boeing 737 MAX aircraft
Ukrainian startup LCC SkyUp Airlines has signed a firm order for five Boeing MAX aircraft, including three 737-10 MAX and two 737-8 MAX, becoming the first airline in Eastern Europe to order a MAX 10. The total value of the order is US $ 624 million in the price list.
SkyUp General Manager Yevhen Khainatsky, the Kiev-based airline, expects to receive his certificate of air operator from the State Aviation Service of Ukraine this month. SkyUp was founded by Yuri and Tetyana Alba, owners of Join UP !, an important tour package company in Kiev.
SkyUp Airlines begin charter operations in April 2018 from various cities in Ukraine to 16 international leisure destinations, including Egypt, Spain, Turkey and Dubai.
The airline will begin operations with Boeing 737-800 aircraft under lease, built in 2001, 2002 and 2011, according to a statement issued by the airline in its launch announcement in December 2017. The airline will begin international service that will begin later in the year , with service from Kiev to Barcelona, ​​Dubai and Larnaca, Cyprus. The airline seeks to reach a total of 12 737 NG or 737 MAX aircraft by 2022.
Ukrainian officials are seeking the entry of LCC to generate more than 800,000 new jobs in the country by 2030, Ukraine's infrastructure minister, Volodymyr Omelyan, said in February. Omelyan predicts that passengers will increase to 71 million in 2030, which will generate UAH65 billion ($ 2.4 billion) in annual revenue.
The Ministry of Transport of Ukraine cited a recent survey indicating that 12.8% of Ukrainians said they have not used air transport, but plan to use it if the new LCCs appear on the Ukrainian market.
Kiev International Airlines is the largest airline in the country, with a fleet of 41 long and medium-range Boeing and Embraer aircraft serving more than 50 international destinations. A \ W
Замовлення SkyUp Airlines 5 Boeing 737 MAX
Недорога авіакомпанія SkyUp Airlines замовила літак Boeing 737 MAX
Український стартап LCC SkyUp Airlines підписав тверде замовлення на п'ять літаків Boeing MAX, включаючи три 737-10 MAX і два 737-8 MAX, ставши першою авіакомпанією у Східній Європі, щоб замовити MAX 10. Загальна вартість замовлення – США 624 мільйонів доларів у прайс-листі.
Генеральний директор SkyUp, київська авіакомпанія, очікує отримання цього місяця сертифікату авіаперевізника від Державної авіаційної служби України. SkyUp заснована Юрією та Тетяною Албою, власниками приєднаної! – важливої ​​туристичної компанії в Києві.
Авіалінії SkyUp розпочинають чартерні операції в квітні 2018 року з різних міст України до 16 міжнародних туристичних напрямків, включаючи Єгипет, Іспанію, Туреччину та Дубай.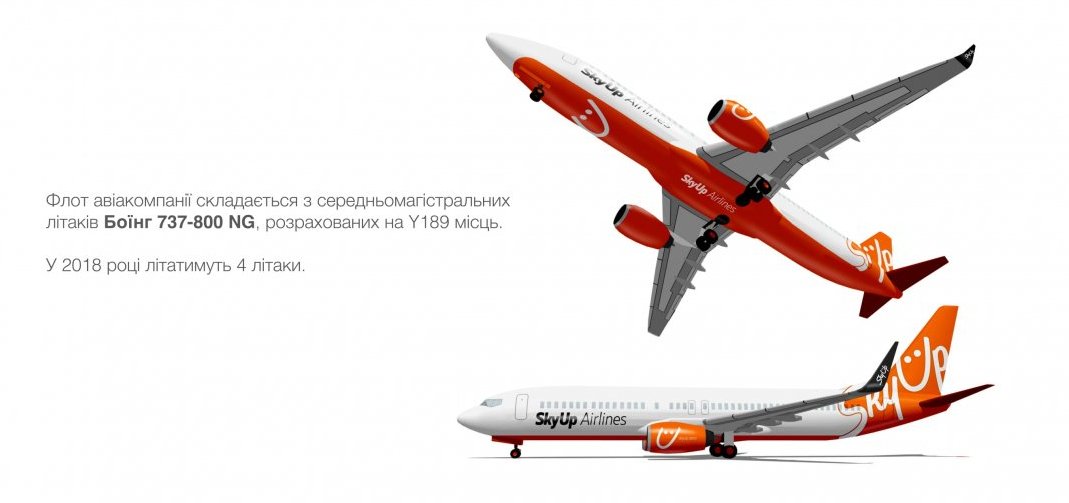 Авіакомпанія розпочне операцію з літаком "Боїнг 737-800", побудована в 2001, 2002 та 2011 роках, згідно з заявою, випущеною авіакомпанією в її оголошенні про запуск в грудні 2017 року. Авіакомпанія розпочне міжнародне обслуговування, яке розпочнеться пізніше в рік, з обслуговуванням з Києва до Барселони, Дубая та Ларнаки на Кіпрі. Авіакомпанія прагне досягти загальної кількості 12 737 NG або 737 MAX літаків до 2022 року.
Українські чиновники прагнуть увійти до LCC, щоб до 2030 року виробити понад 800 000 нових робочих місць у країні, міністр інфраструктури України Володимир Омельян зазначив у лютому. Омелян прогнозує, що в 2030 році пасажири зростуть до 71 мільйону, що приносить 65 мільярдів гривень (2,4 мільярда доларів) у річному виручці.
Міністерство транспорту України наводить недавнє опитування, яке свідчить про те, що 12,8% українців заявили, що не користувалися повітряним транспортом, але планують його використовувати, якщо нові LCCs з'являться на українському ринку.
Міжнародні авіалінії "Київ" – найбільша авіакомпанія в країні, з флотом 41 літака "Боїнг" та "Ембраер" середнього класу, що обслуговує понад 50 міжнародних напрямків. A \ W
Ξ A I R G W A Y S Ξ
SOURCE:  Airgways.com
DBk: Skyup.aero / Tusib.org / Airgways.com
AW-POST: 201803202116AR
A\W   A I R G W A Y S ®