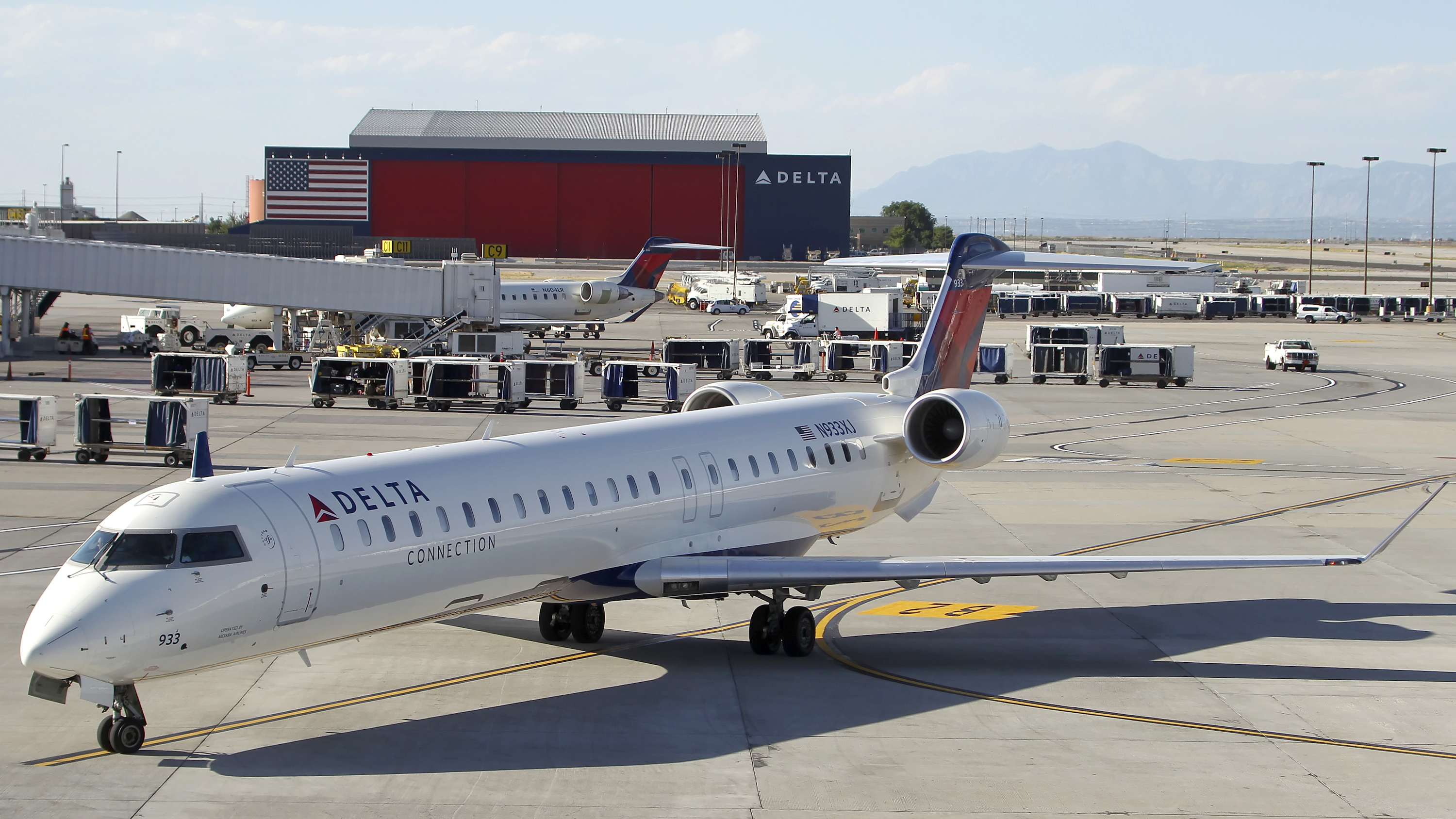 AW | 2018 03 21 21:08 | AIRLINES MARKET
Líneas aéreas regionales y la Ley de cláusula de alcance en una encrucijada
Las aerolíneas estadounidenses han tenido límites en el número y tamaño de aviones regionales en sus flotas de proveedores casi desde el día en que Comair presentó el Bombardier CRJ-100 en junio de 1993.
Las flotas de aviones regionales han evolucionado desde una preponderancia de modelos de 50 asientos, incluidos el CRJ100/200 y Embraer ERJ-145, en la década de 1990 y principios de 2000, a aviones más grandes de 70 y 76 asientos, incluidos Bombardier CRJ-900 y Embraer 175.
Las cláusulas de alcance de American Airlines, Delta Air Lines y United Airlines se centran en el avión más grande. Los tres tienen límites en el número de aviones regionales grandes permitidos en sus flotas de proveedores, así como límites en el número de asientos en 76 con algunas excepciones de derechos adquiridos y peso máximo de despegue (MTOW) en 39.01t (86,000 lb)
Estos límites se establecieron desde 2012, cuando los pilotos de Delta ratificaron un contrato para aumentar el número de aviones de 76 asientos a cambio de la incorporación del Boeing 717-200 de 110 asientos a su flota principal. American y United hicieron lo mismo con acuerdos similares con sus pilotos que, aunque no añadieron un pequeño avión de línea principal, permitieron aviones más grandes como Delta.
Concepto Cláusula Alcance
Una cláusula de alcance es parte de un contrato entre una línea aérea y un sindicato piloto. En general, estas cláusulas son utilizadas por la unión de una aerolínea importante para limitar el número y/o tamaño de la aeronave que la aerolínea puede contratar con una aerolínea regional. El objetivo es proteger los empleos sindicales en la aerolínea principal de ser tercerizados a aerolíneas regionales que operan aviones más grandes. En 2016, el límite fue de 76 asientos y un peso máximo de despegue de 86,000 lb (39 t) hasta 2019 en United Airlines, y 2020 en Delta Air Lines y American Airlines, lo que limita las ventas del nuevo Mitsubishi MRJ90 y Embraer 175-E2 para el MRJ70 más pequeño y el E175 actual.
Las líneas aéreas estadounidenses pueden estar en su próxima encrucijada de alcance. United y la Air Line Pilots Association (ALPA) podrían iniciar negociaciones a partir de mayo sobre un contrato para reemplazar el que será enmendado el 31 de enero de 2019. Las negociaciones serán vigiladas de cerca desde todos los rincones. Los contratos en American y Delta pueden modificarse el 1 de enero de 2020 y el 31 de diciembre de 2019, respectivamente, y es probable que se busquen los cambios logrados por United.
Los armadores de aeronaves están interesados ​​en cualquier cantidad de cambios, desde permitir aviones adicionales hasta cambios en el conteo de asientos y el peso. Ambas familias Embraer E-Jet-E2 y Mitsubishi MRJ superan los límites de 76 asientos y 39.01t MTOW según los contratos actuales, bloqueando de manera efectiva los aviones de próxima generación de las flotas regionales de EEUU. "Creemos que las limitaciones de MTOW podrían aliviarse en cierta medida, o las aerolíneas y los pasajeros no pueden disfrutar de la próxima generación de aviones", dijo Masao Yamagami, entonces presidente y CEO de Mitsubishi Aircraft America.
United Airlines
United quiere más jets regionales grandes, una antorcha pública que solo transporta, por ahora, entre los principales operadores. "Nuestro crecimiento realmente necesita más de 76 asientos", dijo Scott Kirby, presidente de la compañía con sede en Chicago, en una conferencia financiera el 14 de marzo. Kirby y el director financiero de United, Andrew Levy, dicen que la aerolínea necesita el aumento regional adicional para seguir siendo competitiva frente a American y Delta, y para cumplir con sus ambiciosos planes de crecimiento de capacidad del 4-6% por año hasta 2020. "Si estamos tratando de llevar un producto de 50 asientos a Rochester, Minnesota y nuestros competidores están volando un buen producto de 76 [asiento] de dos clases, vamos a perder esa batalla", dice Kirby.

La cláusula de alcance de United lo limita a 255 jets regionales con asientos de 70 a 76 asientos, un monto alcanzado para fines de 2017. Puede agregar hasta 70 jets regionales más grandes si agrega un nuevo avión pequeño de línea principal, específicamente el Bombardier CSeries o Embraer E-Jet, en una proporción de un avión regional adicional por cada 1.25 aviones de línea principal. La aerolínea puede tener un número casi ilimitado de jets regionales pequeños, o aquellos con 50 asientos o menos, y un número ilimitado de turbopropulsores en su flota alimentadora. United tenía 256 jets regionales pequeños y 255 modelos grandes en su flota de alimentación a finales de 2017, como lo muestra su plan de flota. "[United] no necesita alivio de alcance y tiene la capacidad de lograr nuestra estrategia de crecimiento hoy", dijo Todd Insler, presidente de la ALPA United.
Los comentarios de Kirby y Levy, hasta ahora, solo han sugerido que desean aumentar el número de jets regionales grandes por encima de 255. No han hecho ningún comentario sobre la búsqueda de un mayor número de asientos o MTOW, cualquiera de los cuales es necesario. próxima generación de aviones regionales. jets, incluyendo el E175-E2 y MRJ90.
Delta Air Lines
Delta seguirá a United en negociaciones contractuales en 2019. El alcance del operador con sede en Atlanta lo limita a hasta 450 jets regionales, incluidos 125 jets pequeños y 325 jets grandes, con este último dividido entre 102 aviones con 51-70 asientos y 223 aviones con 71-76 asientos.
La aerolínea tenía 136 Bombardier CRJ200 y 324 jets regionales grandes en su flota de potencia a fines de 2017, como lo muestra su plan de flota. Los 10 50 escaños por encima del límite de 450 aviones están permitidos según las excepciones del contrato. Los ejecutivos de Delta no han hablado directamente sobre si planean buscar más jets de 76 asientos o cambiar los límites del rango para permitir aviones más grandes y pesados ​​en la próxima ronda de negociaciones. La aerolínea se niega a comentar.
Sin embargo, la estrategia presentada en el día de su inversor en diciembre de 2017 arroja algo de luz sobre sus planes. Planes para reducir en 2023 el número de salidas de asientos nacionales en jets regionales a aproximadamente 20% con 2% en jets regionales pequeños y 18% en jets regionales grandes  por debajo del 27% en 2017. Esto sugeriría una disminución en la dependencia de jets regionales, especialmente 50 asientos, durante los próximos cinco años.
Delta está solo entre los tres grandes EEUU. Después de agregar inicialmente 88 Boeing 717-200 a cambio de 70 jets regionales más grandes en 2012, ordenó 75 CS100 en 2016 y planea comenzar a recibir la entrega de aviones a finales de este año.
El transportista espera que las salidas de asientos nacionales en pequeñas aeronaves de línea principal aumenten a aproximadamente 20% en 2023 desde 14% el año pasado, como lo muestra la presentación del día de los inversores. "No intentaremos otorgar concesiones a [Delta] en ninguna sección de nuestro acuerdo de trabajo, incluido el alcance, y actualmente estamos en negociaciones prolongadas relacionadas con JV que implican mejorar las protecciones de alcance", dice el Capitán Bill Bartels, Presidente del Delta Master en consejo ejecutivo en ALPA.
American Airlines
American tiene la cláusula de alcance más generosa que existe entre los principales operadores en los Estados Unidos. UU El número de jets regionales grandes con 66-76 asientos tiene un límite del 40% de su flota principal de fuselaje estrecho, permitiendo hasta 320 de los jets basados ​​en un recuento de cuerpos estrechos de 799 a fines de 2017.
La flota regional de la aerolínea con sede en Fort Worth tiene un límite del 75% de su flota principal de fuselaje estrecho, lo que le permite un total de 599 aviones regionales. La flota de aviones de American tenía un promedio de 290 jets regionales con hasta 65 asientos y 303 aviones con 66-76 asientos en la segunda mitad de 2017, según indica un recuento de la Allied Pilots Association (APA). La aerolínea tiene dos configuraciones en su 110 Bombardier CRJ700, una con hasta 65 asientos y otra con 70 asientos, lo que le permite permanecer en conformidad con el alcance.
La gerencia de American no ha comentado recientemente si planea o no buscar un alivio en el alcance o un cambio en la definición de un gran jet regional en la próxima ronda de negociaciones contractuales. La aerolínea se niega a comentar. El último cambio que Estados Unidos buscó fue un cambio en la definición durante su última ronda de negociaciones a fines de 2014. Quería redefinir un avión regional grande como uno con 71-76 asientos en lugar de 66-76 asientos, un cambio que habría permitido para agregar hasta 81 aviones más de 76 asientos que su acuerdo en el momento permitido. "Si Estados Unidos quiere volar con aviones regionales más grandes, estaremos felices de llevarlos a la línea principal", dice la APA, agregando que las concesiones de alcance no son un comienzo para el sindicato.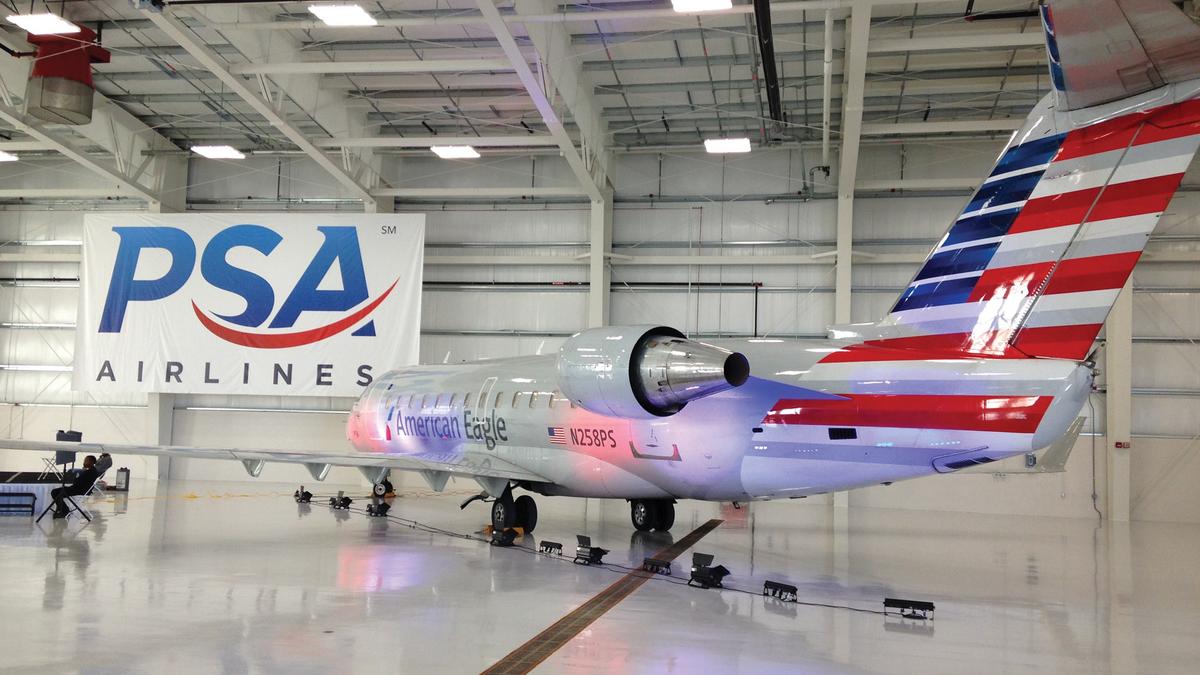 Regional airlines and the Scope clause
Regional airlines and the Law of scope clause in an encrusijada
US airlines have had limits on the number and size of regional aircraft in their supplier fleets almost since the day Comair introduced the Bombardier CRJ-100 in June 1993.
Regional aircraft fleets have evolved from a preponderance of 50-seat models, including the CRJ100/200 and Embraer ERJ-145, in the 1990s and early 2000s, to larger 70 and 76 seat aircraft, including Bombardier CRJ -900 and Embraer 175.
The scope clauses of American Airlines, Delta Air Lines and United Airlines focus on the largest aircraft. All three have limits on the number of large regional aircraft allowed in their supplier fleets, as well as limits on the number of seats at 76 with some exceptions of acquired rights and maximum take-off weight (MTOW) at 39.01t (86,000 lb)
These limits were established since 2012, when Delta pilots ratified a contract to increase the number of 76-seat aircraft in exchange for the incorporation of the 110-seat Boeing 717-200 into its main fleet. American and United did the same with similar agreements with their pilots who, although they did not add a small mainline aircraft, allowed larger aircraft such as Delta.
Clause Scope Concept
A scope clause is part of a contract between an airline and a pilot union. In general, these clauses are used by the union of an important airline to limit the number and/or size of the aircraft that the airline can contract with a regional airline. The objective is to protect union jobs in the main airline from being outsourced to regional airlines that operate larger aircraft. In 2016, the limit was 76 seats and a maximum takeoff weight of 86,000 lb (39 t) until 2019 on United Airlines, and 2020 on Delta Air Lines and American Airlines, which limits sales of the new Mitsubishi MRJ90 and Embraer 175 -E2 for the smaller MRJ70 and the current E175.
American airlines may be at their next reach crossroads. United and the Air Line Pilots Association (ALPA) could begin negotiations starting in May on a contract to replace the one that will be amended on January 31, 2019. Negotiations will be closely monitored from all corners. The contracts in American and Delta can be modified on January 1, 2020 and December 31, 2019, respectively, and it is likely that the changes achieved by United will be sought.
Aircraft owners are interested in any number of changes, from allowing additional aircraft to changes in seat count and weight. Both Embraer E-Jet-E2 and Mitsubishi MRJ families exceed the limits of 76 seats and 39.01t MTOW under current contracts, effectively blocking next-generation aircraft from regional US fleets. "We believe that the limitations of MTOW could be alleviated to some extent, or airlines and passengers can not enjoy the next generation of aircraft," said Masao Yamagami, then president and CEO of Mitsubishi Aircraft America.
United Airlines
United wants more large regional jets, a public torch that only transports, for now, between the main operators. "Our growth really needs more than 76 seats", Scott Kirby, president of the Chicago-based company, said at a financial conference on March 14. Kirby and United's chief financial officer, Andrew Levy, say the airline needs the additional regional increase to remain competitive against American and Delta, and to meet its ambitious plans for capacity growth of 4-6% per year through 2020. "If we're trying to bring a 50-seat product to Rochester, Minnesota and our competitors are flying a good product of 76 [seat] of two classes, we're going to lose that battle", says Kirby.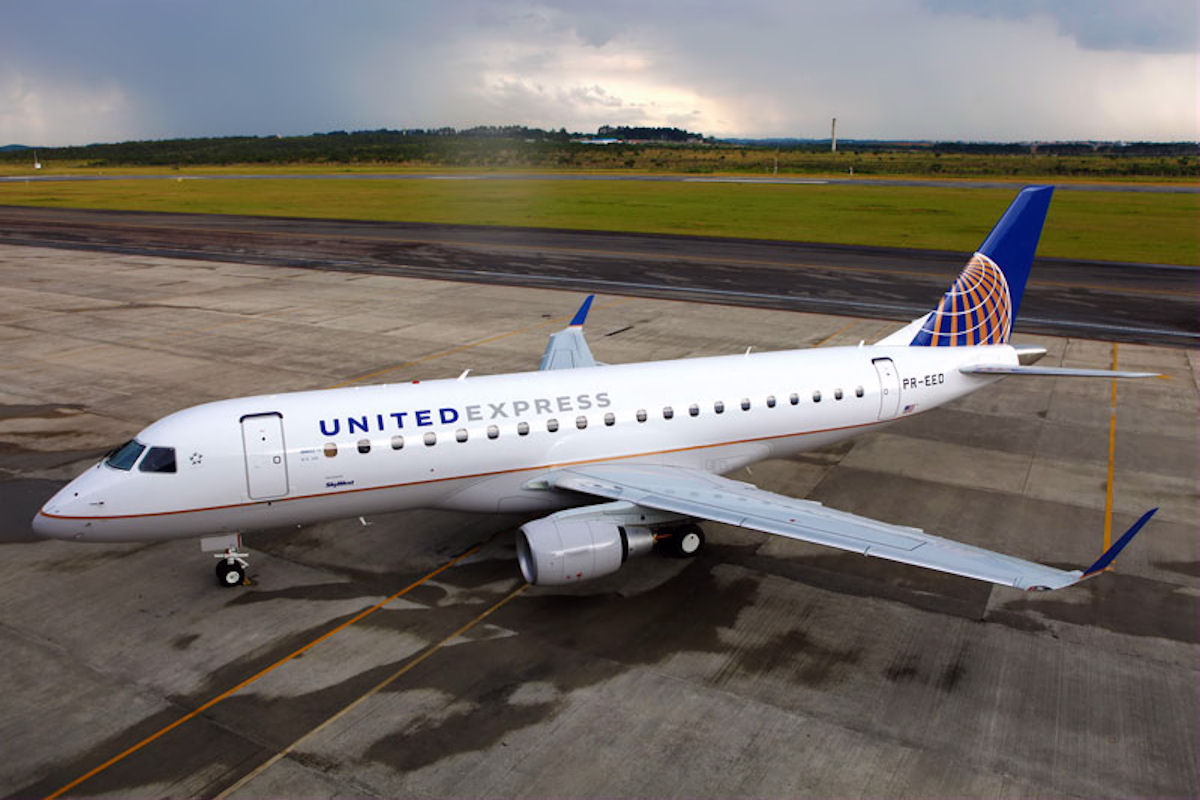 United's scope clause limits it to 255 regional jets with seats of 70 to 76 seats, an amount reached by the end of 2017. You can add up to 70 larger regional jets if you add a new small mainline aircraft, specifically the Bombardier CSeries o Embraer E-Jet, in a proportion of one additional regional aircraft for every 1.25 mainline aircraft. The airline can have an almost unlimited number of small regional jets, or those with 50 seats or less, and an unlimited number of turboprops in its feeder fleet. United had 256 small regional jets and 255 large models in its power fleet by the end of 2017, as shown by its fleet plan. "[United] does not need scope relief and has the ability to achieve our growth strategy today", said Todd Insler, president of ALPA United.
The comments of Kirby and Levy, so far, have only suggested that they want to increase the number of large regional jets above 255. They have not made any comments about the search for a larger number of seats or MTOW, any of which is necessary. Next generation of regional aircraft. jets, including the E175-E2 and MRJ90.
Delta Air Lines
Delta will follow United in contract negotiations in 2019. The scope of the Atlanta-based operator limits it to up to 450 regional jets, including 125 small jets and 325 large jets, with the latter divided between 102 aircraft with 51-70 seats and 223 aircraft. with 71-76 seats.
The airline had 136 Bombardier CRJ200 and 324 large regional jets in its power fleet at the end of 2017, as shown by its fleet plan. The 10 50 seats above the limit of 450 aircraft are allowed under the exceptions of the contract. Delta executives have not spoken directly about whether they plan to look for more 76-seat jets or change the range limits to allow larger and heavier aircraft in the next round of negotiations. The airline refuses to comment.
However, the strategy presented on his investor's day in December 2017 sheds some light on his plans. Plans to reduce by 2023 the number of departures of national seats in regional jets to approximately 20% with 2% in small regional jets and 18% in large regional jets below 27% in 2017. This would suggest a decrease in dependence of regional jets, especially 50 seats, over the next five years.
Delta is alone among the three big US. After initially adding 88 Boeing 717-200s in exchange for 70 larger regional jets in 2012, it ordered 75 CS100s in 2016 and plans to start receiving aircraft deliveries later this year.
The carrier expects domestic seat departures on small mainline aircraft to increase to approximately 20% in 2023 from 14% last year, as shown by the investors' day presentation. "We will not attempt to grant concessions to [Delta] in any section of our work agreement, including scope, and we are currently in protracted JV-related negotiations that involve improving scope protections," says Captain Bill Bartels, Delta Master's President executive council in ALPA.
American Airlines
American has the most generous scope clause that exists among the major operators in the United States. UU The number of large regional jets with 66-76 seats has a limit of 40% of its main narrow-body fleet, allowing up to 320 of the jets based on a count of narrow bodies of 799 at the end of 2017.
The regional fleet of the Fort Worth-based airline has a limit of 75% of its main narrow-body fleet, which allows a total of 599 regional aircraft. American's aircraft fleet averaged 290 regional jets with up to 65 seats and 303 aircraft with 66-76 seats in the second half of 2017, according to an Allied Pilots Association (APA) count. The airline has two configurations in its 110 Bombardier CRJ700, one with up to 65 seats and another with 70 seats, which allows it to remain in compliance with the range.
American management has not commented recently whether or not it plans to seek relief in scope or a change in the definition of a large regional jet in the next round of contract negotiations. The airline refuses to comment. The last change the United States sought was a change in definition during its last round of negotiations at the end of 2014. It wanted to redefine a large regional aircraft as one with 71-76 seats instead of 66-76 seats, a change that would have allowed to add up to 81 aircraft more than 76 seats that your agreement at the time allowed. "If the United States wants to fly with larger regional aircraft, we will be happy to take them to the main line", says the APA, adding that the scope concessions are not a start for the union. A \ W
Ξ A I R G W A Y S Ξ
SOURCE:  Airgways.com
DBk: Flightglobal.com / Bizjournals.com / Airlinegeeks.com / Leehamnews.com / Cnn.com
AW-POST: 201803212108AR
A\W   A I R G W A Y S ®