AW | 2018 03 01 15:48 | AIRLINES
Icelandair toma entrega del primer Boeing 737-8 MAX para operaciones transatlánticas
Boeing e Icelandair celebraron hoy la entrega del primer avión Boeing 737-8 MAX, mientras la aerolínea islandesa busca crecer y renovar su flota y mejorar sus operaciones transatlánticas .
El MAX, una versión nueva y mejorada del avión 737 de Boeing, se unirá a la flota de aviones Boeing 757 y 767 de Icelandair en destinos de servicio de América del Norte y Europa.
Icelandair realizó un pedido de 16 737 MAX en 2013, incluidos los modelos MAX 8 y MAX 9 más grandes. Ambos aviones ofrecen a las aerolíneas un rendimiento excepcional con menores costos de millaje y más rango (hasta 3,515 millas náuticas o 6,510 kilómetros) para abrir nuevas rutas de forma rentable.
"La llegada del nuevo avión representa un hito, el comienzo de la renovación de nuestra flota, que es una empresa emocionante para Icelandair", dice Björgólfur Jóhannsson, Presidente y CEO de Icelandair. "El MAX será una excelente incorporación a nuestra flota de Boeing 757 y 767 y aumentará tanto la flexibilidad como la capacidad para el crecimiento de nuestra red, a través de nuevas frecuencias y nuevos destinos".
La familia 737 MAX está impulsada por los motores CFM International LEAP-1B e incluye actualizaciones de diseño tales como winglet de Tecnología Avanzada de Boeing que reducirán el arrastre y optimizarán aún más el rendimiento del 737 MAX, especialmente en misiones de mayor alcance. En conjunto, estas mejoras reducen el uso de combustible y las emisiones de CO2 en al menos un 14 por ciento en comparación con los 737 de próxima generación de hoy en día, y en un 20 por ciento más que los aviones de pasillo único que reemplazan.
"El 737 MAX complementará las operaciones transatlánticas de Icelandair, y continuará enlazando puntos entre Norteamérica y Europa", dijo Monty Oliver, vicepresidente de ventas para Europa de Boeing Commercial Airplanes. "Las increíbles eficiencias operativas de la familia 737 MAX permitirán a Icelandair crecer de manera estable y rentable en los próximos años al introducir MAX 8s y MAX 9s en su flota".
El 737 MAX es el avión de más rápido venta en la historia de Boeing, acumulando más de 4,300 pedidos de 93 clientes en todo el mundo.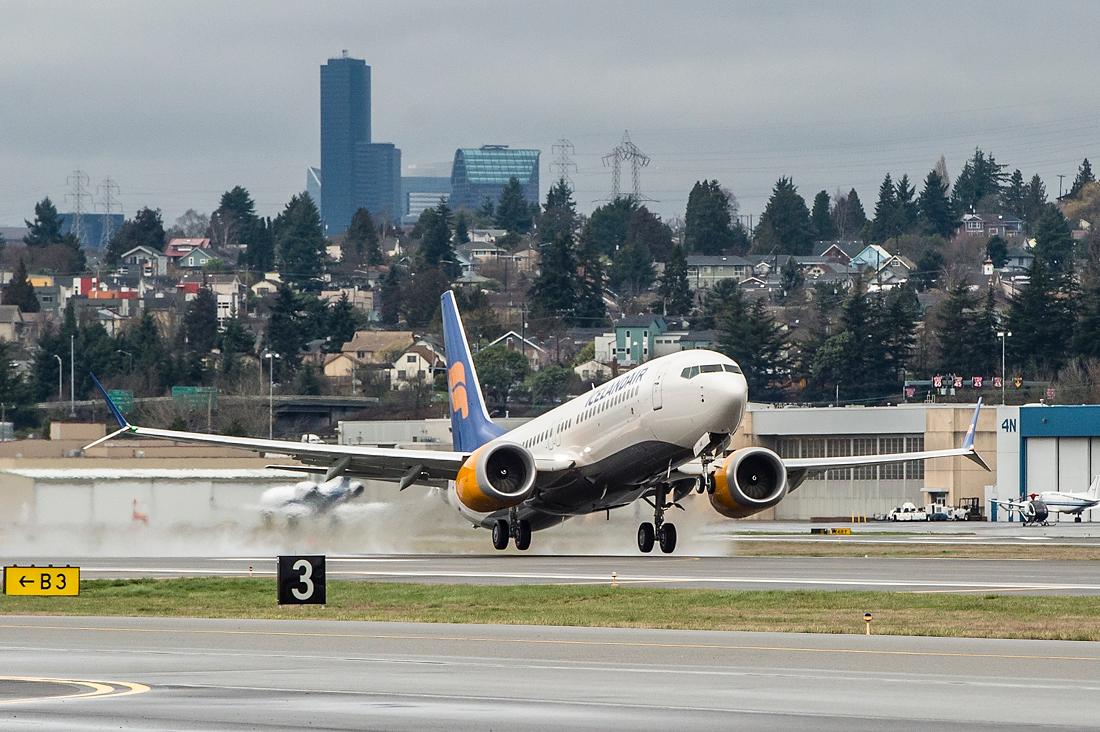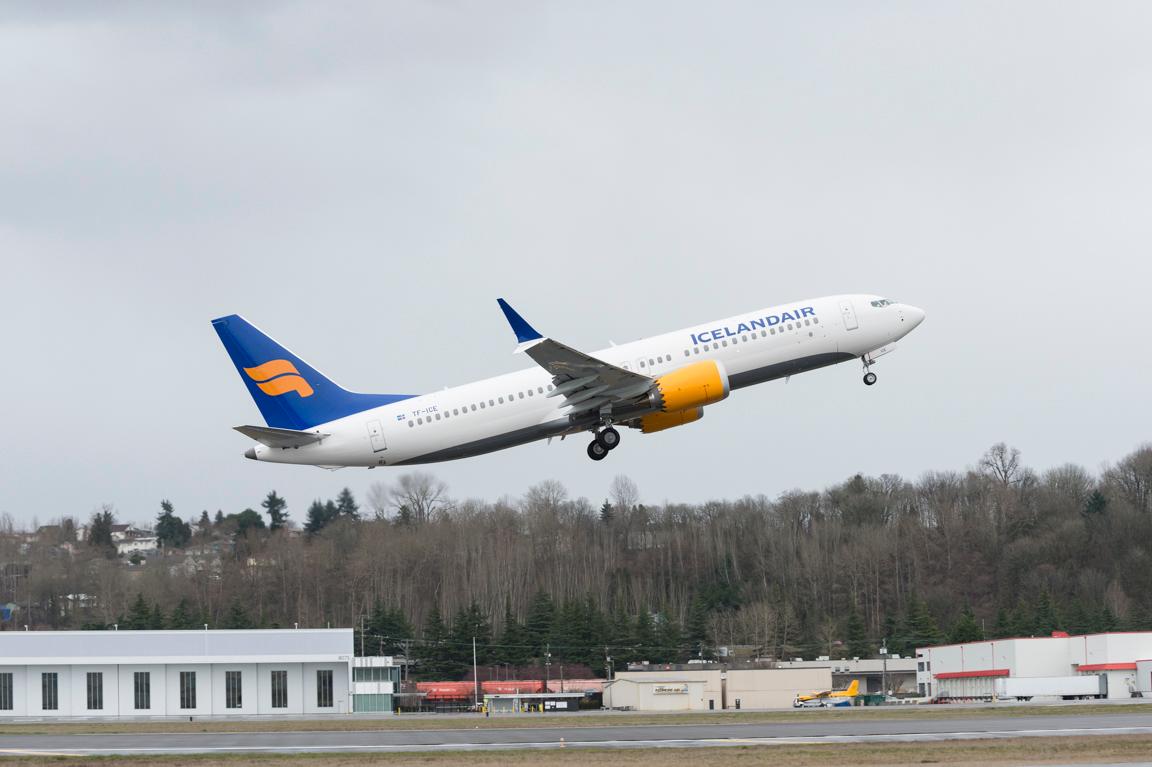 Icelandair receives 1st Boeing 737-8 MAX
Icelandair takes delivery of the first Boeing 737-8 MAX for transatlantic operations

Boeing and Icelandair today celebrated the delivery of the first Boeing 737-8 MAX aircraft, while the Icelandic airline seeks to grow and renew its fleet and improve its transatlantic operations.
The MAX, a new and improved version of Boeing's 737 aircraft, will join the Boeing 757 and 767 Icelandair fleet of service destinations in North America and Europe.
Icelandair placed an order of 16 737 MAX in 2013, including the larger MAX 8 and MAX 9 models. Both aircraft offer airlines exceptional performance with lower mileage costs and more range (up to 3,515 nautical miles or 6,510 kilometers) to open new routes profitably.
BOEING 737-8 MAX FOR ICELANDAIR
"The arrival of the new aircraft represents a milestone, the beginning of the renewal of our fleet, which is an exciting company for Icelandair", says Björgólfur Jóhannsson, President and CEO of Icelandair. "The MAX will be an excellent addition to our fleet of Boeing 757 and 767 and will increase both the flexibility and the capacity for the growth of our network, through new frequencies and new destinations".
The 737 MAX family is powered by the CFM International LEAP-1B engines and includes design updates such as Boeing's Advanced Technology winglet that will reduce drag and further optimize the performance of the 737 MAX, especially on longer range missions. Taken together, these improvements reduce fuel use and CO2 emissions by at least 14 percent compared to today's 737s, and by 20 percent more than the single-aisle aircraft they replace.
"The 737 MAX will complement Icelandair's transatlantic operations, and will continue to link points between North America and Europe", said Monty Oliver, vice president of European sales for Boeing Commercial Airplanes. "The incredible operating efficiencies of the 737 MAX family will allow Icelandair to grow steadily and profitably in the coming years by introducing MAX 8s and MAX 9s into its fleet".
The 737 MAX is the fastest-selling aircraft in the history of Boeing, accumulating more than 4,300 orders from 93 customers around the world. A \ W
Ξ A I R G W A Y S Ξ
SOURCE:  Airgways.com
DBk: Boeing.com / Airgways.com
AW-POST: 201803011548AR
A\W   A I R G W A Y S ®