AW | 2018 03 01 14:55 | INDUSTRY
Embraer recibe la certificación ANAC, FAA y EASA para el E190-E2
Embraer recibió, el Miércoles 28 Febrero 2018, la certificación de la Agencia Nacional de Aviación Civil (ANAC) para el avión regional brasileño Embraer E190-E2. El lanzamiento de la segunda generación de la familia de E-Jets de Embraer fue hecho el 17 de Junio 2003.
Embraer confirmó en 2017 que la primera entrega del E190-E2 será para el cliente de lanzamiento Widerøe, la mayor aerolínea regional de Noruega, que ha encomendado tres aviones en compra firme y otros 12 en opciones de compra. Widerøe iniciará operaciones regulares con la aeronave en Abril 2018.
Los otros contratos firmados por Embraer para los E2 están formados por 25 firmes más 25 opciones para la AerCap de Holanda; 25 solicitudes firmes con AirCastle, de los Estados Unidos; 25 firmes más 25 opciones para Air Costa, India; diez pedidos firmes para la china IBCB, otros 100 firmes y 10 opciones para la estadounidense Skywest, además de 2 aviones para la china Tianjin Airlines. Un cliente no revelado encargó 10 aviones pedido firme y 10 en opciones. Embraer ha asegurado 74 pedidos en firme para el E190-E2.
Certificación ANAC Brasil
Embraer recibió la certificación de aeronavegabilidad para el E190-E2 por parte de reguladores brasileños, europeos y estadounidenses, antes de la primera entrega al operador de lanzamiento Wideroe. La certificación se produce aproximadamente 56 meses después de que el programa se lanzó a mediados de 2013 en el salón aeronáutico de París.
EMBRAER E190-E2 RECIBE CERTIFICACIÓN TOTAL DE ANAC, EASA Y FAA
Cuatro prototipos de E190-E2 completaron más de 2.000 horas en pruebas de vuelo y 45.000 horas de pruebas en tierra. El avión fue certificado por la autoridad de aviación civil de Brasil (ANAC), la Agencia Europea de Seguridad Aérea (EASA) y la Administración Federal de Aviación de los Estados Unidos (FAA).
"La certificación de hoy del E190-E2 marca un hito fundamental en el programa. Ahora es razonable anticipar una aceleración de las discusiones comerciales con los operadores de todo el mundo", dice John Slattery, presidente y director ejecutivo de Embraer Commercial Aviation.
Embraer planea entregar el primer E195-E2 en la primera mitad de 2019, seguido por el E175-E2 en 2021. En el caso de Azul Linhas Aéreas Brasileñas será la primera operadora del E195-E2. La compañía cuenta con 30 pedidos en firme y 20 derechos de compra del jet.
Según Embraer, el E190-E2 es mejor que la especificación original y más eficiente que otras aeronaves de pasillo único. Con respecto al consumo de combustible, el avión probó ser un 1,3% mejor de lo esperado, lo que representa una mejora del 17,3% con respecto al E190 de generación actual y casi el 10% más que su competidor directo.
Embraer dijo que las pruebas mostraron que el E190-E2 será la aeronave con los intervalos de mantenimiento más largos en el mercado de aviones de pasillo único, de 10.000 horas de vuelo, para chequeo de rutina, y sin límite de calendario para usos típicos de E-Jets. Esto representa 15 días adicionales de utilización de la aeronave en un período de diez años en comparación con los E-Jets de la generación actual. Además, la aeronave proporciona beneficios hasta un 50% mayor si se compara con los chorros de mayor tamaño.
El Presidente de Embraer, Paulo César de Souza e Silva dijo que la certificación del primer jet de la nueva familia E2 es un benchmark (referencial) en la industria. "Entregamos en el plazo, en el presupuesto y superando los requerimientos iniciales, y la certificación está siendo hecha simultáneamente por los tres principales órganos de la aviación en el mundo", expresó el ejecutivo. Las agencias civiles de Brasil, ANAC; de los Estados Unidos, FAA; y Europa, EASA, dieron hoy los certificados para el E190-E2. 
Embraer E190-E2 certified by aviation
Embraer receives the ANAC, FAA and EASA certification for the E190-E2
Embraer received, on Wednesday 28 February 2018, the certification of the National Civil Aviation Agency (ANAC) for the Brazilian regional aircraft Embraer E190-E2. The launch of the second generation of the Embraer E-Jets family was made on June 17, 2003.
Embraer confirmed in 2017 that the first delivery of the E190-E2 will be for the launch customer Widerøe, the largest regional airline in Norway, which has entrusted three aircraft in firm purchase and another 12 in purchase options. Widerøe will begin regular operations with the aircraft in April 2018.
The other contracts signed by Embraer for the E2 are made up of 25 firm plus 25 options for the AerCap of the Netherlands; 25 firm applications with AirCastle, from the United States; 25 firm plus 25 options for Air Costa, India; ten firm orders for the Chinese IBCB, another 100 firm and 10 options for the American Skywest, plus 2 aircraft for the Chinese Tianjin Airlines. An undisclosed customer ordered 10 firm order planes and 10 in options. Embraer has secured 74 firm orders for the E190-E2.
ANAC Brazil Certification
Embraer received the airworthiness certification for the E190-E2 from Brazilian, European and US regulators, before the first delivery to the launch operator Wideroe. The certification occurs approximately 56 months after the program was launched in mid-2013 at the Paris Air Show.
Four prototypes of E190-E2 completed more than 2,000 hours in flight tests and 45,000 hours of ground testing. The aircraft was certified by the Civil Aviation Authority of Brazil (ANAC), the European Aviation Safety Agency (EASA) and the Federal Aviation Administration of the United States (FAA).
EMBRAER E190-E2
"Today's E190-E2 certification marks a major milestone in the program", said John Slattery, president and CEO of Embraer Commercial Aviation, "It is now reasonable to anticipate an acceleration of business discussions with operators around the world".
Embraer plans to deliver the first E195-E2 in the first half of 2019, followed by the E175-E2 in 2021. In the case of Azul Linhas Aéreas Brasileñas, it will be the first operator of the E195-E2. The company has 30 firm orders and 20 jet purchase rights.
According to Embraer, the E190-E2 is better than the original specification and more efficient than other single-aisle aircraft. With regard to fuel consumption, the airplane proved to be 1.3% better than expected, which represents an improvement of 17.3% compared to the current generation E190 and almost 10% more than its direct competitor.
Embraer said that the tests showed that the E190-E2 will be the aircraft with the longest maintenance intervals in the market of single-aisle aircraft, of 10,000 hours of flight, for routine check-up, and without a calendar limit for typical uses of E-Jets This represents 15 additional days of use of the aircraft over a period of ten years compared to the E-Jets of the current generation. In addition, the aircraft provides benefits up to 50% higher compared to larger jets.
The President of Embraer, Paulo César de Souza e Silva said that the certification of the first jet of the new E2 family is a benchmark (referential) in the industry. "We deliver within the deadline, in the budget and exceeding the initial requirements, and the certification is being done simultaneously by the three main aviation bodies in the world", the executive said. The civil agencies of Brazil, ANAC; of the United States, FAA; and Europe, EASA, today gave certificates for the E190-E2. A \ W
Embraer E190-E2 certificado pela aviação
A Embraer recebe a certificação ANAC, FAA e EASA para o E190-E2
A Embraer recebeu, na quarta-feira 28 Febreiro 2018, a certificação da Agência Nacional de Aviação Civil (ANAC) para a aeronave regional brasileira Embraer E190-E2. O lançamento da segunda geração da família Embraer E-Jets foi feito em 17 de junho de 2003.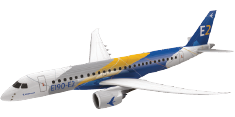 A Embraer confirmou em 2017 que a primeira entrega do E190-E2 será para o cliente de lançamento Widerøe, a maior companhia aérea regional da Noruega, que confiou três aeronaves em compra firme e outras 12 em opções de compra. Widerøe iniciará operações regulares com a aeronave em abril de 2018.
Os outros contratos assinados pela Embraer para o E2 são constituídos por 25 empresas mais 25 opções para a AerCap dos Países Baixos; 25 aplicações firmes com AirCastle, dos Estados Unidos; 25 empresas mais 25 opções para a Air Costa, Índia; dez pedidos firmes para o IBCB chinês, mais uma centena de empresas e 10 opções para o Skywest americano, além de 2 aeronaves para a companhia chinesa Tianjin Airlines. Um cliente não divulgado encomendou 10 aviões de ordem firme e 10 em opções. A Embraer garantiu 74 pedidos firmes para o E190-E2.
Certificação ANAC Brasil
A Embraer recebeu a certificação de aeronavegabilidade para o E190-E2 de reguladores brasileiros, europeus e norte-americanos, antes da primeira entrega ao operador de lançamento Wideroe. A certificação ocorre aproximadamente 56 meses após o lançamento do programa em meados de 2013 no Paris Air Show.
Quatro protótipos do E190-E2 completaram mais de 2.000 horas em testes de vôo e 45.000 horas de teste no solo. A aeronave foi certificada pela Autoridade de Aviação Civil do Brasil (ANAC), pela Agência Européia de Segurança da Aviação (EASA) e pela Administração Federal de Aviação dos Estados Unidos (FAA).
"A certificação E190-E2 de hoje marca um marco importante no programa", disse John Slattery, presidente e CEO da Embraer Commercial Aviation, "Agora é razoável antecipar uma aceleração das discussões comerciais com operadores de todo o mundo".
A Embraer planeja entregar o primeiro E195-E2 no primeiro semestre de 2019, seguido do E175-E2 em 2021. No caso da Azul Linhas Aéreas Brasileiras, será o primeiro operador do E195-E2. A empresa possui 30 pedidos firmes e 20 direitos de compra a jato.
De acordo com a Embraer, o E190-E2 é melhor do que a especificação original e mais eficiente que outros aviões de um só corredor. No que diz respeito ao consumo de combustível, o avião mostrou-se 1,3% melhor do que o esperado, o que representa uma melhoria de 17,3% em relação à geração atual E190 e quase 10% a mais do que o seu concorrente direto.
A Embraer disse que os testes mostraram que o E190-E2 será a aeronave com os intervalos de manutenção mais longos no mercado de aeronaves de um só corredor, de 10.000 horas de vôo, para check-up de rotina e sem limite de calendário para usos típicos de E-Jets Isso representa 15 dias adicionais de uso da aeronave durante um período de dez anos em comparação com os E-Jets da geração atual. Além disso, a aeronave oferece benefícios até 50% maiores em relação aos jatos maiores.
O presidente da Embraer, Paulo César de Souza e Silva, disse que a certificação do primeiro jato da nova família E2 é uma referência (referencial) na indústria. "Entregamos dentro do prazo, no orçamento e superamos os requisitos iniciais, e a certificação está sendo realizada simultaneamente pelos três principais órgãos de aviação do mundo", disse o executivo. As agências civis do Brasil, ANAC; dos Estados Unidos, FAA; e a Europa, a EASA, deram hoje certificados para o E190-E2. A \ W
Ξ A I R G W A Y S Ξ
SOURCE:  Airgways.com
DBk: Embraer.com
AW-POST: 201803011455AR
A\W   A I R G W A Y S ®