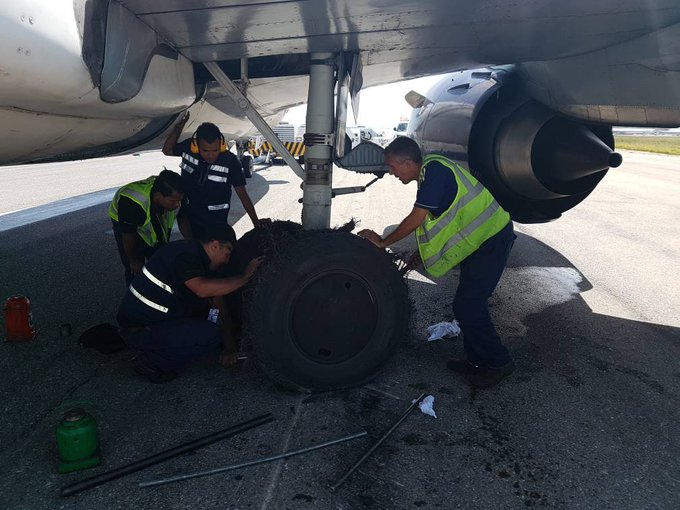 AW | 2018 03 20 01:07 | AVIATION SAFETY
Un Boeing 737-300 de la aerolínea Estelar Airlines sufre estallo neumáticos en aterrizaje
Un Boeing 737-300 de Estelar Latinoamérica, con el registro YV2918 realizando el vuelo E4-8352 desde Maracaibo a Caracas (Venezuela) con 135 personas a bordo, aterrizó en la pista 10 de Caracas el 19 de Marzo 2018 pero estalló ambos neumáticos principales derechos en el aterrizaje. La aeronave salió sin más incidentes, se detuvo en la pista y se deshabilitó. Los pasajeros desembarcaron en la pista y fueron trasladados en autobús a la terminal, el avión fue remolcado hasta la plataforma.
Los neumáticos del avión Boeing 737-300 de Aerolíneas Estelar estallaron en la pista de aterrizaje del Aeropuerto Simón Bolívar de Maiquetía. Los dos neumáticos traseros del avión, que cubre la ruta Maracaibo–Caracas, estallaron al momento del aterrizaje. La tripulación y los 135 pasajeros que se encontraban a bordo resultaron ilesos.
La seguridad en la aviación comercial en Venezuela es cada vez más efímera debido a la presión existente sobre el bloqueo de divisas y los altos costos operativos que están sufriendo las aerolineas. La seguridad tiende a convertirse en un conflicto todos los días para seguir subsistiendo. 
Estelar aircraft incident B737-300 in Caracas
A Boeing 737-300 of the airline Estelar Airlines suffers tires on landing
A Boeing 737-300 from Estelar Latinoamerica, with registration YV2918 making flight E4-8352 from Maracaibo to Caracas (Venezuela) with 135 people on board, landed on runway 10 in Caracas on March 19, 2018 but blew both main tires right in the landing. The aircraft left without further incident, stopped on the runway and was disabled. The passengers disembarked on the runway and were transferred by bus to the terminal, the plane was towed to the platform.
The tires of the Boeing 737-300 aircraft of Estelar Airlines exploded on the runway of Simón Bolívar Airport in Maiquetía. The two rear tires of the plane, which covers the Maracaibo – Caracas route, exploded at the time of landing. The crew and the 135 passengers who were on board were unharmed.
Security in commercial aviation in Venezuela is increasingly ephemeral due to the existing pressure on the foreign exchange blockade and the high operating costs that airlines are suffering. Security tends to become a conflict every day to survive. A \ W
Ξ A I R G W A Y S Ξ
SOURCE:  Airgways.com
DBk:  Avherald.com / @IAIM_VE Aeropuerto Maiquetía 
AW-POST: 201803200107AR
A\W   A I R G W A Y S ®