AW | 2018 07 05 01:15 | AIRLINES MARKET
Norwegian con vientos favorables en Argentina
La introducción de cambios en los topes mínimos de las tarifas atrae inversiones y cambios en las lowcost en Argentina que reduce el precio mínimo tope en las tarifas de vuelos, reflejando buenas noticias para Norwegian Air Argentina. La tercera economía más grande de América Latina cambia las reglas para las aerolíneas. «Esta es una buena noticia para Norwegian», dice el jefe de Norwegian Argentina, Ole Christian Melhus.
Los cambios que el Gobierno de Argentina ha establecido en el transporte aéreo permitirá reducir el cuadro tarifario vigente por una con mejores opciones. Las aerolíneas más beneficiadas son las compañías low cost, aquellas que permiten introducir precios ofertas realmente más bajos que el promedio de las aerolíneas convencionales. Flybondi Líneas Aéreas preparará una batería de ofertas, mientras tanto Norwegian Air Argentina prepara aceleradamente su desembarco incorporando un tarifario sin techo límite.
Introducción más cambios en mercado aéreo
«Para ayudar a impulsar el turismo, el gobierno permitirá a las aerolíneas bajar los precios de los tickets aéreos en las rutas domésticas para fomentar los vuelos nacionales a partir del 15 Agosto 2018», dijo el Ministro de Transporte de Argentina, Guillermo Dietrich. Las modificaciones en el transporte aéreo argentino también aplicará cambios de reglas para los tickets se deben reservarse con 30 días de anticipación. Las restricciones a boletos más económicos establecen que los tickets de avión deben solicitarse dentro de los 30 días previos a la partida y solo para los viajes de regreso, esta es una buena noticia. Esto significa tarifas aéreas más bajas y más competencia dentro de Argentina.
El cambio de las reglas es otro paso en el camino del Presidente Mauricio Macri para abrir la industria de las aerolíneas en Argentina para la competencia. Anteriormente, su administración eliminó un precio que protegió el estado de Aerolíneas Argentinas y Austral Líneas Aéreas. Los vuelos en Argentina se encuentran entre los más caros de la región. «El cambio de reglas hará posible que muchos más vuelen», dice Dietrich.
Más competidores
Norwegian Air es una de varias aerolíneas de bajo costo que ha superado las oportunidades que el gobierno de Macri tiene para ofrecer. «Esta medida será crucial para acelerar el desarrollo del tráfico aéreo comercial en Argentina», dijo Melhus.
Norwegian Air Argentina, una subsidiaria de propiedad absoluta de Norwegian Air
Shuttle ASA, se estableció en Argentina y los primeros vuelos se programarán para 4Q2018. Esto significa que habrá tarifas aéreas más bajas, introduciendo la eliminación del precio mínimo en los vuelos a nivel nacional en Argentina que es algo que las nuevas aerolíneas de bajo coste, como Norwegian Air Argentina y Flybondi Líneas Aéreas han trabajado intensamente con las autoridades argentinas para hacerla realidad.
JetSmart, una aerolínea chilena ultra-lowcost propiedad de Indigo Partners, lanzará rutas aéreas en Argentina bajo la firma Alas del Sur, con sede en Córdoba. De esta manera Argentina va introduciendo progresivamente más competidores en el mercado aéreo.
«Hay más que Norwegian que quieren bailar tango en Argentina, pero Norwegian Air Argentina planea comenzar a volar en Octubre/Noviembre de 2018», dice el analista aeroespacial Hans Jørgen Elnæs en WinAir.
Las elecciones 2019 en la Argentina con una victoria del Partido Peronista, no habría cambios en las medidas neoliberales que el gobierno actual del Presidente Mauricio Macri ha puesto en práctica. Pero nada puede asegurar la inestabilidad política en Argentina y el mayor desafío para las aerolíneas se encuentran en la arena de los políticos. 
Norwegian Air dances tango in Argentina
Norwegian with favorable winds in Argentina
The introduction of changes in the minimum rates limits attracts investments and changes in lowcost in Argentina that reduces the minimum price cap on flight rates, reflecting good news for Norwegian Air Argentina. The third largest economy in Latin America changes the rules for airlines. «This is good news for Norwegian», says Norwegian Argentina Chief Ole Christian Melhus.
The changes that the Government of Argentina has established in air transport will allow to reduce the current rate schedule by one with better options. The most popular airlines are low cost airlines, those that allow prices to be introduced that are actually lower than the average for conventional airlines. Flybondi Líneas Aéreas will prepare a battery of offers, meanwhile Norwegian Air Argentina prepares its landing accelerated incorporating a tariff without ceiling limit.
Introduction plus changes in the air market
«To help boost tourism, the government will allow airlines to lower the prices of air tickets on domestic routes to encourage domestic flights as of August 15, 2018», said the Minister of Transportation of Argentina, Guillermo Dietrich. In the Argentine air transport, rules changes will also be applied for tickets that must be reserved 30 days in advance.The restrictions on cheaper tickets establish that plane tickets must be requested within 30 days prior to departure and only for travel. On the way back, this is good news, which means lower airfares and more competition within Argentina.
The change of the rules is another step in the way of President Mauricio Macri to open the airline industry in Argentina for the competition. Previously, its administration eliminated a price that protected the state of Aerolíneas Argentinas and Austral Líneas Aéreas. «Flights in Argentina are among the most expensive in the region. The change of rules will make it possible for many more to fly», says Dietrich.
More competitors
Norwegian Air is one of several low-cost airlines that has overcome the opportunities that the Macri government has to offer. «This measure will be crucial to accelerate the development of commercial air traffic in Argentina»,  said Melhus.
Norwegian Air Argentina, a wholly-owned subsidiary of Norwegian Air Shuttle ASA, was
established in Argentina and the first flights will be scheduled for 4Q2018. This means that there will be lower air fares, including the elimination of the minimum price on domestic flights in Argentina which is something that the new low cost airlines, such as Norwegian Air Argentina and Flybondi Líneas Aéreas have worked intensively with the Argentine authorities to make it happen
JetSmart, an ultra-lowcost Chilean airline owned by Indigo Partners, will launch air routes in Argentina under the firm Alas del Sur, based in Córdoba. In this way, Argentina is gradually introducing more competitors in the air market.
«There is more than Norwegian who want to dance tango in Argentina, but Norwegian Air Argentina plans to start flying in October/November 2018», says aerospace analyst Hans Jørgen Elnæs at WinAir.
The 2019 elections in Argentina with a victory by the Peronist Party, there would be no changes in the neoliberal measures that the current government of President Mauricio Macri has put into practice. But nothing can ensure political instability in Argentina and the biggest challenge for airlines is in the politicians' arena. A \ W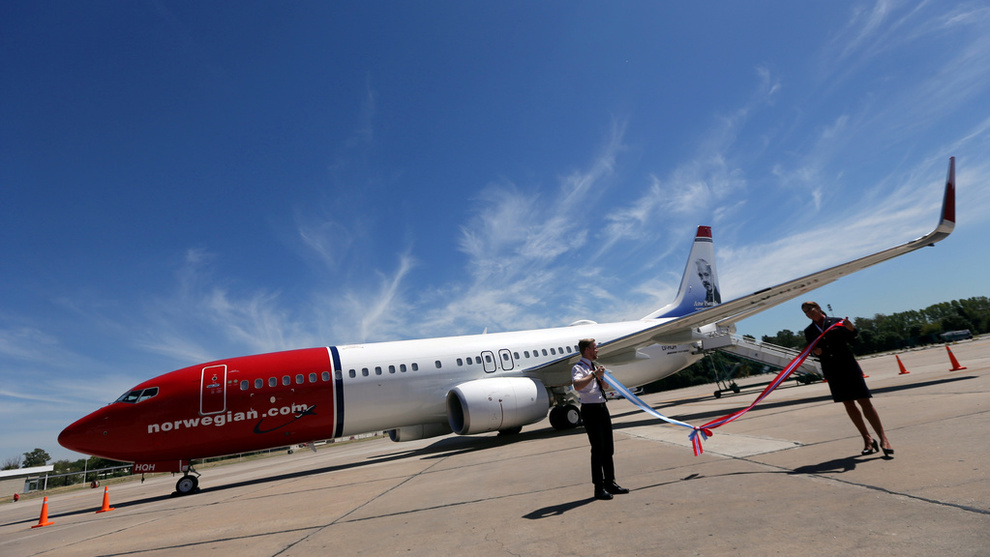 Norwegian Air danser tango i Argentina
Norwegian Air med gunstige vind i Argentina
Innføringen av endringer i minimumsrentegrensene tiltrekker seg investeringer og endringer i lavpris i Argentina som reduserer minimumsprisen på flyrater, noe som gjenspeiler gode nyheter for Norwegian Air Argentina. Den tredje største økonomien i Latin-Amerika endrer reglene for flyselskapene. «Dette er god nyhet for norsk», sier den Norwegian Argentina-sjefen Ole Christian Melhus.
Endringene som Argentinas regjering har etablert i lufttransport vil tillate å redusere dagens renteplan med en med bedre alternativer. De mest populære flyselskapene er lavprisflyselskaper, de som tillater priser å bli introdusert som faktisk er lavere enn gjennomsnittet for konvensjonelle flyselskaper. Flybondi Líneas Aéreas vil forberede et tilbudsbatteri, mens Norwegian Air Argentina forbereder sin landing akselerert innlemme en tariff uten takgrense.
Introduksjon pluss endringer i luftmarkedet
For å bidra til økt turisme, vil regjeringen gi flyselskapene mulighet til å senke prisene på flybilletter på innenlandske ruter for å oppmuntre innenlandsflyvninger per 15. august 2018, sier transportminister Argentina, Guillermo Dietrich. I den argentinske lufttrafikken vil regler for endringer også bli brukt for billetter som må reserveres 30 dager i forveien. Begrensningene på billigere billetter fastslår at flybillettene må bli forespurt innen 30 dager før avreise og kun for reise. På vei tilbake er dette gode nyheter, noe som betyr lavere flypriser og mer konkurranse i Argentina.
Regjeringens endring er et annet skritt i veien for president Mauricio Macri for å åpne flybransjen i Argentina for konkurransen. Tidligere har administrasjonen eliminert en pris som beskyttet staten Aerolineas Argentinas og Austral Líneas Aéreas. Fly i Argentina er blant de dyreste i regionen. Regelskiftet gjør det mulig for mange flere å fly, sier Dietrich.
Flere konkurrenter
Norwegian Air er et av flere lavprisflyselskaper som har overvunnet mulighetene Macri-regjeringen har å tilby. «Dette tiltaket vil være avgjørende for å akselerere utviklingen av kommersiell flytrafikk i Argentina», sa Melhus.
Norwegian Air Argentina, et heleid datterselskap av Norwegian Air Shuttle ASA, ble etablert i Argentina, og de første flyene vil bli planlagt til 4Q2018. Dette betyr at det vil være lavere flypriser, intruduciendo eliminering av minsteprisen på flyreiser lands i Argentina som er noe nytt lavprisselskaper som Norsk Air Argentina og FlyBondi flyselskap har jobbet intenst med den argentinske myndigheter til få det til å skje
JetSmart, et ekstremt lavt chilenskt flyselskap eid av Indigo Partners, vil starte flyruter i Argentina under firmaet Alas del Sur, med base i Córdoba. På denne måten er Argentina gradvis introdusert flere konkurrenter i luftmarkedet.
«Det er mer enn norsk som ønsker å danse tango i Argentina, men Norwegian Air Argentina planlegger å begynne å fly i Oktober/November 2018», sier flypanelanalytiker Hans Jørgen Elnæs på WinAir.
2019-valget i Argentina med en seier av Peronistpartiet, det ville ikke være noen endringer i de neoliberale tiltakene som president president Mauricio Macri har satt i gang. Men ingenting kan sikre politisk ustabilitet i Argentina, og den største utfordringen for flyselskapene er på politikernes arena. A \ W
Ξ A I R G W A Y S Ξ
SOURCE:  Airgways.com
DBk: Argentina.gob.ar/transporte / Norwegian.no / Airgways.com / A2d.news
AW-POST: 201807050115AR
A\W   A I R G W A Y S ®