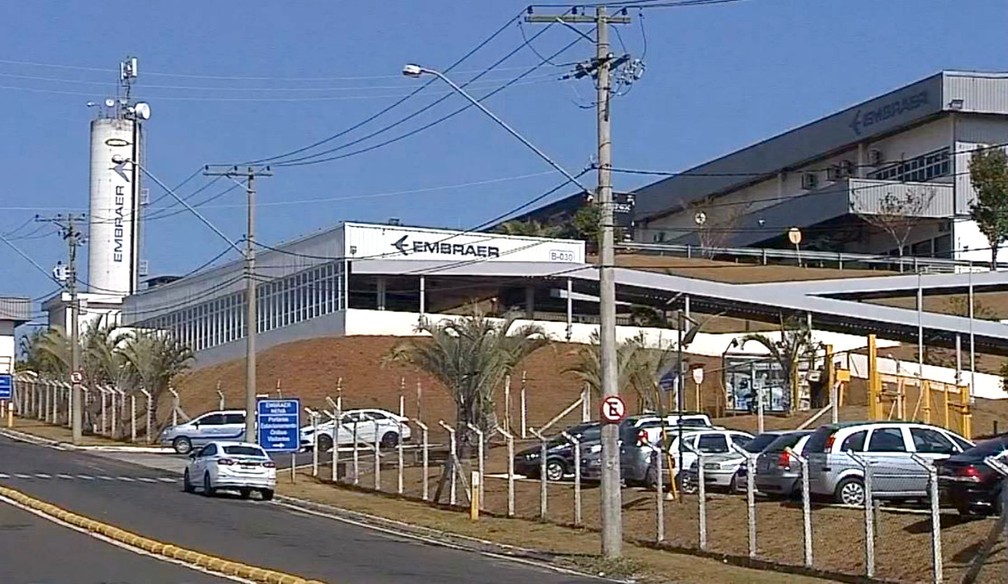 AW | 2018 07 28 15:20 | INDUSTRY
La división de Embraer en Botucatu está preocupada por mantenimiento empleos
La fusión con Boeing preocupa a funcionarios de la unidad de Embraer de Botucatu. Para los trabajadores, el clima es de inseguridad con respecto al mantenimiento de los empleos. Sindicato y MPT piden garantías en el acuerdo entre las empresas.
La unidad de Embraer en Botucatu (Sao Paulo) cuenta con aproximadamente 1.800 empleados de las instalaciones entraron en un clima de aprehensión tras el anuncio de fusión con el gigante estadounidense Boeing. Al mismo tiempo que algunos trabajadores creen que la fusión puede dejar la empresa más competitiva, la falta de información más objetiva sobre los detalles del negocio trae incertidumbres a la categoría.
«Esta asociación puede dejar la empresa más competitiva en el mercado, pero hasta ahora los detalles están muy confusos, no hay información sobre la cuestión de los empleos aquí en Brasil», dijo el mecánico ajustador Marcos Alexandre Barbosa. A comienzos de mes, Embraer y Boeing anunciaron un acuerdo preliminar para una joint venture, una forma de sociedad comercial, que propone la creación de una nueva empresa que será responsable del desarrollo de los negocios y servicios de aviación comercial.
Fusión Boeing-Embraer
La fusión con Boeing preocupa a funcionarios de la unidad de Embraer de Botucatu. Un memorando firmado por el Presidente de Embraer informa que, con la fusión, la empresa estadounidense tendrá un 80% de participación en la sociedad y Embraer el 20%.
El Sindicato de los Metalúrgicos de Botucatu está realizando en conjunto con otras entidades campaña contra la venta de Embraer a la norteamericana Boeing. Un encuentro entre dirigentes de los Metalúrgicos de São José dos Campos, Botucatu y Araraquara, definió una campaña de movilización contra la venta. La campaña se está llevando a cabo bases donde Embraer tiene producción y oficinas, además de visitas a diputados federales, estatales, alcaldes y líderes comunitarios.
EMPLEADOS DE EMBRAER BOTUCATU SE MANIFIESTAN EN CONTRA DE LA FUSIÓN
En el mes de Mayo 2018, el Ministerio Público del Trabajo (MPT) emitió una notificación a Embraer ya Boeing de Brasil recomendando que las empresas incluyas, en los términos de la fusión, garantías para el mantenimiento de los empleos en Brasil.
Esta semana, sin embargo, el Tribunal de Trabajo denegó la solicitud , por medio de una orden judicial. El Ministerio Público del Trabajo puede recurrir la decisión. «El Ministerio Público del Trabajo no tiene nada contra la fusión, pero su gran preocupación es el mantenimiento de puestos de trabajo en Brasil. La empresa estadounidense tal vez no tenga la preocupación por el mantenimiento de empleos», explica el fiscal del MPT, José Fernando Maturana. Para el Sindicato de los Metalúrgicos de Botucatu y Región, que representa a los profesionales de la categoría, la fusión puede colocar los empleos en riesgo. «Estamos en contra de la venta porque como Boeing es una empresa estadounidense no garantiza nada, en realidad ni siquiera Embraer ha dado garantías sobre esta cuestión del empleo», afirma Fabiano José Roque, director del sindicato.
Protección de empleos en Brasil
Un juez laboral brasileño ha rechazado un llamado para que la adquisición propuesta por The Boeing Co. de la mayor parte de la unidad de jets comerciales del fabricante de aviones Embraer dependa de un compromiso de preservar todos los empleos locales en la compañía.
La adquisición propuesta ha desatado las preocupaciones entre los sindicatos y aliados políticos de que Boeing recortaría la fuerza laboral local de Embraer una vez que asumiera el control de la empresa. Boeing, Embraer y el gobierno brasileño hasta ahora se han negado a ofrecer garantías sobre el empleo.
Un representante de Embraer se negó a comentar sobre la decisión del juez el martes de negar una solicitud de un mandato judicial, lo que habría obligado a Boeing a salvaguardar todos los empleos brasileños actuales en Embraer. Boeing también se negó a comentar.
La solicitud de amparo fue presentada por los fiscales laborales de Brasil, un grupo especial que investiga posibles violaciones de las estrictas leyes laborales del país. Respondieron al rechazo del juez al anunciar planes para una demanda civil contra el gobierno. Los fiscales dijeron que inicialmente enviaron la propuesta para proteger los empleos brasileños a Boeing y Embraer, pero las compañías habían dicho que no tenían la intención de dar esa garantía. Embraer tenía 16,000 empleados en Brasil a fines de 2016.
La solicitud de una medida cautelar fue presentada contra el gobierno brasileño porque, aunque Embraer es una empresa privada, el gobierno posee una acción especial que le otorga poder de veto sobre las principales decisiones comerciales. En su demanda, los fiscales dijeron que planean argumentar que el presidente estadounidense, Donald Trump, podría forzar la empresa a «producir solo en Estados Unidos». Trump ha estado implementando medidas para encarecer las importaciones y la deslocalización de empleos.
Los fiscales también dijeron que el gobierno brasileño había invertido más de US$ 25 mil millones en Embraer a lo largo de los años, pero que la compañía solo recuperaría US$ 3.8 mil millones de su venta a Boeing.
El acuerdo propuesto con Boeing no incluiría la defensa de Embraer y el negocio de jets ejecutivos, donde el gobierno brasileño mantendría el poder de veto. Pero analistas y defensores del gobierno han expresado su preocupación sobre la rentabilidad de esas divisiones en ausencia de la división de aviones comerciales, que ha sido la fuente de ingresos de la compañía.  
Fears Embraer-Boeing
The Embraer division in Botucatu is worried about maintenance jobs
The merger with Boeing worries officials of the Embraer unit of Botucatu. For workers, the climate is one of insecurity regarding the maintenance of jobs. Union and MPT ask for guarantees in the agreement between the companies.
The Embraer unit in Botucatu (Sao Paulo) has approximately 1,800 employees of the facilities entered a climate of apprehension after the announcement of merger with the US giant Boeing. At the same time that some workers believe that the merger can leave the company more competitive, the lack of more objective information about the details of the business brings uncertainties to the category.
«This partnership may leave the company more competitive in the market, but until now the details are very confusing, there is no information on the question of jobs here in Brazil», said adjuster mechanic Marcos Alexandre Barbosa. Earlier this month, Embraer and Boeing announced a preliminary agreement for a joint venture, a form of business partnership, that proposes the creation of a new company that will be responsible for the development of business and commercial aviation services.
Fusion Boeing-Embraer
The merger with Boeing worries officials of the Embraer unit of Botucatu. A memorandum signed by the president of Embraer informs that, with the merger, the US company will have an 80% stake in the company and Embraer 20%.
The Syndicate of Metalworkers of Botucatu is carrying out, together with other entities, a campaign against the sale of Embraer to the North American company Boeing. A meeting between leaders of the Metallurgists of São José dos Campos, Botucatu and Araraquara, defined a mobilization campaign against the sale. The campaign is carrying out bases where Embraer has production and offices, as well as visits to federal and state deputies, mayors and community leaders.
In the month of May 2018, the Public Ministry of Labor (MPT) issued a notification to Embraer and Boeing of Brazil recommending that the companies include, in the terms of the merger, guarantees for the maintenance of jobs in Brazil.
This week, however, the Labor Court denied the request, by means of a court order. The Public Ministry of Labor can appeal the decision. «The Public Ministry of Labor has nothing against the merger, but its main concern is the maintenance of jobs in Brazil. The US company may not have the concern for the maintenance of jobs», explains the prosecutor of the MPT, José Fernando Maturana For the Syndicate of Metallurgists of Botucatu and Region, which represents the professionals of the category, the merger can place jobs at risk. «We are against the sale because Boeing is a US company does not guarantee anything In fact, not even Embraer has given guarantees on this issue of employment», says Fabiano José Roque, director of the union.
Protection of jobs in Brazil
A Brazilian labor judge has rejected a call for the acquisition proposed by Boeing Co of most of the commercial jets unit of aircraft maker Embraer to depend on a commitment to preserve all local jobs in the company.
The proposed acquisition has sparked concerns among unions and political allies that Boeing would cut Embraer's local workforce once it took control of the company. Boeing, Embraer and the Brazilian government have so far refused to offer guarantees on employment.
A representative of Embraer declined to comment on the judge's decision on Tuesday to deny a request for an injunction, which would have forced Boeing to safeguard all current Brazilian jobs at Embraer. Boeing also declined to comment.
The request for amparo was filed by labor prosecutors in Brazil, a special group that investigates possible violations of the country's strict labor laws. They responded to the judge's rejection by announcing plans for a civil suit against the government. Prosecutors said they initially sent the proposal to protect Brazilian jobs to Boeing and Embraer, but the companies had said they did not intend to give that guarantee. Embraer had 16,000 employees in Brazil at the end of 2016.
The request for a precautionary measure was filed against the Brazilian government because, although Embraer is a private company, the government has a special action that gives it veto power over the main commercial decisions. In their suit, prosecutors said they plan to argue that US President Donald Trump could force the company to «produce only in the United States.» Trump has been implementing measures to increase imports and relocate jobs.
Prosecutors also said that the Brazilian government had invested more than $ 25 billion in Embraer over the years, but that the company would only recover $ 3.8 billion from its sale to Boeing.
The proposed agreement with Boeing would not include the defense of Embraer and the business of executive jets, where the Brazilian government would maintain the veto power. But analysts and government supporters have expressed concern about the profitability of those divisions in the absence of the commercial aircraft division, which has been the company's revenue source. A \ W
Preocupação Embraer-Boeing
A divisão Embraer de Botucatu está preocupada com trabalhos de manutenção
A fusão com a Boeing preocupa funcionários da unidade Embraer de Botucatu. Para os trabalhadores, o clima é de insegurança quanto à manutenção de empregos. União e MPT pedem garantias no acordo entre as empresas.
A unidade da Embraer em Botucatu (SP) tem cerca de 1.800 funcionários das instalações entraram em um clima de apreensão após o anúncio da fusão com a gigante norte-americana Boeing. Ao mesmo tempo em que alguns trabalhadores acreditam que a fusão pode deixar a empresa mais competitiva, a falta de informações mais objetivas sobre os detalhes do negócio traz incertezas para a categoria.
«Essa parceria pode deixar a empresa mais competitiva no mercado, mas até agora os detalhes são muito confusos, não há informações sobre a questão dos empregos aqui no Brasil», afirmou o mecânico perito Marcos Alexandre Barbosa. No início deste mês, a Embraer e a Boeing anunciaram um acordo preliminar para uma joint venture, uma forma de parceria comercial, que propõe a criação de uma nova empresa que será responsável pelo desenvolvimento de serviços de aviação comercial e comercial.
Fusão Boeing-Embraer
A fusão com a Boeing preocupa funcionários da unidade Embraer de Botucatu. Um memorando assinado pelo presidente da Embraer informa que, com a fusão, a empresa norte-americana terá 80% de participação na empresa e a Embraer 20%.
O Sindicato dos Metalúrgicos de Botucatu está realizando, em conjunto com outras entidades, uma campanha contra a venda da Embraer à empresa norte-americana Boeing. Um encontro entre líderes dos metalúrgicos de São José dos Campos, Botucatu e Araraquara, definiu uma campanha de mobilização contra a venda. A campanha está realizando bases onde a Embraer tem produção e escritórios, além de visitas a deputados federais e estaduais, prefeitos e líderes comunitários.
No mês de maio de 2018, o Ministério Público do Trabalho (MPT) emitiu uma notificação à Embraer e à Boeing do Brasil recomendando que as empresas incluíssem, nos termos da fusão, garantias para a manutenção de empregos no Brasil.
Nesta semana, no entanto, a Justiça do Trabalho negou o pedido, por meio de uma ordem judicial. O Ministério Público do Trabalho pode recorrer da decisão. «O Ministério Público do Trabalho não tem nada contra a fusão, mas sua principal preocupação é a manutenção de empregos no Brasil. A empresa norte-americana pode não ter a preocupação com a manutenção dos empregos», explica o procurador do MPT, José Fernando Maturana. o Sindicato dos Metalúrgicos de Botucatu e Região, que representa os profissionais da categoria, a fusão pode colocar em risco empregos. «Somos contra a venda porque a Boeing é uma empresa norte-americana não garante nada. Na verdade, nem a Embraer deu garantias sobre essa questão de emprego», diz Fabiano José Roque, diretor do sindicato.
Proteção de empregos no Brasil
Um juiz do trabalho brasileiro rejeitou uma solicitação para a aquisição proposta pela Boeing Co da maior parte da unidade de jatos comerciais da fabricante de aeronaves Embraer para depender de um compromisso de preservar todos os empregos locais na empresa.
A proposta de aquisição despertou preocupações entre sindicatos e aliados políticos de que a Boeing cortaria a força de trabalho local da Embraer depois que ela assumisse o controle da empresa. A Boeing, a Embraer e o governo brasileiro até agora se recusaram a oferecer garantias sobre o emprego.
Um representante da Embraer se recusou a comentar a decisão do juiz nesta terça-feira de negar um pedido de liminar, o que teria forçado a Boeing a salvaguardar todos os empregos brasileiros na Embraer. A Boeing também se recusou a comentar.
O pedido de amparo foi apresentado por procuradores do trabalho no Brasil, um grupo especial que investiga possíveis violações das rigorosas leis trabalhistas do país. Eles responderam à rejeição do juiz ao anunciar planos para uma ação civil contra o governo. Os promotores disseram que inicialmente enviaram a proposta de proteger os empregos brasileiros para a Boeing e a Embraer, mas as empresas disseram que não pretendiam dar essa garantia. A Embraer tinha 16 mil funcionários no Brasil no final de 2016.
O pedido de medida cautelar foi impetrado contra o governo brasileiro porque, embora a Embraer seja uma empresa privada, o governo tem uma ação especial que lhe confere poder de veto sobre as principais decisões comerciais. Em seu processo, os promotores disseram que planejam argumentar que o presidente dos EUA, Donald Trump, poderia forçar a empresa a «produzir apenas nos Estados Unidos». Trump implementou medidas para aumentar as importações e realocar empregos.
Os promotores também disseram que o governo brasileiro investiu mais de US$ 25 bilhões na Embraer ao longo dos anos, mais que a empresa só recuperaria US$ 3,8 bilhões de sua venda para a Boeing.
O acordo proposto com a Boeing não incluiria a defesa da Embraer e do negócio de jatos executivos, onde o governo brasileiro manteria o poder de veto. Mas analistas e apoiadores do governo expressaram preocupação sobre a lucratividade dessas divisões na ausência da divisão de aeronaves comerciais, que tem sido a fonte de receita da empresa. A \ W
Ξ A I R G W A Y S Ξ
SOURCE:  Airgways.com
DBk: Embraer.com / Embraernossa.com.br / Globo.com / Reuters.com / Leianoticias.com.br
AW-POST: 201807281520AR
A\W   A I R G W A Y S ®