AW | 2018 08 06 12:06 | AIRPORTS
Pista del Aeropuerto de Manaus inicia obras de recuperación. Alteraciones en programación de vuelos
Las interdicciones de los vuelos ocurren de Lunes-Sábado, entre 04:55-10:55 hs, por lo que varias aerolíneas han modificado su programación de servicios aéreos.
El Aeropuerto Internacional de Manaus ha iniciado obras de recuperación de la pista del Aeropuerto Internacional Eduardo Gomes. Las interdicciones en los horarios específicos ocurren de lunes a sábado, hasta el día 20 Diciembre 2018. Todos los vuelos previstos para ese intervalo fueron reubicados y reajustados para otros horarios, conforme a recomendaciones de la empresa aeroportuaria Infraero, que informó que los trabajos en la pista tienen carácter preventivo, para «mantener los niveles de seguridad de las operaciones en la terminal». La inversión de la obra es de unos US$ 27 millones de dólares.
Aeropuerto de Manaus
Actualmente, ocho compañías aéreas operan en Eduardo Gomes: Latam Brasil Airlines, Gol Linhas Aéreas, Azul Linhas Aéreas, Map Linhas Aéreas y Total Líneas Aéreas. Las aerolíneas internacionales son: American Airlines, Avior Airlines y Copa Airlines.
El aeropuerto de la capital del Estado Amazonas tiene una media diaria de 72 vuelos regulares entre aterrizajes y despegues. La terminal conecta Manaos a 11 destinos nacionales y a cuatro internacionales: Miami, Barcelona, ​​Buenos Aires y Panamá. Para atender la demanda, el terminal funciona 24h, con capacidad para atender a 13,5 millones de pasajeros.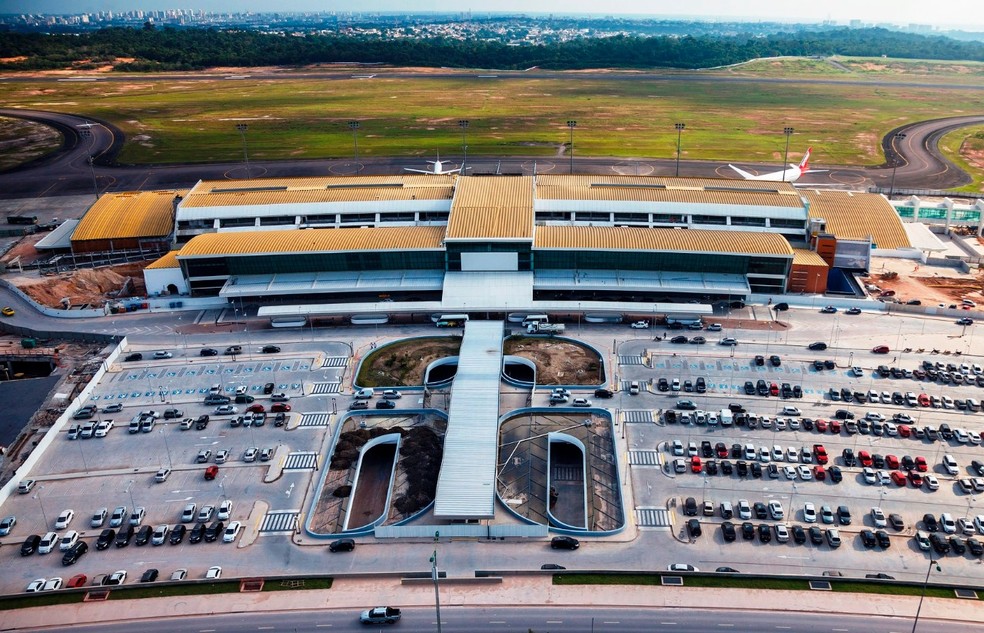 Works in Manaus Airport
Manaus Airport runway starts recovery works. Alterations in flight programming
The interdictions of the flights occur from Monday-Saturday, between 04: 55-10: 55 hs, so that several airlines have modified their air services programming.
The Manaus International Airport has begun works to recover the runway of the Eduardo Gomes International Airport. The bans on specific schedules occur from Monday to Saturday, until December 20, 2018. All flights scheduled for that interval were relocated and readjusted for other schedules, in accordance with recommendations from the Infraero airport company, which reported that the work in the track are preventive, to «maintain the security levels of operations in the terminal». The investment of the work is about US$ 27 million.
Manaus Airport
Currently, eight airlines operate in Eduardo Gomes: Latam Brasil Airlines, Gol Linhas Aéreas, Azul Linhas Aéreas, Map Linhas Aéreas and Total Líneas Aéreas. The international airlines are: American Airlines, Avior Airlines and Copa Airlines.
The airport of the state capital Amazonas has a daily average of 72 regular flights between landings and takeoffs. The terminal connects Manaus to 11 national and four international destinations: Miami, Barcelona, ​​Buenos Aires and Panama. To meet the demand, the terminal operates 24h, with capacity to serve 13.5 million passengers.  A \ W
Obras no Aeroporto de Manaus
Pista do Aeroporto de Manaus inicia obras de recuperação. Alterações na programação de voo
As interdições dos vôos ocorrem de segunda a sábado, entre 04: 55-10: 55 hs, de modo que várias companhias aéreas modificaram sua programação de serviços aéreos.
O Aeroporto Internacional de Manaus iniciou obras para recuperar a pista do Aeroporto Internacional Eduardo Gomes. Interdições em horários específicos ocorrem de segunda a sábado, até que em 20 de dezembro de 2018. Todos os vôos programados para esse intervalo foram realocados e ajustado para outros tempos, de acordo com recomendações do operador do aeroporto Infraero, que informou que o trabalho no faixa são preventivas, para «manter os níveis de segurança das operações no terminal». O investimento do trabalho é de cerca de US$ 27 milhões.
Aeroporto de Manaus
Atualmente, oito companhias aéreas operam em Eduardo Gomes: a Latam Brasil Airlines, a Gol Linhas Aéreas, a Azul Linhas Aéreas, a Map Linhas Aéreas e a Total Líneas Aéreas. As companhias aéreas internacionais são: American Airlines, Avior Airlines e Copa Airlines.
O aeroporto da capital amazonense tem uma média diária de 72 vôos regulares entre pousos e decolagens. O terminal liga Manaus a 11 destinos nacionais e quatro internacionais: Miami, Barcelona, ​​Buenos Aires e Panamá. Para atender a demanda, o terminal opera 24h, com capacidade para atender 13,5 milhões de passageiros. A \ W
Ξ A I R G W A Y S Ξ
SOURCE:  Airgways.com
DBk:Infraero.gov.br / Oglobo.com / Aeroin.net / Wikimedia.org
AW-POST: 201808061206AR
A\W   A I R G W A Y S ®