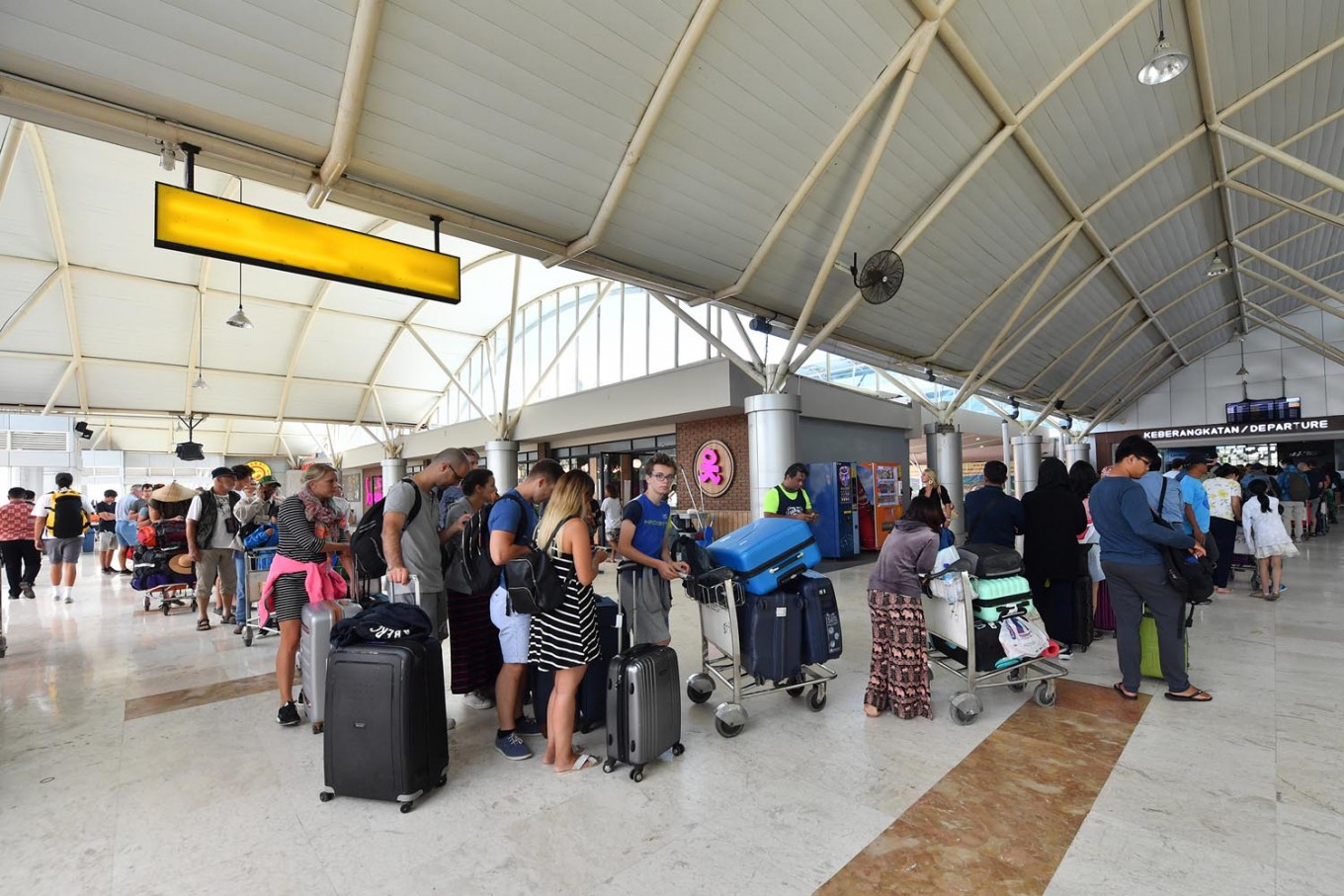 AW | 2018 08 06 11:16 | AVIATION SAFETY
La Isla de Lombok ha sido devastado por un segundo gran terremoto en una semana y al menos 91 han fallecido. Seguridad para turistas y vuelos de las aerolíneas
El poderoso sismo ocurrió a una profundidad relativamente baja de 10,5 kilómetros frente a la costa norte de Lombok, a poco más de una milla de la aldea de Loloan, la noche del domingo a la hora local, dijo el USGS. Fue el segundo terremoto mortal en llegar a la isla en una semana. Bali y Lombok en Indonesia se han visto sacudidos por un terremoto de magnitud 7.0. Al menos 91 personas murieron como consecuencia del terremoto del domingo, confirmaron funcionarios de la agencia de desastres de Indonesia. Más de 200 personas han resultado heridas. La mayoría de las víctimas son resultado de la caída de escombros. Veinte mil personas ahora están en alojamientos temporales.
El terremoto golpeó el popular destino turístico de Lombok a las 06:47 am, hora local (2347 BST) y su epicentro fue a 50 km al noreste de la ciudad de Mataram, que tiene una población de 319.000. El temblor, clasificado como un fuerte terremoto en la escala de Richter, fue tan poderoso que lo sintieron las personas en la vecina isla de Bali, según la Agencia Nacional de Mitigación de Desastres (BNPB).
Tráfico aéreo en Isla Bali
Las agencia de seguridad de Indonesia ha aconsejado a todos los viajeros evitar el ingreso a la zona de exclusión afectada por el terremoto Bali y dentro de los siete kilómetros del cráter Mount Sinabung en Kalo Regency, Sumatra del Norte debido a la actividad volcánica en curso. Se emitió una alerta de tsunami por el terremoto, que ocurrió a una profundidad de 10 km (6.2 millas), dijo la Agencia Meteorológica de Indonesia. Las autoridades han instado a las personas a alejarse del océano.
Los funcionarios dijeron que los aeropuertos en Bali y Lombok estaban funcionando normalmente a pesar de daños menores. Se están realizando más vuelos para llevar a los turistas a la seguridad hogareña lo más rápido posible. Cerca de 1.000 turistas están siendo evacuados de las cercanas islas Gili y se están realizando más vuelos para llevarlos a la seguridad hogareña lo más rápido posible.
«Ambos aeropuertos funcionan normalmente, ahora estamos limpiando los aeropuertos. Algunas partes del techo se han caído, pero nadie está herido», dijo Handy Heryudhitiawan, secretario corporativo del operador Angkasa Pura 1, que opera ambos aeropuertos.
«Inmediatamente repararemos el daño dentro de las 24 horas. Hemos revisado las instalaciones de vuelo y nos hemos asegurado de que todo sea seguro para que las operaciones de vuelo se reanuden», dijo un alto funcionario del aeropuerto Gusti Ngurah Rai de Bali.
El aeropuerto internacional de Denpasar está abierto y las operaciones siguen siendo normales monitoreando la situación de cerca, donde la programación de los vuelos se realizan conb total normalidad, informó un vocero del aeropuerto de Bali.
Las aerolíneas
AirAsia dijo en un comunicado: «Los vuelos hacia y desde Lombok y Bali están funcionando normalmente después del terremoto». Jetstar dijo que sus vuelos también estaban operando a un horario normal. Se agregaron vuelos adicionales de Lombok al cronograma para ayudar a los turistas a irse, según la aerolínea Garuda Indonesia.
Se han producido más de 130 réplicas desde el terremoto del domingo por la mañana y también se emitió una advertencia de tsunami, aunque se levantó después de unas horas. Los terremotos son una ocurrencia común en Indonesia, con la nación situada en el punto de acceso sísmico activo «Anillo de Fuego» que rodea el Océano Pacífic.  
Earthquake in Bali, Indonesia
The island of Lombok has been devastated by a second major earthquake in a week and at least 91 have died. Security for tourists and airline flights
The powerful earthquake occurred at a relatively low depth of 10.5 kilometers off the northern coast of Lombok, just over a mile from the village of Loloan, Sunday night to local time, the USGS said. It was the second deadly earthquake to arrive on the island in a week. Bali and Lombok in Indonesia have been shaken by a magnitude 7.0 earthquake. At least 91 people died as a result of Sunday's earthquake, officials with the Indonesian disaster agency confirmed. More than 200 people have been injured. Most of the victims are the result of falling debris. Twenty thousand people are now in temporary shelters.
The earthquake hit the popular tourist destination of Lombok at 06:47 a.m., local time (2347 BST) and its epicenter was 50 km northeast of the city of Mataram, which has a population of 319,000. The earthquake, classified as a strong earthquake on the Richter scale, was so powerful that people on the neighboring island of Bali felt it, according to the National Disaster Mitigation Agency (BNPB).
Air traffic on Bali Island
The Indonesian security agency has advised all travelers to avoid entering the exclusion zone affected by the Bali earthquake and within seven kilometers of the Mount Sinabung crater in Kalo Regency, North Sumatra due to ongoing volcanic activity. A tsunami warning was issued for the earthquake, which occurred at a depth of 10 km (6.2 miles), the Indonesian Meteorological Agency said. The authorities have urged people to move away from the ocean.
BALI NGURAH RAI DENPASAR AIRPORT
Officials said the airports in Bali and Lombok were operating normally despite minor damage. More flights are being carried out to take tourists to home security as quickly as possible. About 1,000 tourists are being evacuated from the nearby Gili Islands and more flights are being carried out to take them home safely as quickly as possible.
«Both airports are functioning normally, now we are cleaning airports, some parts of the roof have fallen, but no one is injured», said Handy Heryudhitiawan, corporate secretary of operator Angkasa Pura 1, which operates both airports.
«We will immediately repair the damage within 24 hours. We have reviewed the flight facilities and we have made sure everything is safe for the flight operations to resume», said a senior official at the Gusti Ngurah Rai airport in Bali.
The Denpasar international airport is open and operations are still normal monitoring the situation closely, where the programming of the flights are carried out with total normality, said a spokesman for the Bali airport.
The airlines
AirAsia said in a statement: «Flights to and from Lombok and Bali are functioning normally after the earthquake». Jetstar said its flights were also operating at a normal schedule. Additional flights from Lombok were added to the schedule to help tourists leave, according to the airline Garuda Indonesia.
There have been more than 130 aftershocks since the earthquake on Sunday morning and a tsunami warning was also issued, although it was lifted after a few hours. Earthquakes are a common occurrence in Indonesia, with the nation located at the active seismic access point «Ring of Fire» surrounding the Pacific Ocean. A \ W
Gempa bumi di Bali, Indonesia
Pulau Lombok telah hancur oleh gempa besar kedua dalam seminggu dan setidaknya 91 telah meninggal. Keamanan untuk wisatawan dan penerbangan penerbangan
Gempa kuat terjadi pada kedalaman yang relatif rendah 10,5 kilometer di lepas pantai utara Lombok, hanya lebih dari satu mil dari desa Loloan, Minggu malam ke waktu setempat, kata USGS. Itu adalah gempa mematikan kedua yang tiba di pulau itu dalam seminggu. Bali dan Lombok di Indonesia telah terguncang oleh gempa bumi berkekuatan 7,0. Setidaknya 91 orang tewas akibat gempa hari Minggu, pejabat dengan lembaga penanggulangan bencana Indonesia dikonfirmasi. Lebih dari 200 orang terluka. Sebagian besar korban adalah hasil dari puing-puing yang jatuh. Dua puluh ribu orang kini berada di tempat penampungan sementara.
Gempa bumi melanda tujuan wisata populer Lombok pada 06:47 pagi, waktu setempat (2347 BST) dan pusat gempa adalah 50 km timur laut kota Mataram, yang memiliki populasi 319.000. Gempa bumi, diklasifikasikan sebagai gempa kuat pada skala Richter, sangat kuat sehingga orang-orang di pulau tetangga Bali merasakannya, menurut Badan Nasional Penanggulangan Bencana (BNPB).
El pase de diapositivas requiere JavaScript.
Lalu lintas udara di Pulau Bali
Badan keamanan Indonesia telah menyarankan semua wisatawan untuk menghindari memasuki zona pengecualian yang terkena dampak gempa Bali dan dalam tujuh kilometer dari kawah Gunung Sinabung di Kabupaten Kalo, Sumatera Utara karena aktivitas gunung berapi yang sedang berlangsung. Peringatan tsunami dikeluarkan untuk gempa, yang terjadi pada kedalaman 10 km (6.2 mil), kata Badan Meteorologi Indonesia. Pihak berwenang telah mendesak orang untuk menjauh dari laut.
Para pejabat mengatakan bandara di Bali dan Lombok beroperasi secara normal meski kerusakan kecil. Lebih banyak penerbangan sedang dilakukan untuk membawa wisatawan ke keamanan rumah secepat mungkin. Sekitar 1.000 wisatawan sedang dievakuasi dari Kepulauan Gili terdekat dan lebih banyak penerbangan sedang dilakukan untuk membawa mereka pulang dengan selamat secepat mungkin.
«Kedua bandara berfungsi normal, sekarang kami membersihkan bandara, beberapa bagian atap telah jatuh, tetapi tidak ada yang terluka», kata Handy Heryudhitiawan, sekretaris perusahaan operator Angkasa Pura 1, yang mengoperasikan kedua bandara tersebut.
«Kami akan segera memperbaiki kerusakan dalam 24 jam. Kami telah meninjau fasilitas penerbangan dan kami telah memastikan semuanya aman untuk operasi penerbangan untuk melanjutkan», kata seorang pejabat senior di bandara Gusti Ngurah Rai di Bali.
Bandara internasional Denpasar buka dan operasi masih normal memantau situasi dengan seksama, di mana pemrograman penerbangan dilakukan dengan total normalitas, kata juru bicara bandara Bali.
Maskapai penerbangan
AirAsia mengatakan dalam sebuah pernyataan: «Penerbangan ke dan dari Lombok dan Bali berfungsi normal setelah gempa bumi.» Jetstar mengatakan penerbangannya juga beroperasi pada jadwal normal. Penerbangan tambahan dari Lombok ditambahkan ke jadwal untuk membantu wisatawan pergi, menurut maskapai Garuda Indonesia.
Ada lebih dari 130 gempa susulan sejak gempa bumi pada Minggu pagi dan peringatan tsunami juga dikeluarkan, meskipun dicabut setelah beberapa jam. Gempa bumi adalah kejadian umum di Indonesia, dengan negara yang terletak di titik akses seismik aktif «Ring of Fire» yang mengelilingi Samudra Pasifik. A \ W
Ξ A I R G W A Y S Ξ
SOURCE:  Airgways.com
DBk: Usgs.gov / Bnpb.go.id / Express.co.uk / Jakartapost.com / Reuters.com / Epa.eu / 4RightWing.com / Bali-indonesia.com 
AW-POST: 201808061116AR
A\W   A I R G W A Y S ®