AW | 2018 08 16 15:08 | INDUSTRY
Airbus ha anunciado el rollout del nuevo avión corporativo ACJ320NEO
Airbus Group ha efectuado el rollout del primer ACJ320NEO, una nueva variante de la línea de la familia A320's, incorporando una nueva era en los aviones corporativos de Airbus.
El primer ACJ320NEO se ha ensamblado en el Programa ACJ, equipado con motores CFM International LEAP-1A con una librea ACJ, en preparación para un primer vuelo en las próximas semanas. Al igual que las versiones de los aviones comerciales de los que se deriva, la familia ACJ320NEO presenta motores de última generación y Sharklets, ahorrando alrededor del 15% en combustible y dando un salto adelante en el rango intercontinental. Con las cabinas más amplias y más altas de cualquier avión comercial grande, la familia ACJ320NEO ofrece costos de operación similares y un mejor valor residual, al mismo tiempo que tiene el mismo tamaño. El ACJ320NEO puede transportar a 25 pasajeros con una autonomía de 6.000 nm/ 11.100 km o el equivalente a unas 13 hora de vuelo.
El nuevo avión corporativo podra realizar rutas non-stop como Londres-Beijing o Ciudad del Cabo o Moscú-Los Ángeles, mientras que el ACJ319NEO puede volar ocho pasajeros a 6.700 nm /12.500 km o lo relativo a 15 horas de vuelo.
Cartera de pedidos
Las órdenes para la familia ACJ320NEO contabilizan nueve aviones, que comprenden ACJ319NEO (3) y ACJ320NEO (6). Después de la entrega a Acrópolis Aviation del Reino Unido en el último trimestre de este año, la aeronave ingresará al equipamiento de AMAC en Basilea, Suiza, donde se instalará una cabina diseñada por Alberto Pinto y se pintará con los colores del cliente.
Airbus Corporate Jets (ACJ) crea las experiencias de vuelo más gratificantes del mundo para los clientes proporcionándoles experiencia única, el mejor servicio, la mejor tecnología y los más altos estándares de cuidado en la aviación corporativa. Todos los jets corporativos de Airbus provienen de la familia de aviones más moderna del mercado, derivada de los exitosos aviones comerciales de Airbus.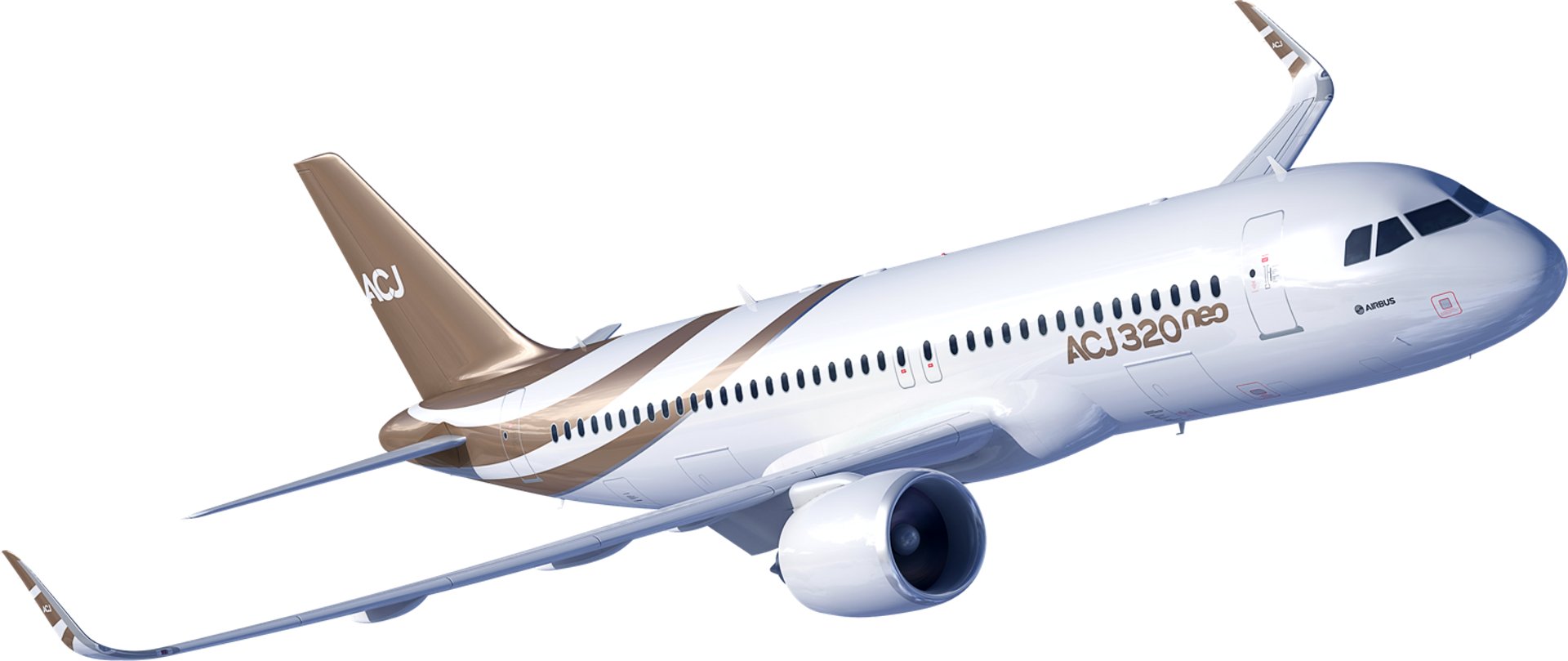 Roll-out 1er Airbus ACJ320NEO
Airbus has announced the rollout of the new corporate aircraft ACJ320NEO
Airbus Group has rolled out the first ACJ320NEO, a new variant of the A320 family line, incorporating a new era in Airbus corporate aircraft.
The first ACJ320NEO has been assembled in the ACJ Program, equipped with CFM International LEAP-1A engines with an ACJ livery, in preparation for a first flight in the coming weeks. Like the versions of the commercial aircraft from which it is derived, the ACJ320NEO family presents latest generation engines and Sharklets, saving around 15% in fuel and taking a leap forward in the intercontinental range. With the widest and highest cabins of any large commercial aircraft, the ACJ320NEO family offers similar operating costs and a better residual value, while having the same size. The ACJ320NEO can carry 25 passengers with a range of 6,000 nm / 11,100 km or the equivalent of about 13 hours of flight.
The new corporate aircraft will be able to carry out non-stop routes such as London-Beijing or Cape Town or Moscow-Los Angeles, while the ACJ319NEO can fly eight passengers at 6,700 nm / 12,500 km or for a 15-hour flight.
NEW AIRBUS CORPORATE AIRCRAFT ACJ320NEO
Order-book
Orders for the ACJ320NEO family account for nine aircraft, comprising ACJ319NEO (3) and ACJ320NEO (6). After the delivery to Acropolis Aviation of the United Kingdom in the last quarter of this year, the aircraft will enter the AMAC equipment in Basel, Switzerland, where a cabin designed by Alberto Pinto will be installed and painted with the customer's colors.
Airbus Corporate Jets (ACJ) creates the most rewarding flight experiences in the world for customers by providing them with unique experience, the best service, the best technology and the highest standards of care in corporate aviation. All Airbus corporate jets come from the most modern aircraft family on the market, derived from Airbus' successful commercial aircraft. A \ W
Ξ A I R G W A Y S Ξ
SOURCE:  Airgways.com
DBk: Airbus.com / Airgways.com
AW-POST: 201808161508AR
A\W   A I R G W A Y S ®