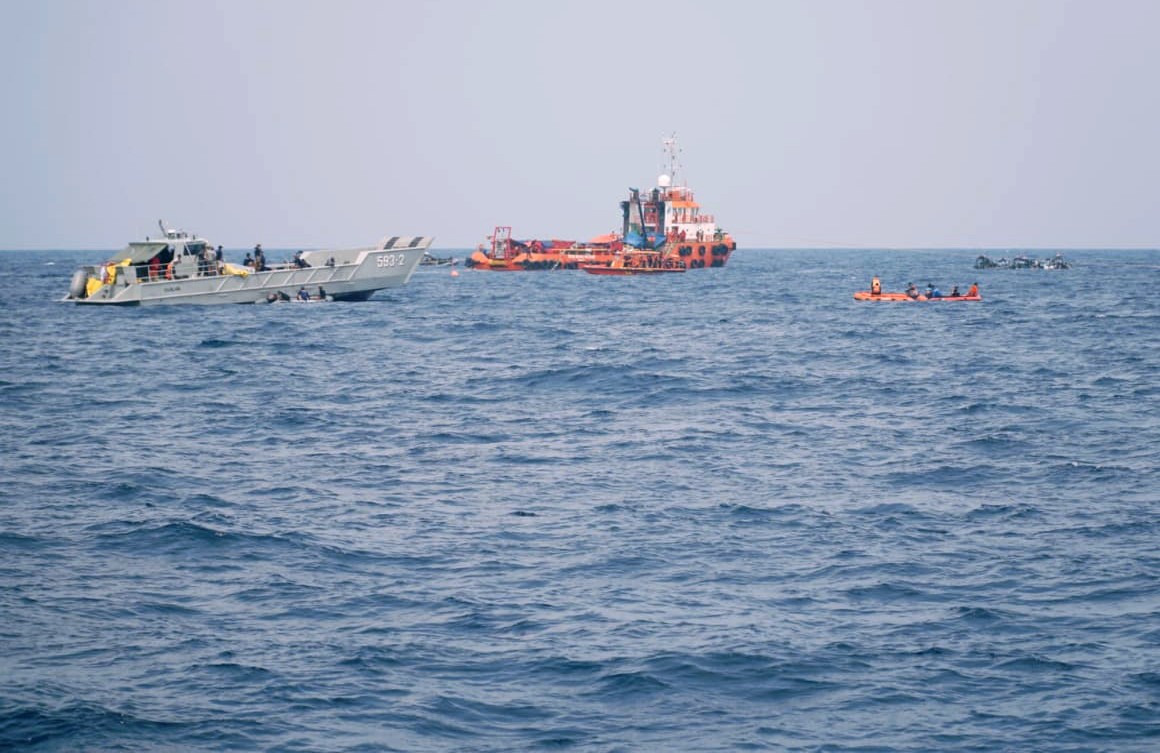 AW | 2018 11 02 23:20 | AIR INVESTIGATION / AVIATION SAFETY
Nuevos detalles sobre los problemas en el avión de Lion Air
El fuselaje del Boeing 737-8 MAX no aparece tras el quinto día de búsqueda en el Mar de Java. En medio de la consternación por el accidente del Boeing 737-8 MAX de Lion Air, nuevos detalles sobre el penúltimo vuelo realizado por el moderno avión accidentado plantearon más dudas sobre la afirmación de la aerolínea indonesia de haber solucionado los problemas técnicos. Cientos de personas seguían rastreando el Mar de Java por quinto día el Viernes, 2 Noviembre 2018 en busca de víctimas y del fuselaje de la aeronave.
Funcionarios de la Dirección Nacional de Seguridad del Transporte (NTSB) de Estados Unidos y el Comité Nacional de Seguridad del Transporte (KNKT) de Indonesia revisan los restos del vuelo JT-610 de Lion Air, durante su investigación del accidente aéreo, en el puerto Tanjung Priok, Jakarta, Indonesia, el 1 Noviembre 2018. El KNKT de Indonesia ha mantenido una reunión a puerta cerrada con los representantes del fabricante de aviones, Boeing, y funcionarios de la NTSB de Estados Unidos en relación con el accidente del Boeing 737-8 MAX de Lion Air que se estrelló el Lunes, 29 Octubre 2018 en la República de Indonesia.
El Boeing 737-8 MAX de Lion Air, que tenía apenas dos meses de antigüedad, cayó al Mar de Java el Lunes por la mañana minutos después de partir de la capital indonesia, Jakarta, donde se reportan que las 189 personas que iban a bordo fallecieron.
El piloto de un vuelo realizado por el aparato el Domingo, el último antes del siniestro, pidió permiso para regresar al Aeropuerto de Bali poco después de despegar desde allí, pero luego reportó que el problema había sido solucionado, dijo Herson, Jefe de la Autoridad Aeroportuaria de Bali-Nusa Tenggara. Varios pasajeros se refirieron al fallo como una aterradora pérdida de altitud.
Lion Air explicó que el problema no especificado se solventó luego del vuelo del domingo, pero en el del lunes los pilotos también emitieron una petición de "regreso a base" (RTB) poco tiempo de despegar. "Poco después de solicitar RTB, el piloto contactó con la torre de control de nuevo para informar que el avión funcionaba con normalidad y que no regresaría" al aeropuerto Ngurah Rai de Bali, explicó Herson, que utiliza solo un nombre. "El capitán dijo que el problema se solucionó y decidió continuar el viaje a Yakarta".
Encuentran caja negra
Datos de cibersitios de seguimiento de vuelos mostraron que ambos vuelos tuvieron velocidades y altitudes erráticas tras el despegue, aunque estos datos deben contrastarse con las llamadas cajas negras del avión que registran los parámetros técnicos del viaje y las voces en cabina. Los investigadores mostraron uno de los dispositivos en una conferencia de prensa el jueves en la noche, que más tarde se confirmó que era el que registró los datos del vuelo, y dijeron que intentarían acceder a la información de inmediato para comenzar el análisis. Pero los avances se han visto obstaculizados porque la caja negra no está intacta y necesita un manejo especial para garantizar que puedan recuperarse los datos, un proceso que continúa, según el Comité Nacional de Seguridad en el Transporte. La unidad de memoria de supervivencia se abrió y se lavó y algunos de sus cables deberán reemplazarse, explicó el organismo.
"En principio, (según) todos los datos que hemos obtenido, incluyendo los datos de vuelo y de navegación aérea y también de otras fuentes, encontramos que efectivamente ha habido problemas. Probaremos más problemas técnicos con los datos registrados en la caja negra", señaló Haryo Satmiko, Vicepresidente del Comité.
Más búsquedas
Los investigadores ya contactaron con el piloto que manejó el avión en el vuelo del domingo, dijo Satmiko. Los problemas de entonces fueron "tal y como se contó en los medios de comunicación y en redes sociales", añadió refiriéndose a los relatos de los pasajeros. Una de ellos, Diah Mardani, contó en un programa de televisión de actualidad a principios de semana que tras despegar "el avión cayó repentinamente, después ascendió y volvió a caer más fuerte y se sacudió".
Un equipo de la Junta Nacional de Seguridad en el Transporte de Estados Unidos (NTSB), en la que hay expertos de Boeing, se unió a la búsqueda en Indonesia. Los investigadores indonesios también viajarán a Estados Unidos para reunirse con los diseñadores del avión de nueva generación de Boeing. Cientos de operarios y docenas de embarcaciones, incluyendo barcos especializados con sonar y otros equipos de detección, participaban el viernes en la enorme operación de búsqueda en aguas al noreste de Jakarta. Expertos médicos de la policía han recibido más de 60 bolsas con restos humanos para su identificación desde el accidente, pero hasta el jueves solo se había identificado y enterrado a una. Familiares del pasaje entregaron muestras de ADN para agilizar el proceso.
Hallan tren de aterrizaje
Los equipos de búsqueda encontraron hoy Viernes, 2 Noviembre 2018 el tren de aterrizaje del avión indonesio de Lion Air que se estrelló el lunes en el mar frente a la costa occidental de Indonesia. El jefe de la Agencia Nacional de Búsqueda y Rescate de Indonesia (Basarnas), Muhammad Syaugi, dijo esta noche que el tren de aterrizaje, varias "víctimas" y otras grandes piezas del avión siniestrado, incluyendo algunas partes del fuselaje, fueron encontrados por el vehículo submarino operado a control remoto en el fondo del mar. "Se han visto varias víctimas. Había también un tren de aterrizaje. Se observaron dos neumáticos y un eje, así como una pieza del borde del fuselaje del avión", dijo en conferencia de prensa.
Unos 50 buzos participan en la misión de búsqueda en el fondo del mar, a unos 500 metros al noroeste del lugar donde el piloto del vuelo JT-610 se comunicó por última vez con el control de tráfico aéreo. 
Vuelo JT-610 de Lion Air

El vuelo JT610 de Lion Air, un Boeing 737-8 MAX, se estrelló en el Mar de Java poco después del despegue del Aeropuerto Internacional de Jakarta-Soekarno-Hatta, Indonesia. El vuelo despegó de la pista 25L en el Aeropuerto de Soekarno-Hatta a las 06:21 horas, hora local. El tiempo estuvo bien con vientos ligeros, nubes dispersas a 2000 pies y una visibilidad de 8000 m.

Los datos ADS-B del vuelo, capturados por Flightradar24 y Flightaware, muestran valores erráticos. El avión hizo un giro de la mano izquierda que subía después del despegue. Poco después, la tripulación de vuelo se comunicó por radio con el controlador, solicitando un regreso al aeropuerto.

Después de que el vuelo pasó la ADS-B informó una altitud de 2100 pies, los puntos de datos muestran brevemente una altitud más baja de alrededor de 1475 pies. Los datos de altitud enviados a través de ADS-B continúan mostrando un patrón errático, variando aproximadamente entre 4500 y 5350 pies. Los valores luego disminuyen rápidamente hasta que se pierde el contacto a las 06:32 horas. El avión impactó el mar a unos 15 km al norte de Jakarta.

Según los informes de los medios indonesios, se teme que todas las 189 personas a bordo mueran. El personal de búsqueda y rescate encontró escombros y espera encontrar los restos a 30-35 m por debajo de la superficie del agua.

El vuelo anterior del avión del accidente, JT043 de Denpasar, mostró valores erráticos similares en altitud y velocidad inmediatamente después del despegue. Después de 8 minutos el ADS-B reportó valores estabilizados. Un ítem de registro técnico no verificado para ese vuelo, enviado a ASN y la BBC, comentó "IAS y ALT no están de acuerdo después de despegar". Si bien esta supuesta nota de registro técnico no se ha confirmado, Lion Air confirmó que la aeronave tenía un "problema técnico" en el vuelo anterior, "que se resolvió según el procedimiento", según la aerolínea. A\W

Accident JT-610 Lion Air
New details about the problems in the Lion Air plane
The fuselage of the Boeing 737-8 MAX does not appear after the fifth day of search in the Java Sea. Amid consternation over the accident of the Boeing 737-8 MAX of Lion Air, new details about the penultimate flight made by the modern plane crashed raised further doubts about the claim of the Indonesian airline to have solved the technical problems. Hundreds of people continued to track the Java Sea for the fifth day on Friday, November 2, 2018 in search of victims and the fuselage of the aircraft.
Officials from the National Transportation Safety Administration (NTSB) of the United States and the National Transport Security Committee (KNKT) of Indonesia review the remains of Lion Air's JT-610 flight, during its investigation of the plane crash, at the port Tanjung Priok, Jakarta, Indonesia, November 1, 2018. The KNKT of Indonesia has held a closed-door meeting with the representatives of the aircraft manufacturer, Boeing, and officials of the NTSB of the United States in relation to the accident of the Boeing 737- 8 MAX of Lion Air that crashed on Monday, 29 October 2018 in the Republic of Indonesia.
The Lion Air Boeing 737-8 MAX, which was just two months old, fell into the Java Sea on Monday morning minutes after leaving the Indonesian capital, Jakarta, where it is reported that the 189 people on board they died
The pilot of a flight made by the device on Sunday, the last before the incident, asked permission to return to Bali Airport shortly after taking off from there, but then reported that the problem had been solved, said Herson, Head of the Authority Airport of Bali-Nusa Tenggara. Several passengers referred to the failure as a terrifying loss of altitude.
Lion Air explained that the unspecified problem was solved after the flight on Sunday, but on Monday the pilots also issued a "return to base" (RTB) request shortly after takeoff. "Shortly after requesting RTB, the pilot contacted the control tower again to report that the plane was operating normally and would not return" to the Ngurah Rai airport in Bali, explained Herson, who uses only one name. "The captain said that the problem was solved and decided to continue the trip to Jakarta".
They find black box
Data from flight monitoring sites showed that both flights had erratic speeds and altitudes after takeoff, although these data should be contrasted with the so-called black boxes of the aircraft that record the technical parameters of the trip and the voices in the cabin. The researchers showed one of the devices at a press conference on Thursday night, which was later confirmed to be the one that recorded the flight data, and said they would try to access the information immediately to begin the analysis. But advances have been hampered because the black box is not intact and needs special handling to ensure that data can be recovered, a process that continues, according to the National Committee on Transportation Safety. The survival memory unit was opened and washed and some of its cables must be replaced, the agency explained. "In principle, (according to) all the data we have obtained, including the flight and air navigation data and also from other sources, we found that there have been problems, we will prove more technical problems with the data recorded in the black box", noted Haryo Satmiko, Vice Chair of the Committee.
More searches
Investigators have already contacted the pilot who drove the plane on Sunday's flight, Satmiko said. The problems then were "as told in the media and social networks", he added referring to the stories of the passengers. One of them, Diah Mardani, told a news program earlier this week that after taking off "the plane suddenly fell, then rose and fell again stronger and shook".
A team from the National Transportation Safety Board of the United States (NTSB), in which there are experts from Boeing, joined the search in Indonesia. Indonesian researchers will also travel to the United States to meet with the designers of Boeing's new generation aircraft. Hundreds of operatives and dozens of vessels, including specialized ships with sonar and other detection equipment, participated in Friday's huge water search operation northeast of Jakarta. Medical experts of the police have received more than 60 bags with human remains for their identification since the accident, but until Thursday only one had been identified and buried. Family members of the passage delivered DNA samples to streamline the process.
They find landing gear
The search teams found Friday, November 2, 2018 the landing gear of the Indonesian Lion Air plane that crashed on Monday off the western coast of Indonesia. The head of the Indonesian National Search and Rescue Agency (Basarnas), Muhammad Syaugi, said tonight that the landing gear, several "victims" and other large parts of the plane crashed, including some parts of the fuselage, were found by the underwater vehicle operated remotely on the seabed. "Several victims have been seen, there was also a landing gear, two tires and an axle were observed, as well as a part of the edge of the fuselage of the plane", he said at a press conference.
About 50 divers participate in the search mission at the bottom of the sea, about 500 meters northwest of the place where the flight pilot JT-610 communicated for the last time with air traffic control. A \ W
JT-610 flight by Lion Air

Lion Air's JT610 flight, a Boeing 737-8 MAX, crashed into the Java Sea shortly after takeoff from the Jakarta-Soekarno-Hatta International Airport, Indonesia. The flight took off from runway 25L at Soekarno-Hatta Airport at 06:21 local time. The weather was fine with light winds, scattered clouds at 2000 feet and a visibility of 8000 m.

The flight's ADS-B data, captured by Flightradar24 and Flightaware, show erratic values. The plane made a left hand turn that went up after takeoff. Shortly after, the flight crew communicated by radio with the controller, requesting a return to the airport.

After the flight passed the ADS-B reported an altitude of 2100 feet, the data points briefly show a lower altitude of around 1475 feet. Altitude data sent through ADS-B continue to show an erratic pattern, varying approximately between 4500 and 5350 feet. The values ​​then decrease rapidly until contact is lost at 06:32 hours. The plane hit the sea about 15 km north of Jakarta.

According to Indonesian media reports, it is feared that all 189 people on board will die. The search and rescue staff found debris and expects to find the remains 30-35 m below the surface of the water.

The previous flight of the accident plane, JT043 of Denpasar, showed similar erratic values ​​in altitude and speed immediately after takeoff. After 8 minutes the ADS-B reported stabilized values. An item of technical record not verified for that flight, sent to ASN and the BBC, commented "IAS and ALT do not agree after take off". Although this alleged technical registration note has not been confirmed, Lion Air confirmed that the aircraft had a "technical problem" on the previous flight, "which was resolved according to the procedure," according to the airline. A \ W
Ξ A I R G W A Y S Ξ
SOURCE: Airgways.com
DBk: Aviation-safety.net / Texarkanagazette.com / Cnn.com / Gettyimages.com / Thejakartapost.com
AW-POST: 201811022320AR
A\W   A I R G W A Y S ®