AW | 2018 11 04 16:38 | AIRLINES MARKET
Las aerolíneas planean nuevas estrategias después del boom de los viajes
En la era de la «Revolución de los Aviones» implementada por el Gobierno de Argentina, las aerolíneas enfrentan desafíos de competitividad y mejoras de las tarifas aéreas, sumado al retroceso que han experimentado algunas líneas aéreas por el efecto de la devaluación monetaria de Argentina. Algunas aerolíneas se achican para sobrevivir y otras aumentan sus inversiones y capacidades estratégicas para innovar.
La turbulencia que afecta a las principales aerolíneas de la región se extenderá hasta mediados de 2019, según las proyecciones de los tres principales grupos aéreos latinoamericanos. El aumento del petróleo y la inestabilidad cambiaria están afectando a las aerolíneas de la región.
Banda Tarifaria
La introducción de la eliminación parcial de la banda mínima para las tarifas aéreas produjo un efecto positivo en el mercado aeronáutico de Argentina. Durante los primeros meses de 2018, aparecieron nuevos competidores como Flybondi Líneas Aéreas, LASA Líneas Aéreas, Flyest Líneas Aéreas, mientras que otras aerolíneas se reestructuraban para acaparar mercado como es el caso de Andes Líneas Aéreas y la cantidad de vuelos de cabotaje aumentó considerablemente en las diferentes regiones del país.
Atravesando la crisis
La aerolínea Andes Líneas Aéreas fue la primer compañía en beneficiarse de la Revolución de los Aviones, pero también fue la primera en mostrar signos de problemas debido a los efectos de la devaluación monetaria producto de la inflación. La aerolínea anunció que reducirá un 40% su estructura, con un plan de despidos, devolución de aviones Boeing 737-800 y cancelación de rutas. Andes mantendrá cinco aviones operativos de la línea Boeing MD-83 que seguirán volando las rutas desde Salta a Mendoza, Jujuy, Buenos Aires, Córdoba, Iguazú, Bariloche, Puerto Madryn y Comodoro Rivadavia.
En el caso de Latam Airlines Argentina ha reducido sensiblemente su flota de Airbus A320CEO junto con la participación de mercado, aunque con una estructura de respaldo de la matriz Latam Group ha implementado una reducción de tarifas que le permite continuar sobrevolando la crisis.
Copa Airlines, señaló que 2018 se inició con buenos números, pero a mediados de año han tenido altibajos debido al incremento en el precio del combustible. "La situación actual es peor que la crisis de 2015, porque ahora continuamos con una crisis de divisas, sumado al alza del combustible", señaló el Director Ejecutivo de Copa Airlines, Pedro Heilbron. El CEO indicó que la empresa está recortando capacidad en mercados en Brasil y Argentina, pero no significa recortes de rutas.
Aerolíneas Argentinas/Austral Líneas Aéreas ha tenido que estiras las planes para la reducción de los subsidios del Estado, viéndose obligados a prolongar los plazos para alcanzar el déficit cero. Los subsidios estatales que sólo en los primeros meses alcanzaron los US$ 150 millones, se espera que para fin de año hayan superado los US$ 180 millones que recibió en 2017. Es que cerca de un tercio de los costos de las compañías corresponde al combustible, y sólo en Aerolíneas Argentinas, la última suba implicó US$ 10 millones de dólares extra al año. Ante esta situación, la estrategia es aumentar las ventas de pasajes y a las promociones y rebajas se les suman los programas de pasajeros frecuentes y las sociedades con supermercados y estaciones de servicio para la acumulación de millas.
Sobrevolando la crisis
En Sky Airline es un tanto diferente de acuerdo con el Manager Andrea Jans quien señaló: "si bien, la inestabilidad del dólar ha frenado en cierto modo la visita de argentinos a Chile, las rutas resultan muy atractivas para los chilenos, que encuentran un tipo de cambio muy conveniente con respecto a su moneda».
Flybondi Líneas Aéreas es una de las aerolíneas que más logrado un equilibrio como aerolínea en el mercado doméstico de Argentina. La aerolínea low cost inició sus operaciones en Febrero 2018 sufriendo los embates del cuestionado Aeropuerto El Palomar, una serie de incidentes aéreos con las aeronaves Boeing 737-800 y descoordinación de las operaciones por los efectos climáticos, llevaron a cuestionarla bastante. Aún así, pudo sobrellevar la crisis, más que económica fue estructural.
Actualmente posee cinco aeronaves cubriendo las rutas domésticas que unen desde el Aeropuerto El Palomar con Bahía Blanca, Córdoba, Corrientes, Posadas, Santiago del Estero, Mendoza, Neuquén, Tucumán, Salta, Jujuy. Desde Mendoza la low cost ofrece vuelos a Bariloche e Iguazú. Flybondi planifica incorporar cuatro Boeing 737-800 adicionales en 2019 para ampliar rutas en Argentina y la región.
Norwegian Air Argentina que inició sus operaciones el 16 Octubre 2018 en Argentina se ha ajustado al mercado previendo algunas turbulencias como en el caso de Flybondi. El Director de Comunicaciones y Asuntos Públicos de la compañía, Matías Maciel, comentó que «si bien los efectos de la crisis se sienten, por tratarse de una firma que recién se incorpora a las rutas nacionales, trabajan actualmente con una estructura chica de 120 empleados y lejos de reducirla, el plan es aumentarla progresivamente para llegar a los 500 empleados hacia 2019».
Norwegian Air Argentina incorporará cuatro aviones Boeing 737-800 adicionales para fin de año. Norwegian se encuentra certificando su segunda aeronave Boeing 737-800 en Argentina. Espera sumar ocho más el próximo 2019, proyectando una flota de 35 unidades dentro de tres años. Para lograr este objetivo mantendrán los precios de las tarifas con banda reducida. La aerolínea ya vuela desde Buenos Aires a Mendoza y Córdoba y a mediados de Diciembre 2018 incorporará los destinos Iguazú, Neuquén, Salta y Bariloche.
LASA Líneas Aéreas con base en Neuquén, en la Región Patagonia, inició operaciones con aeronaves jet Embraer E145, conectando Neuquén-Santa Rosa. Incorporará en breve las siguientes rutas desde Neuquén hacia Mar del Plata, Bahía Blanca, Bariloche, Chapelco y las rutas regionales al exterior a Temuco y Puerto Mont (Chile).
Flyest Líneas Aéreas inició recientemente vuelos regulares desde Buenos Aires a Santa Fe utilizando aeronaves Bombardier CRJ-200. Esperan incorporar un tercer avión para ampliar las rutas de cabotaje.
Avianca Argentina (Avian Líneas Aéreas) ha incorporado recientemente su primer Airbus A320CEO a su flota y un tercer ATR 72-600 turboprop. La aerolínea tiene siete aeronaves operativas y espera incorporar cuatro Airbus a320CEO para 2019. Avianca cubre las siguientes rutas desde Aeroparque hacia Rosario, Mar del Plata, Santa Fe. Desde Rosario enlaza a Reconquista (Provincia de Santa Fe).
JetSmart Airlines, lejos de reducir su estructura, la apuesta es aumentarla. Recientemente cerraron un acuerdo con SMBC Aviation Capital, para la colocación de cinco aviones A320NEO. Eduardo Ortiz, CEO de JetSmart, señaló: "Nuestra meta es convertirnos en una compañía líder en la industria de aerolíneas ultra bajo costo en América del Sur. Estamos haciendo una inversión considerable en nuestra flota y la adición de estos cinco aviones es una herramienta fundamental para cumplir con nuestro objetivo de alcanzar 100 aviones y 100 millones de pasajeros para 2026". Los pasajes de las primeras rutas, ya a la venta, unirán las ciudades de Santiago de Chile con Mendoza, Santiago con Córdoba y también con Buenos Aires. Desde Córdoba y Mendoza también se podrá llegar a la ciudad trasandina de La Serena.
A esto se suma las inversiones que realizarán con la puesta en funcionamiento de JetSmart Argentina para volar desde Córdoba hacia la región. Iniciará hacia fin de 2018 la ruta Córdoba-Mendoza. La aerolínea planifica incorporar entre tres y siete aeronaves Airbus A320CEO.
Nuevo escenario
El ingreso de nuevos operadores y la incorporación de nuevas rutas en la región incrementarán el tráfico de pasajeros proyectados para Argentina a pesar de la crisis instalada en el país. Según las estadísticas de la ANAC Argentina,la flota de aeronaves con respecto a 2015 ha crecido un 25%, esperando aumentar al doble, en un 50% para el 2019. A pesar de la crisis, las compañías aéreas están involucradas en continuar con el proceso de diversificación del mercado aéreo, que no deja de ser revolucionario y apasionante. 
Challenging the Aircraft Revolution
Airlines plan new strategies after the travel boom
In the era of the «Aircraft Revolution» implemented by the Government of Argentina, airlines face competitiveness challenges and improvements in air fares, added to the retreat that some airlines have experienced due to the effect of the monetary debasement of Argentina. Some airlines shrink to survive and others increase their investments and strategic capabilities to innovate.
The turbulence that affects the main airlines of the region will extend until mid-2019, according to the projections of the three main Latin American air groups. The increase in oil and exchange rate instability are affecting airlines in the region.
Rate Band
The introduction of the partial elimination of the minimum band for air fares had a positive effect on the aeronautical market in Argentina. During the first months of 2018, new competitors appeared, such as Flybondi Líneas Aéreas, LASA Líneas Aéreas, Flyest Líneas Aéreas, while other airlines were restructuring to take over the market, such as the case of Andes Líneas Aéreas, and the number of cabotage flights increased considerably. the different regions of the country.
Traversing the crisis
The airline Andes Líneas Aéreas was the first company to benefit from the Aircraft Revolution, but it was also the first to show signs of problems due to the effects of currency devaluation due to inflation. The airline announced that it will reduce its structure by 40%, with a plan for layoffs, return of Boeing 737-800 aircraft and cancellation of routes. Andes will maintain five operational Boeing MD-83 aircraft that will continue flying routes from Salta to Mendoza, Jujuy, Buenos Aires, Cordoba, Iguazu, Bariloche, Puerto Madryn and Comodoro Rivadavia.
In the case of Latam Airlines Argentina has significantly reduced its Airbus A320CEO fleet along with the market share, although with a support structure of the parent Latam Group has implemented a rate reduction that allows it to continue flying over the crisis.
Copa Airlines, noted that 2018 started with good numbers, but mid-year have had ups and downs due to the increase in the price of fuel. «The current situation is worse than the crisis of 2015, because now we continue with a currency crisis, added to the rise in fuel,» said Copa Airlines Executive Director Pedro Heilbron. The CEO indicated that the company is cutting capacity in markets in Brazil and Argentina, but does not mean cuts in routes.
Aerolíneas Argentinas/Austral Líneas Aéreas has had to stretch the plans for the reduction of state subsidies, being obliged to extend the deadlines to reach zero deficit. The state subsidies that only reached US $ 150 million in the first months are expected to have exceeded US $ 180 million by 2017 at the end of the year. About one third of the companies' costs correspond to fuel , and only in Aerolíneas Argentinas, the last raise involved US $ 10 million extra dollars per year. Faced with this situation, the strategy is to increase ticket sales and promotions and discounts are added frequent passenger programs and partnerships with supermarkets and service stations for the accumulation of miles.
Flying over the crisis
In Sky Airline is somewhat different according to the Manager Andrea Jans who said: «although, the instability of the dollar has stopped in a certain way the visit of Argentines to Chile, the routes are very attractive for Chileans, who find a type very convenient exchange rate with respect to your currency».
Flybondi Líneas Aéreas is one of the airlines that has achieved the most balance as an airline in Argentina's domestic market. The low cost airline began its operations in February 2018 suffering the ravages of the questioned El Palomar Airport, a series of air incidents with the Boeing 737-800 aircraft and lack of coordination of the operations due to the climatic effects, led to a considerable questioning. Even so, it was able to cope with the crisis, more than it was structural.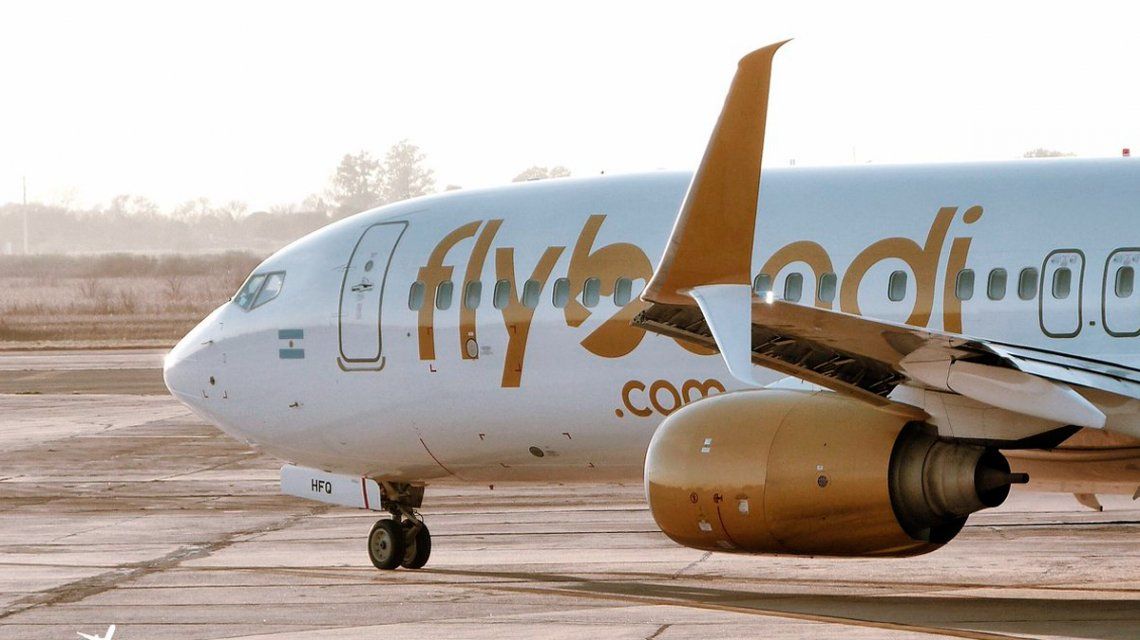 It currently has five aircraft covering the domestic routes linking El Palomar Airport with Bahía Blanca, Córdoba, Corrientes, Posadas, Santiago del Estero, Mendoza, Neuquén, Tucumán, Salta, Jujuy. From Mendoza the low cost offers flights to Bariloche and Iguazú. Flybondi plans to incorporate four additional Boeing 737-800s in 2019 to expand routes in Argentina and the region.
Norwegian Air Argentina, which started operations on October 16, 2018 in Argentina, has adjusted to the market, anticipating some turbulence as in the case of Flybondi. The Director of Communications and Public Affairs of the company, Matías Maciel, commented that «although the effects of the crisis are felt, because it is a firm that has recently joined the national routes, they currently work with a small structure of 120 employees and far from reducing it, the plan is to increase it progressively to reach 500 employees by 2019».
Norwegian Air Argentina will add four additional Boeing 737-800 aircraft by the end of the year. Norwegian is certifying its second Boeing 737-800 aircraft in Argentina. He hopes to add eight more next 2019, projecting a fleet of 35 units within three years. To achieve this goal they will maintain the prices of the reduced band rates. The airline already flies from Buenos Aires to Mendoza and Córdoba and by mid December 2018 will incorporate the destinations Iguazú, Neuquén, Salta and Bariloche.
LASA Líneas Aéreas based in Neuquén, in the Patagonia Region, started operations with Embraer E145 jet aircraft, connecting Neuquén-Santa Rosa. It will soon incorporate the following routes from Neuquén to Mar del Plata, Bahía Blanca, Bariloche, Chapelco and the regional routes abroad to Temuco and Puerto Mont (Chile).
Flyest Líneas Aéreas recently started regular flights from Buenos Aires to Santa Fe using Bombardier CRJ-200 aircraft. They hope to incorporate a third plane to expand the cabotage routes.
Avianca Argentina (Avian Líneas Aéreas) has recently added its first Airbus A320CEO to its fleet and a third ATR 72-600 turboprop. The airline has seven operational aircraft and expects to incorporate four Airbus a320CEO by 2019. Avianca covers the following routes from Aeroparque to Rosario, Mar del Plata, Santa Fe. From Rosario links to Reconquista (Province of Santa Fe).
JetSmart Airlines, far from reducing its structure, the bet is to increase it. They recently closed an agreement with SMBC Aviation Capital, for the placement of five A320NEO aircraft. Eduardo Ortiz, CEO of JetSmart, said: «Our goal is to become a leading company in the ultra low cost airline industry in South America. We are making a considerable investment in our fleet and the addition of these five aircraft is a fundamental tool to achieve our goal of reaching 100 aircraft and 100 million passengers by 2026». The passages of the first routes, already on sale, will unite the cities of Santiago de Chile with Mendoza, Santiago with Córdoba and also with Buenos Aires. From Córdoba and Mendoza you can also reach the trans-Andean city of La Serena.
To this is added the investments that will be made with the launch of JetSmart Argentina to fly from Cordoba to the region. It will start towards the end of 2018 the Córdoba-Mendoza route. The airline plans to incorporate between three and seven Airbus A320CEO aircraft.
New scenario
The entry of new operators and the incorporation of new routes in the region will increase passenger traffic projected for Argentina despite the crisis in the country. According to ANAC Argentina statistics, the aircraft fleet with respect to 2015 has grown by 25%, hoping to increase double, by 50% by 2019. In spite of the crisis, the airlines are involved in continuing with the diversification process of the air market, which is still revolutionary and exciting. A \ W
Ξ A I R G W A Y S Ξ
SOURCE: Airgways.com
DBk: Argentina.gob.ar/Transporte / Airgways.com / Anac.gov.ar / Clarin.com / Flyest.com.ar
AW-POST: 201811041638AR
A\W   A I R G W A Y S ®