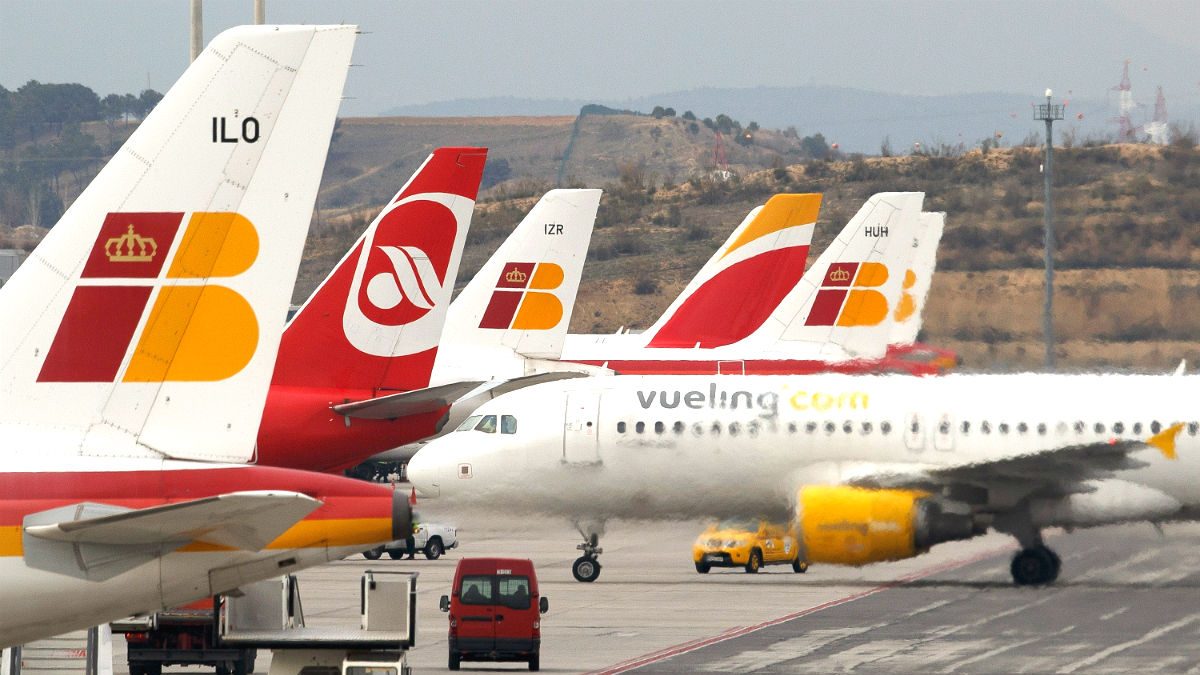 AW | 2018 11 04 17:27 | AIRLINES ROUTES / AIR TRAFFIC
Puentes en el cielo para conectar Madrid-Barcelona
Un 4 Noviembre 1974 se inauguró el Puente Aéreo Madrid-Barcelona por parte de la aerolínea Iberia Líneas Aéreas de España con un vuelo desde Madrid hacia la Barcelona convirtiéndose a partir de entonces en la ruta aérea más transitada de Europa con unos tres millones de pasajeros transportados al año.
La nueva ruta llegó seis meses después de que la Subsecretaría de Aviación Civil de España aprobase el proyecto llamado "Servicios especiales Madrid-Barcelona y viceversa". De esta manera, el puente aéreo se convirtió en todo un símbolo de la aviación en España. Los primeros vuelos, por tanto, se realizaron el 1 Noviembre 1974, pero sería tres días más tarde, el 4 Noviembre 1974, cuando se realizó la inauguración oficial del servicio con 13 vuelos diarios en régimen de puente aéreo, más un número similar que seguían funcionando con reserva cerrada. El Acto de Inauguración abrió el telón para que el Puente Aéreo sea un éxito uniendo los dos centros más importantes de España en tiempo record.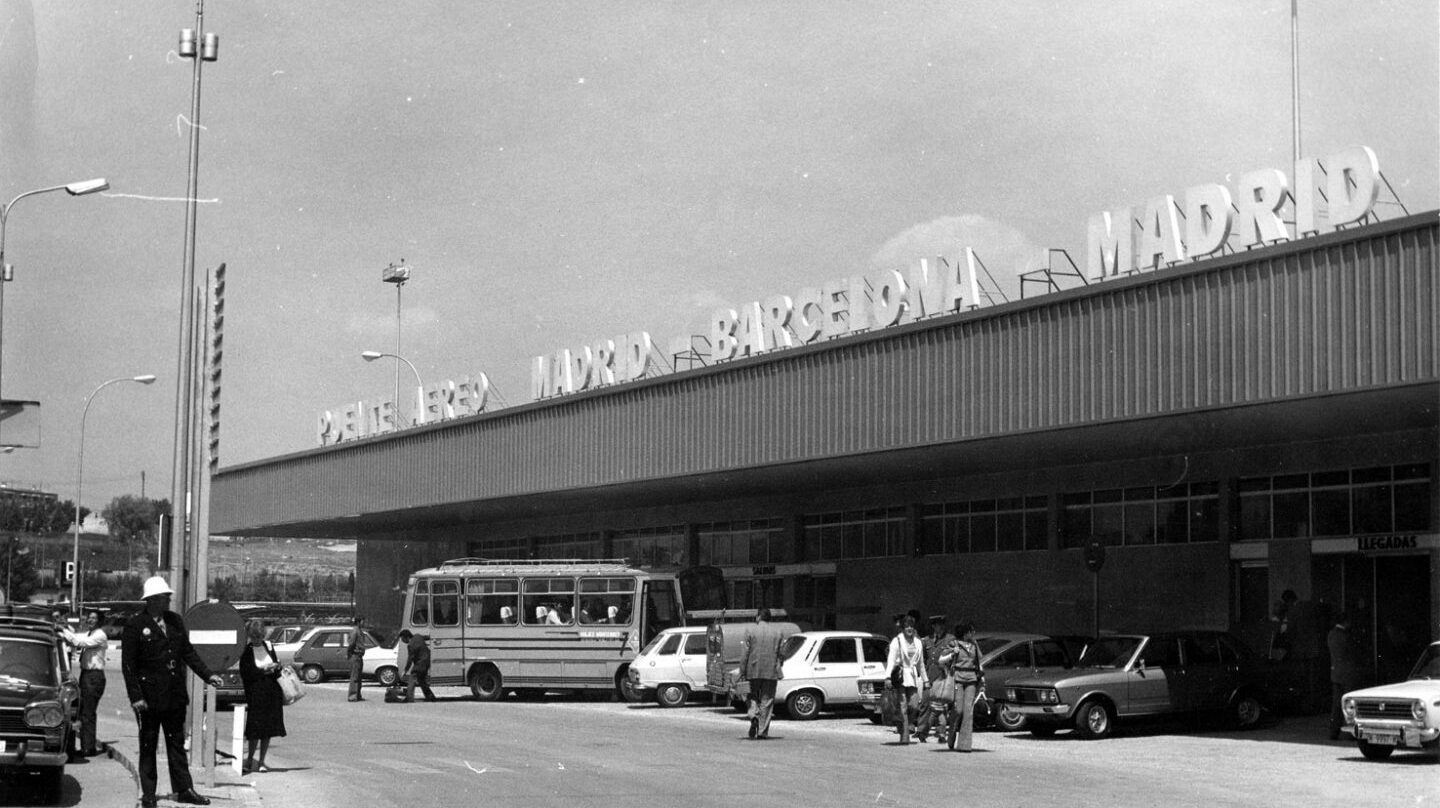 Iberia elimina el sistema de reservas, pero se compromete a que el 90% de los pasajeros salgan en el vuelo que han elegido, y los que no lo consigan lo podrían hacer en el siguiente. La aerolínea también garantiza que el tiempo medio de espera se reducirá al menos un 60% en relación al sistema convencional de reserva de billetes, según se recoge en el acuerdo suscrito con la Subsecretaría de Aviación Civil. El lanzamiento sólo es posible gracias a las facilidades que da el Gobierno. Se construye una nueva terminal en el aeropuerto de Barajas y se amplía la de Barcelona, al tiempo que se crean espacios específicos para la venta in situ de los billetes en ambos aeropuertos y se reconfigura la operativa en ellos para que los aviones del Puente Aéreo se ubiquen cerca de las entradas específicas, para que así los pasajeros accedan directamente y que la gestión de su equipaje sea rápida.
El mayor corredor aéreo del mundo
El nuevo modelo comercial es un éxito casi desde el principio. Sólo en el primer año más de 900.000 pasajeros utilizan el nuevo servicio. Iberia estrenó el Puente Aéreo con 13 vuelos diarios en cada sentido (a los que se sumaban otros cuatro vuelos regulares más con reserva para completar la oferta entre Madrid y Barcelona de la compañía). El crecimiento fue casi continuo durante décadas.
Puentes de inspiración
Las aerolíneas han implementado corredores aéreos para llegar a ciudades punto a punto de manera ágil y dinámica a través del tiempo. Los puentes aéreos más conocidos en el mundo son Nueva York-Washington, Nueva York-Boston, Rio de Janeiro-Sao Paulo, Sao Paulo-Brasilia, Sao Paulo-Campinas, Tokio Narita-Osaka Tokio Haneda-Osaka, Londres-Birmingham, entre muchos otros. La compañia aérea española Iberia introdujo en España un sistema novedoso en el continente europeo, el Puente Aéreo estrenado oficialmente entre Madrid y Barcelona, el pasajero podía comprar su billete hacía Madrid o Barcelona y salir en el primer avión disponible y sin reserva de asiento. La dinámica funcionaba como una lanzadera de vuelos programados que beneficiaba al cliente poder elegir los horarios más convenientes.
Puente deteriorado
Iberia operó en solitario este servicio manteniendo el monopolio de los vuelos nacionales durante casi 20 años hasta 1993, beneficiándose sustancialmente durante los Juegos Olímpicos 1992, donde todos los pasajeros que se movieron en avión entre las capitales de España y Catalunya volaron obligatoriamente con Iberia. Sin embargo, todo eso quedó atrás una vez entró en funcionamiento el servicio de tren de alta velocidad AVE entre Barcelona y Madrid un 20 Febrero 2008, como así también los servicios que prestaba la aerolínea Spanair. Desde esta fecha, la hegemonía del avión en la ruta que conecta las dos ciudades ha sido desplazada hasta el punto de que en estos momentos gran parte de los usuarios se decantan por el AVE como medio de transporte para conectar ambas ciudades.
Reinventando el Puente Aéreo Madrid-Barcelona
Vueling, que forma parte de su mismo holding, IAG, y en el que Iberia tiene una participación directa en su accionariado del 45,85%. Además, Vueling es desde hace años la mayor aerolínea del aeropuerto de Barcelona-El Prat, lo que la convierte de por sí en un aliado perfecto.
Iberia y Vueling compartirán a partir de ahora el negocio y la operativa del Puente Aéreo. Las dos compañías sumarán sus vuelos entre Madrid y Barcelona, con lo que elevarán el número de frecuencias hasta un total de 26 al día (las 16 actuales de Iberia más 10 adicionales de Vueling). La nueva oferta conjunta se convierte en dominadora absoluta de la conexión aérea entre las dos capitales. Desaparecida Spanair, la alianza Iberia-Vueling se encontrará con Air Europa como único rival directo, pero con una oferta apenas testimonial de sólo un par de vuelos diarios.
La apuesta de Iberia-Vueling busca que con más oferta de vuelos cada 15 minutos en hora punta y cada hora el resto del día, con un servicio más flexible y con mejores horarios que el tren sea suficiente para arañar cuota de mercado al AVE. Iberia y Vueling quieren dar vuelta los porcentajes que hoy se reparten avión y tren. En él viajarán los pasajeros de otro experimento comercial, el que busca cuatro décadas después que el Puente Aéreo vuelva a ser un éxito.  
44th Madrid-Barcelona Air Bridge
Bridges in the sky to connect Madrid-Barcelona
On November 4, 1974, the Madrid-Barcelona Air Bridge was inaugurated by the airline Iberia Líneas Aéreas de España with a flight from Madrid to Barcelona, ​​becoming the busiest air route in Europe with about three million passengers transported. year.
The new route arrived six months after the Undersecretary of Civil Aviation of Spain approved the project called "Special Services Madrid-Barcelona and vice versa". In this way, the airlift became a symbol of aviation in Spain. The first flights, therefore, took place on November 1, 1974, but it would be three days later, on November 4, 1974, when the official inauguration of the service was carried out with 13 daily flights in the airlift regime, plus a similar number that followed running with closed reservation. The Inauguration Act opened the curtain for the Puente Aéreo to be a success by uniting the two most important centers in Spain in record time.
Iberia eliminates the reservation system, but undertakes that 90% of passengers leave on the flight they have chosen, and those that do not get it could do so in the next one. The airline also guarantees that the average waiting time will be reduced by at least 60% in relation to the conventional ticket reservation system, as stated in the agreement signed with the Undersecretary of Civil Aviation. The launch is only possible thanks to the facilities provided by the Government. A new terminal is built at the Barajas airport and the one in Barcelona is expanded, while specific spaces are created for the on-site sale of the tickets at both airports and the operation is reconfigured in them so that the airlift aircraft locate near the specific entrances, so that passengers can access directly and that the management of their luggage is quick.
The largest air corridor in the world
The new business model is a success almost from the beginning. Only in the first year more than 900,000 passengers use the new service. Iberia premiered the Puente Aéreo with 13 daily flights in each direction (to which were added four more regular flights with reservations to complete the offer between Madrid and Barcelona of the company). The growth was almost continuous for decades.
Bridges of inspiration
Airlines have implemented air corridors to reach cities point-to-point in an agile and dynamic way over time. The best-known airlifts in the world are New York-Washington, New York-Boston, Rio de Janeiro-Sao Paulo, Sao Paulo-Brasilia, Sao Paulo-Campinas, Tokyo Narita-Osaka, Tokyo Haneda-Osaka, London-Birmingham, between much others. The Spanish airline Iberia introduced in Spain a new system on the European continent, the Air Bridge officially opened between Madrid and Barcelona, ​​the passenger could buy your ticket to Madrid or Barcelona and leave on the first available plane without seat reservation. The dynamics functioned as a scheduled flights shuttle that benefited the customer to choose the most convenient times.
Deteriorated bridge
Iberia operated this service alone maintaining the monopoly of domestic flights for almost 20 years until 1993, benefiting substantially during the 1992 Olympic Games, where all passengers who flew between the capitals of Spain and Catalonia necessarily flew with Iberia. However, all that was left behind once the AVE high-speed train service between Barcelona and Madrid came into operation on February 20, 2008, as well as the services provided by the airline Spanair. From this date, the hegemony of the plane on the route that connects the two cities has been displaced to the point that at this time a large part of the users opt for the AVE as a means of transport to connect both cities.
Reinventing the Madrid-Barcelona Air Bridge
Vueling, which is part of its own holding, IAG, and in which Iberia has a direct participation in its shareholding of 45.85%. In addition, Vueling has been the largest airline in the Barcelona-El Prat airport for years, which makes it a perfect ally.
Iberia and Vueling will share the business and operations of the Air Bridge from now on. The two companies will add their flights between Madrid and Barcelona, ​​which will increase the number of frequencies to a total of 26 a day (the current 16 Iberia plus 10 additional Vueling). The new joint offer becomes the absolute dominator of the air connection between the two capitals. Disappeared Spanair, the Iberia-Vueling alliance will meet Air Europa as the only direct rival, but with a barely testimonial offer of only a couple of daily flights.
The bet of Iberia-Vueling seeks that with more offer of flights every 15 minutes in rush hour and every hour the rest of the day, with a more flexible service and with better schedules than the train is enough to scratch market share to the AVE. Iberia and Vueling want to give back the percentages that today are shared by plane and train. In it will travel the passengers of another commercial experiment, the one that looks for four decades after the Air Bridge is again a success. A\W
44è Pont Aeri Madrid-Barcelona
Ponts al cel per connectar Madrid-Barcelona
Un 4 Novembre 1974 es va inaugurar el Pont Aeri Madrid-Barcelona per part de l'aerolínia Iberia Línies Aèries d'Espanya amb un vol des de Madrid cap a la Barcelona convertint a partir de llavors en la ruta aèria més transitada d'Europa amb uns tres milions de passatgers transportats a l'any.
La nova ruta va arribar sis mesos després que la Subsecretaria d'Aviació Civil d'Espanya aprovés el projecte anomenat "Serveis especials Madrid-Barcelona i viceversa". D'aquesta manera, el pont aeri es va convertir en tot un símbol de l'aviació a Espanya. Els primers vols, per tant, es van realitzar l'1 Novembre 1974, però seria tres dies més tard, el 4 de novembre 1974, quan es va realitzar la inauguració oficial del servei amb 13 vols diaris en règim de pont aeri, més un nombre similar que seguien funcionant amb reserva tancada. L'Acte d'Inauguració va obrir el teló perquè el Pont Aeri sigui un èxit unint els dos centres més importants d'Espanya en temps record.
Iberia elimina el sistema de reserves, però es compromet a que el 90% dels passatgers surtin en el vol que han triat, i els que no ho aconsegueixin ho podrien fer en el següent. L'aerolínia també garanteix que el temps mitjà d'espera es reduirà almenys un 60% en relació al sistema convencional de reserva de bitllets, segons es recull en l'acord subscrit amb la Subsecretaria d'Aviació Civil. El llançament només és possible gràcies a les facilitats que dóna el Govern. Es construeix una nova terminal a l'aeroport de Barajas i s'amplia la de Barcelona, ​​alhora que es creen espais específics per a la venda in situ dels bitllets en els dos aeroports i es reconfigura l'operativa en ells perquè els avions del Pont Aeri es s'ubiquen a prop de les entrades específiques, perquè així els passatgers accedeixin directament i que la gestió del seu equipatge sigui ràpida.
El major corredor aeri del món
El nou model comercial és un èxit gairebé des del principi. Només en el primer any més de 900.000 passatgers utilitzen el nou servei. Iberia va estrenar el Pont Aeri amb 13 vols diaris en cada sentit (als quals se sumaven altres quatre vols regulars més amb reserva per completar l'oferta entre Madrid i Barcelona de la companyia). El creixement va ser gairebé continu durant dècades.
Ponts d'inspiració
Les aerolínies han implementat corredors aeris per arribar a ciutats punt a punt de manera àgil i dinàmica a través del temps. Els ponts aeris més coneguts en el món són Nova York-Washington, Nova York-Boston, Rio de Janeiro-Sao Paulo, Sao Paulo-Brasília, Sao Paulo-Campinas, Tòquio Narita-Osaka Tòquio Haneda-Osaka, Londres-Birmingham, entre molts altres. La companyia aèria espanyola Iberia va introduir a Espanya un sistema innovador en el continent europeu, el Pont Aeri estrenat oficialment entre Madrid i Barcelona, ​​el passatger podia comprar el seu bitllet cap a Madrid o Barcelona i sortir en el primer avió disponible i sense reserva de seient. La dinàmica funcionava com una llançadora de vols programats que beneficiava al client poder triar els horaris més convenients.
Pont deteriorat
Iberia va operar en solitari aquest servei mantenint el monopoli dels vols nacionals durant gairebé 20 anys fins a 1993, beneficiant-se substancialment durant els Jocs Olímpics 1992, on tots els passatgers que es van moure en avió entre les capitals d'Espanya i Catalunya van volar obligatòriament amb Iberia. No obstant, tot això va quedar enrere un cop va entrar en funcionament el servei de tren d'alta velocitat AVE entre Barcelona i Madrid un 20 febrer 2008, com així també els serveis que prestava l'aerolínia Spanair. Des d'aquesta data, l'hegemonia de l'avió en la ruta que connecta les dues ciutats ha estat desplaçada fins al punt que a hores d'ara gran part dels usuaris es decanten per l'AVE com a mitjà de transport per connectar les dues ciutats.
Reinventant el Pont Aeri Madrid-Barcelona
Vueling, que forma part del seu mateix grup d'empreses, IAG, i en què Iberia té una participació directa en el seu accionariat del 45,85%. A més, Vueling és des de fa anys la major aerolínia de l'aeroport de Barcelona-el Prat, el que la converteix de per si en un aliat perfecte.
Iberia i Vueling compartiran a partir d'ara el negoci i l'operativa del Pont Aeri. Les dues companyies sumaran els seus vols entre Madrid i Barcelona, ​​amb el que elevaran el nombre de freqüències fins a un total de 26 al dia (les 16 actuals d'Iberia més de 10 addicionals de Vueling). La nova oferta conjunta esdevé dominadora absoluta de la connexió aèria entre les dues capitals. Desapareguda Spanair, l'aliança Iberia-Vueling es trobarà amb Air Europa com a únic rival directe, però amb una oferta prou feines testimonial de només un parell de vols diaris.
L'aposta d'Iberia-Vueling busca que amb més oferta de vols cada 15 minuts en hora punta i cada hora la resta del dia, amb un servei més flexible i amb millors horaris que el tren sigui suficient per esgarrapar quota de mercat a l'AVE. Iberia i Vueling volen donar volta els percentatges que avui es reparteixen avió i tren. En ell viatjaran els passatgers d'un altre experiment comercial, el que busca quatre dècades després que el Pont Aeri torni a ser un èxit. A \ W
Ξ A I R G W A Y S Ξ
SOURCE: Airgways.com
DBk: Fomento.gob.es / Elindependiente.com / Okdiario.com
AW-POST: 201811041727AR
A\W   A I R G W A Y S ®