AW | 2018 11 09 15:23 | AIRLINES
Air Astana lanzará aerolínea de bajo costo FlyArystan
La aerolínea de Kazakastán, Air Astana, lanzará su propia aerolínea de bajo costo denominada FlyArystan en la primera mitad de 2019.
FlyArystan operará como un modelo clásico de aerolínea de bajo costo (LCC) siguiendo ejemplos de
aerolíneas exitosas como easyJet, Indigo, Cebu Pacific y Air Asia. Accederá a precios de tickets bajos, aproximadamente a la mitad de lo que Air Astana oferta en la actualidad.
El objetivo de FlyArystan es tener un mercado atrayente donde las tarifas puedan acercarse más al nivel de precios de los boletos de tren, para que las personas tengan más probabilidades de usar el transporte aéreo. La nueva aerolínea low cost FlyArystan desarrollará su mercado en el plano doméstico, por lo menos en esta primera etapa.
"FlyArystan es el resultado de muchas consideraciones serias y de la planificación corporativa interna. La nueva oferta de bajo costo tendrá un impacto positivo en Air Astana a medio y largo plazo en el entorno empresarial local y regional que cambia rápidamente. También esperamos que sea bien recibido por los viajeros kazajos, que pueden beneficiarse de tarifas mucho más baratas en rutas nacionales y regionales", dijo Peter Foster.
El Presidente de Air Astana, Peter Foster ha informado que la aerolínea matriz tendrá una línea aérea partnet de bajo costo que proyecta utilizar aeronaves Airbus A320CEO con 10 asientos en una única clase económica. FlyArystan operará cuatro aviones Airbus A320-200 y se espera que crezca a una flota en 15 aviones para 2022. FlyArystan operará desde varios aeropuertos en Kazajstán, con rutas y bases de aviones anunciadas en los próximos meses. Como filial de Air Astana, que no depende del capital de los accionistas ni de las subvenciones del gobierno, FlyArystan tendrá los mismos estándares de seguridad que Air Astana. 
Air Astana will launch low cost FlyArystan
Air Astana to launch low-cost airline FlyArystan
Kazakastán airline Air Astana will launch its own low-cost airline called FlyArystan in the first half of 2019. FlyArystan will operate as a classic low-cost airline (LCC) model following examples of successful airlines such as easyJet, Indigo, Cebu Pacific and Air Asia. Access to low ticket prices, approximately half of what Air Astana currently offers.
The objective of FlyArystan is to have an attractive market where fares can be closer to the price level of train tickets, so that people are more likely to use air transport. The new low cost airline FlyArystan will develop its market in the domestic plane, at least in this first stage.
"FlyArystan is the result of many serious considerations and internal corporate planning, the new low-cost offer will have a positive impact on Air Astana in the medium and long term in the rapidly changing local and regional business environment. received by Kazakh travelers, who can benefit from much cheaper rates on national and regional routes", said Peter Foster.
The President of Air Astana, Peter Foster, has informed that the parent airline will have a low cost partnet airline that plans to use Airbus A320CEO aircraft with 10 seats in a single economic class. FlyArystan will operate four Airbus A320-200 aircraft and is expected to grow to a fleet of 15 aircraft by 2022. FlyArystan will operate from several airports in Kazakhstan, with routes and aircraft bases announced in the coming months. As a subsidiary of Air Astana, which does not depend on shareholder capital or government subsidies, FlyArystan will have the same safety standards as Air Astana. A\W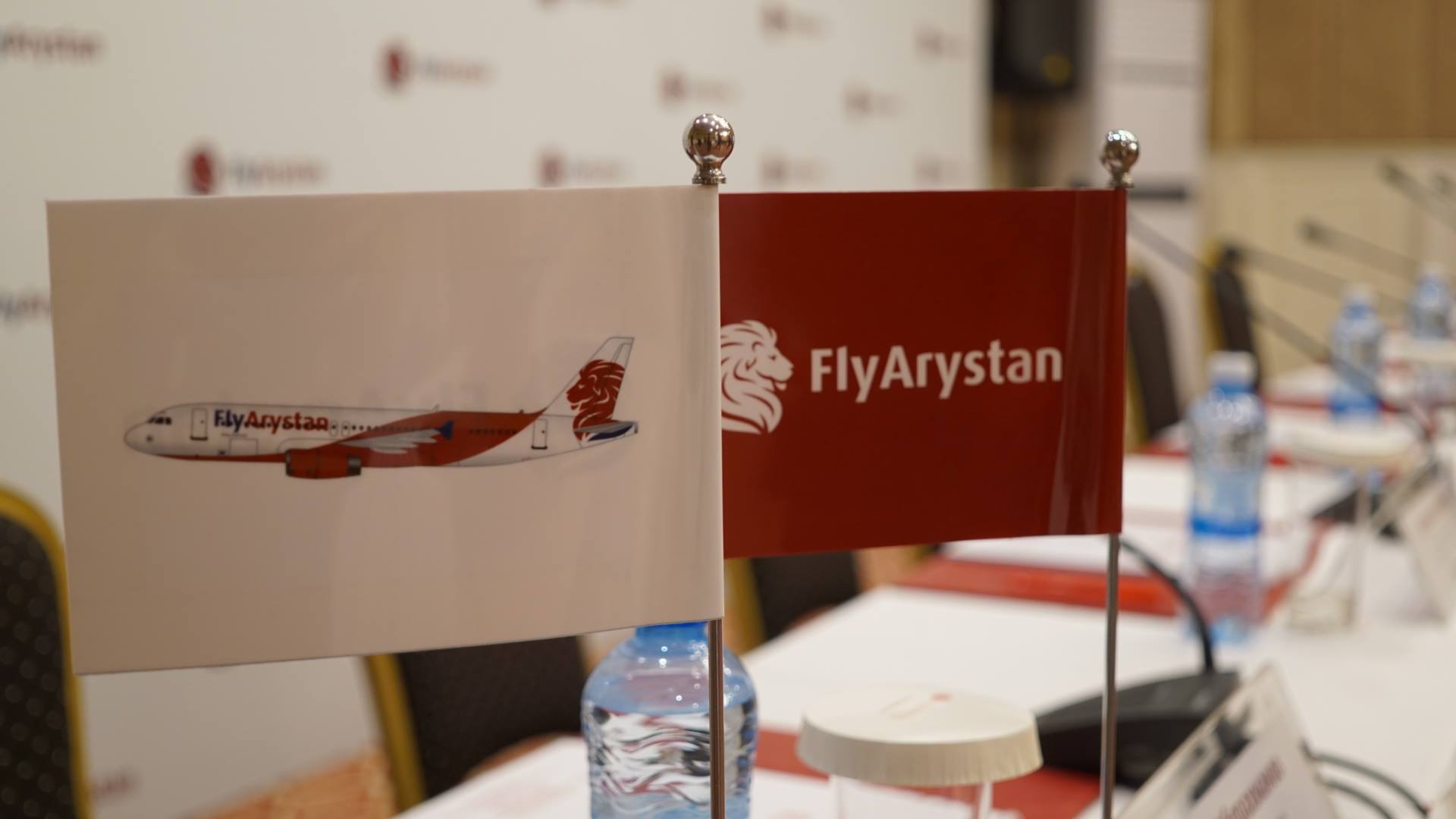 Эйр Астана әуекомпаниясы FlyArystan арзан бағаны ашады
«Эйр Астана» әуекомпаниясы FlyArystan әуе компаниясын арзан бағамен іске қосады

тасымалдаушы Kazakastán, Эйр Астана, ол EasyJet, Indigo, Cebu Тынық мұхиты ретінде табысты әуе мысалдар мынадай төмен құны тасымалдаушы (LCC) классикалық үлгісі ретінде жұмыс істейді 2019 FlyArystan бірінші жартысында FlyArystan деп аталатын өзінің бюджеті төмен авиа іске және Air Asia. Төмен билет бағасы, Эйр Астана әуекомпаниясының қазіргі кездегі жартысына жуығы.
FlyArystan мақсаты адам әуе көлігімен пайдалана неғұрлым ықтимал болып табылады, сондықтан бағасы, пойыз билеттерін баға деңгейіне жақын ала аласыз тартымды нарығы болып табылады. Жаңа FlyArystan авиакомпаниясы өзінің ішкі нарығында кем дегенде осы бірінші кезеңде өзінің нарығын дамытады.
«FlyArystan көптеген ауыр пайымдауларға және ішкі корпоративтік жоспарлаудың нәтижесі болып табылады. Біз сондай-ақ сондай-ақ болуға үміттенеді. Арзан жаңа тартулары Эйр Астана орта оң әсер етеді және ұзақ мерзімді жергілікті және аймақтық іскерлік ортаны тез өзгеруде ұлттық және аймақтық бағыттарда әлдеқайда арзан тарифтерге қол жеткізе алатын қазақстандық саяхатшылардың қолында», деді Питер Фостер.
Эйр Астана президенті Питер Фостер, ата-аналар әуе төмен құны 10 орындық Airbus A320CEO Инна бір эконом класс бар Airbus әуе кемелерін пайдалануға жоспарлап әуе partnet болады деп хабарлады. FlyArystan Airbus A320-200 әуе кемесі төрт жұмыс істейтін болады және 2022 FlyArystan 15 ұшаққа дейін паркін дейін өседі деп күтілуде алдағы айларда жариялады маршруттар және әуе негіздерімен, Қазақстанда бірнеше әуежайлар жұмыс істейді. меншікті капиталы немесе мемлекеттік гранттар байланысты емес Эйр Астана еншілес компаниясы, сондай-ақ, FlyArystan Эйр Астана бірдей қауіпсіздік стандарттарын болады. A \ W
Ξ A I R G W A Y S Ξ
SOURCE: Airgways.com
DBk: Airastana.com / Wikimedia.org
AW-POST: 201811091523AR
A\W   A I R G W A Y S ®