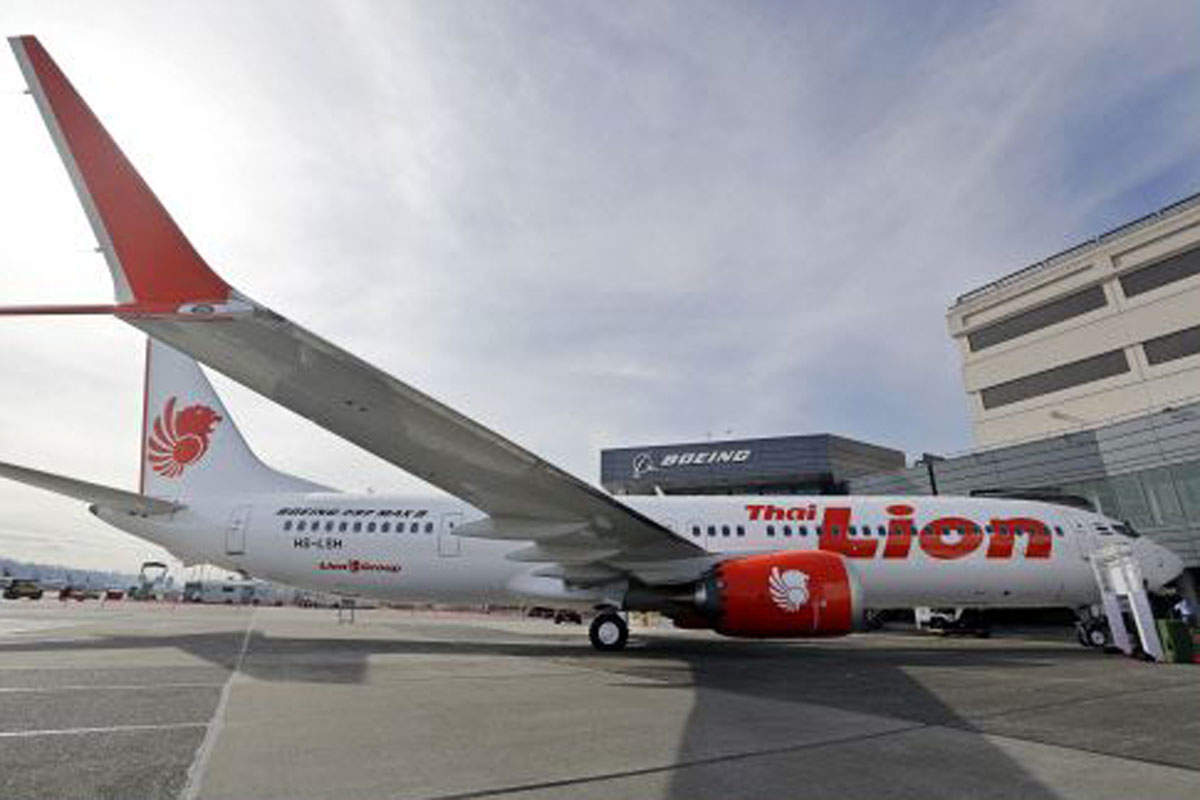 AW | 2018 12 03 22:30 | INDUSTRY
Lion Air considera cancelar órdenes del Boeing 737 MAX en una disputa por el accidente aéreo
Lion Air de Indonesia está revisando los pedidos de aviones de Boeing y está analizando la posibilidad de cancelar las órdenes a medida que las relaciones empeoran por la responsabilidad del accidente del avión de pasajeros Boeing 737-8 MAX que segó la vida de 189 personas el 29 Octubre 2018.
El co-fundador de Lion Air, Rusdi Kirana, está furioso por lo que considera los intentos de Boeing por desviar la atención de los recientes cambios de diseño y culpar a la firma indonesia por el accidente, según el informe. Lion Air tiene actualmente 190 aviones Boeing en orden.
No se ha tomado una decisión final, pero la discusión sobre el destino de los US$ 22 mil millones de pedidos restantes destaca las apuestas en torno a una investigación relacionada con el avión más vendido de Boeing, el 737 MAX, que entró en servicio el año pasado.
Lion Air tiene 190 aviones Boeing con un valor de US$ 22 mil millones a precios de catálogo que esperan ser entregados, además de los 197 ya tomados, lo que lo convierte en uno de los mayores clientes de exportación de Estados Unidos.
Cualquier solicitud de cancelación podría diseñarse para presionar a Boeing y probablemente generaría negociaciones extensas. Muchas aerolíneas difieren los pedidos, pero las fuentes de la industria dicen que los proveedores aeroespaciales rara vez dejan mucho margen para las cancelaciones unilaterales.
Lion Air declinó hacer comentarios. Un portavoz de Boeing dijo: «Estamos tomando todas las medidas para comprender completamente todos los aspectos de este accidente, y estamos trabajando estrechamente con el equipo de investigación y todas las autoridades regulatorias involucradas. También estamos apoyando a nuestro valioso cliente en este momento tan difícil». Sin embargo, las acciones de BA son considerablemente más altas en respuesta a la tregua comercial entre Estados Unidos y China.
Lion Air could cancel orders of the 737 MAX
Lion Air considers canceling Boeing 737 MAX orders in a dispute over the plane crash
Lion Air of Indonesia is reviewing orders for Boeing aircraft and is considering the possibility of canceling the orders as the relations worsen due to the responsibility of the accident of the passenger plane Boeing 737-8 MAX that killed 189 people on 29 October 2018
Lion Air co-founder Rusdi Kirana is furious at what he considers Boeing's attempts to divert attention from recent design changes and blame the Indonesian firm for the accident, according to the report. Lion Air currently has 190 Boeing aircraft in order.
No final decision has been made, but the discussion about the fate of the remaining US $ 22 billion orders highlights the bets surrounding an investigation related to Boeing's best-selling aircraft, the 737 MAX, which entered service on last year.
Lion Air has 190 Boeing aircraft with a value of US$ 22 billion at catalog prices waiting to be delivered, in addition to the 197 already taken, which makes it one of the largest export customers in the United States.
Any cancellation request could be designed to put pressure on Boeing and would probably generate extensive negotiations. Many airlines differ in their orders, but industry sources say that aerospace providers rarely leave much room for unilateral cancellations.
Lion Air declined to comment. A spokesperson for Boeing said: «We are taking all measures to fully understand all aspects of this accident, and we are working closely with the research team and all the regulatory authorities involved, and we are also supporting our valued customer at this difficult time». However, BA's shares are considerably higher in response to the commercial truce between the United States and China. A \ W
Ξ A I R G W A Y S Ξ
SOURCE: Airgways.com
DBk: Lionair.com / Boeing.com
AW-POST: 201812032230AR
A\W   A I R G W A Y S ®