AW | 2019 04 06 17:43 | AIRLINES / INDUSTRY
TAP Portugal ha tomado entrega del primer Airbus A321LR en el mundo
La aerolínea TAP Portugal Airlines ha recibido su primer Airbus A321LR a su flota, alcanzando el hito de ser la primera aerolínea mundial en tomar entrega del primer
A321LR, convirtiéndose en el primer operador europeo en simultáneo con la incorporación y operaciones con el A330NEO.
La primer aeronave Airbus A321LR posee registro nacional portugués CX-TXA y registro de fábrica CN8593. TAP Portugal ha solicitado una cartera de pedido por 12 Airbus A321LR, que cuentan con 171 asientos, 16 en clase ejecutiva que son Lie-Flat, 48 Economy Extra y 107 asientos Economy. TAP Portugal estrenará su primer A321LR en la ruta Lisboa-Tel Aviv (Israel). Para 2025, TAP habrá renovado su flota, con un pedido combinado de 757 nuevos aviones Airbus, lo que les otorgará una de las flotas más jóvenes de Europa.
Antonoaldo Neves, CEO de TAP Air Portugal dijo en relación con la entrega: "El A321LR es fundamental para los planes de expansión de TAP. Con su gama superior, podemos explorar cómodamente los mercados de América del Norte, América del Sur y África desde Portugal, y encajará perfectamente con nuestro A330NEO's. En América del Norte, nos permite explorar mercados en la costa este, como Nueva York, Boston, Montreal o Washington. En Brasil, el A321LR puede abrir nuevos mercados en el noreste y complementar los servicios existentes a ciudades como Recife, Natal, Fortaleza o Salvador. Los aviones están equipados con la clase de negocios completamente plana de última generación y asientos económicos de alto confort, un conjunto completo de IFE y conectividad, así como servicios de mensajería gratuitos".
Christian Scherer, Director Comercial (COO) de Airbus también dijo en relación con el primer A321LR de TAP: "Aplaudimos a TAP Air Portugal por ser la primera aerolínea en aprovechar los beneficios del A321LR y el A330NEO en una flota común. El A321LR y el A330NEO que trabajan en tándem tienen el segmento del mercado medio bien cubierto".
El constructor europeo Airbus expresó su oportunidad de defender a la familia A321NEO de tamaño mediano, que "son una combinación perfecta y capacidad sin precedentes y rango transatlántico con costo de un solo pasillo con el A321LR y una unidad imbatible costos y flexibilidad para una larga distancia con el A330NEO. Ambos con la tecnología más contemporánea y la comodidad de la cabina en su clase".
Este es otro hito para TAP Portugal, después de recibir su primer A320NEO y A321NEO hace un año, así como el primer A330-900NEO que se entregará en el mundo, en Noviembre 2018. El A321LR se adaptará muy bien al modelo operativo de TAP Portugal y será interesante donde la aerolínea despliegue el avión en los próximos años.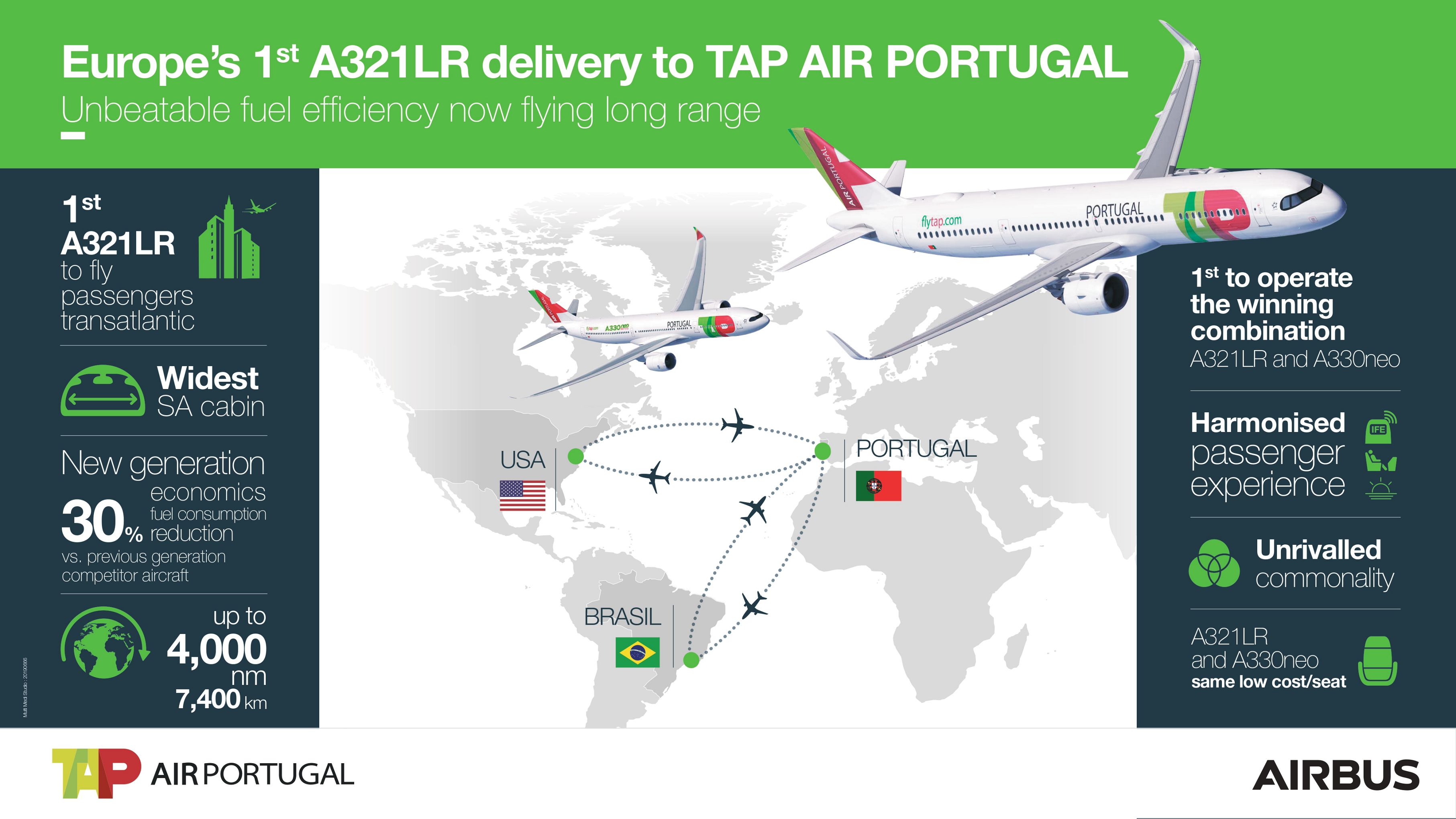 TAP Portugal receives 1st Airbus A321LR
TAP Portugal has taken delivery of the first Airbus A321LR in the world
The airline TAP Portugal Airlines has received its first Airbus A321LR to its fleet, reaching the milestone of being the first airline in the world to take delivery of the first A321LR, becoming the first European operator in simultaneous with the incorporation and operations with the A330NEO.
The first Airbus A321LR aircraft has a Portuguese national registry CX-TXA and factory registration CN8593. TAP Portugal has requested an order portfolio for 12 Airbus A321LR, which have 171 seats, 16 in business class that are Lie-Flat, 48 Economy Extra and 107 Economy seats. TAP Portugal will debut its first A321LR on the Lisbon-Tel Aviv route (Israel). By 2025, TAP will have renewed its fleet, with a combined order of 757 new Airbus aircraft, which will give them one of the youngest fleets in Europe.
Antonoaldo Neves, CEO of TAP Air Portugal said in relation to the delivery: "The A321LR is fundamental for TAP's expansion plans. With its superior range, we can comfortably explore the markets of North America, South America and Africa from Portugal, and it will fit perfectly with our A330NEO's. In North America, it allows us to explore markets on the East Coast, such as New York, Boston, Montreal or Washington. In Brazil, the A321LR can open new markets in the northeast and complement existing services to cities such as Recife, Natal, Fortaleza or Salvador. The airplanes are equipped with the latest state-of-the-art flat-bottom business class and high-comfort budget seats, a full set of IFE and connectivity, as well as free messaging services".
Christian Scherer, Commercial Director (COO) of Airbus also said in relation to TAP's first A321LR: "We applaud TAP Air Portugal for being the first airline to take advantage of the A321LR and the A330NEO in a common fleet, the A321LR and the A330NEO who work in tandem have the middle market segment well covered".
The European manufacturer Airbus expressed its opportunity to defend the medium-sized A321NEO family, which "are a perfect combination unprecedented capacity and transatlantic range with a single aisle cost with the A321LR and an unbeatable unit costs and flexibility for a long distance with the A330NEO, both with the most contemporary technology and the cabin comfort in its class".
This is another milestone for TAP Portugal, after receiving its first A320NEO and A321NEO a year ago, as well as the first A330-900NEO to be delivered in the world, in November 2018. The A321LR will adapt very well to the operational model of TAP Portugal and it will be interesting where the airline deploys the plane in the coming years. A \ W
TAP Portugal recebe 1º Airbus A321LR
TAP Portugal recebeu o primeiro Airbus A321LR no mundo
A companhia aérea TAP Portugal Airlines recebeu sua primeira Airbus A321LR à sua frota, atingindo a marca de ser a primeira companhia aérea do mundo a receber a entrega do primeiro A321LR, tornando-se o primeiro operador europeu simultaneamente com a incorporação e operações com o A330NEO.
A primeira aeronave Airbus A321LR tem um registo nacional português CX-TXA e registo de fábrica CN8593. TAP Portugal solicitou uma carteira de 12 Airbus A321LR ordem, que tem 171 assentos, 16 na classe executiva são Lie-Flat, 48 Economy Extra e 107 assentos Economy. A TAP Portugal vai estrear o seu primeiro A321LR na rota Lisboa-Tel Aviv (Israel). Para 2025, a TAP vai ter renovado a sua frota com uma ordem combinado 757 novas aeronaves Airbus, que irá dar-lhes uma das frotas mais jovens da Europa.
Antonoaldo Neves, CEO da TAP Air Portugal, disse em relação à entrega: "O A321LR é fundamental para os planos de expansão da TAP. Com a sua gama superior, que pode confortavelmente explorar os mercados da América do Norte, América do Sul e África a partir de Portugal, e vai se encaixar perfeitamente com os nossos A330NEO. Na América do Norte, nos permite explorar mercados na costa leste, como Nova York, Boston, Montreal ou Washington. No Brasil, o A321LR pode abrir novos mercados no nordeste e complementar os serviços existentes a cidades como Recife, Natal, Fortaleza ou Salvador. A aeronave está equipada com o tipo de negócio de arte totalmente plana e economia assentos de conforto elevado, um conjunto completo de IFE e conectividade, bem como serviços de mensagens gratuitos".
Christian Scherer, Diretor Comercial (COO) da Airbus disse também em relação ao primeiro TAP A321LR. "Aplaudimos a TAP Portugal sendo a primeira companhia aérea a colher os benefícios de A321LR e A330NEO em uma frota em comum que trabalham em conjunto têm o segmento de gama média mercado bem coberto".
O fabricante europeu Airbus disse que sua oportunidade de defender a médias A321neo, que "são uma família combinação perfeita e sem precedentes e faixa transatlântica com custo de um único corredor com A321LR e um custo unitário sem concorrência e flexibilidade uma longa distância com o A330NEO, ambos com a tecnologia mais contemporânea eo conforto da cabine em sua classe".
Este é mais um marco para a TAP Portugal, depois de receber seu primeiro A320neo e A321neo um ano atrás, eo primeiro A330-900NEO a serem entregues em todo o mundo em novembro de 2018. O A321LR está bem adaptado ao modelo operacional TAP Portugal e será interessante onde a companhia aérea implanta o avião nos próximos anos. A \ W
Ξ A I R G W A Y S Ξ
SOURCE: Airgways.com
DBk: Airbus.com / Flytap.com / Airgways.com
AW-POST: 201904061743AR
A\W   A I R G W A Y S ®