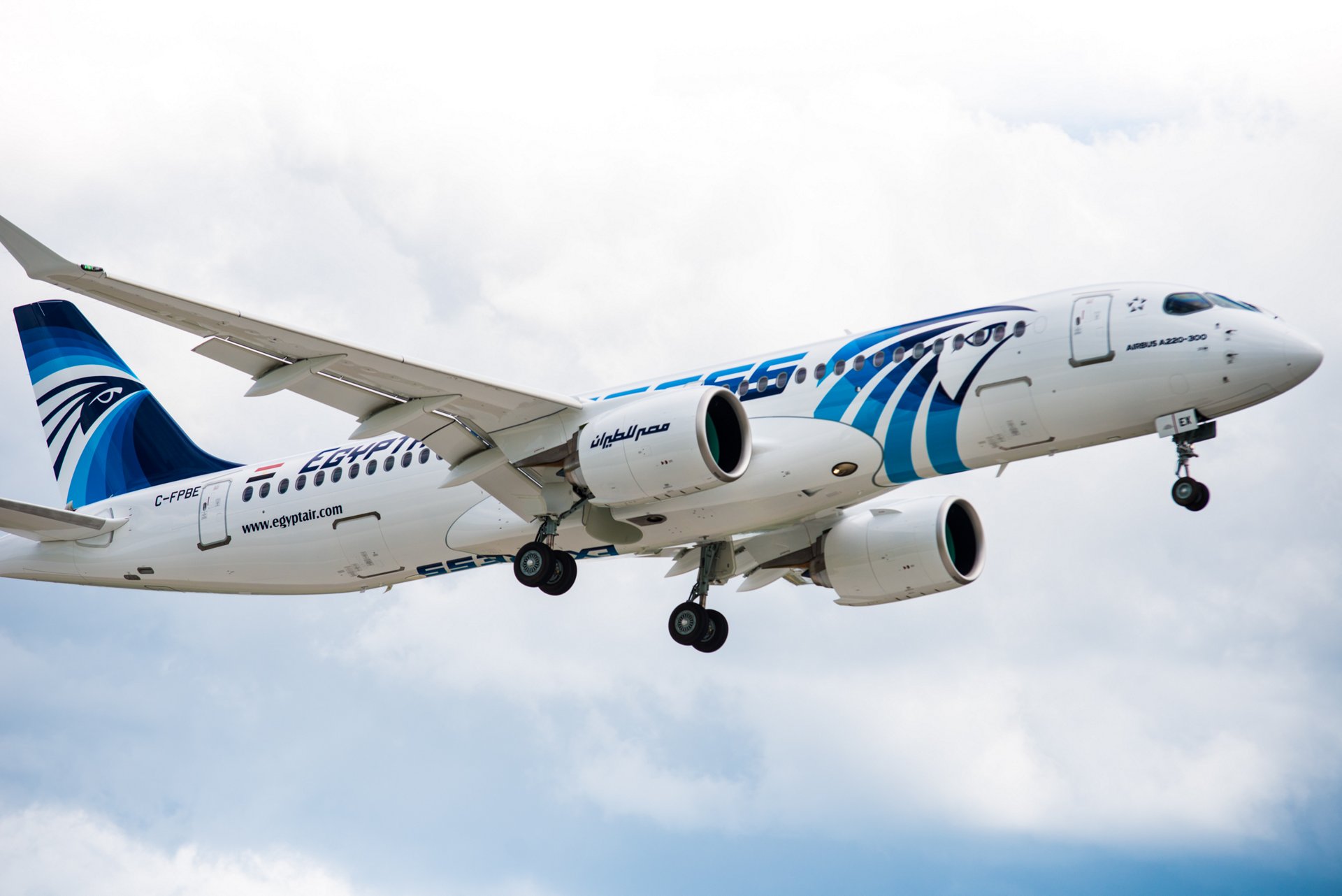 AW | 2019 09 05 10:43 | AIRLINES / INDUSTRY
La aerolínea Egyptair recibe primer Airbus A220-300
Egyptair recibió su primer avión Airbus A220-300 por encargo, convirtiéndose en el primer operador A220 con sede en la región de Medio Oriente y África del Norte, y el sexto operador en todo el mundo. La aerolínea con sede en El Cairo tiene la intención de volar el avión en rutas hacia y desde su principal centro egipcio en El Cairo en los próximos días.
Representantes de la aerolínea, junto con ejecutivos de Airbus Canada Limited Partnership celebraron la entrega de aviones en la línea de ensamblaje final A220 Mirabel. "Estamos orgullosos de dar la bienvenida a nuestro primer avión A220 y de ser la primera aerolínea en la región de Medio Oriente y África del Norte en recibir y lanzar operaciones comerciales del A220, el avión más innovador y tecnológicamente avanzado del mundo. Los aviones de pasajeros Airbus A220 son parte integral de la ejecución de la estrategia de desarrollo de negocios Egyptair Horizon 2025 y el plan de optimización de flota", dijo Capt Ahmed Adel, Presidente y Director Ejecutivo de Egyptair Holding Company.
"Estamos encantados de dar la bienvenida a Egyptair a la creciente familia de operadores de A220 y esperamos ver a sus pasajeros disfrutar de la experiencia de viajar a bordo de la cabina brillante, espaciosa y moderna del A220", dijo Philippe Balducchi, CEO, Airbus Canada Limited Partnership y Airbus Head of Country Canada.
El nuevo A220-300 de Egyptair está configurado en una cabina de dos clases con 140 asientos, incluyendo 15 asientos premium de clase económica y 125 asientos de clase económica, ofreciendo a cada pasajero un mayor nivel de comodidad y espacio.
El A220 es el único avión diseñado específicamente para el mercado de 100-150 asientos; Ofrece una eficiencia de combustible inmejorable y comodidad para los pasajeros de cabina ancha en un avión de pasillo único. El A220 reúne una aerodinámica de vanguardia, materiales avanzados y los motores de turboventilador con engranaje PW1500G de última generación de Pratt & Whitney para ofrecer al menos un 20% menos de consumo de combustible por asiento en comparación con los aviones de la generación anterior. El A220 ofrece el rendimiento de aviones de pasillo único más grandes.
Egyptair actualmente opera una flota de 15 aviones Airbus y todavía tiene 15 aviones A320NEO, así como 11 aviones A220 que se entregarán en los próximos años. Con una cartera de pedidos de más de 500 aviones a fines de agosto de 2019, el A220 tiene todas las credenciales para ganar la mayor parte del mercado de aviones de 100 a 150 asientos que se estima que representa al menos 7.000 aviones en los próximos 20 años.
The first delivery of A220 to Egyptair
Egyptair airline receives first Airbus A220-300
Egyptair received its first Airbus A220-300 aircraft on request, becoming the first A220 operator based in the Middle East and North Africa region, and the sixth-largest operator worldwide. The Cairo-based airline intends to fly the plane on routes to and from its main Egyptian center in Cairo in the coming days.
Representatives of the airline, along with executives of Airbus Canada Limited Partnership celebrated the delivery of aircraft in the final assembly line A220 Mirabel. "We are proud to welcome our first A220 aircraft and to be the first airline in the Middle East and North Africa region to receive and launch commercial operations of the A220, the most innovative and technologically advanced aircraft in the world. Airbus A220 passengers are an integral part of the execution of the Egyptair Horizon 2025 business development strategy and fleet optimization plan", said Capt Ahmed Adel, President, and CEO of Egyptair Holding Company.
"We are delighted to welcome Egyptair to the growing family of A220 operators and we hope to see its passengers enjoy the experience of traveling aboard the bright, spacious and modern cabin of the A220", said Philippe Balducchi, CEO, Airbus Canada Limited Partnership and Airbus Head of Country Canada.
The new Egyptair A220-300 is configured in a two-class cabin with 140 seats, including 15 premium economy class seats and 125 economy class seats, offering each passenger a greater level of comfort and space.
The A220 is the only aircraft designed specifically for the market of 100-150 seats; It offers unbeatable fuel efficiency and comfort for wide-cabin passengers in a single-aisle plane. The A220 brings together state-of-the-art aerodynamics, advanced materials and the latest generation PW1500G turbofan motors with Pratt & Whitney to offer at least 20% less fuel consumption per seat compared to the previous generation aircraft. The A220 offers the performance of larger single-aisle aircraft.
Egyptair currently operates a fleet of 15 Airbus aircraft and still has 15 A320NEO aircraft, as well as 11 A220 aircraft that will be delivered in the coming years. With an order book of more than 500 aircraft at the end of August 2019, the A220 has all the credentials to win most of the 100 to 150 seat aircraft market that is estimated to represent at least 7,000 aircraft in the next 20 years. A \ W
Ξ A I R G W A Y S Ξ
SOURCE: Airgways.com
DBk: Airbus.com / Airgways.com
AW-POST: 201909061043AR
A\W   A I R G W A Y S ®