AW | 2020 08 05 11:44 | AIRLINES / GOVERNMENT
Flybondi y JetSmart solicitan reinicio ops en El Palomar
Tras el cierro de las operaciones del Aeropuerto Jorge Newbery de Buenos Aires hasta el 30 Noviembre 2020 para la realización de obras en la pista, terminal y balizamiento, los vuelos que operaban en esa terminal, serán trasladados al Aeropuerto Internacional de Ezeiza. Pero en el medio, continúa la indecisión o imprevisión del Gobierno de Argentina acerca del destino del Aeropuerto Internacional El Palomar. Las aerolíneas low cost que operan en esta terminal como Flybondi Líneas Aéreas y JetSmart Airlines Argentina, están preocupadas ante la incertidumbre que genera esta situación y el futuro de las bases operativas de ambas compañías.
El Palomar y Aeroparque
El consorcio aeroportuario Aeropuertos Argentina 2000 (AA2000), ha deslizado en Abril 2020 la idea de cerrar el Aeropuerto El Palomar, aduciendo razones de costos operativos para el concesionario. El Ministerio de Transporte ha comunicado la creación de un sector low cost para el traslado de las operaciones aerocomerciales de JetSmat Airlines Argentina y Flybondi Líneas Aéreas para el Aeropuerto Internacional Ezeiza con la creación de un sector para las aerolíneas de presupuesto estipulando reducciones de costos operativos.
Ambas compañías aéreas ven condicionadas sus operaciones al traslado hacia Ezeiza, incluso con un sector especial low cost, con bajos costos aeroportuarios, pues consideran que la distancia de Ezeiza y su deficiente conexión con transporte público harían más difícil la operación, en virtud del perjuicio a sus pasajeros. Destacaron que, en caso de implementarse cambios de terminal a su operación, deberían ser planificados con tiempo, lo que implica una mudanza significativa. "El Palomar fue el primer aeropuerto low cost de la región, y muy exitoso, con gran impacto en el país. Esperamos que vuelva a operar y estamos listos para hacerlo. JetSmart tiene un espíritu federal. En Chile​, que es un mercado pequeño, tenemos tres bases de operaciones, por lo que bien podemos pensar que en Argentina podríamos contar con nuevas bases de operaciones en el futuro, además de Buenos Aires", expresó Estuardo Ortiz, CEO de JetSmart Airlines Argentina.
Respecto de la base de operaciones, los ejecutivos de la low cost JetSmart Argentina señalaron que esperan poder seguir operando desde el Aeropuerto El Palomar​, y desde 1 Diciembre 2020 sumar los tres slots en Aeroparque a los que accede la empresa a partir de la adquisición de las operaciones de Norwegian Air Argentina.
A estas fechas el Gobierno no ha tomado una decisión respecto al destino del primer aeropuerto low cost de Sudamérica y la indecisión de lo que sucederá con la programación de los vuelos low cost una vez que se levante las restricciones a la aviación comercial.
Reapertura en stand-by
La titular de la Administración Nacional de Aviación Civil (ANAC), Paola Tamburelli, ha expresado las dudas acerca de la reapertura de los vuelos de cabotaje en el país para el próximo 1 Septiembre 2020. En medio de más incertidumbres que generan a las líneas aéreas en Argentina la indefinición del Aeropuerto El Palomar, se abre un nuevo horizonte de espera para un posible traslado del calendario del reinicio de los vuelos. Ahora, la reapertura de la aviación suma un nuevo capítulo con el conflicto acerca de el entendimiento del retorno de los viajes domésticos hacia el 01/09, pues el Gobierno expresa que su posición es para el comienzo de venta de tickets aéreos y no del reinicio de vuelos. De todos modos, desde la agenda del Ministerio de Salud se permite deducir que es un problema sanitario más que de aviación.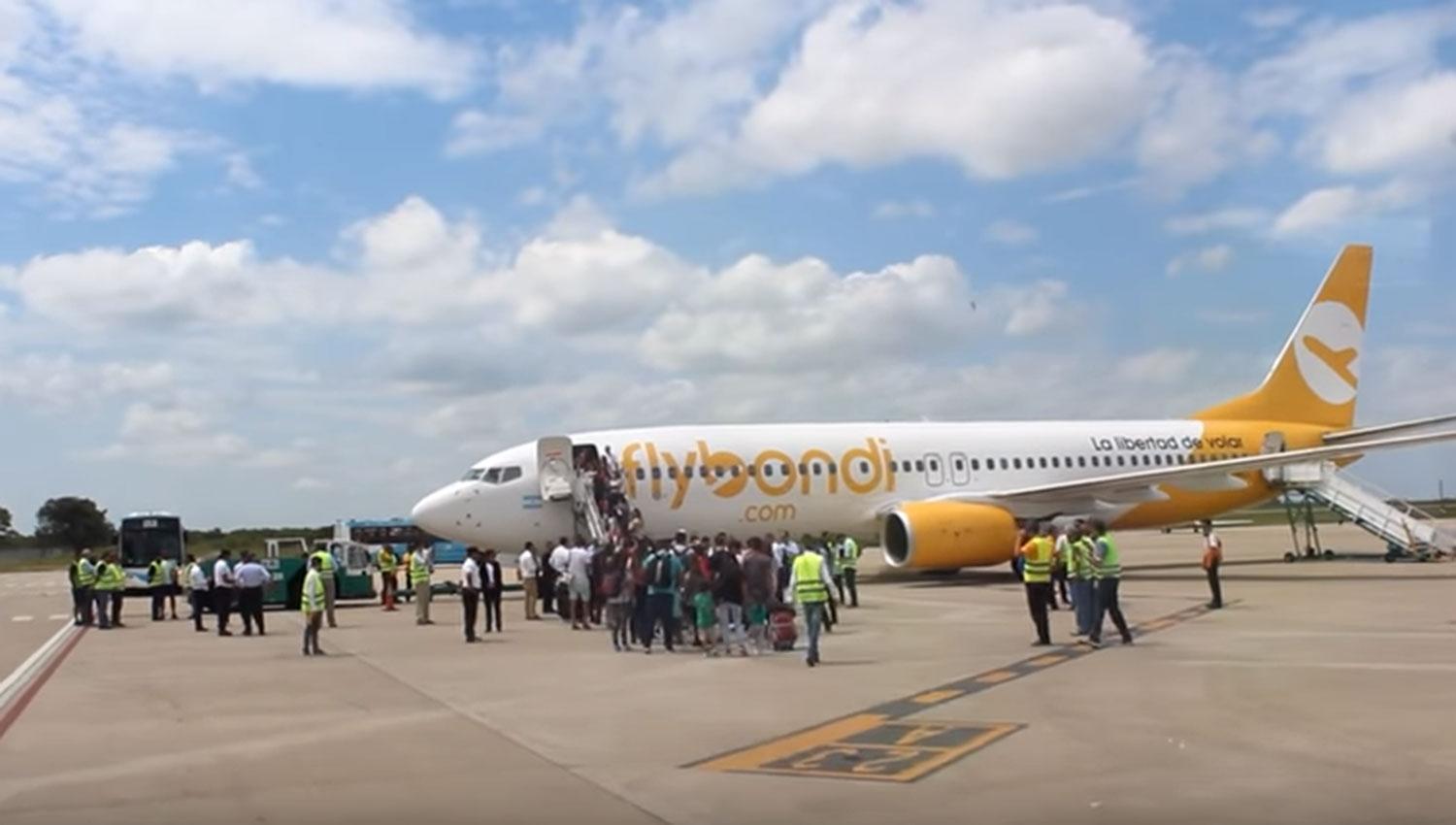 Airlines claim definitions Argentina
Flybondi and JetSmart request restart ops in El Palomar
After the closure of the operations of the Jorge Newbery Airport in Buenos Aires until November 30, 2020 to carry out works on the runway, terminal and beaconing, the flights that operated in that terminal will be transferred to Ezeiza International Airport. But in between, the indecision or unpredictability of the Government of Argentina continues regarding the destination of El Palomar International Airport. Low cost airlines that operate in this terminal, such as Flybondi Líneas Aéreas and JetSmart Airlines Argentina, are concerned about the uncertainty that this situation generates and the future of the operating bases of both companies.
El Palomar and Aeroparque
The Airports Argentina 2000 airport consortium (AA2000), in April 2020, put forward the idea of ​​closing the El Palomar Airport, citing reasons of operating costs for the concessionaire. The Ministry of Transport has announced the creation of a low cost sector for the transfer of the aero-commercial operations of JetSmat Airlines Argentina and Flybondi Airlines for Ezeiza International Airport with the creation of a sector for budget airlines stipulating reductions in operating costs.
Both airlines see their operations as conditioned to the transfer to Ezeiza, even with a special low cost sector, with low airport costs, since they consider that the distance from Ezeiza and its poor connection with public transport would make the operation more difficult, due to the damage to your passengers. They stressed that, if terminal changes are implemented to their operation, they should be planned in time, which implies a significant move. "El Palomar was the first low cost airport in the region, and very successful, with great impact in the country. We hope it will operate again and we are ready to do it. JetSmart has a federal spirit. In Chile, which is a small market, we have three bases of operations, so we may well think that in Argentina we could have new bases of operations in the future, in addition to Buenos Aires", said Estuardo Ortiz, CEO of JetSmart Airlines Argentina.
Regarding the base of operations, the executives of the low cost JetSmart Argentina indicated that they expect to be able to continue operating from El Palomar Airport, and from December 1, 2020 add the three slots in Aeroparque that the company accesses from the acquisition of Norwegian Air Argentina's operations.
At this time, the Government has not made a decision regarding the destination of the first low cost airport in South America and the indecision of what will happen with the programming of low cost flights once the restrictions on commercial aviation are lifted.
Reopening in stand-by
The head of the National Civil Aviation Administration (ANAC), Paola Tamburelli, has expressed doubts about the reopening of domestic flights in the country for September 1, 2020. Amidst more uncertainties that generate airlines In Argentina, the lack of definition of El Palomar Airport opens a new waiting horizon for a possible transfer of the flight restart schedule. Now, the reopening of aviation adds a new chapter with the conflict over the understanding of the return of domestic travel towards 09/01, as the Government expresses that its position is for the beginning of the sale of air tickets and not for the restart. of flights. Anyway, from the agenda of the Ministry of Health it is possible to deduce that it is a health problem rather than aviation.
Ξ A I R G W A Y S Ξ
PUBLISHER: Airgways.com
DBk: Anac.gov.ar / Flybondi.com / Jetsmart.com / Argentina.gob.ar / Airgways.com
AW-POST: 202008051144AR
A\W A I R G W A Y S ®