AW | 2020 08 07 12:45 | AIRLINES
Lanzamiento de la aerolínea regional Azul Conecta
Azul Airlines Group lanzará la nueva aerolínea regional denominada Azul Conecta, la compañía regional se lanzará el próximo Martes 11 Agosto 2020 en el Aeropuerto de Jundiaí, Estado de Sao Paulo. Azul lanzará oficialmente su nueva compañía regional después de la compra de la compañía aérea TwoFlex.
La nueva subsidiaria de la compañía apunta a desarrollar la aviación regional en Brasil, llegando a ciudades y comunidades más pequeñas y conectando las regiones con la red de vuelos nacionales e internacionales de Azul. Con operaciones en 36 destinos en el país, Azul Conecta se compone de 17 aeronaves Cessna Grand Caravan, turbohélice regional monomotor con una capacidad para nueve pasajeros.
El evento de lanzamiento de la nueva marca tendrá lugar el próximo Martes 11 Agosto 2020, a partir de las 09:30 horas, en el Aeropuerto Jundiaí/Sao Paulo. John Rodgerson, el Presidente de Azul Linhas Aéreas, Flávio Costa, el Vicepresidente Técnico Operativo y el Comité Ejecutivo completo de la compañía estarán presentes en la celebración.
TwoFlex Linhas Aéreas, una aerolínea regional adquirida por Azul por R$ 123 millones en 2020. Jundiaí también está cerca de Campinas, donde se encuentra el Aeropuerto Viracopos, el centro de Azul Linhas Aéreas.
Azul Linas Aéreas es la aerolínea con el mayor número de destinos alcanzados en Brasil. Destaca su flota diversificada, que llega a destinos donde a menudo no llegan aviones medianos y grandes. Actualmente la compañía posee 140 aviones, que anterior a la pandemia, servían a 116 destinos con 916 vuelos diarios.
Azul Conecta new regional Brazil
Launch of the regional airline Azul Conecta
Azul Airlines Group will launch the new regional airline called Azul Conecta, the regional company will be launched next Tuesday, August 11, 2020 at the Jundiaí Airport, State of Sao Paulo. Azul will officially launch its new regional company after the purchase of the TwoFlex airline.
The company's new subsidiary aims to develop regional aviation in Brazil, reaching smaller cities and communities and connecting the regions with Azul's national and international flight network. With operations in 36 destinations in the country, Azul Conecta is made up of 17 Cessna Grand Caravan aircraft, a single-engine regional turboprop with a capacity for nine passengers.
The launch event of the new brand will take place next Tuesday, August 11, 2020, starting at 09:30 am, at the Jundiaí/Sao Paulo Airport. John Rodgerson, the President of Azul Linhas Aéreas, Flávio Costa, the Technical Vice President of Operations and the full Executive Committee of the company will be present at the celebration.
TwoFlex Linhas Aéreas, a regional airline acquired by Azul for R$ 123 million in 2020. Jundiaí is also close to Campinas, where the Viracopos Airport is located, the center of Azul Linhas Aéreas.
Azul Linas Aéreas is the airline with the highest number of destinations reached in Brazil. Its diversified fleet stands out, reaching destinations where medium and large aircraft often do not arrive. The company currently has 140 aircraft, which, prior to the pandemic, served 116 destinations with 916 daily flights.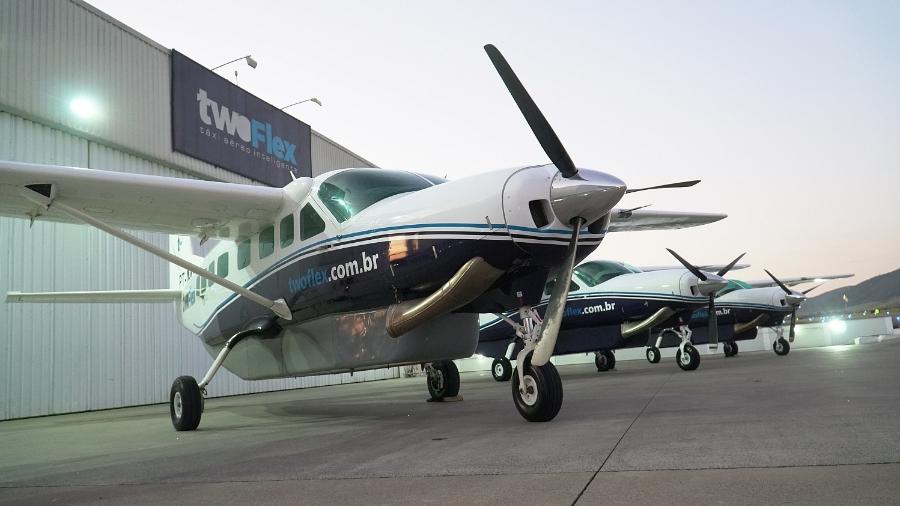 Azul Conecta novo Brasil regional
Lançamento da companhia aérea regional Azul Conecta
O Azul Airlines Group vai lançar a nova companhia aérea regional chamada Azul Conecta, a empresa regional será lançada na próxima terça-feira, 11 de agosto de 2020, no Aeroporto de Jundiaí, no Estado de São Paulo. A Azul lançará oficialmente sua nova empresa regional após a compra da companhia aérea TwoFlex.
A nova subsidiária da empresa visa desenvolver a aviação regional no Brasil, alcançando cidades e comunidades menores e conectando as regiões com a rede de voos domésticos e internacionais da Azul. Com operações em 36 destinos no país, o Azul Conecta é composto por 17 aeronaves Cessna Grand Caravan, turboélice regional monomotor com capacidade para nove passageiros.
O evento de lançamento da nova marca acontecerá na próxima terça-feira, 11 Agosto 2020, a partir das 09:30 hs, no aeroporto de Jundiaí/São Paulo. Estarão presentes na comemoração John Rodgerson, o Presidente da Azul Linhas Aéreas, Flávio Costa, o Vice-Presidente Técnico de Operações e todo o Comitê Executivo da empresa.
TwoFlex Linhas Aéreas, companhia aérea regional adquirida pela Azul por R$ 123 milhões em 2020. Jundiaí também fica perto de Campinas, onde fica o Aeroporto de Viracopos, centro da Azul Linhas Aéreas.
Azul Linas Aéreas é a companhia aérea com maior número de destinos alcançados no Brasil. Sua frota diversificada se destaca, alcançando destinos onde muitas vezes não chegam aeronaves de médio e grande porte. Atualmente, a empresa possui 140 aeronaves, que antes da pandemia, serviam 116 destinos com 916 vôos diários.
Ξ A I R G W A Y S Ξ
PUBLISHER: Airgways.com
DBk: Voeazul.com.br / Airgways.com / Mercadoeeventos.com.br
AW-POST: 202008071245AR
A\W A I R G W A Y S ®