AW | 2020 08 07 12:56 | AIR INVESTIGATION / AVIATION SAFETY
Boeing 737-800 Air India Express incursiona en pista
Un Boeing 737-800 de Air India Express, matrícula VT-AXH que realizaba el vuelo IX-1344 desde Dubai, Emiratos Árabes Unidos a Kozhikode, India con 184 pasajeros y 7 tripulantes, incursionó en la Pista 10 de Kozhikode pasando el final de la pista cayendo en un valle a las 19:41 OL (14:11Z) deteniéndose a unos 50 pies debajo de la pista. Unas 14 personas, incluidos los dos pilotos, murieron en el accidente, 138 recibieron lesiones de grado variable y 15 de ellos en estado crítico.
La policía informó que mientras los esfuerzos de rescate aún están en progreso, hay al menos dos muertos y 35 heridos. Más tarde en la noche del 07/08 ha informado que hubo 14 muertes, 15 heridos en estado crítico y 123 heridos.
Un congresista informó que ambos pilotos murieron en el accidente. Las autoridades informan que alrededor de las 16: 44Z (22:14L) la mayoría de los ocupantes han sido rescatados, hay más de 50 heridos con 15 de ellos en estado crítico.
La aerolínea Air India Express ha comunicado: "El vuelo IX-1344 de Air India Express, operado por aviones Boeing 737 desde Dubai a Calicut, sobrepasó la pista de Kozhikode a las 1941 horas de esta noche. No se informó de incendios en el momento del aterrizaje. Hay 174 pasajeros, 10 bebés, 2 pilotos y 5 tripulaciones de vuelo".
Investigaciones preliminares
Según los informes iniciales, las operaciones de rescate están en marcha y los Pasajeros están siendo trasladados al hospital para recibir atención médica. Pronto compartiremos la actualización al respecto". La DGCA de la India informó: "Air India Express AXB1344, Boeing 737 Dubai a Calicut, persona a bordo 191, visibilidad 2000 metros, lluvia intensa, después de aterrizar en la pista 10, continuó corriendo hasta el final de la pista y cayó en el valle y se rompió en dos pedazos". La DGCA ha ordenado una investigación. Según los datos de ADS-B, la aeronave había intentado una aproximación a la pista 28 unos 20 minutos antes del aterrizaje, pero había recorrido alrededor de 2700 pies.
La pista 10/28 de Kozhikode tiene 2845 metros/9330 pies de largo y presenta aproximaciones ILS para las pistas 10 y 28, así como aproximaciones VOR a ambas pistas. Además, se publica un enfoque NDB para la Pista 10.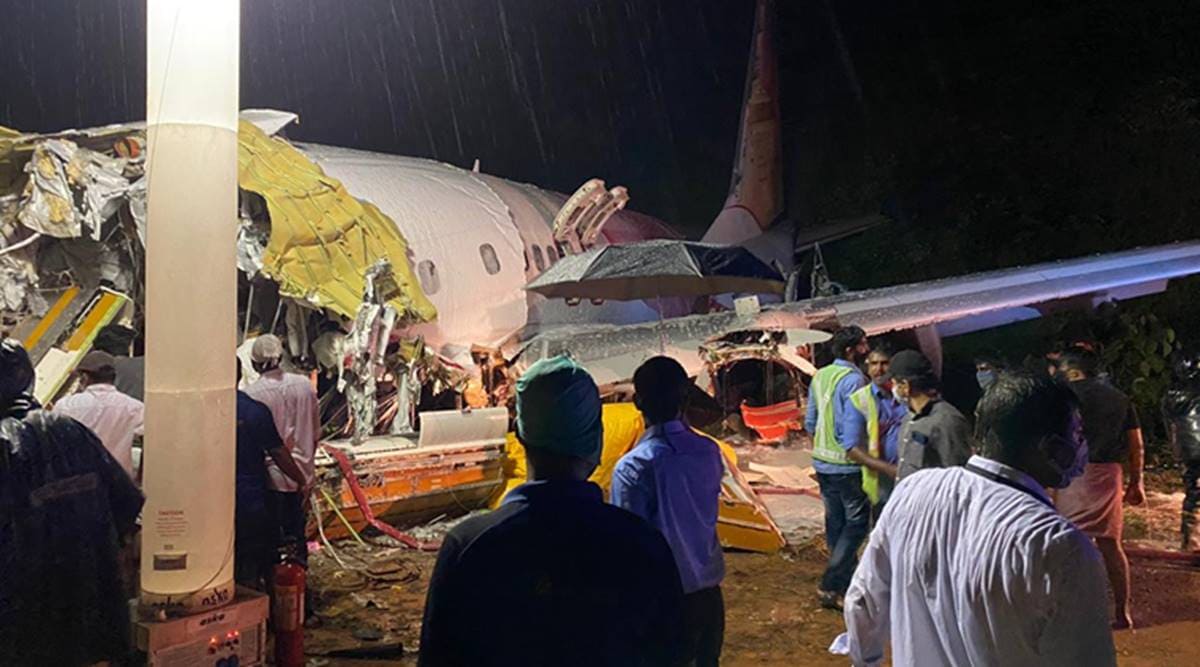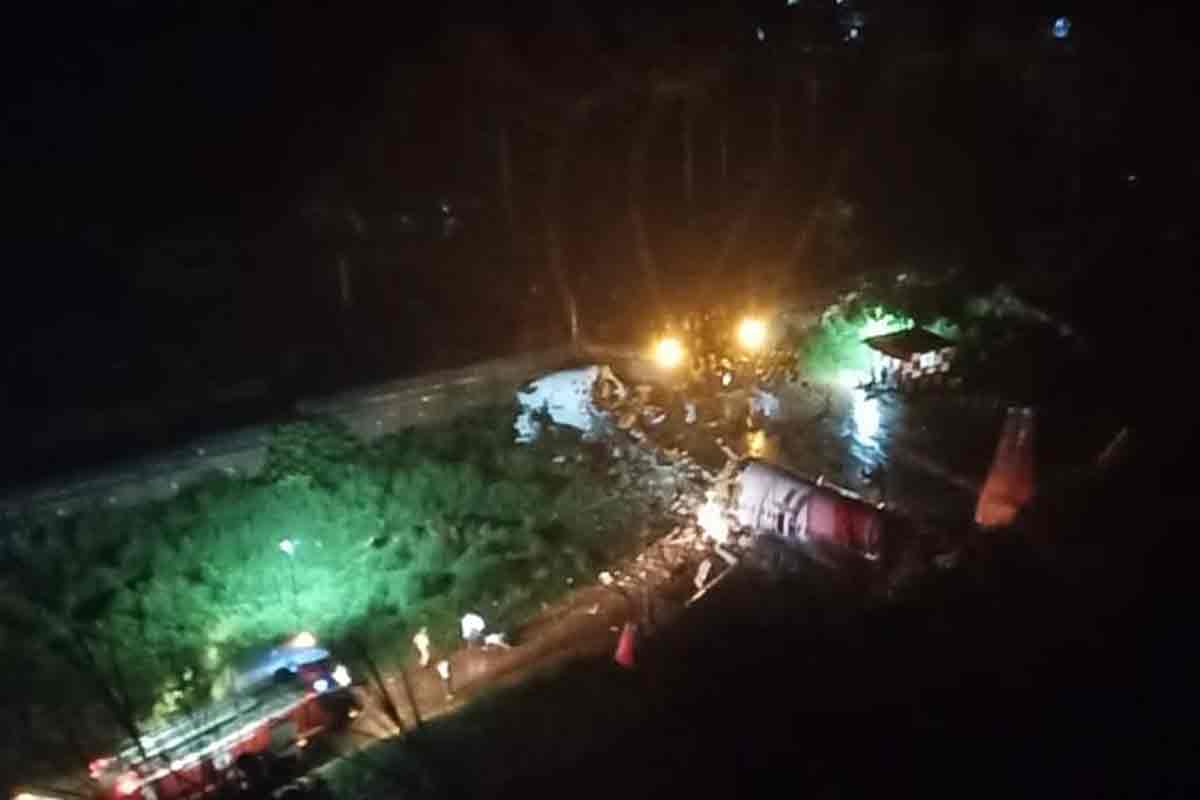 Air India Express accident
Air India Express Boeing 737-800 hits runway
An Air India Express Boeing 737-800, registration VT-AXH, flying IX-1344 from Dubai, United Arab Emirates to Kozhikode, India with 184 passengers and 7 crew members, entered Kozhikode Runway 10 past the end of the track dropping into a valley at 7:41 p.m. OL (14:11Z) stopping about 50 feet below the track. About 14 people, including the two pilots, died in the accident, 138 received injuries of varying degrees and 15 of them in critical condition.
Police reported that while rescue efforts are still in progress, there are at least two dead and 35 wounded. Later on the night of 07/08, he reported that there were 14 deaths, 15 critically injured and 123 injured.
A congressman reported that both pilots died in the accident. Authorities report that around 16:44Z (22:14L) most of the occupants have been rescued, there are more than 50 injured with 15 of them in critical condition.
Air India Express airline reported: "Air India Express flight IX-1344, operated by B737 aircraft from Dubai to Calicut, passed the Kozhikode runway at 1941 tonight. No fires were reported at the time of the landing There are 174 passengers, 10 babies, 2 pilots and 5 flight crews".
Preliminary investigations
According to initial reports, rescue operations are underway and the Passengers are being transferred to hospital for medical attention. We will share the update on this soon. The Indian DGCA reported: "Air India Express AXB1344, Boeing 737 Dubai to Calicut, person on board 191, visibility 2000 meters, heavy rain, after landing on runway 10, continued to run to the end of the runway and fell into the valley and broke into two pieces". The DGCA has ordered an investigation. According to ADS-B data, the aircraft had attempted an approach to runway 28 some 20 minutes before landing, but he had traveled about 2,700 feet.
Kozhikode runway 10/28 is 2845 meters/9330 feet long and features ILS approaches for runways 10 and 28, as well as VOR approaches to both runways. Additionally, an NDB approach is released for Runway 10.
VIGILANCIA AUTOMÁTICA DEPENDIENTE-BROADCAST / ADS-B:
ADS-B está transformando todos los segmentos de la aviación. Precisión en tiempo real, conciencia situacional compartida, aplicaciones avanzadas para pilotos y controladores por igual: estas son las características de la vigilancia ADS-B NextGen.
ADS-B en tiempo real es ahora el método preferido de vigilancia para el control del tráfico aéreo en el NAS
La aviación general es más segura con los servicios de información de vuelo, clima y tráfico ADS-B
La seguridad y la eficiencia mejoran con las aplicaciones ADS-B avanzadas
ADS-B mejora la seguridad y la eficiencia en el aire y en las pistas, reduce los costos y disminuye los efectos nocivos sobre el medio ambiente.
AUTOMATIC DEPENDENT SURVEILLANCE-BROADCAST/ADS-B:
ADS-B is transforming all segments of aviation. Real-time precision, shared situational awareness, advanced applications for pilots and controllers alike – these are the hallmarks of ADS-B NextGen surveillance.
Real-time ADS-B is now the preferred method of surveillance for air traffic control in the NAS
General aviation is safer with ADS-B traffic, weather, and flight-information services
Safety and efficiency improve with advanced ADS-B applications
ADS-B improves safety and efficiency in the air and on runways, reduces costs, and lessens harmful effects on the environment.
Ξ A I R G W A Y S Ξ
PUBLISHER: Airgways.com
DBk: Avherald.com / Dgca.gov.in / Indianexpress.com / Faa.gov / Airgways.com / Pinterest.com / @Maverick_bharak
AW-POST: 202008071256AR
A\W A I R G W A Y S ®