AW | 2020 08 28 11:56 | FAIR / CONGRESS / TOURISM
Abav Collab 2020 desarrolla eventos virtuales y presenciales
Abav Collab es el evento que Abav celebrará en lugar de su tradicional Abav Expo. La expectativa es reunir a más de 30 mil profesionales del turismo de todo Brasil entre el 27 de Septiembre y el 2 de Octubre 2020. El evento será híbrido con acciones presenciales y online y los participantes podrán visitar, de forma virtual, las estanterías de las empresas expositoras. Al interactuar en los estantes, el agente de viajes podrá descargar materiales en PDF, celebrar reuniones y ver videos y en vivo. Los visitantes también podrán participar en conferencias y paneles, además de networking.
ABAV Expo Internacional de Turismo es una feria de Brasil consolidada como uno de los más grandes e importantes eventos de negocios del calendario brasileño. Al reunir a toda la cadena turística, desempeña un papel importante como agente transformador del sector, acercando a las personas y proponiendo al mercado nacional una mirada contemporánea y nueva hacia la industria global de viajes y turismo.
ABAV COLLAB
SEPTEMBER 27 AND OCTOBER 2, 2020
Un evento realizado en un entorno inspirador que valora y estimula el crecimiento de cada segmento, empoderando al profesional con nuevas ideas, contactos, tecnologías, herramientas y oportunidades de negocios, anticipando tendencias y transformaciones del mercado, que se muestran cada vez más rápidas e impactantes.
El evento es realizado y organizado por la Asociación Brasileña de Agencias de Viajes (ABAV), entidad presente en 26 estados y en el Distrito Federal y está formada por 2,2 mil agencias de viajes, operadoras y consolidadoras que juntas abarcan el 80% de las vendas del mercado brasileño. Por sexto año consecutivo, ABAV cuenta con la valiosa alianza con la Asociación Brasileña de las Operadoras de Turismo (Braztoa) en la realización de su tradicional Encuentro Comercial en el ámbito de ABAV Expo, que tiene en la fuerza de esta representación su gran distintivo.
Idealizada para identificar y solucionar las diferentes demandas de la cadena productiva del turismo, en especial la de los agentes de viajes, que son el principal canal de distribución de viajes en Brasil, ABAV Expo contribuye de forma ética a una manera de pensar diferente y, con esta visión como un momento definitivo para que el turismo se fortalezca y se conecte con los nuevos desafíos mundiales.
Abav Collab es el concepto de congreso virtual que une a organizaciones y personas en torno a un objetivo común. Una fusión de acciones e ideas diseñadas para garantizar dinámicas y contenidos completos y potentes que marcarán la diferencia en la práctica de los profesionales involucrados. ABAV Collab convocará el próximo entre el 27 de Septiembre y el 2 de Octubre de 2020, como una cadena de reuniones virtuales para satisfacer las demandas del mercado turístico en una sola iniciativa.
ABAV COLLAB BRAZIL 2020
Abav Collab 2020 develops virtual and face-to-face events
Abav Collab is the event that Abav will hold in place of its traditional Abav Expo. The expectation is to bring together more than 30 thousand tourism professionals from all over Brazil between September 27 and October 2, 2020. The event will be a hybrid with face-to-face and online actions and participants will be able to visit, virtually, the shelves of the exhibiting companies. By interacting on the shelves, the travel agent will be able to download PDF materials, hold meetings, and watch videos and live. Visitors will also be able to participate in conferences and panels, as well as networking.
ABAV International Tourism Expo is a fair in Brazil consolidated as one of the largest and most important business events on the Brazilian calendar. By bringing together the entire tourist chain, it plays an important role as a transforming agent in the sector, bringing people closer together and proposing to the national market a contemporary and new look at the global travel and tourism industry.
An event held in an inspiring environment that values ​​and stimulates the growth of each segment, empowering the professional with new ideas, contacts, technologies, tools and business opportunities, anticipating trends and market transformations, which are increasingly rapid and impactful.
The event is held and organized by the Brazilian Association of Travel Agencies (ABAV), an entity present in 26 states and in the Federal District and is made up of 2,2 thousand travel agencies, operators and consolidators that together cover 80% of the sales of the Brazilian market. For the sixth consecutive year, ABAV has a valuable alliance with the Brazilian Association of Tourism Operators (Braztoa) in the realization of its traditional Commercial Meeting in the field of ABAV Expo, which has in the strength of this representation its great distinctive.
Idealized to identify and solve the different demands of the tourism production chain, especially that of travel agents, who are the main travel distribution channel in Brazil, ABAV Expo contributes ethically to a different way of thinking and, with this vision as a definitive moment for tourism to strengthen and connect with new global challenges.
Abav Collab is the concept of a virtual conference that unites organizations and people around a common goal. A fusion of actions and ideas designed to guarantee complete and powerful dynamics and content that will make a difference in the practice of the professionals involved. ABAV Collab will convene the next one between September 27 and October 2, 2020, as a chain of virtual meetings to meet the demands of the tourism market in a single initiative.
ABAV COLLAB BRASIL 2020
Abav Collab 2020 desenvolve eventos virtuais e presenciais
Abav Collab é o evento que a Abav realizará no lugar de sua tradicional Abav Expo. A expectativa é reunir mais de 30 mil profissionais do turismo de todo o Brasil entre os dias 27 de Setembro e 2 de Outubro de 2020. O evento será um híbrido com ações presenciais e online e os participantes poderão visitar, virtualmente, as prateleiras do empresas expositoras. Ao interagir nas prateleiras, o agente de viagens poderá baixar materiais em PDF, realizar reuniões, assistir a vídeos e ao vivo. Os visitantes também poderão participar de conferências e painéis, além de fazer networking.
ABAV International Tourism Expo é uma feira no Brasil que se consolida como um dos maiores e mais importantes eventos de negócios do calendário brasileiro. Ao reunir toda a cadeia turística, desempenha um importante papel como agente transformador do setor, aproximando as pessoas e propondo ao mercado nacional um olhar contemporâneo e inovador para a indústria global de viagens e turismo.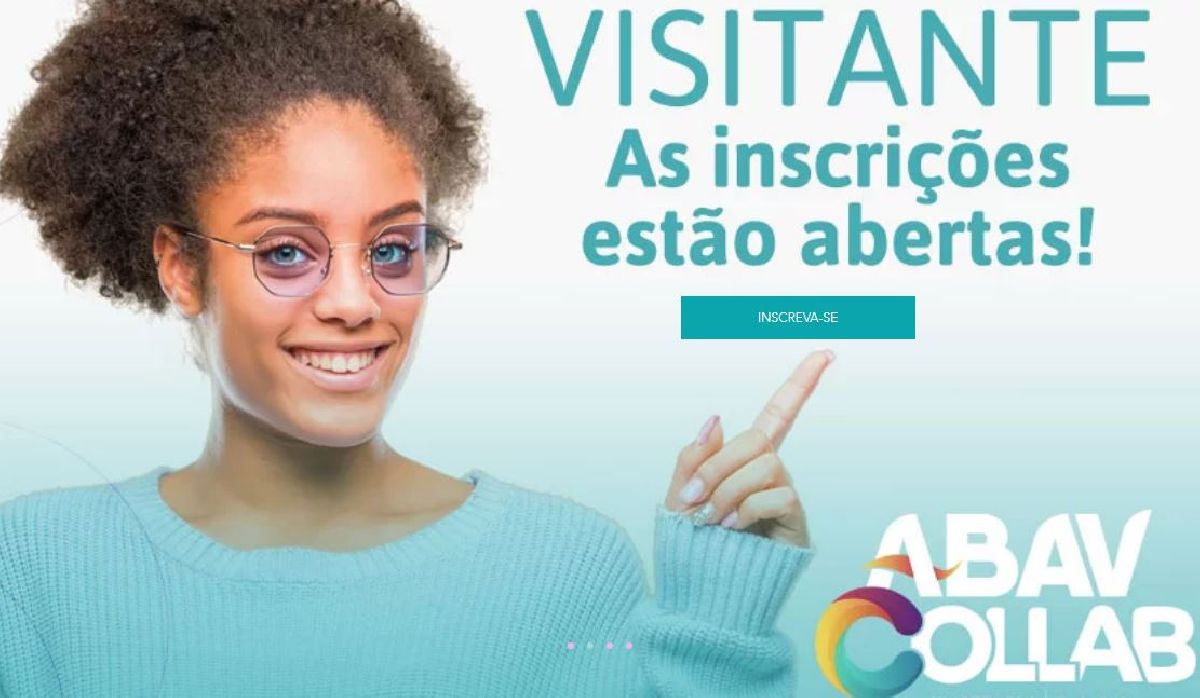 Um evento realizado em um ambiente inspirador que valoriza e estimula o crescimento de cada segmento, capacitando o profissional com novas ideias, contatos, tecnologias, ferramentas e oportunidades de negócios, antecipando tendências e transformações de mercado, cada vez mais rápidas e impactantes.
O evento é realizado e organizado pela Associação Brasileira de Agências de Viagens (ABAV), entidade presente em 26 estados e no Distrito Federal e é formada por 2,2 mil agências de viagens, operadoras e consolidadoras que juntas cobrem 80% da as vendas do mercado brasileiro. Pelo sexto ano consecutivo, a ABAV mantém uma valiosa aliança com a Associação Brasileira dos Operadores de Turismo (Braztoa) na realização de seu tradicional Encontro Comercial no âmbito da ABAV Expo, que tem na força desta representação seu grande diferencial.
Idealizada para identificar e solucionar as diferentes demandas da cadeia produtiva do turismo, principalmente das agências de viagens, que são o principal canal de distribuição de viagens do Brasil, a ABAV Expo contribui de forma ética para um pensamento diferenciado e, com esta visão como um momento definitivo para o turismo se fortalecer e se conectar com os novos desafios globais.
Abav Collab é o conceito de uma conferência virtual que une organizações e pessoas em torno de um objetivo comum. Uma fusão de ações e ideias que visam garantir dinâmicas e conteúdos completos e potentes que farão a diferença na prática dos profissionais envolvidos. A ABAV Collab realizará o próximo entre os dias 27 de Setembro e 2 de Outubro de 2020, como uma rede de encontros virtuais para atender às demandas do mercado turístico em uma única iniciativa.
Ξ A I R G W A Y S Ξ
PUBLISHER: Airgways.com
DBk: Abavcollab.com.br / Airgways.com
AW-POST: 202008281156AR
A\W   A I R G W A Y S ®