AW | 2020 08 28 09:22 | AIRLINES / INDUSTRY / MRO
Aerolínea TexelAir toma entrega primer 737-700 FleCombi
Pemco World Air Services (Pemco) ha transferido el primer Boeing 737-700NG FlexCombi (FC) a Texel Air. Pemco, el especialista en reconversiones de aeronaves del mundo ha mostrado el primero al Boeing 737-700NG FC con los colores del cliente de lanzamiento Texel Air en el Bahrain Air Show 2018. La orden de conversión fue otorgada por Chisholm Enterprises, con sede en Bahrein, para su despliegue con la subsidiaria de carga Texel Air, que se estableció en 2013. La compañía de carga comenzará a operar vuelos comerciales en el transcurso de 2020, además de dos variantes 737-300SF.
Tres configuraciones
En la versión Flex-Combi, opcionalmente puede transportar 24 pasajeros y hasta 13.600 kg de mercancía en seis paletas en el área de carga con un volumen de casi 75 metros cúbicos. Si se eligen doce pasajeros, el volumen de bodega aumentará a 85 metros cúbicos con un máximo de 15,8 toneladas de carga en siete paletas. Si todos los asientos permanecen fuera, ocho pallets pueden transportar hasta 18.000 kg de carga.
Pemco comenzó a convertir el primer 737-300 en 1991 y entregó el centésimo avión de este tipo en 2017. El Certificado de tipo suplementario de EE.UU. para el 737-700NG FC se emitió en Julio 2020. Pemco ahora también trabajará en un certificado adicional europeo y chino.
La empresa de conversión también tiene la intención de derivar una variante de carguero completa del 737-700. Ese avión podrá transportar hasta 20,5 toneladas de carga en nueve pallets. Además de Pemco, Israel Aerospace Industries (IAI) también se dedica a la conversión de Boeings del tipo 737-700 en aviones de carga. IAI entregó el primer avión de este tipo a Alaska Air Cargo. Se entregaron 1.128 Boeing 737-700 entre Marzo 1998 y Septiembre 2017.
Texel Air 1er 737-700 FlexCombi
Texel Air airline takes delivery of first 737-700 FleCombi
Pemco World Air Services (Pemco) has transferred the first Boeing 737-700NG FlexCombi (FC) to Texel Air. Pemco, the world's aircraft retrofit specialist, has shown the first Boeing 737-700NG FC in the colors of launch customer Texel Air at the 2018 Bahrain Air Show. The conversion order was awarded by Bahrain-based Chisholm Enterprises, for deployment with the cargo subsidiary Texel Air, which was established in 2013. The cargo company will begin operating commercial flights in the course of 2020, in addition to two 737-300SF variants.
Three configurations
In the Flex-Combi version, it can optionally transport 24 passengers and up to 13,600 kg of goods on six pallets in the cargo area with a volume of almost 75 cubic meters. If twelve passengers are chosen, the hold volume will increase to 85 cubic meters with a maximum of 15.8 tons of cargo on seven pallets. If all the seats remain outside, eight pallets can carry up to 18,000 kg of cargo.
Pemco began converting the first 737-300 in 1991 and delivered the 100th aircraft of this type in 2017. The US Supplemental Type Certificate for the 737-700NG FC was issued in July 2020. Pemco will now also work on an additional European and Chinese certificate.
The conversion company also intends to derive a full freighter variant of the 737-700. This plane will be able to transport up to 20.5 tons of cargo on nine pallets. In addition to Pemco, Israel Aerospace Industries (IAI) is also engaged in the conversion of Boeings of the type 737-700 into cargo aircraft. IAI delivered the first aircraft of this type to Alaska Air Cargo. 1,128 Boeing 737-700 were delivered between March 1998 and September 2017.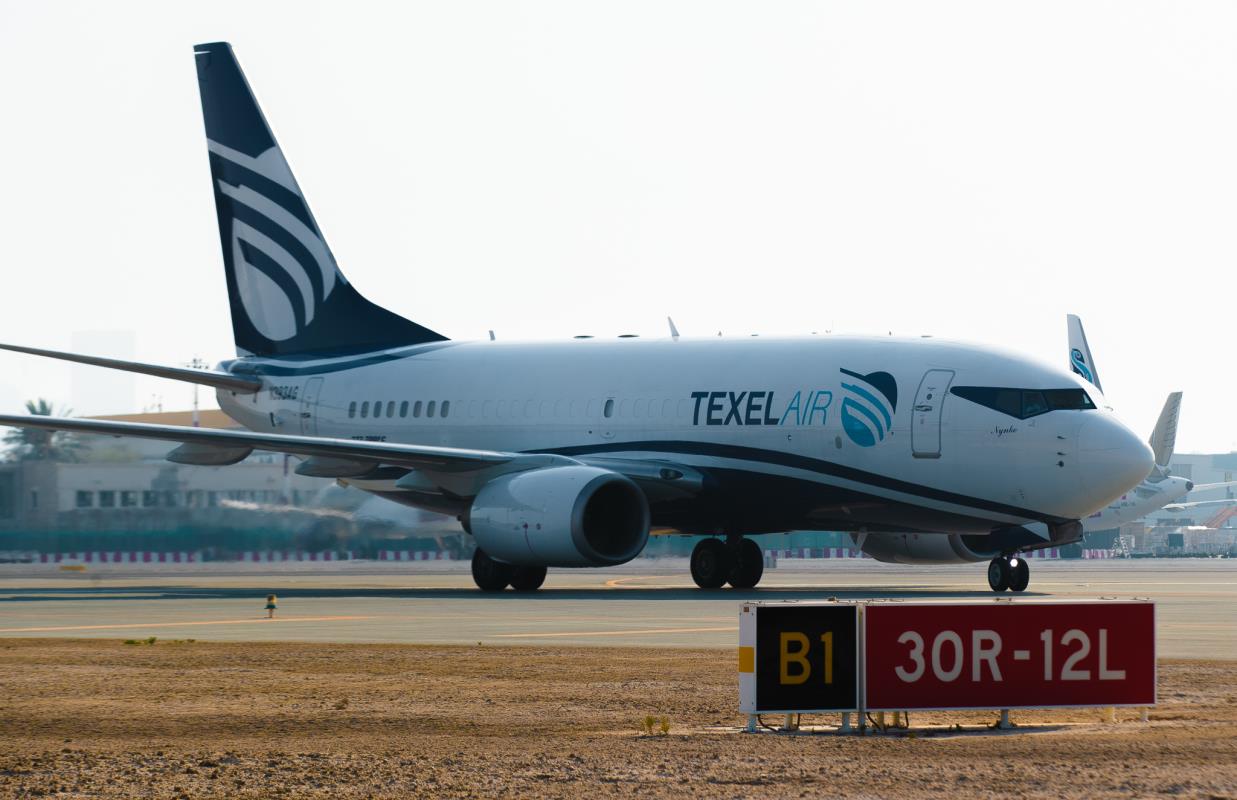 Texel Air 1er 737-700 FlexCombi
TexelAir neemt de eerste 737-700 FleCombi in ontvangst
Pemco World Air Services (Pemco) heeft de eerste Boeing 737-700NG FlexCombi (FC) overgedragen aan Texel Air. Pemco, 's werelds specialist in vliegtuigrenovatie, heeft op de Bahrain Air Show 2018 de eerste Boeing 737-700NG FC in de kleuren van lanceerklant Texel Air getoond. De opdracht tot conversie werd toegekend door het in Bahrein gevestigde Chisholm Enterprises , voor inzet bij de in 2013 opgerichte vrachtdochter Texel Air. Naast twee varianten 737-300SF zal de vrachtmaatschappij in de loop van 2020 beginnen met commerciële vluchten.
Drie configuraties
In de Flex-Combi-versie kan hij optioneel 24 passagiers en tot 13.600 kg goederen vervoeren op zes pallets in de laadruimte met een inhoud van bijna 75 kubieke meter. Als er voor twaalf passagiers wordt gekozen, neemt het ruimvolume toe tot 85 kubieke meter met een maximum van 15,8 ton vracht op zeven pallets. Als alle stoelen buiten blijven, kunnen acht pallets tot 18.000 kg vracht vervoeren.
Pemco begon in 1991 met de ombouw van de eerste 737-300 en leverde in 2017 het 100ste vliegtuig van dit type af. Het US Supplemental Type Certificate voor de 737-700NG FC werd in Juli 2020 afgegeven. Pemco zal nu ook werken aan een aanvullend Europees en Chinees certificaat.
Het ombouwbedrijf is ook van plan om een ​​full freighter variant van de 737-700 af te leiden. Dit vliegtuig kan tot 20,5 ton vracht vervoeren op negen pallets. Naast Pemco houdt Israel Aerospace Industries (IAI) zich ook bezig met de ombouw van Boeings van het type 737-700 tot vrachtvliegtuigen. IAI heeft het eerste vliegtuig van dit type aan Alaska Air Cargo geleverd. Tussen Maart 1998 en September 2017 werden 1128 Boeing 737-700 geleverd.
Ξ A I R G W A Y S Ξ
PUBLISHER: Airgways.com
DBk: Texelair.com / Pilootenvliegtuig.nl / Airgways.com / Aircargonews.net
AW-POST: 202008280922AR
A\W A I R G W A Y S ®