AW | 2020 09 29 20:45 | AIRLINES / CONGRESS
ABAV Collab ha reunido a líderes aviación brasileña
ABAV Collab reunió a líderes de la aviación con el apoyo de ABEAR, un referente de las aerolíneas en Brasil. El foro de ABAV Collab permite reunir a los rreferentes de aviación del país para conocer las perspectivas en el nuevo escenario mundial del transporte aéreo.
El discurso de John Rodgerson, Presidente de Azul Linhas Aéreas, resume el tono del inédito encuentro entre líderes de las cuatro aerolíneas que operan en el territorio nacional. Unidos por primera vez en el mismo escenario, los presidentes de las empresas fueron unánimes en reforzar la seguridad como una prioridad en la operación durante el panel promovido dentro del programa de la ABAV Collab, con el apoyo de la Asociación Brasileña de Aerolíneas (ABEAR). "Estamos aquí para salvar nuestra industria; no somos competidores de seguridad", dijo el CEO en su primer discurso.
Paulo Kakinoff, Presidente de Gol Linhas Aéreas, reforzó la interdependencia que caracteriza a la industria del Turismo y defendió un pensamiento sistémico como garantía de solidez en la reanudación. "Somos competidores comerciales, pero la competencia no existe en tiempos difíciles de operación, cuando las empresas se unen en busca de soluciones. La industria es una organización única y debemos asegurarnos de eso, independientemente de la estrategia comercial", expresó el ejecutivo de la low cost.
El uso de los llamados filtros de alta eficiencia, que retienen hasta el 99,97% de las partículas de aire, la orientación de la circulación de ventilación a bordo y los procedimientos adoptados por la aviación a nivel global son similares y aportan la base científica que garantiza el bien en todos a bordo de las aeronaves. Esta estandarización, según Kakinoff, es común en la cultura de esta industria que tiene la costumbre de agregar buenas prácticas a los ya extremadamente altos estándares de salud y seguridad en la operación.
Para Jerome Cadier, CEO de Latam Airlines Brasil uno de los puntos centrales es asegurar que la información correcta llegue al pasajero final para que pueda tomar sus decisiones de viaje basándose en datos probados. "Desde el comienzo de la pandemia, hemos destacado la seguridad que se brinda dentro de la aeronave. El ambiente cerrado de los aviones atormentaba a mucha gente al principio, en relación a posibles riesgos de contaminación, pero comprobamos que volar es seguro debido a un conjunto de atributos que ya existían en la operación y que se sumaron a otros para combatir la propagación del Covid-19", ha detallado el máximo referente de la compañía en Brasil.
Eduardo Busch, Director de Voepass Linhas Aéreas, agregó que el estándar es el mismo para aviones más pequeños, como los ATR 72 que opera la empresa. «Continuamos con los esfuerzos para desmitificar y brindar información correcta a los socios para demostrar seguridad», dice.
Pruebas sanitarias a bordo
La aviación comercial no se ha detenido, pero se produjo una drástica reducción de la red en operación alcanzando el 8% del tamaño original al inicio de la pandemia, según datos de ABEAR y en la actualidad la media ronda el 40%. La continuidad de los servicios ha llevado a las empresas a invertir en testear a los empleados para asegurar la salud de los equipos y los resultados que empiezan a aparecer refuerzan la premisa de las aerolíneas.
En Gol Linhas Aéreas, los datos estadísticos muestran que hubo una contaminación de la tripulación por cada 1.156 despegues realizados, en un período de seis meses. Las cifras consideran a los empleados que permanecieron hasta 30 horas al mes en el aire. "Cerca de 2 mil personas pasan por estos tripulantes al día, al embarcar o desembarcar, a una distancia de 40 cm, y la tasa de contaminación es muy baja. Esto derriba cualquier estudio o simulación que se viera al inicio de la pandemia y es un hecho fáctico que demuestra que existe un mayor riesgo de contaminación en el hogar que en un avión", explica Paulo Kakinoff.
Latam Brasil y Azul informaron tener cifras similares, y Voepass anunció que no había tenido ningún empleado diagnosticado con Covid-19, considerando las 3,000 horas de operación desde la reanudación de vuelos en julio. "Adoptamos una posición más conservadora y detuvimos los vuelos el 22 de Marzo de 2020 para reanudarlos el 3 de Julio. Este tiempo fue importante para analizar el comportamiento del mercado, planificar la supervivencia del negocio, revitalizar el interior de los aviones, además de crear, implementar y probar protocolos", explica Eduardo Busch.
Comportamiento del pasajero
Además de los cambios visibles en la operación, los ejecutivos también destacaron una actitud más responsable por parte de los pasajeros. "La gente está aprendiendo que viajar hoy es diferente. Ya no se ve, por ejemplo, aglomeración al llegar. Todos se sientan allí esperando cuando aterriza el avión", señaló John Rodgerson.
Jerome Cadier ha destacado que los cambios cubrieron el recorrido en su conjunto e hicieron que la búsqueda de herramientas digitales aumentara considerablemente. "El momento previo al viaje se replanteó, con el apoyo de los aeropuertos, y los pasajeros se adhirieron a las alternativas tecnológicas de facturación y facturación de equipaje, minimizando el contacto humano", concluye.
Todos coinciden en que la prueba de la efectividad de los protocolos justifica el movimiento que viene hacia el fomento de los viajes de corta duración, papel que juega el propio ABAV Collab en ese momento. Si, en un principio, las aerolíneas se unieron para ayudar al país con los vuelos de repatriación y el transporte de medicamentos y profesionales de la salud, ahora es el momento de ayudar al crecimiento de la economía. "Ya lloramos mucho y ahora tenemos que mirar hacia adelante. Tenemos la obligación de ayudar a Brasil con la reanudación", dijo John Rodgerson. "Es nuestro papel fundamental ser un motor de esta recuperación", añadió Paulo Kakinoff.
Collab Brasil Aviation Forum
ABAV Collab has brought together Brazilian aviation leaders
ABAV Collab brought together aviation leaders with the support of ABEAR, a benchmark for airlines in Brazil. The ABAV Collab forum brings together the country's aviation referents to learn about the perspectives in the new world scenario of air transport.
The speech by John Rodgerson, President of Azul Linhas Aéreas, sums up the tone of the unprecedented meeting between leaders of the four airlines that operate in the national territory. United for the first time in the same scenario, the presidents of the companies were unanimous in reinforcing safety as a priority in the operation during the panel promoted within the ABAV Collab program, with the support of the Brazilian Association of Airlines (ABEAR). "We are here to save our industry; we are not security competitors", said the CEO in his first speech.
Paulo Kakinoff, President of Gol Linhas Aéreas, reinforced the interdependence that characterizes the Tourism industry and defended systemic thinking as a guarantee of solidity in the resumption. "We are commercial competitors, but competition does not exist in difficult operating times, when companies come together in search of solutions. The industry is a unique organization and we must ensure that, regardless of the commercial strategy», said the low cost executive.
The use of so-called high-efficiency filters, which retain up to 99.97% of air particles, the orientation of the on-board ventilation circulation and the procedures adopted by aviation globally are similar and provide the scientific basis that guarantees the good in all on board the aircraft. This standardization, according to Kakinoff, is common in the culture of this industry that has a habit of adding good practices to the already extremely high standards of health and safety in operation.
For Jerome Cadier, CEO of Latam Airlines Brasil, one of the central points is to ensure that the correct information reaches the final passenger so that they can make their travel decisions based on proven data. "Since the beginning of the pandemic, we have emphasized the security provided inside the aircraft. The closed environment of the airplanes tormented many people at first, in relation to possible risks of contamination, but we verified that flying is safe due to a set of attributes that already existed in the operation and that were added to others to combat the spread of the Covid-19", has detailed the maximum reference of the company in Brazil.
Eduardo Busch, Director of Voepass Linhas Aéreas, added that the standard is the same for smaller aircraft, such as the ATR 72 that the company operates. «We continue with efforts to demystify and provide correct information to partners to demonstrate security», he says.
Health tests on board
Commercial aviation has not stopped, but there was a drastic reduction in the network in operation, reaching 8% of the original size at the beginning of the pandemic, according to ABEAR data, and currently the average is around 40%. The continuity of services has led companies to invest in testing employees to ensure the health of the teams and the results that are beginning to appear reinforce the premise of the airlines.
At Gol Linhas Aéreas, statistical data show that there was contamination of the crew for every 1,156 takeoffs carried out, in a period of six months. The figures consider employees who spent up to 30 hours a month on the air. "About 2 thousand people pass through these crew members a day, when embarking or disembarking, at a distance of 40 cm, and the contamination rate is very low. This demolishes any study or simulation that was seen at the beginning of the pandemic and it is a factual fact that shows that there is a greater risk of contamination in the home than in an airplane", explains Paulo Kakinoff.
Latam Brasil and Azul reported similar figures, and Voepass announced that it had not had any employees diagnosed with Covid-19, considering 3,000 hours of operation since the resumption of flights in July. "We took a more conservative position and stopped the flights on March 22, 2020 to resume them on July 3. This time was important to analyze the behavior of the market, plan the survival of the business, revitalize the interior of the aircraft, in addition to creating, implementing and testing protocols", explains Eduardo Busch.
Passenger behavior
In addition to the visible changes in the operation, the executives also highlighted a more responsible attitude on the part of the passengers. "People are learning that traveling today is different. You no longer see, for example, crowding when you arrive. They all sit there waiting when the plane lands», said John Rodgerson.
Jerome Cadier stressed that the changes covered the entire journey and increased the search for digital tools considerably. «The moment before the trip was rethought, with the support of the airports, and the passengers adhered to the technological alternatives of check-in and baggage check-in, minimizing human contact», he concludes.
All agree that the proof of the effectiveness of the protocols justifies the movement that is coming towards the promotion of short-duration trips, a role that the ABAV Collab itself played at that time. If, in the beginning, the airlines came together to help the country with repatriation flights and the transport of medicines and healthcare professionals, now is the time to help the economy grow. "We already cried a lot and now we have to look forward. We have an obligation to help Brazil with the restart", said John Rodgerson. «It is our fundamental role to be a motor for this recovery», added Paulo Kakinoff.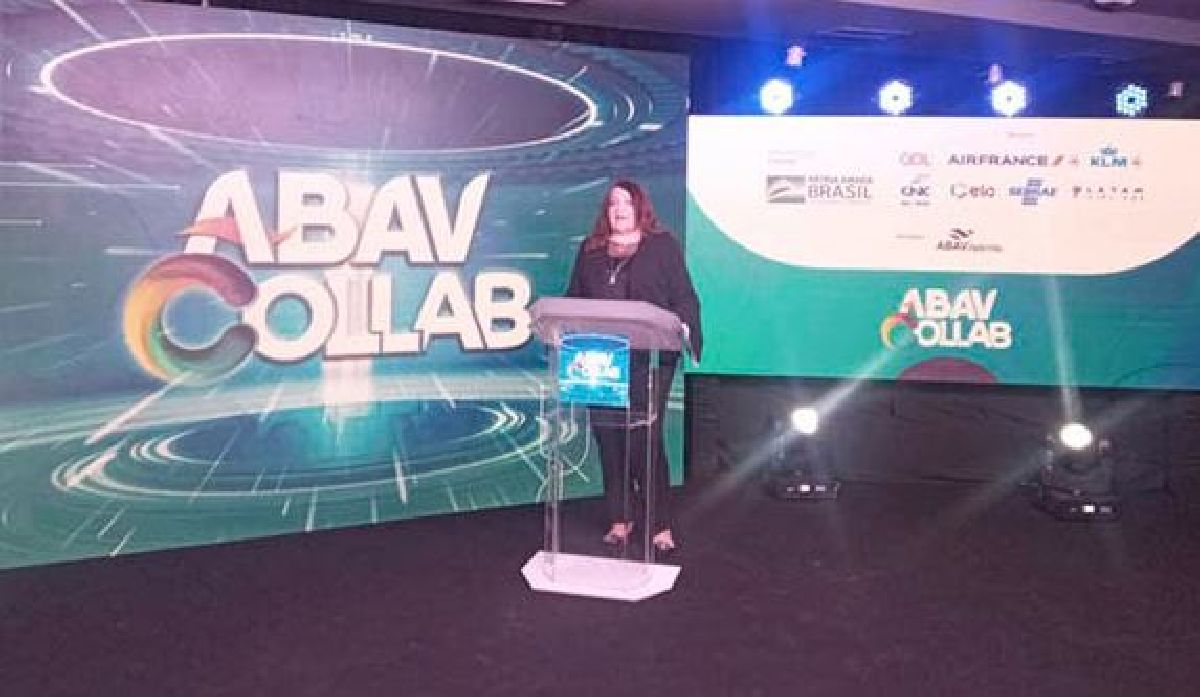 Fórum de Aviação Collab Brasil
ABAV Collab reúne líderes da aviação brasileira
A ABAV Collab reuniu líderes da aviação com o apoio da ABEAR, referência em companhias aéreas no Brasil. O fórum ABAV Collab reúne os referentes da aviação do país para conhecer as perspectivas no novo cenário mundial do transporte aéreo.
O discurso de John Rodgerson, presidente da Azul Linhas Aéreas, resume o tom do encontro inédito entre dirigentes das quatro companhias aéreas que atuam no território nacional. Unidos pela primeira vez em um mesmo cenário, os presidentes das empresas foram unânimes em reforçar a segurança como prioridade na operação durante painel promovido no âmbito do programa ABAV Collab, com apoio da Associação Brasileira de Empresas Aéreas (ABEAR). "Estamos aqui para salvar nossa indústria; não somos concorrentes de segurança", disse o CEO em seu primeiro discurso.
Paulo Kakinoff, presidente da Gol Linhas Aéreas, reforçou a interdependência que caracteriza a indústria do Turismo e defendeu o pensamento sistêmico como garantia de solidez na retomada. "Somos concorrentes comerciais, mas não existe concorrência em tempos difíceis de operação, quando as empresas se unem em busca de soluções. O setor é uma organização única e temos que garantir isso, independente da estratégia comercial", afirmou o executivo de baixo custo.
O uso dos chamados filtros de alta eficiência, que retêm até 99,97% das partículas de ar, a orientação da circulação da ventilação de bordo e os procedimentos adotados pela aviação mundial são semelhantes e fornecem embasamento científico que garante o bem em todos a bordo da aeronave. Essa padronização, segundo Kakinoff, é comum na cultura dessa indústria que tem o hábito de agregar boas práticas aos já altíssimos padrões de saúde e segurança na operação.
Para Jerome Cadier, CEO da Latam Airlines Brasil, um dos pontos centrais é garantir que as informações corretas cheguem ao passageiro final para que ele tome suas decisões de viagem com base em dados comprovados. "Desde o início da pandemia, destacamos a segurança que é oferecida dentro da aeronave. O ambiente fechado dos aviões atormentou muitas pessoas a princípio, em relação aos possíveis riscos de contaminação, mas verificamos que voar é seguro devido a um conjunto de atributos que já existiam na operação e que foram somados a outros para combater a propagação do Covid-19", detalhou a referência máxima da empresa no Brasil.
Eduardo Busch, diretor da Voepass Linhas Aéreas, acrescentou que o padrão é o mesmo para aeronaves menores, como o ATR 72 que a empresa opera. "Estamos continuando os esforços para desmistificar e fornecer informações corretas aos parceiros para demonstrar segurança", diz ele.
Testes de saúde a bordo
A aviação comercial não parou, mas houve uma redução drástica da rede em operação, chegando a 8% do tamanho original no início da pandemia, segundo dados da ABEAR, e atualmente a média está em torno de 40%. A continuidade dos serviços tem levado as empresas a investir em testes aos funcionários para garantir a saúde dos equipamentos e os resultados que começam a aparecer reforçam a premissa das companhias aéreas.
Na Gol Linhas Aéreas, dados estatísticos mostram que houve contaminação da tripulação a cada 1.156 decolagens realizadas, no período de seis meses. Os números consideram funcionários que passam até 30 horas por mês no ar. "Cerca de 2 mil pessoas passam por esses tripulantes por dia, no embarque ou desembarque, a uma distância de 40 cm, e o índice de contaminação é muito baixo. Isso destrói qualquer estudo ou simulação que se tenha visto no início da pandemia e é um fato factual que mostra que existe um risco maior de contaminação dentro de casa do que em um avião", explica Paulo Kakinoff.
Latam Brasil e Azul relataram números semelhantes, e a Voepass anunciou que não havia nenhum funcionário com diagnóstico de Covid-19, considerando 3.000 horas de operação desde a retomada dos voos em julho. "Assumimos uma posição mais conservadora e interrompemos os voos em 22 de março de 2020 para retomá-los em 3 de julho. Esse momento foi importante para analisar o comportamento do mercado, planejar a sobrevivência do negócio, revitalizar o interior das aeronaves, além de criar, implementar e testar protocolos", explica Eduardo Busch.
Comportamento do passageiro
Além das mudanças visíveis na operação, os executivos também destacaram uma postura mais responsável por parte dos passageiros. "As pessoas estão aprendendo que viajar hoje é diferente. Você não vê mais, por exemplo, aglomeração na chegada. Todos eles ficam sentados esperando quando o avião pousa», disse John Rodgerson.
Jerome Cadier ressaltou que as mudanças cobriram toda a jornada e aumentaram consideravelmente a busca por ferramentas digitais. "O momento que antecedeu a viagem foi repensado, com o apoio dos aeroportos, e os passageiros aderiram às alternativas tecnológicas de check-in e check-in de bagagem, minimizando o contato humano", finaliza.
Todos concordam que a comprovação da eficácia dos protocolos justifica o movimento que vem rumo à promoção de viagens de curta duração, papel que o próprio Collab da ABAV desempenhou na época. Se no início as companhias aéreas se uniam para ajudar o país com voos de repatriação e transporte de medicamentos e profissionais de saúde, agora é a hora de ajudar a economia a crescer. "Já choramos muito e agora temos que olhar para frente. Temos a obrigação de ajudar o Brasil na retomada", disse John Rodgerson. "É nosso papel fundamental ser um motor dessa recuperação", acrescentou Paulo Kakinoff.

PUBLISHER: Airgways.com
DBk: Abavcollab.com.br / Airgways.com
AW-POST: 202009292045AR
A\W A I R G W A Y S ®