AW | 2020 10 20 15:25 | INDUSTRY
Embraer informa entregas 28 jets en 3Q2020
El fabricante brasileño Embraer S.A. informó el Martes 20 de Octubre de 2020 que entregó 28 aviones en el tercer trimestre de 2020, siete ejecutivos y 21 aeronaves comerciales. En el año, el fabricante acumuló 59 aviones entregados, un 49,5% menos que en los primeros nueve meses de 2019, cuando se entregaron 117 aviones. El fabricante de aeronaves también informó que la cartera de pedidos de la empresa que se entregará ascendía a US$ 15.100 millones de Dólares al 30 de Septiembre de 2020. La reducción de la cartera es de US$ 1.100 millones de Dólares, en comparación con Septiembre de 2019.
El mayor impacto productivo afecta a las Unidades de San José dos Campos que concentran las líneas de aeronaves comerciales de la compañía. Entre Julio y Septiembre 2020, siete aviones fueron entregados a aerolíneas. En el año, se entregaron 16 aviones comerciales, lo que representa una reducción del 70% en comparación con los 54 aviones entregados en el mismo período de 2019. A principios de Septiembre, Embraer anunció 900 recortes, además de 1.600 paradas para la admisión a planes de despido voluntario. De los 900 despidos, unos 470 son metalúrgicos de Sao José dos Campos. Las renuncias todavía se discuten en el Tribunal Laboral. Embraer afirma que los despidos fueron necesarios debido al impacto causado por la pandemia de coronavirus y la cancelación de la asociación con Boeing, además de la falta de expectativa de recuperación del sector del transporte aéreo a corto y medio plazo.
Embraer delivers 28 jet 3Q2020
Embraer reports deliveries 28 jets in 3Q2020
The Brazilian manufacturer Embraer S.A. reported on Tuesday, October 20, 2020 that it delivered 28 aircraft in the third quarter of 2020, seven executives and 21 commercial aircraft. In the year, the manufacturer accumulated 59 aircraft delivered, 49.5% less than in the first nine months of 2019, when 117 aircraft were delivered. The aircraft manufacturer also reported that the company's order book to be delivered amounted to US$ 15.1 billion as of September 30, 2020. The reduction in the order book is US$ 1.1 billion, in comparison. with September 2019.
The greatest productive impact affects the San José dos Campos Units that concentrate the company's commercial aircraft lines. Between July and September 2020, seven aircraft were delivered to airlines. In the year, 16 commercial aircraft were delivered, representing a reduction of 70% compared to the 54 aircraft delivered in the same period of 2019. In early September, Embraer announced 900 cuts, in addition to 1,600 stops for admission to voluntary dismissal plans. Of the 900 dismissals, about 470 are metallurgists from San José dos Campos. Resignations are still being discussed in Labor Court. Embraer affirms that the layoffs were necessary due to the impact caused by the coronavirus pandemic and the cancellation of the partnership with Boeing, in addition to the lack of expectation of recovery in the air transport sector in the short and medium term.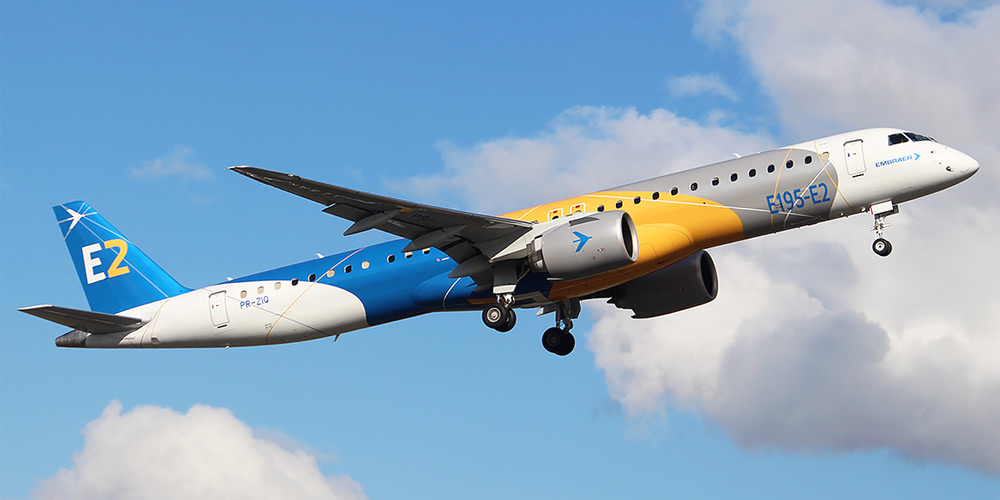 Embraer entrega 28 jatos 3T2020
Embraer informa entregas de 28 jatos no 3T2020
A fabricante brasileira Embraer S.A. informou na Terça-feira, 20 de Outubro de 2020, que entregou 28 aeronaves no terceiro trimestre de 2020, sete executivos e 21 aeronaves comerciais. No ano, a fabricante acumulou 59 aeronaves entregues, 49,5% a menos que nos primeiros nove meses de 2019, quando foram entregues 117 aeronaves. A fabricante de aeronaves informou ainda que a carteira de pedidos a serem entregues da empresa somava US$ 15,1 bilhões em 30 de Setembro de 2020. A redução na carteira de pedidos é de US$ 1,1 bilhão, na comparação. com Setembro de 2019.
O maior impacto produtivo atinge as Unidades de San José dos Campos, que concentram as linhas de aviões comerciais da empresa. Entre Julho e Setembro de 2020, sete aeronaves foram entregues às companhias aéreas. No ano, foram entregues 16 aeronaves comerciais, o que representa uma redução de 70% em relação às 54 aeronaves entregues no mesmo período de 2019. No início de Setembro, a Embraer anunciou 900 cortes, além de 1.600 escalas para admissão à planos de demissão voluntária. Das 900 demissões, cerca de 470 são metalúrgicos de San José dos Campos. As renúncias ainda estão sendo discutidas na Justiça do Trabalho. A Embraer afirma que as demissões foram necessárias devido ao impacto causado pela pandemia do Coronavírus e pelo cancelamento da parceria com a Boeing, além da falta de expectativa de recuperação do setor de transporte aéreo no curto e médio prazo.

PUBLISHER: Airgways.com
DBk: Embraer.com / Airgways.com
AW-POST: 202010201525AR
A\W A I R G W A Y S ®